ACNH Halloween October Update - Release Date & Preparations For Animal Crossing Halloween 2021
10/8/2021 9:44:58 AM
It is the spookiest month of all, with Halloween just around the corner. The Halloween event itself requires you to put a bit of work in beforehand, luckily from today it's entirely possible to start your preparation. So you're ready for when the event goes live, what things you can add to your daily routine to make sure you're fully prepared. This is an ACNH Halloween event guide 2021, in-depth 5 things you can do to prepare for Halloween update.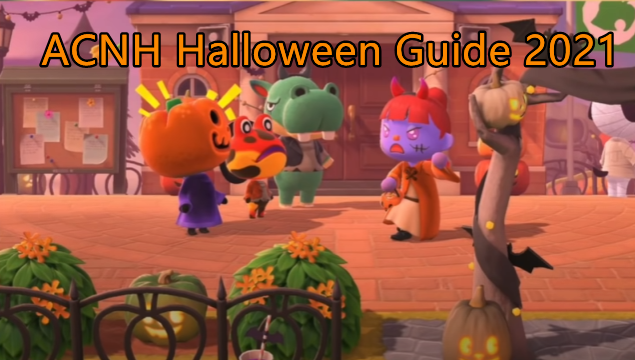 ACNH Halloween Event 2021 Release Date
Halloween is one of the most important events in Animal Crossing New Horizons October update. This event starts on October 31, from 5:00 pm to 12: 00 pm.
ACNH Halloween Event Update October Guide
To celebrate the Halloween update in Animal Crossing, the Halloween Czar will show up on your island. There are many activities you can do on this day, you can go talk nice things and give one candy to him near the plaza, in order to get some spooky rewards and ACNH items from him. Prepare for Halloween by getting your costume together, decorating your island, and stocking up on candy! Below are the preparations you should know before the Animal Crossing October Halloween update coming.
ACNH Halloween Update 2021 - Candy
From October 1st, it's now possible to buy candy from the nook shop every day. Candy is probably the most important ACNH item for Halloween, as you're going to be trading them with villagers and jack himself during the event. Unfortunately, candy is limited to purchase per day. So you're going to want to pick up as much as you can going forward. The good news is one per resident, so other players on the island can also buy some two, which makes it easier to stockpile if you have multiple profiles. With that said, there are other ways to obtain the candy during Halloween. Therefore, don't worry too much!
ACNH Halloween Update 2021- Costumes & Outfits
Like candy, it's now possible to find various Halloween-themed costumes or outfits for sale at the able sisters, as well as spooky accessories from Kick's Pop-Up shop. Typically, from October 1st, the able sisters will stock various clothing items randomly including the flashy animal costume the mages robes, and the raggedy outfit amongst other things like tights hoods hats, and horns. Furthermore, Kicks will stock some awesome accessories including the impish wings which is a must-have item. It's not completely mandatory, but if you are looking to join in with the rest of the island on Halloween and do a little trick or treat. It's recommended to stock up on outfits from the Able sisters in advance
ACNH Halloween Update 2021 - Body Paint
If you're low on nook miles, you may want to spend some of October earning some and saving them because for those new to the game or anyone who didn't play through last year, you may want to purchase some spooky tips from the Nook Stop to help with your Halloween costumes. It's possible to purchase the body paint costume tips and the exploring new eye color pack by redeeming your hard-earned nook miles. Each pack costs 2, 400 miles and includes a variety of body paint and eye color options which will look great alongside these spooky outfits.
ACNH Halloween Update 2021 - Pumpkins
Now is the perfect time of the year to plant a pumpkin patch or start harvesting them, if you have one already. Pumpkins are an important part of Halloween, but more so for the build-up to the event. They are required to craft items from these spooky series including the spooky standing lamp, the spooky carriage, and the spooky scarecrow amongst many others. All you really need are orange pumpkins though to craft a base set of spooky items that have the other colors that will be needed. Should you wish to customize them when growing a pumpkin? There's a 70 chance of growing an orange one and a 10 chance of it being green, yellow, or white. With this in mind, it's worth growing as many as possible in the lead-up to Halloween, in case you decide to craft a lot of items or customize them. Especially if you're planning on decorating your island with a spooky Halloween theme. Now pumpkin can be purchased from leaf's pop-up shop when he visits the plaza or from nook's cranny throughout October. So you shouldn't have any problems finding some, and don't forget to water them every day to get the maximum amount of pumpkins possible.
ACNH Halloween Update 2021 - DIY Recipe
The Halloween event itself can be super fun and pretty busy, you're probably going to want to decorate your island in advance to make it as spooky as possible. The good news is Halloween items and certain DIY recipes can already be obtained. From October 1st, nooks include a random seasonal spotlight item from the spooky series, which means you can easily buy new spooky items without having to craft them. So you may want to consider checking in with Nook's Cranny every day to see what they have available. Furthermore, spooky DIY recipes can now be obtained from villagers, when you see them crafting inside their homes, you can encounter up to three villages crafting per day. With the next about three hours after the previous. It's worth getting as many of these DIY recipes as possible in advance, not only you can craft beforehand, but also there's less of a chance of encountering a new recipe during the Animal Crossing Halloween October update. This is because if you encounter villagers during the event who try to teach you a recipe you already know, you get pumpkins or candy instead. This is much better, especially as you're going to want as much candy as possible to unlock exclusive Halloween items on the night from Jack.
Don't forget, during the Animal Crossing New Horizons Halloween update 2021, there are three new items available as well. Compared to last year, there is something exciting for us all to look forward to.