ACNH Ceiling Items in 2.0 Update - How to Get & Use Ceiling Furniture in Animal Crossing New Horizons
11/6/2021 5:56:23 PM
With the launch of the Animal Crossing New Horizons 2.0 Version in November, more than 9000 new items made their first appearance in the game. What are exactly these ACNH ceiling items and how to get them? Now we are going to put all the ceiling furniture you can access, including lights, lamps, lanterns, signs, chandeliers, shelves, curtains and other types of decorations.
Related Read: How to Unlock Brewster & The Roost in ACNH
ACNH Ceiling Items in 2.0 Update - Animal Crossing New Horizons Ceiling Furniture
Here we present a complete list of ceiling items added in the Animal Crossing New Horizons 2.0 update, check out the ACNH ceiling furniture by categories.
ACNH Ceiling Lights & Lamps
Enamel lamp
Festival lantern
Festival-lantern set
Fluorescent light
Hanging cube light
Hanging lightbulb
Hanging stage lights
Imperial lamp
Milk-glass lamp
Moroccan lights
Nordic pendant light
Stained-glass light
Shaded pendant lamp
Simple shaded lamp
Wooden pendant light
Wood-shade lamp
Zen light
Ceiling spotlight
Round light fixture
ACNH Ceiling Chandeliers
Chandelier
Candle chandelier
Spiral chandelier
Other Types of ACNH Ceiling Items
Bird mobile
Ceiling fan
Disco ball
Drapery
Dreamy hanging decoration
Dual hanging monitors
Hanging glowing moss
Hanging guide sign
Hanging monitor
Hanging shelves
Hanging sign
Horizontal split curtains
Ornithopter
Range hood
Paper-chain ceiling garland
Vertical split curtains
Vine garland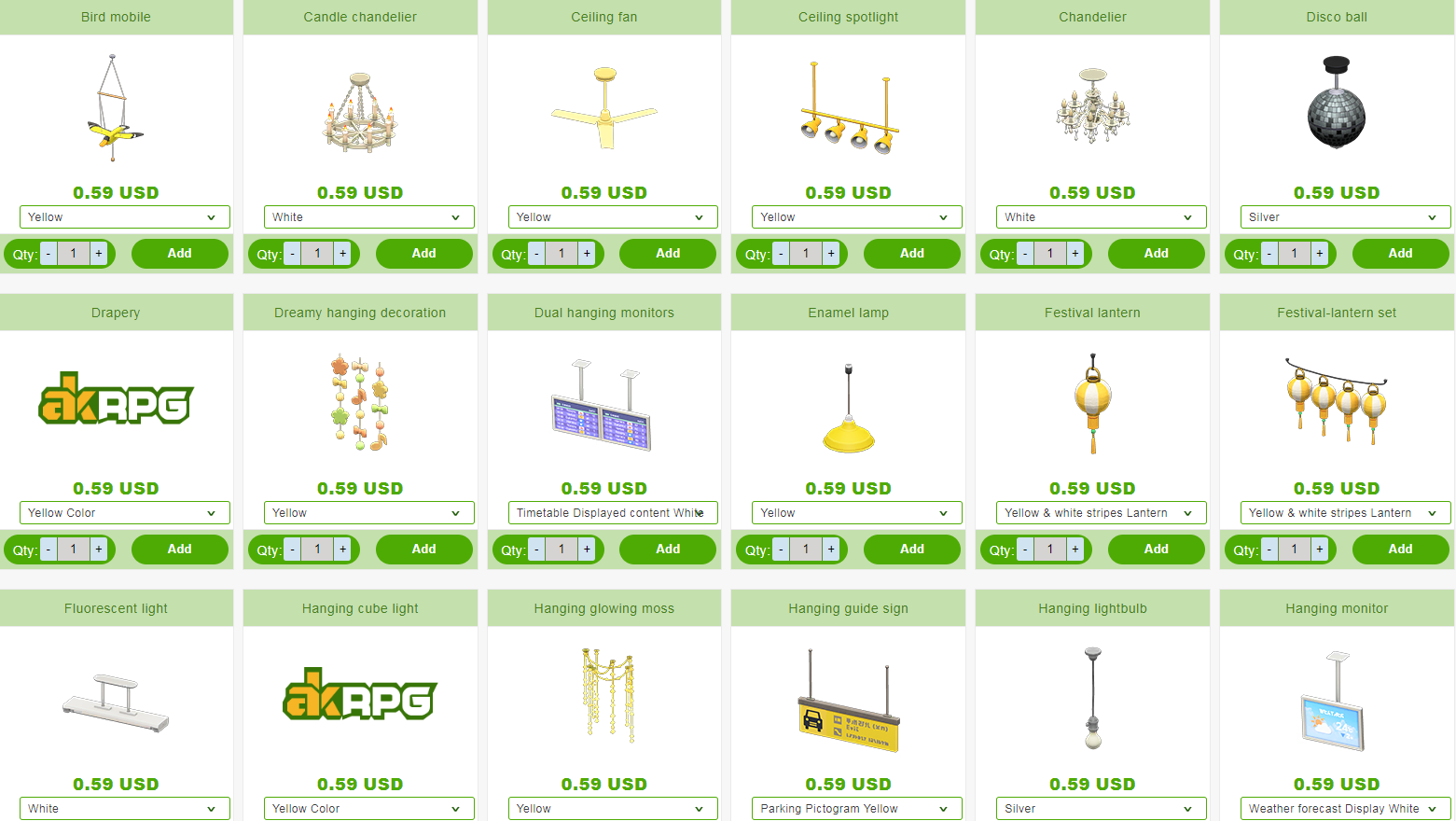 How to Get Ceiling Items in ACNH?
1. You can buy some ceiling lights in Nook's Cranny with Animal Crossing bells, such as the Wood-shade lamp. It is also said that the lights can be received as a gift from the villagers or from a balloon present.
2. You can buy some ceiling items in ACNH Happy Home Paradise DLC with the currency called Poki.
3. You can buy all of the ceiling items at AKRPG.COM at the cheapest prices and any time you want.
How to Use & Hang Ceiling Items in ACNH?
Before you can access ceiling furniture and use them in your house, you need to head over to Nook Stop and purchase the Pro Decorating License first using 2,500 Nook Miles. Then you can unlock a lot of decorating options for your ceiling.
Next, enter your house and open the Decorating Mode by pressing the Down Arrow button, press down the +button to switch the option to ceiling decorations, then you will be able to hang items from your inventory on the ceiling. But not everything can be placed anywhere.