ACNH 2.1 Winter Update 2022 - Data Mine & Speculation In Animal Crossing 2.1.0 Update
1/14/2022 6:00:18 PM
Animal Crossing it's been lurking and it's been beneath the surface. Right now ACNH might be working on something. It's rumored that the Animal Crossing New Horizons 2.1 version update is coming. Not just little tiny bug fixes and patches in the ACNH 2.1 update, but also exciting development and another possible crossover has emerged between Nintendo and ACNH for later this year. Read our Animal Crossing New Horizons 2.1 update guide 2022, we talk about the data mines and speculations for ACNH 2.1.0 update.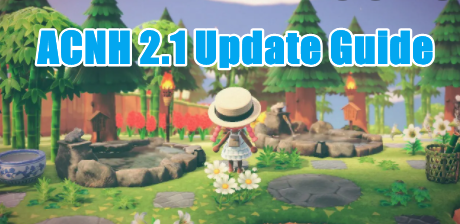 ACNH 2.1 Winter Update 2022 - Data Mine & Speculation in Animal Crossing 2.1.0 Update
Animal Crossing 2.1.0 update could potentially be a lot of fun. As we know that there was a recent 2.0.4 update in December and it brought in gyroid fragments on the beach. These gyroid Fragments can now wash up on the beach. There's a 30 chance that a gyroid fragment will appear each day on the beach. This is a pretty big update. For an update that was supposed to just be bug fixes.
Then Katrina got some updates as well in 2.0.4. Katrina now could give you zodiac figures and they introduced all the new zodiac figures for all the upcoming zodiac years. They give you the figure that you don't have for this year. If you do have the figure for this year then you're going to get a randomly picked zodiac figure that you have yet to catalog.
Then the data miners uncovered something very suspicious. If you remember from the way Animal Crossing does their updates when it's a third number or an "a" or a "b" that means minor. Such as 1.6. 1 and 1.6.1 b are minor. But when it goes to 1.7, 1.8, 1.9, 1.10, and 2.0 that is when the good stuff is really coming out. We haven't had a 2.1 because nothing major has really happened and we don't expect anything major until ACNH 2.1.0 update leaks. This update is internally marked as 2.1.0 winter 2021 and in various places such as bfevfl, 2.1 is used for changes made this update. This was data-mined that the 2.0.4 update was internally marked as 2.1.
Hinting that this was actually supposed to be a bigger update and that the gyroid modification and the Katrina increasing. Those who were in fact spar to be supposed to be part of a bigger update and supposed to be part of something more substantial. Now perhaps Nintendo referred to this internally just because that's how they referred to it just because they wanted to label it as the next update after 2.0. But they don't do that ever. Why specifically give us this indicator that it is the winter 2021 update? It makes you begin to wonder if there was more in fact planned for a 2.1 that they weren't able to get out the door before the year came to a close.
Winter 2021 begins on Tuesday, December 21st, but it doesn't end until March 20th 2022 and that means we're still technically in winter 2021. Therefore the ACNH winter 2021 update could still be coming and could still be in the works. This is our best hope and best indicator yet that Nintendo is actually working on something more than just bug fixes and little patches. The hints of Katrina getting something substantial and gyroid is getting a modifier. Maybe Nintendo actually does have more in their bag than just minor tweaks.
There's a chance that Nintendo drops something bigger in the ACNH winter 2.1 update. They do have the second time that Pave decides to strut his peacock and Festivale is returning quite soon. Could Nintendo drop an Animal Crossing 2.1 patch update to coincide and make the second anniversary of that event exciting? Considering it's the only holiday that we haven't had twice since we've already had Toy Day, Turkey Day, Halloween, and more events twice except for Festivale.
ACNH Crossovers 2.1
The third anniversary of Animal Crossing New Horizons is coming up quickly March 20th. 2020 also marks the 30th anniversary of the Kirby series on March 25th. No villager hunts but Kirby is as cute as a villager. There is wonderful praise he's been getting on his latest trailer and it says please look forward to a variety of Kirby 30 activities coming soon. As we know for the Mario 35th Anniversary, Nintendo brought over an awesome crossover update to Animal Crossing New Horizons.
Is there an opportunity to bring Kirby into ACNH? A Kirby villager would fit nicely! Or even just an item set, Kirby's legendary star, and he's got a lot of interesting enemies. Also, there are a lot of costumes that would go nicely with Kirby because his costumes give him abilities and that could convert into either able sister's outfits or it could convert into like holdable Animal Crossing New Horizons items that do something. Kirby would be generating new stuff in the ACNH 2.1 patch update.
Does Nintendo want to make this a marked event and make some interesting improvements? The truth is this is the best hint yet we've had that Nintendo might do something more for the 2.1 version update for Animal Crossing New Horizons in 2022.