Best ACNH Unique Island Themes - Uncommon Animal Crossing Island Themes & Ideas
2/10/2022 11:31:17 AM
The ACNH designs of some unique themes are inspiring and can help you get some creative and uncommon ideas. What Animal Crossing New Horizons island themes can you choose? Take a look at these 5 best ACNH unique island themes and ideas using 2.0 items and sets.
Related Read: Best ACNH Happy Home Paradise Ideas
ACNH Unique Island Themes - 5 Uncommon Animal Crossing Island Themes & Ideas
A diversity of ACNH 2.0 items inspired a new round of creative passion of players, allowing more different Animal Crossing island themes and design ideas based on the style of items. Kyuubi Crossing has found five uncommon island themes from different players, is full of brilliant ideas of existing items in ACNH, and also uses gorgeous custom patterns. If you are going to build an ACNH 2.0 island design, these are great examples.
1. Safari theme
The user @my_animalcnh created a safari-themed island that looks like the savannah, the wheat fields and overgrown weeds with seemly random but appropriate layout, different tree items on the background, yellow earth, and the single tent, as well as the car, can make the island just feels like a real safari. The tent is pretty close to the entrance to welcome new visitors to start a safari island tour. Different Animal Crossing New Horizons items here are working well to make this design realistic, with little detail into it.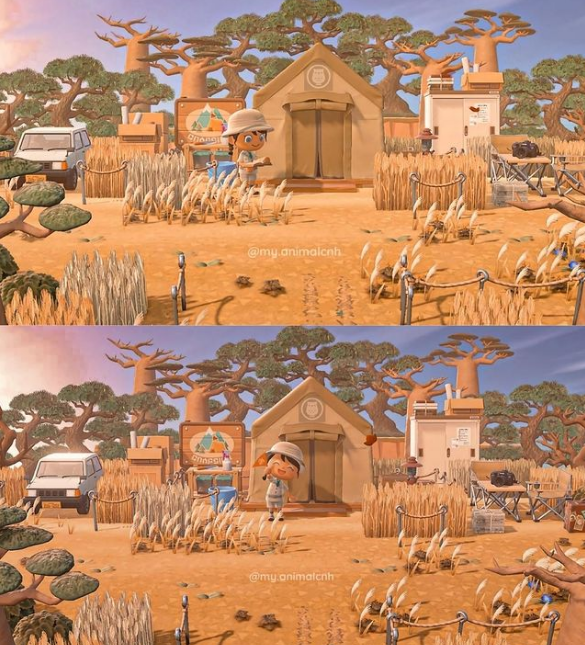 2. Moroccan theme
The second uncommon island theme you can use in ACNH is Moroccan, which involves the Moroccan series furniture added in the 2.0 Free Update. Kyuubi Crossing introduced a great example of a Moroccan island from the user @cabcrossing. The yellow Moroccan items, drums, and custom rug patterns work well and suit the theme perfectly, containing strong Moroccan region expressions. There are rooftops inspired by morocco you can get up on to get some different views and enjoy the great scenery. The greenery is noticeable on the island, completing the whole aesthetic.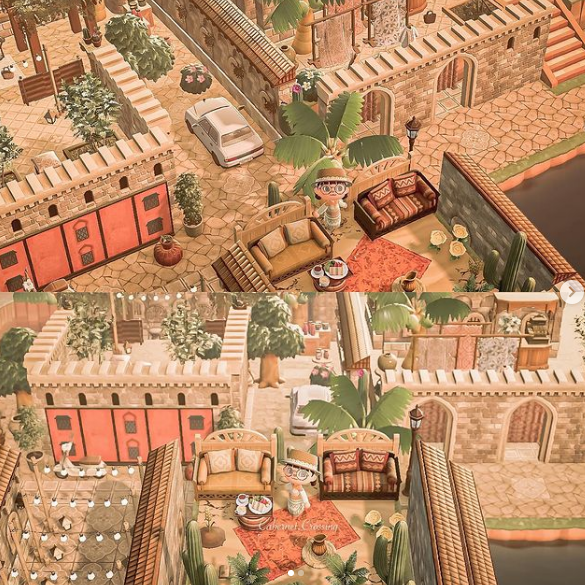 3. Castlecore theme
You may have visited a castlecore island, but an overgrown castle core island is unique. Few people will put these two themes together, but the user @acnh.pickleton does. You can also go to the island with the dream code DA: 5911-9667-7042. It is also a cool fishing village, with boats waiting to set sail, rustic wood cabins, small stool and wine bottles by the river, wooden barrels near the corner of the house, fallen leaves everywhere, and wood post on the ground, and the party lights on top of them to kind of frame the little walkway, each detail is obsessing. The creator mixing all of these different design codes to make it feel structured yet very overgrown, there is just so much beauty, waterscape and all the terraforming around the island.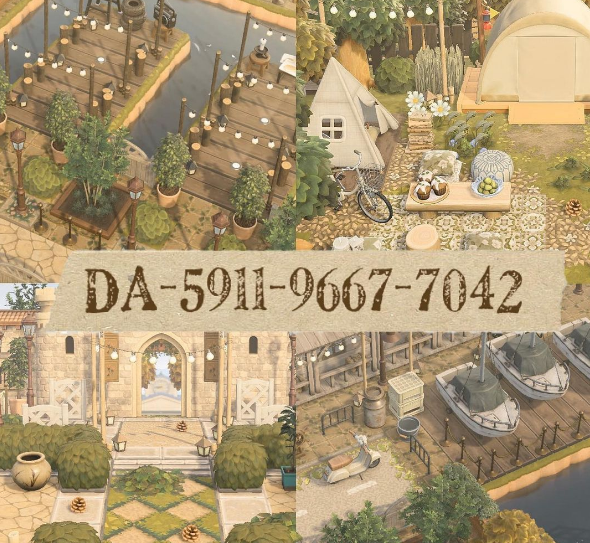 4. Carnival theme
Plaza items added in the 2.0 update are colorful and lovely, which makes them suitable for a kidcore theme. The user @ajayycrossing designed an island that combines kidcore and carnival themes, the primary colors are colorful and bright, all of the Plaza items are helping out with it. And there are lots of cute custom path patterns, with different weeds, flowers, and trees on the island, everything works in the best way. You can also use these new items in your playground and plaza.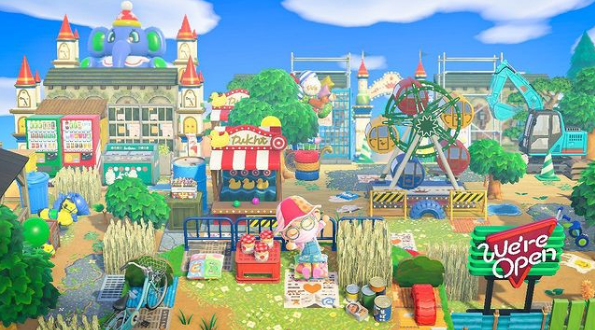 5. Underwater
The last one is an amazing underwater theme island created by the user @_horriblegaming, the whole island feels like it's underwater, it's very creative and beautiful, there are so many Animal Crossing items to work with, including the shell set, beach items, mushroom items, light sources or items, models, plants, rocks, coral reef custom designs, and more, it looks like there are all kinds of creatures living in the ocean, and the submarine looks amazing, you can even see creatures through the boat window.