12 Best ACNH House Interior Ideas 2022 - Making A Better Animal Crossing House
5/11/2022 11:34:03 AM
The house is the center of life for all who play New Horizons. If you have no idea to decorate & what to put in your house interior, this guide is for you. We present 12 different ideas for decorating your interiors on Animal Crossing New Horizons. For anyone just starting out, these interior decoration ideas (shared by a Youtuber named Lex Play) can help you turn any drab tent into a dream home!
Best ACNH Interior Ideas 2022 - 12 Amazing Animal Crossing Interiors To Inspire Your Home
1. Fairytale Room - RA-4504-1962-5360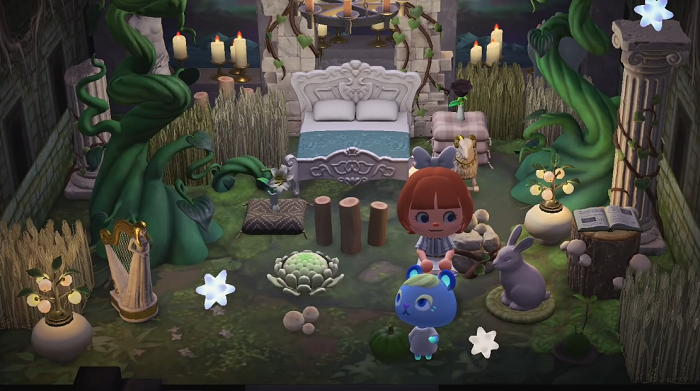 This creator decided to make it sort of a fairy tale vibe like she's in a long lost castle or something, she is just playing in the glowing moss, she is so precious. The virgo harp has a statue look, if you look at it from the right angle, there was a woman on the virgo harp. This was a brilliant room, so lovely.
2. Coolest ACNH House Interior 2022 - RA-4034-2608-6569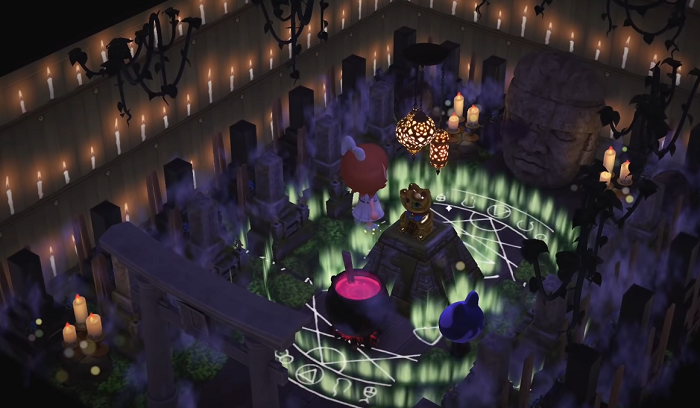 This build is so interesting, the combination flooring and wall together make really cool effect, it was really cool how this creator polished all of the gravestones here. This was so cool like cloudy effect. Also villager here really got into it, the glowing moss rugs on the floor separate off the like wooden flooring, but while you are moving the camera around, the far wall the entrance wall makes it look like you're going back outside.
3. Bedroom Area Design - DA-2550-0871-0172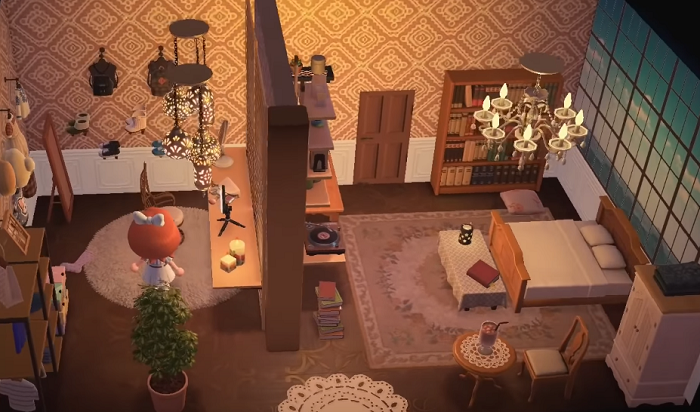 This is just a cute and cozy little bedroom build, the way this was set up is great. There's the bed, nice windows, really cool room, but then it's set off from the little like makeup and get ready area, this kind of huge walk-in closet vibe was so cool. The designs that are hung up on the wall are so cute and that it's just perfectly arranged like everything it feels like there's just enough in this room for it to be cozy and homey and feel like a real bedroom, everything was just arranged so well.
4. Dancing Room Design - DA-8997-7462-6315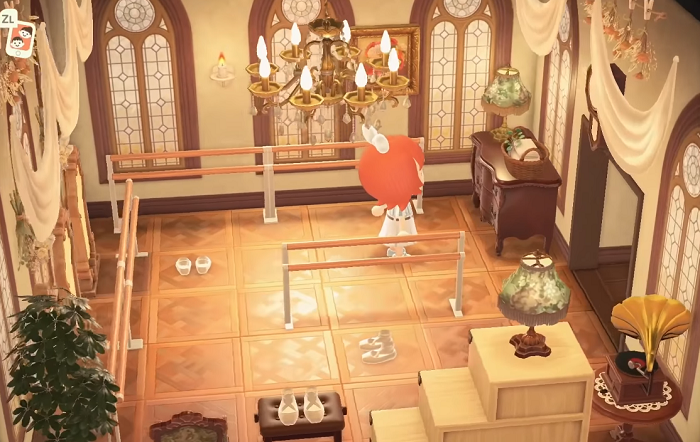 This one was so unique, we've got a dancing room, a ballet room, this was beautiful, the use of the antique items in here really make it feel elegant and classy, the drapery and the chandelier really contribute to that aesthetic, this was a gorgeous room, it was really well done, all of the details that call back to the fact that it is a ballet room like the little ballet shoes on the floor and on the stool, so cute. The stair dresser worked really well here, so every time we see it like this is automatically a fantastic room.
5. Living Room Decorating Ideas - RA-7308-1301-0929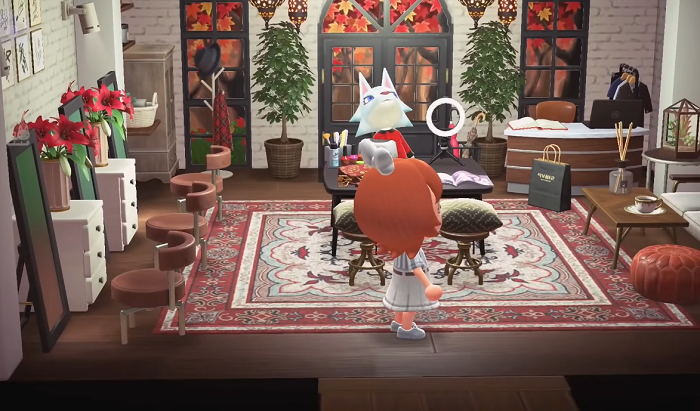 This creator went for a salon vibe and the custom designs in the back for the wall where you can like see the autumn trees through the windows. It was really well set up, it has both a hair salon and a nail salon vibe like you can go get your hair done on the left, nail's done in the middle and there's even like a little waiting area. Everything about this was so great. The color coordination is well, everything just works together so well. It's just beautiful.
6. Celeste Home - RA-9375-9482-9096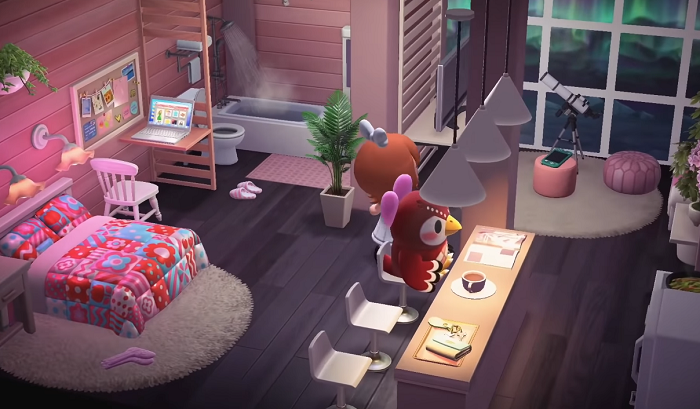 This is a home for celeste, the windows in the back where you can see the northern lights, that is incredible. This is like studio apartment vibes, there's a kitchen, a living space, there's a bedroom, a bathroom, everything is just it's lovely and I really love how they went with a pink vibe for celeste that definitely fits her like matches with her bow.

7. Paint Room Design - DA-8984-6652-2811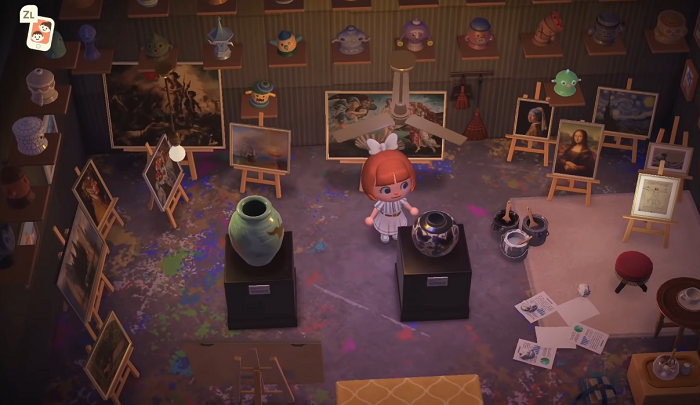 This is like a paint room, slash art gallery, this creator is clearly so passionate about painting. There's even like works in progress vibe, the paint cans on the floor, scattered paper showing you failed art projects, it was so homey. Villagers are like muses on the wall, this is the muse wall. Also the gyroids made it really chaotic but also made it feel like it's also a pottery studio. They're also creations of art. The way this room was set up is great, so much was packed in here but it's still easily, navigable and super beautiful, every little detail was so thoughtful and well-executed.
8. Best Greenhouse & Plant Room Design Ideas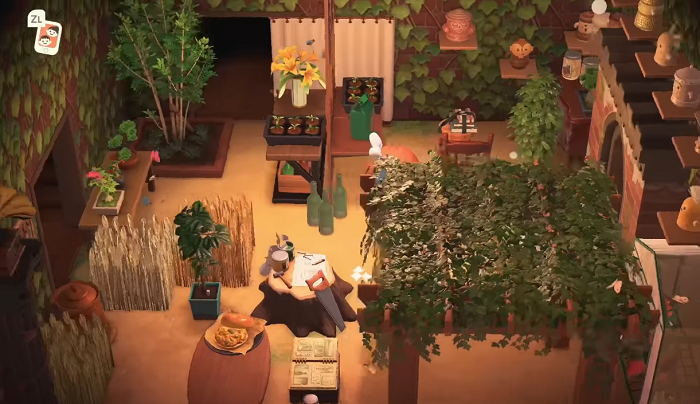 This room was gorgeous, it's like a a good outdoor area brought indoors, this is like a plant space, a little greenhouse aesthetic. There are literal plants growing out of the floor, we've even got a pergola in here, we've got gyrowatch, they're really popular now because they add so much vibe to your room, they're just out here singing they're performers, they bring interest to any room. They also were like neutral earthy tones, so they really fit in, the number of plants and everything in this room is so heartwarming. People love to see a good plant room and the polishing effects, butterflies, so cute.
9. ACNH Kid's Room Design - DA-7507-9930-7026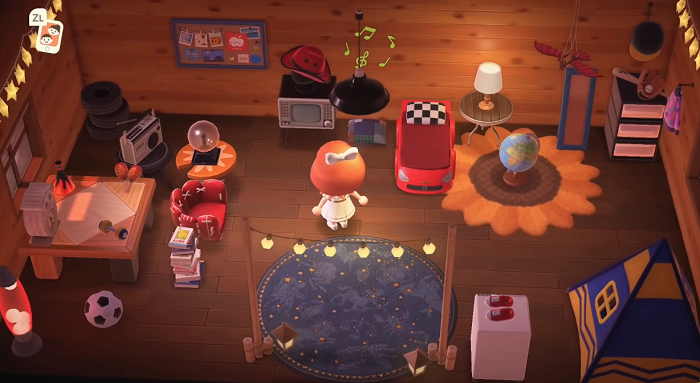 This room is a reference to the 2020 sonic movie, this is based off of sonic's bedroom even without that reference. It was super cute, just a really non-traditional way to create your bedroom. We've got some kid core elements, the way this table is layered with the chair books is great, the other table beside it everything here just looked so beautiful. Also the combination of rugs are great, it was just such a fun room, also the little lava lamp, good for sonic.
10. Outdoor Patio - DA-2236-8686-7620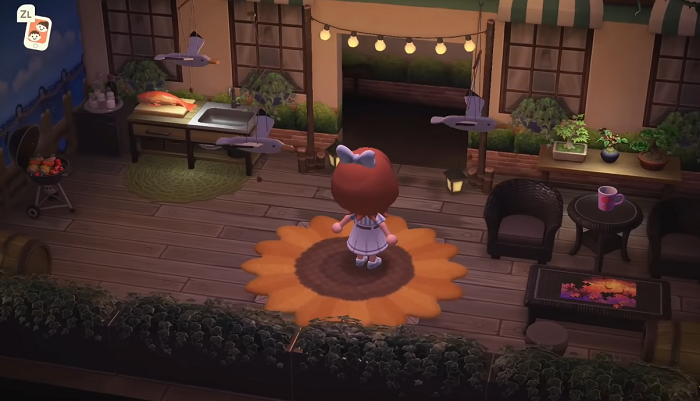 This is so pretty, you're like looking out over the ocean when you walk in but then you swivel the camera and you realize this is like an outdoor patio, this is a place where you can come and eat and rest, it gave you like cruise ship vibes and don't even get you started on the seagulls. The ambiance here is really nice, the way it's like mood lighting going on, there is the little kitchen area to the left and then if you're on over to the right, there's a place for you to sit, eat, do some activities. The plant partitions in the front are beautiful, all of the little details can make this feel vacationy.
11. Elegant Studio Apartment For Ione - RA-2201-5610-8343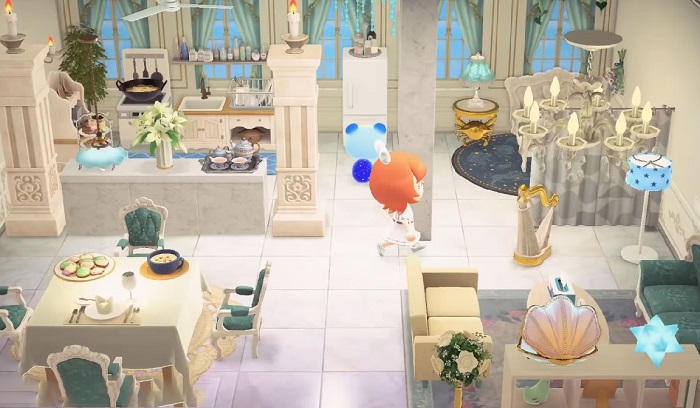 This take is more of like an elegant studio apartment, it could also just be a house with rooms, this is so pretty. The use of the elegant furniture for here for for Ione just fits her vibe, she is an elegant queen, she deserves this, it's like a palace for her and that is what she would ask for.
12. Amazing Bedroom Design Ideas - DA-0373-4127-8487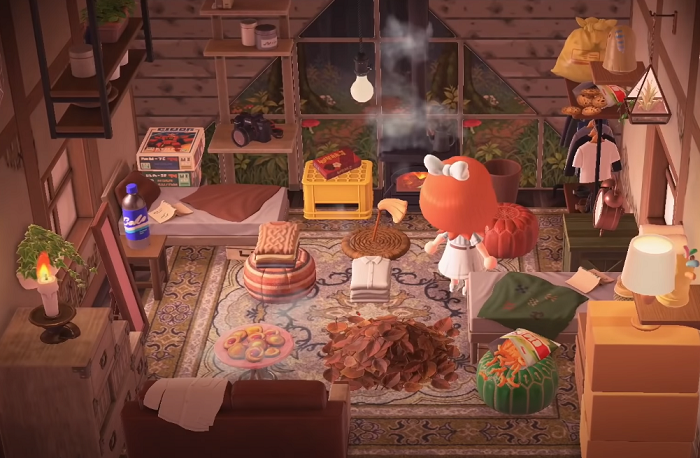 This room is actually based on harry potter, this is like a messy bedroom for harry and ron and the sweaters. Molly weasley definitely made those herself, it was really nice, really messy. The custom designs are great where you can look through and it's like a window into the woods, definitely felt like we were in the weasley's towering house. This was so cute all of the vibes of like messy teenage boys, it really fit them. You can actually sleep on the sloppy beds so you learn something new every day.
Hope you can make a better Animal Crossing house with these coolest interior designs!