ACNH Reese and Cyrus Customization Guide: How Customization Works In Wedding Season 2022
5/12/2022 4:31:20 PM
Today we're taking a closer look at Animal Crossing New Horizons Reese and Cyrus's customization mechanic covering a few things you may not know about, and then exploring how this feature works during the upcoming wedding season 2022.
ACNH Customise During Wedding Season 2022 - Reese & Cyrus Customization Tips
Since the 2.0 update, Reese and Cyrus can be invited to set up shop on half's mini archipelago, like all of the other special characters such as Redd and Sahara, Reese and Cyrus offer a unique service here and will customize your furniture items for you for AC bells. In many ways, this saves players a lot of time purchasing customization kits from Nook's Cranny and customizing them themselves at crafting benches.
Another benefit from using Cyrus instead of customizing items yourself is that sometimes Cyrus offers more variations and customization options than you would see yourself at crafting benches. One example of this is accessing the rust and damaged versions of certain items, some of the most notable include rusty or damaged versions of the storage shed, the mini car and the yacht amongst others, and paying Cyrus to customize these items is the only way to get them on the New Horizons island. Anyway, putting their customization feature aside Reese and Cyrus were some of the few special characters that played a larger role in Animal Crossing New Horizons before the massive update last year and before half's shopping area. Although not part of the game at launch, Reese and Cyrus were added in the 1.2 update just after when the wedding season was added to the game.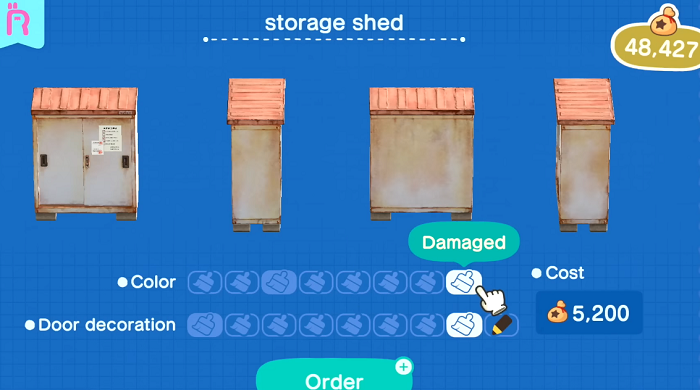 ACNH 3rd Wedding Season Event - How Customization Works During Wedding Season 2022
The wedding season is an annual holiday in ACNH that takes place for the entire month of June, so we're not too far away from being able to enjoy that again. During this time, Reese and Cyrus can be found inside half's cabin ready to celebrate their wedding anniversary and ask players to help decorate their venue and take a bunch of photos in honour of the celebration. The decoration and photos are for Reese and Cyrus, but the event itself is an opportunity to earn awesome looking heart crystals and unlocking or earning some limited time wedding themed furniture and clothing items.
The wedding season is a month-long event and players can take part every single day. Actually you need to take part a whole bunch of days if you want to complete the wedding furniture series or obtain extra heart crystals. Anyway, the wedding season event has been part of the game since June 2020, but Reese and Cyrus now also play a significant role at half's shopping area. So with the wedding season on the Horizons and only a matter of weeks away, people may curious to see how the game handled this, would it be like when a traveling character who has a shop on half's island closes for the day when they visit the main island leaving their camper stranded or something else, because it could really restrict Cyrus's customization feature during the wedding season if they did.
Since the 2.0 update with the wedding season returning and Reese and Cyrus's shop now a thing, it turns out there's no such restrictions and you can still make use of Reese Cyrus's customization even during the wedding season. In fact, after you see Reese and Cyrus at the cabin, they somehow pack up get changed and make it back to this shop before you do, so you can still make use of their feature. But all jokes aside it's probably a good thing that both the wedding season and the customization shop continued uninterrupted from each other.
What do you think about the wedding season, are you looking forward to the 3rd wedding season and are you excited to celebrate Reese & Cyrus wedding anniversary?