ACNH Best Pier & Boardwalk Design Ideas 2022 - 15 Ways To Decorate Your Pier In Animal Crossing
6/13/2022 12:16:42 PM
Creating a dreamy area for your pier in Animal Crossing New Horizons might be tricky! Today, we would look at 15 ideas for piers in Animal Crossing New Horizons for 2022 that don't block Kapp'n. ACNH best pier, boardwalk and deck designs allow you to speak to Kapp'n!
ACNH Best Pier Design Ideas 2022 - 15 Ways To Decorate Your Pier In Animal Crossing

The beach decor can be equally as important as what you actually put on the pier for making this area feel complete. We try to cover all sorts of themes and vibes for this guide because everyone has a unique aesthetic that they're trying to achieve. We wanted to show off how creators can do so many unique things with their piers. One thing to be mentioned is that Kapp'n won't be visible when you visit these islands because they are dreams and NPCs don't appear in dreams.
ACNH Pier Design 1 - IG | Serein-Crossing
The first island we have today is a very natural take on the pier. This was so creative, the creator wove the grassy custom designs onto the pier itself to really link it with the beach that leads into it. That's going to be a big part of ACNH pier and boardwalk design guide. We are going to look at the beaches around the pier because they can be equally important to decorating the pier to determine what looks good on your pier. You have to find a balance between height and the number of ACNH items on either side of your pier and this creator just did it perfectly. This Animal Crossing pier pattern design is so beautiful, you will love all of the green here.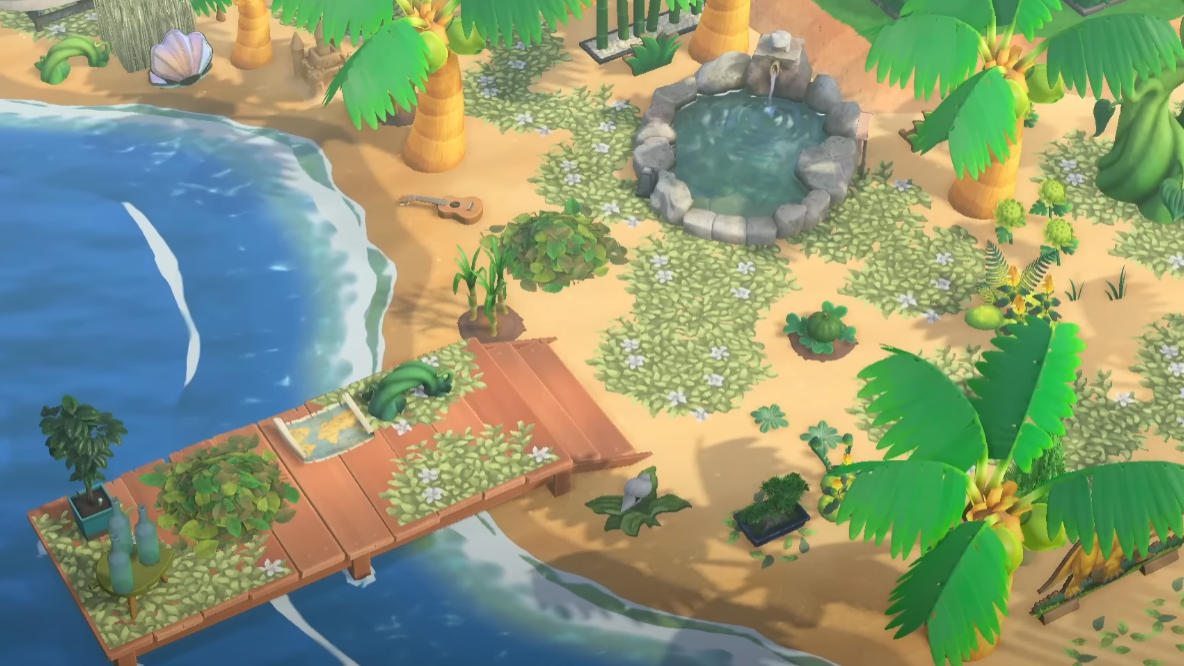 ACNH Pier Design 2 - IG | Acnhmerakiisle
The next ACNH fishing pier idea is also super beautiful. The brick pathing this like cafe vibe that we've got going on. the pier itself is a little fishing zone. This is where you would talk to Kapp'n. Perfectly free for you to come and do cap and boat tours. This has been a long-awaited guide since we got Kapp'n because how do you decorate now. That there is a use for the pier and this is a brilliant example, it still feels full. The pier doesn't feel empty or anything and it's perfect for still being able to visit Kapp'n.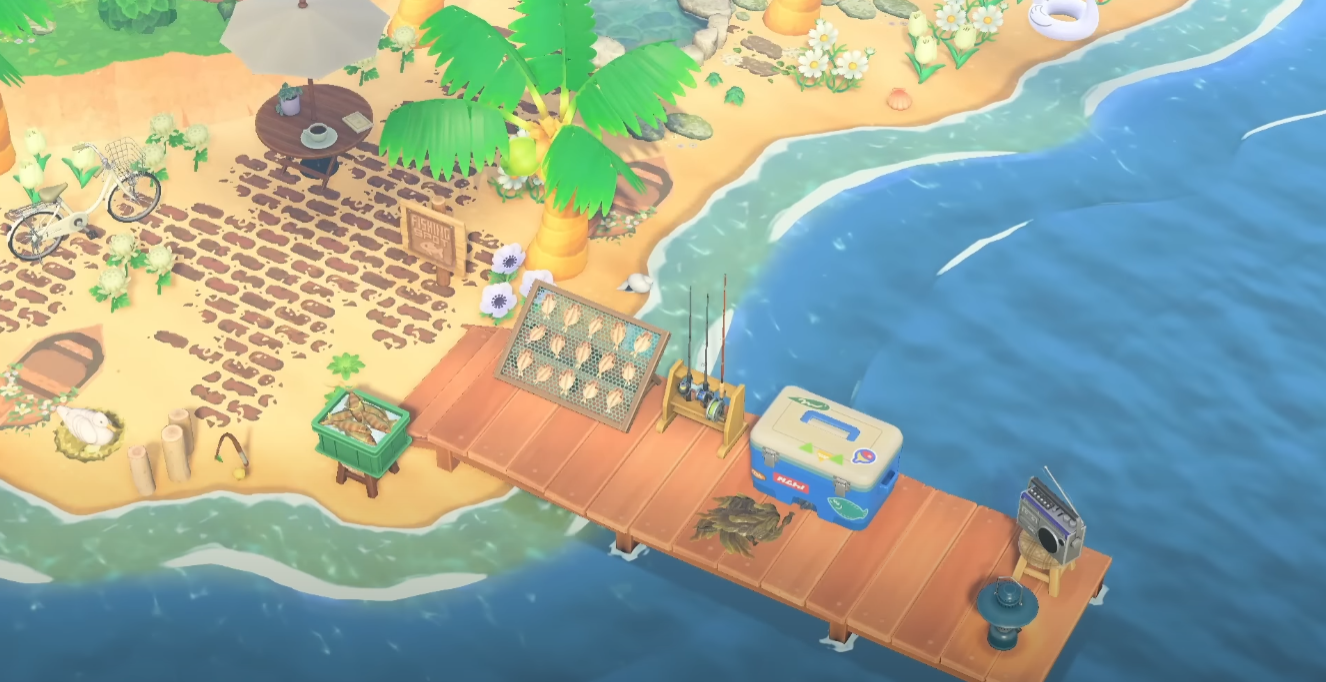 ACNH Pier Design 3 - Foraging_ginger#8555
This is also a really cute Animal Crossing pier idea. This is another take on the fishing spot, you will notice the little retro gas thing, it's like a gas canister for boats. The inclusion of a villager house makes it seem like this is like a private fishing area a private fishing zone. There's the boat itself, the yacht that they would be filling with this little retro gas place. Also, the ice bait and tackle sign are so cute. There's even a little duck. This just feels so cozy and homey.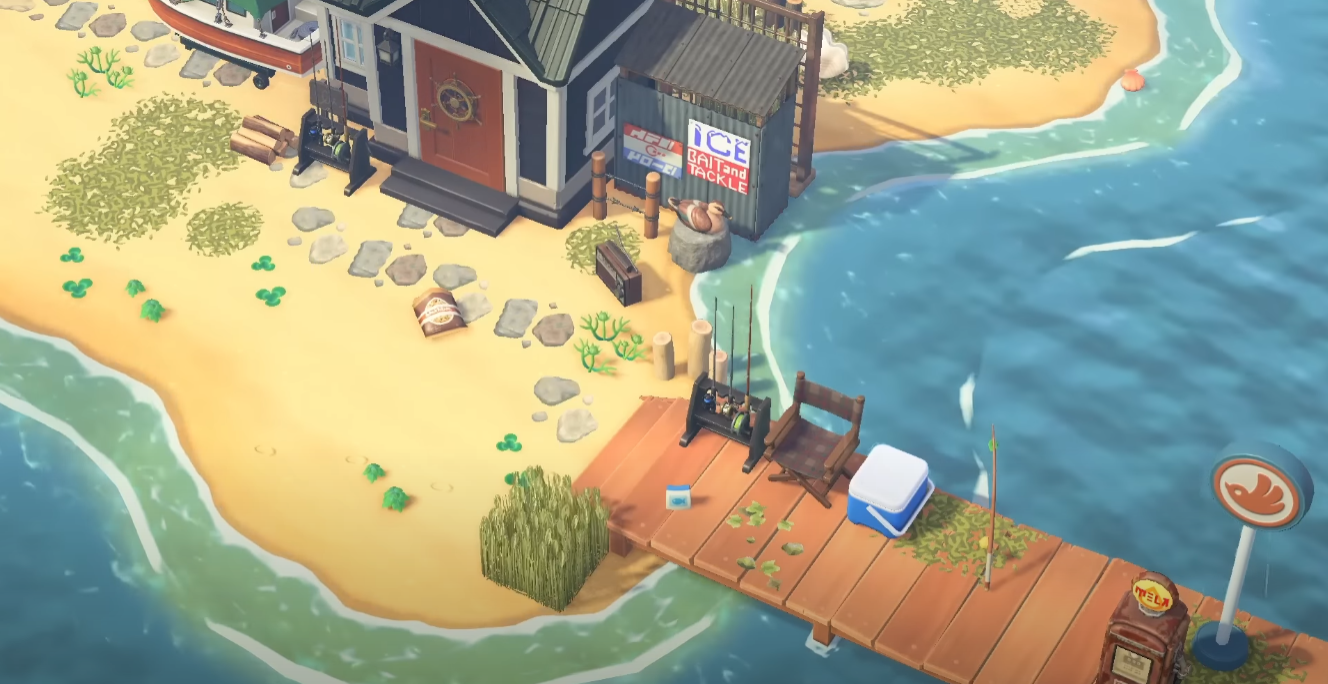 ACNH Pier Design 4 - YT | Keyla Games
This next creator went one step further instead of just making the pier accessible for Kapp'n. They made the whole pier design about Kapp'n. Look at the little boat tour's house, it's like Kapp'n and his family live here in this greenhouse. In the little seating area on the pier, it's like you can sit and wait while Kapp'n is doing boat tours for other people. This was super creative and a good way to emphasize the fact that Kapp'n lives here, it's not just making it available for him. The pier here is all about our Kapp'n.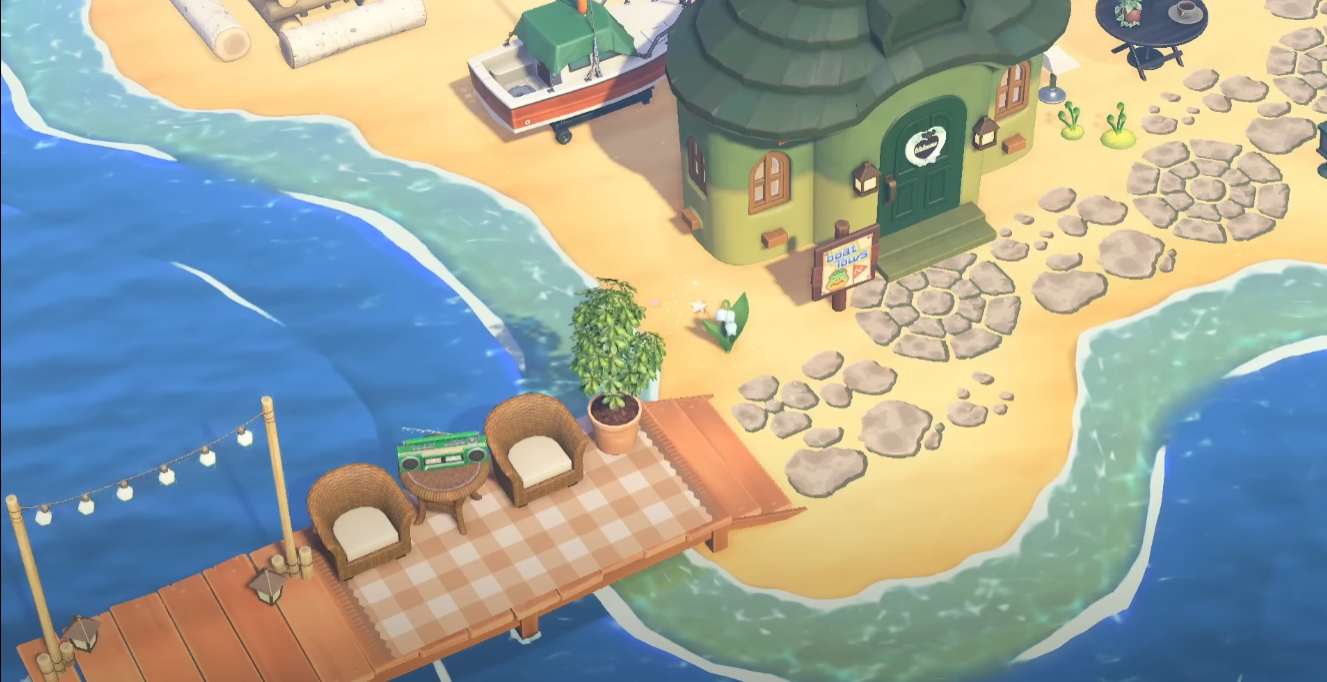 ACNH Pier Design 5 - IG | Lattevus
This Animal Crossing pier design kept it relatively simple. But these custom designs on the ground and the inclusion of these little gyroid boys are so cute. These little Instax mini printer photos on the ground are all so cute and again we've got a waiting area. This is kind of like a bus stop for but wait but for the Kapp'n boat tours. All the plants around here keep it lush without having a lot of actual plants and it's still simple. If you want to keep your beach pretty clean and not super cluttered, this is a great way to decorate the pier.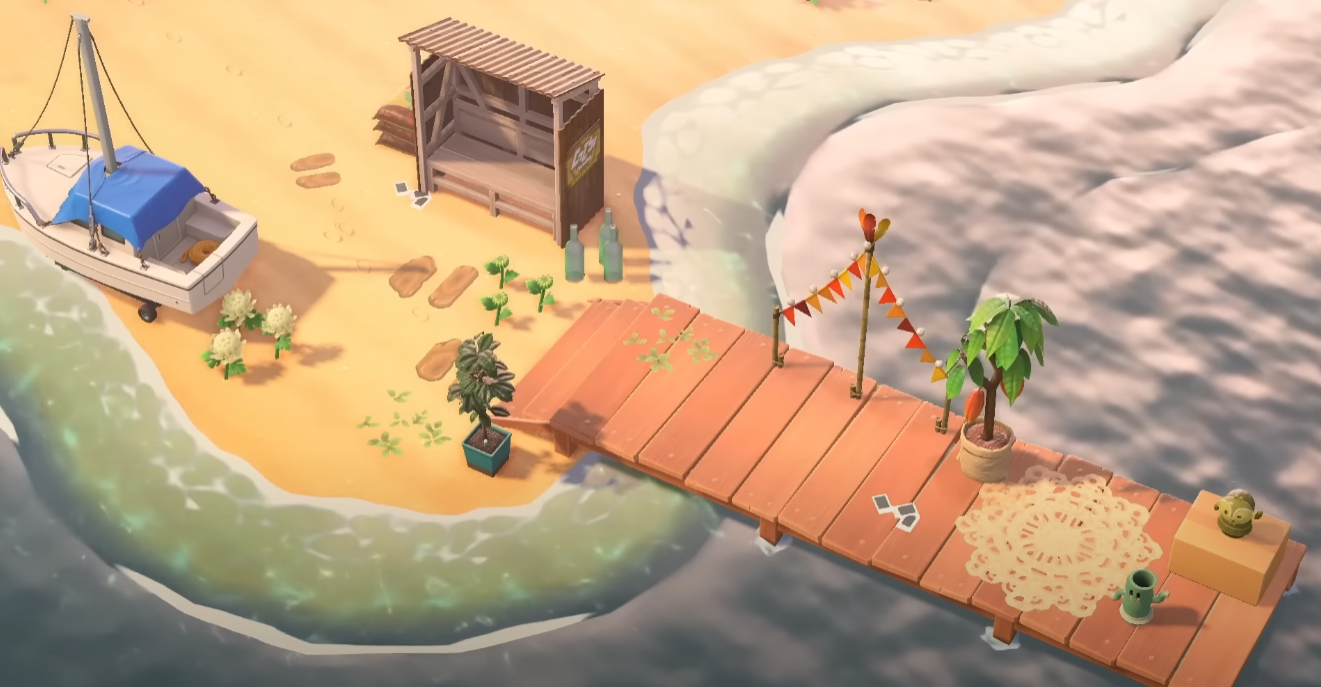 ACNH Pier Design 6 - IG | Stori.crossing
A common theme with the piers ever since we got Kapp'n was putting little archways in the form of these plain string party lights. How beautiful is this beach, all of the wheat fields really struggle to make them seem natural because they are so rigid? But this creator did it really well, making it where the wheat fields look natural and like they were actually growing out of the ground instead of being these rigid items that we actually have. The pier itself is really simple there are literally only four items including the lanterns.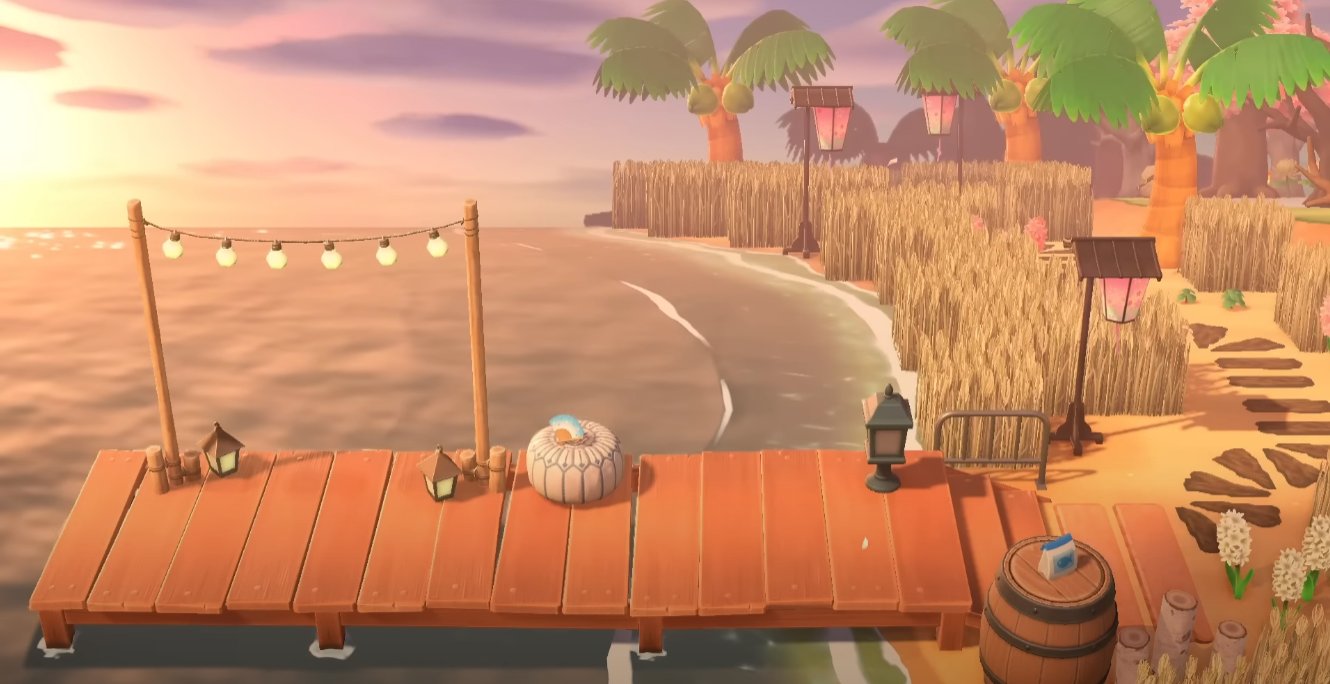 ACNH Pier Design 7 - IG | Toadstoolthings
This next island is so pretty. These two were back to back and they both used wheat fields around the pier. This one is a very good example of a natural pier. These leaf designs are on the ground and we've even got this little vine lamp. The beach again ties into it really well. We've got like this overgrown aesthetic happening. The little storage houses there look great too!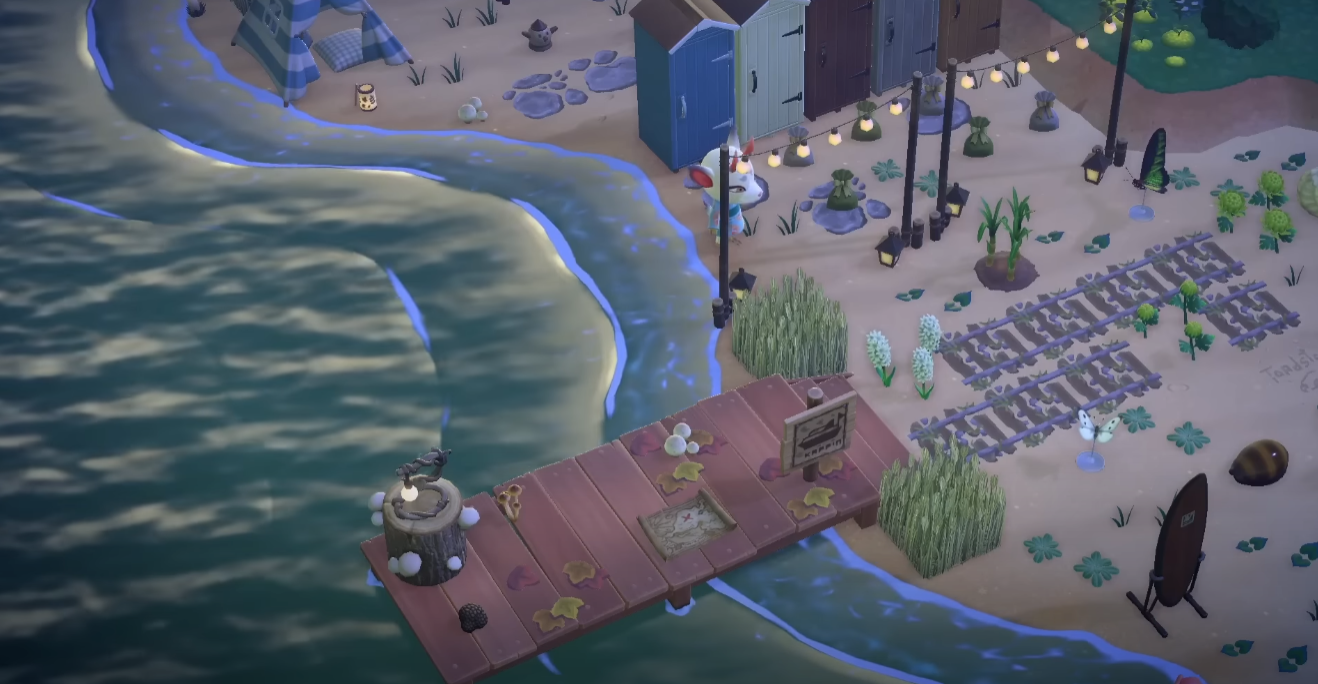 ACNH Pier Design 8 - IG | Juniper.Crossings
This was another brilliant example of using custom designs on the pier. This is so cute, especially the lily pad table there. These colors were just so bright and happy. They again tie into the beach itself because we've got these like green tinges in the bricks on the beach. The custom designs are really worked expertly into this island. The green chairs and the fish rods and the fishing rods behind the pier were good ACNH pier ideas. Look at these designs on the beach itself, these big blankets everything just fit together so well.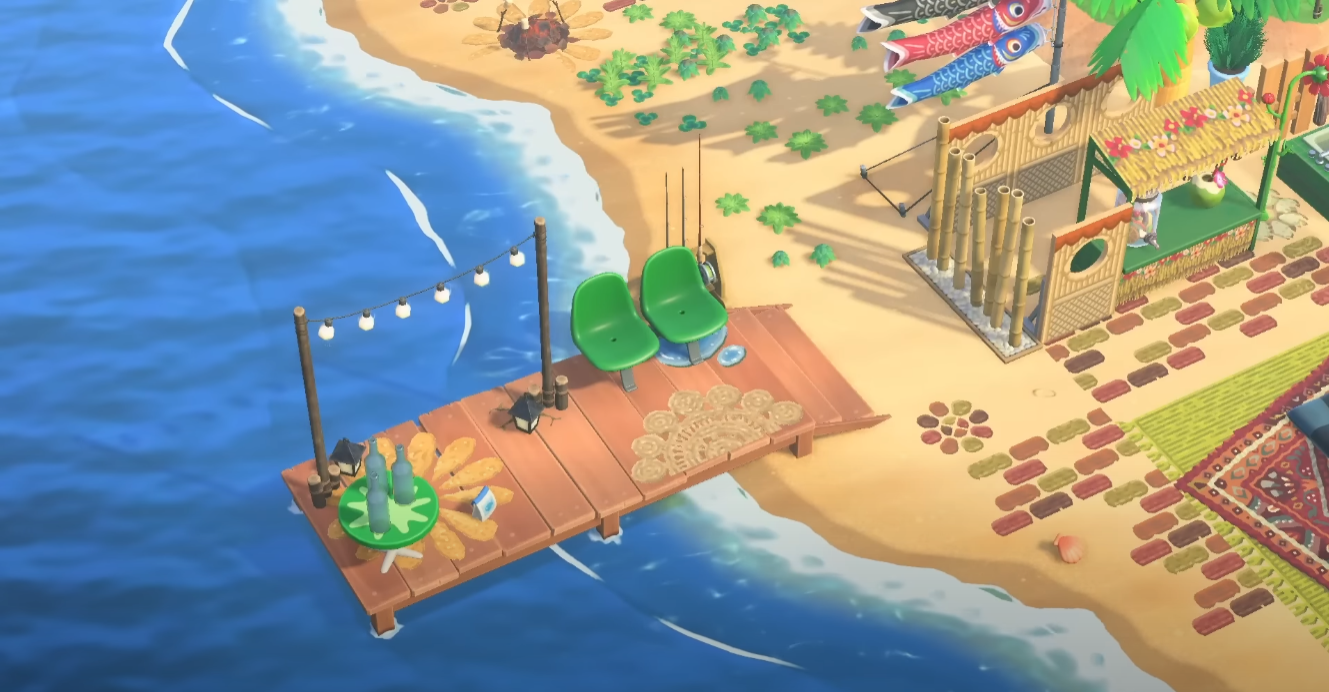 ACNH Pier Design 9 - Phionebaby56#3569
We've got some fake buildings lining the way to the pier. The whole pier here is covered with this cute little it's either trees or mushrooms. The little custom design is so cute, again we've got the plain party lights and string party arch. This little area we've got like a cafe is a genius way of using this custom design on the little ground.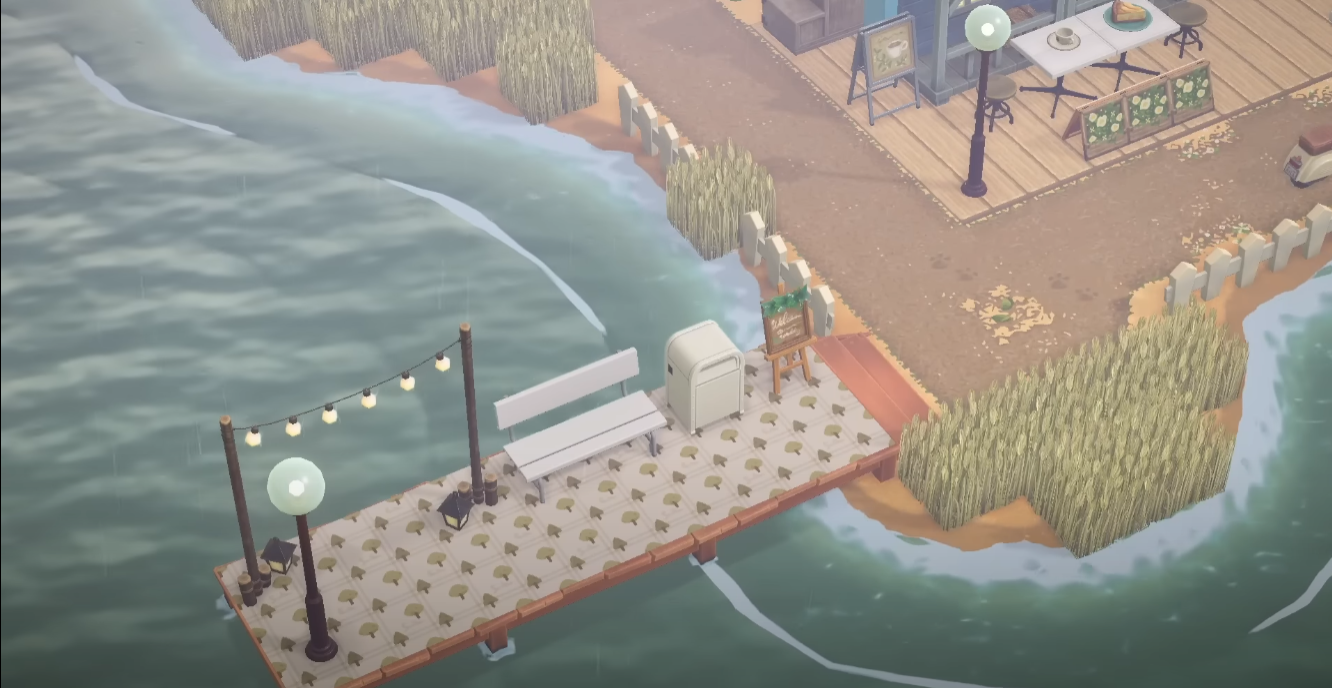 ACNH Pier Design 10 - Sabrina
This is like a spooky theme pier design in Animal Crossing New Horizons. This creator can make this spooky witchy tarot card reading vibe work, it looks amazing. The custom design hanging from these street lamps as well and the details here really everything, the skeleton, the eyes on the books, it's just spooky.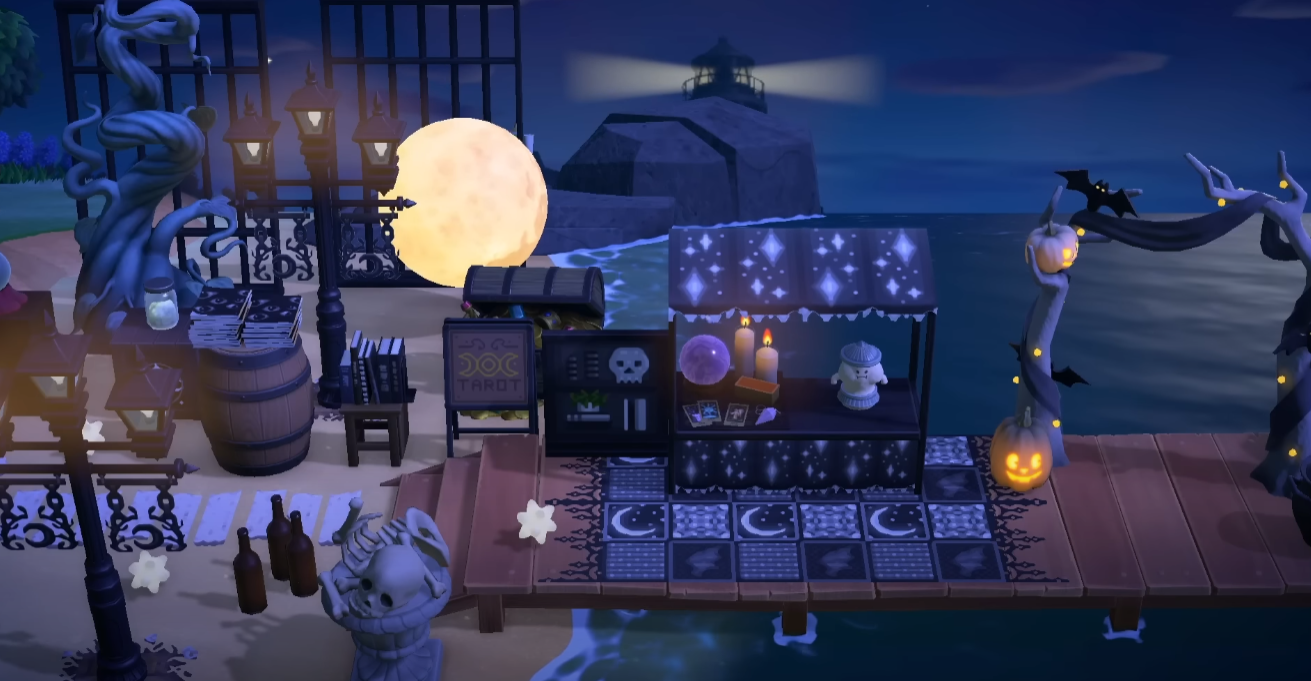 ACNH Pier Design 11 - IG | Cherie.crossing
Quite a change from the dark spooky ambiance of the last island. We don't think we've seen symmetry like this on a previous island for the pier. The matching rugs, the party lights, the monstera in between them, it's just arranged so beautifully. Even though it's simple, it seems like a lot of work went into this. If you're wanting to make your pier seem really over-the-top beautiful and you're not sure how to do it. This is a great place to start. The way you can see the illuminated items and the sunset on the beach is top-notch just perfect.
ACNH Pier Design 12 - YT | Forgotten Duke Games
This next island had a little turtle-hatching area. Imagine baby turtles moving down this beach to the ocean. Anyway, this pier was great because there was a good balance of items. You would stand to talk to a Kapp'n and the end of the pier has so many taller items going on from the barrel to the cacao tree with the radio on the barrel. It all looks amazing. The concept of this little puppy dude is fishing, also the duck on the water puddle.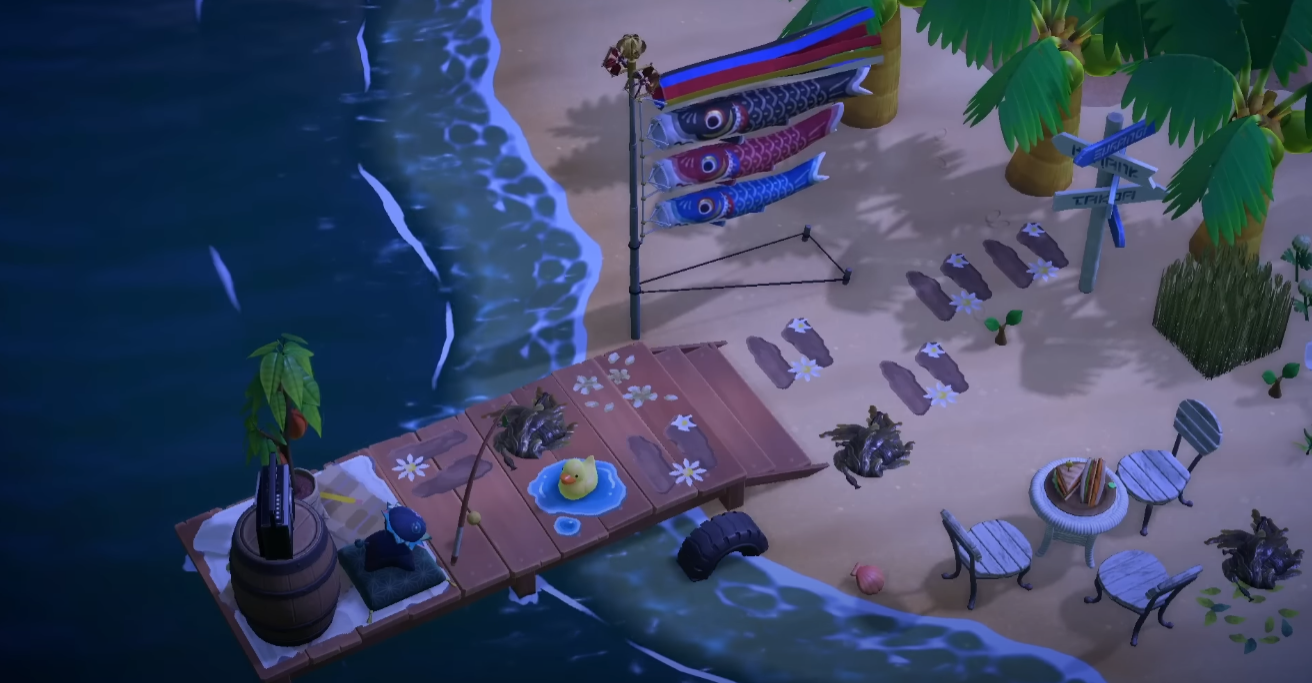 ACNH Pier Design 13 - IG | Natescott.art
Next is a kid-core vibe for the pier. How bright and happy the colors are, it was really cool to see how this creator made their pier really pop with all of these kid core-esque designs. The railroad tracks on the beach are absolutely adorable and the use of the pom-pom purim chair as well as the karo karo kuropi lantern. It all looks so good here and look at this little ice cream, how cute can you get? This pier was adorable!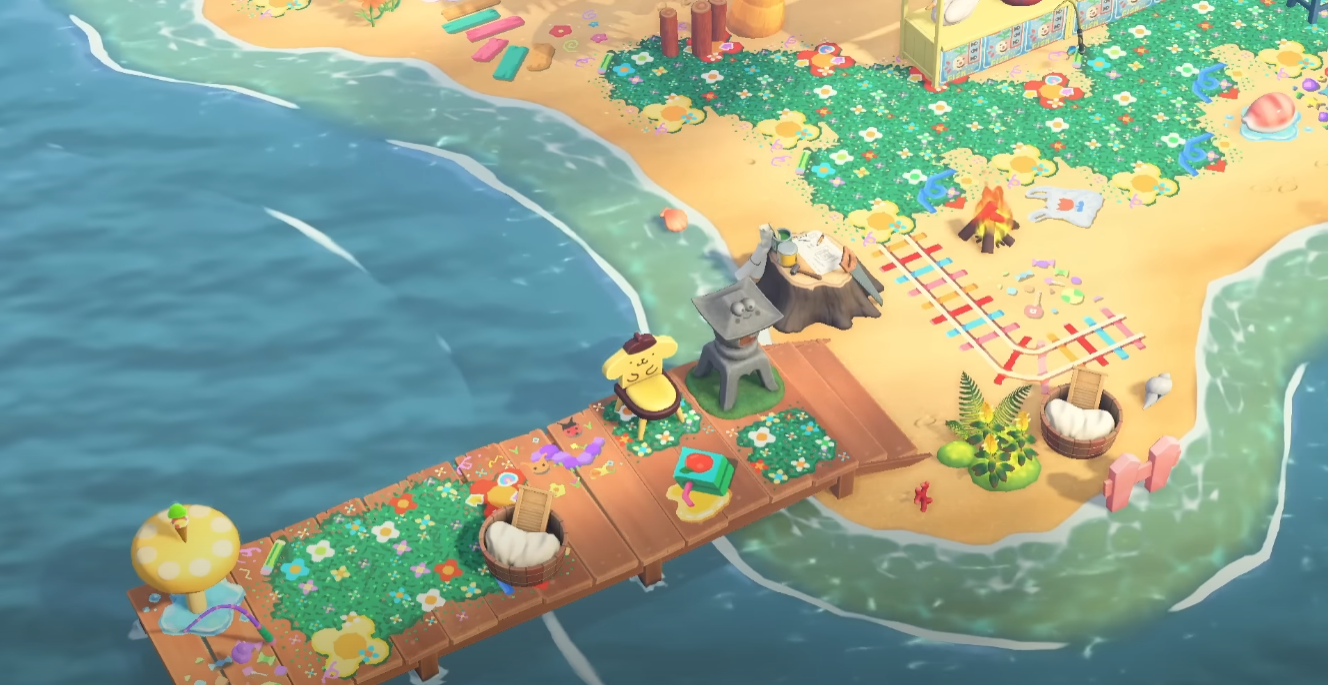 ACNH Pier Design 14 - IG | Leni_crossing
For those of you with islands in autumn or winter, this was a great example of a super cozy pier, very festive. The rug on the ground, the colors, and this little baby carriage also was so cute. This creator just put a little couch on the pier and it looks amazing, it looks so cozy and comfortable. The beach itself has a bonfire. It just really did have wonderful christmasy vibes.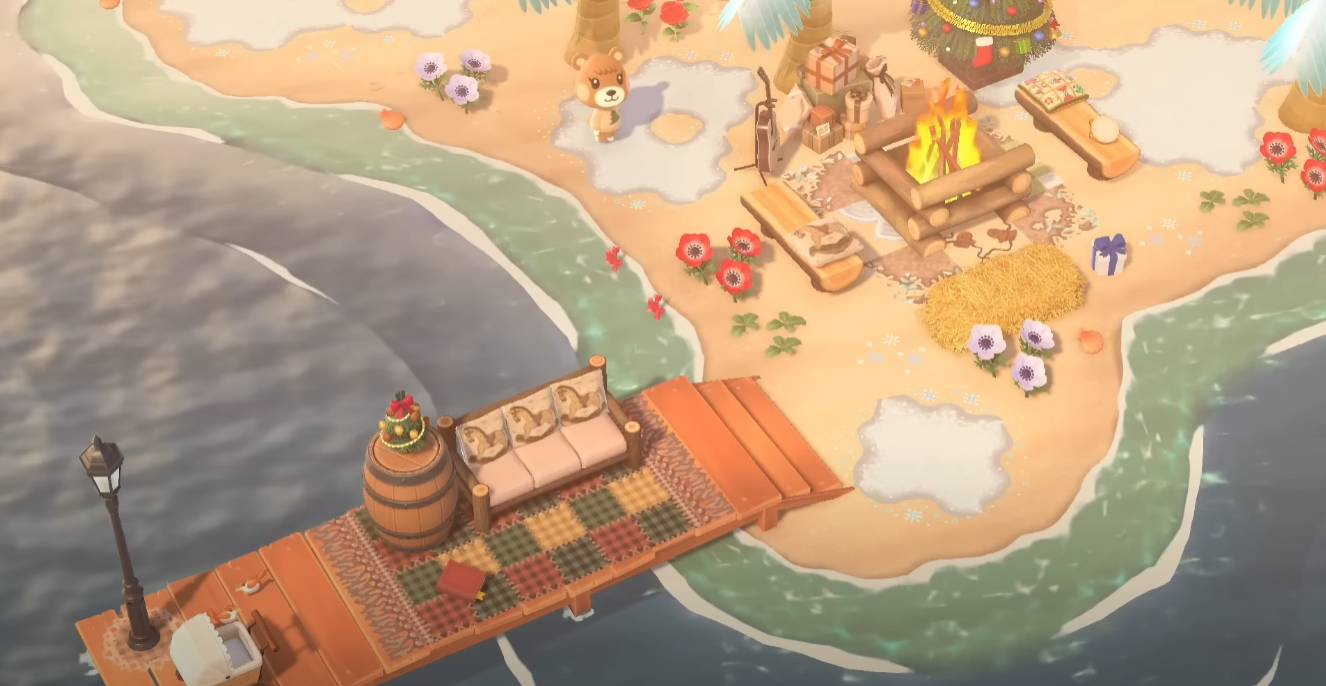 ACNH Pier Design 15 - Nikki
This next ACNH pier design idea kept it really simple. Just a couple of items kind of showing that you could sit here relax and there's a pier matching custom design that leads into this fishing dock and this like building. The custom designs that went into this were beautiful. It's so cool that they matched the pier itself and it was just really well done.