ACNH Fall Update 2022: Autumn Events, Seaonal Items, DIYs of September, October, November in Animal Crossing
8/1/2022 12:12:04 AM
With this guide of ACNH Fall Update 2022, we go over all the new events (holidays) to celebrate, the new seasonal items & DIY recipes to collect in the beautiful cozy autumn season on both hemispheres.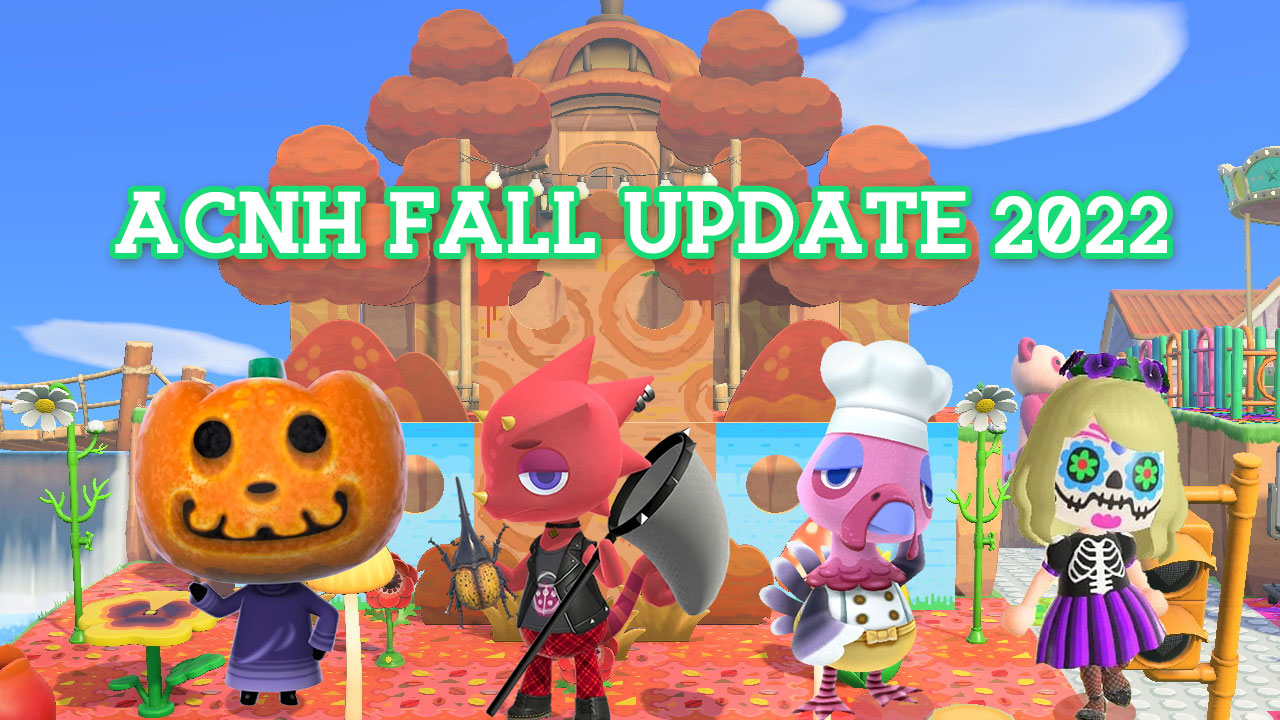 Animal Crossing New Horizons Fall Update 2022 (September, October, November)
Starting from September, the cozy, delicious, and harvest fall season is returning to our Animal Crossing New Horizons islands in the northern hemisphere, meanwhile, islanders in the southern hemisphere will usher in spring of lush greenery and dancing cherry blossoms. Autumn is the season for all senses, you not only deliver happiness with the visually pleasing palate of reds, oranges, and browns but ,also celebrate the seasonal joys with a bulk of events, holidays and seasonal items.
When the Autumn (Fall Season) is in Animal Crossing New Horizons?
The Autumn Season for the northern hemisphere is from September 1st to December 10th.
The Autumn Season for the southern hemisphere is from March 1st to and June 10th.

ACNH Fall Events & Holidays in September, October, November 2022
Yet no matter which hemisphere you are in, in Animal Crossing New Horizon we share the joy of autumn by celebrating the same events. Here we will go over all events and holidays that will come with ACNH Fall Update 2022 in September, October, and November:
Grape Harvest Festival
Date: September 1 to 30 (Both Hemisphere)
Items To Get: Grape-Harvest Basket
The first holiday in Fall to celebrate the return of autumn is the Grape Harvest Festival. Throughout the whole of September, you are able to purchase the Grape-Harvest Basket in Nook Store with 800 bells, this tool allows you to harvest the fruits during the harvest.
Moon-Viewing Day
Date: September 10 to 19 (Both Hemisphere)
Items To Get: Tsukimi Dango, Moon Cakes, Moon Rug
Moon-Viewing Day, often referred to as the Mid-Autumn Festival, is an East Asian holiday celebrating the moon's splendor. Because it takes place on the full moon closest to the Autumnal Equinox, this event's timing fluctuates every year. During the event time, in Animal Crossing: New Horizons, four new limited-time items will be added to Nook's Cranny to commemorate, including a moon carpet and a number of festive foods from China (Mookcake), South Korea (Songpyeon), and Japan (Dango). Don't forget to include a sizable Moon Rug so you can enjoy the moon from the comfort of your own home.
Chuseok
Date: September 10 to 19 (Both Hemisphere)
Items To Get: Songpyeon
Chuseok is actually similar to the Moon-Viewing Festival, as known as the Harvest Moon Festival. This is the traditional holiday celebrated in Korea to honor the harvest in fall and respect family who have passed, a special Korean food Chuseok (a type of rice cake) will be available in Nook Store, if want to bring a taste of the tradition to your kitchen table, don't forget to purchase it during mid-September.
Bug Off
Date: September 24th (Northern Hemisphere)
Items To Get: Bronze/Silver/Gold Bug Off Trophy, Artisanal Bug Cage, Bug Aloha Shirt, Bug Cage, Bug Wand, Butterfly Backpack, Butterfly Wall, Ladybug Rug, Ladybug Umbrella, Spider Doorplate, Termite Mound, Toy Centipede, Toy Cockroach.
At the end of September, with we are transmitting to colder autumn, hordes of insects will leave our sights throughout the fall and into winter, the last bug-off of this year will be held by Flick to give you a chance to catch more rare bugs and earn the bug-off trophies and other limited-time bug-themed items, so if you are have interested in, don't miss the opportunity.
Day of the Dead
Date: October 25 to November 3, 2022
Items To Get: Marigold Decoration
The Day of the Dead is a Mexican holiday widespread throughout South America and is celebrated every year between the end of October and the beginning of November. Unlike the Italian tradition, in Mexico it is customary to commemorate the deceased loved ones by age and type of death, bringing flowers and candles to the place of death. Despite the sadness of the festival, it is also customary to celebrate it with banquets and wearing colorful clothes and masks in the shape of decorated skulls. During this event, a special item - Marigold Decoration is available for sale in Special Goods of Nook Shopping.
Halloween Event
Date: October 31st
Items To Get: Jack's Robe, Jack's Face, Spooky Carriage, Spooky Wand, Spooky Flooring, Spooky Garland, Spooky Rug, Spooky Table Setting, Spooky Wall, Haunt Reaction, Scare Reaction
In October, the holiday season starts with Halloween, grow pumpkins and decorate your island with a spooky vibe. On Halloween Night on October 31st, meet Jack and join his trick or treating, you will be rewarded with exclusive Spooky Set items. But don't forget to prepare some Candy and Lollipops in advance.

Saint Martin's Day (Lantern Festival)
Date: November 1 to 11, 2022
Items To Get: Handheld Lantern (6 different variations: Stars, Moons, Stained Glass, Suns, Geese, Leaves)
Saint Martin's Day aka Lantern Festival is one of the most colorful events in the world and is celebrated in various parts of East Asia at the beginning of November. The Feast of Saint Martin actually has a thousand-year tradition: the origins can be attributed to the first Chinese dynasty (Han). At the time, the fire was an element with a profound symbolic value, capable of driving out evil and bringing peace and blessing. This is why substantial illuminated figures have led to the birth of a tradition, now reproduced in different areas of the world. Thanks to the addition of new seasonal items, we will also be able to celebrate the Lantern Festival at the end of Fall in Animal Crossing: New Horizons!
Thanksgiving Turkey Day
Date: November 24th
Items To Get: Turkey Day Casserole, Turkey Day Chair, Turkey Day Decorations, Turkey Day Garden Stand, Turkey Day Hearth, Turkey Day Table, Turkey Day Table Setting, Turkey Day Wheat Decor, Turkey Day Flooring, Turkey Day Rug, Turkey Day Wall, Cornucopia
On the occasion of American Thanksgiving, the world-famous turkey chef - Franklin will be coming to our island and organizing the annual Turkey Day to celebrate the Harvest Festival, which is repeated every year on the fourth Thursday of November, from 9:00 to midnight. Help Franklin cook Thanksgiving and you'll receive exclusive items from him that are perfect for creating fall and holiday-themed decor on your island.
Nook Friday
Date: November 25th, 2022
Items To Get: All Items on Nook's Cranny during the event time
Nook Friday takes its name from the well-known event known as Black Friday, an opportunity awaited by all shopping lovers. Black Friday is an event that originated in the United States of America and is originally celebrated on the Friday following Thanksgiving, or the fourth Friday in November. On this day, the Christmas shopping season officially begins and many stores offer a wide variety of discounts and promotions, such as 30% OFF.
ACNH Fall DIY Recipes & Seasonal Items in September, October, November 2022
There are actually 28 seasonal recipes in Fall, that includes Tree Bounty Recipes, Mushroom Recipes, and Maple Leaf Recipes. In addition, we also have some special DIY recipes to collect for crafting the exclusive item sets such as the Halloween Spooky furniture.
Tree's Bounty DIYs & Items

Date: September 1 to December 10 (Northern Hemisphere) / March 1 to June 10 (Southern Hemisphere)
Fall is here and brings the Autumn leaves, Acorns, Pinecones, and of course the Tree's Bunty DIYs. So get ready to craft these fall theme furniture to add a cozy vibe to your island. Acorns and Pinecones can be found throughout the season, you just need to keep shaking the tree from both left and right.
DIY Materials To Collect: Acorn, Pine Cone, Maple Leaf
Items To Collect:
Acorn Pochette
Leaf Campfire
Pile of Leaves
Pine Bonsai Tree
Traditional Balancing Toy
Tree-Branch Wand
Tree's Bounty Arch
Tree's Bounty Big Tree
Tree's Bounty Lamp
Tree's Bounty Little Tree
Tree's Bounty Mobile
Yellow-Leaf Pile
Halloween DIY Recipes & Spooky Items

Date: October 1st to 31st
The Halloween season is here and what better way to celebrate it than to decorate your town in the pumpkin Spooky DIY recipes? These can be found and collected throughout October. However, before you craft any of the Spooky DIYs, you are going to need pumpkins. So remember to grow some pumpkins and harvest different color variants (Yellow, Green, White) to customize the color of the Halloween items using a workbench.
DIY Materials To Collect: Yellow, Green, White Pumpkins
Items To Collect:
Spooky Arch
Spooky Candy Set
Spooky Chair
Spooky Lantern
Spooky Lantern Set
Spooky Scarecrow
Spooky Standing Lamp
Spooky Table
Spooky Tower
Spooky Treats Basket
Spooky Tree
Spooky Trick Lamp
Maple Leaf DIYs & Items

Date: November 16th to 26th (Northern Hemisphere) / May 16th to 26th (Southern Hemisphere)
During the last month of Autumn, from the 16th of November for 10 days, you will see the Maple Leaves falling from the sky along with finding the Maple Leaf Seasonal DIYs. You will see a beautiful autumn island with leaves falling from the sky in the background and every so often large maple leaves, which become more common as the days go on.
DIY Materials To Collect: 51x Maple Leaves for crafting all Maple themed items
Items To Collect:
Red-Leaf Pile
Three's Bounty Arch

Maple-Leaf Umbrella
Maple-Leaf Pochette
Leaf Stool
Colored-Leaves Floor
Autumn Wall
Maple-Leaf Pond Stone
Tree's Bounty Big Tree
Mushroom DIYs & Items

Date: November 1st to 30th (Northern Hemisphere) / May 1st to 31st (Southern Hemisphere)
The last month of Autumn also brings a month full of Mushrooms and the new Mushroom Furniture Seasonal DIYs. Almost all of the Mushrooms growing on your island will be above ground in the grid right next to eligible trees. This includes the Flat, Round, Skinny, and Elegant Mushrooms.

DIY Materials To Collect: 14 Flate Mushrooms, 8 Round Mushrooms, 1 Rare Mushroom, 15 Skinny Mushrooms, 3 Elegant Mushrooms for crafting all Maple themed items
Items To Collect:
Mushroom Wreath
Mush Partition
Mush Low Stool
Mush Parasol
Mushroom Wand

Mush Wall

Mush Table
Mush Lamp
Mush Log

Forest Flooring
Forest Wall
Mush Umbrella
So that's all the events and seasonal items you are meeting in this Autuman on Animal Crossing New Horizons island.