ACNH September Update 2022 - Events, Items, DIY Recipes & Critters In Animal Crossing Fall Update
8/1/2022 9:16:38 AM
Welcome to the Animal Crossing New Horizons Guide to September. Sadly September is not the best month for events. But we still have a bunch of updates and changes throughout the month, including new items and DIY recipes to collect during the Animal Crossing fall update. In this ACNH September Fall update guide 2022, we will discuss all the events, items, DIY recipes, and critters.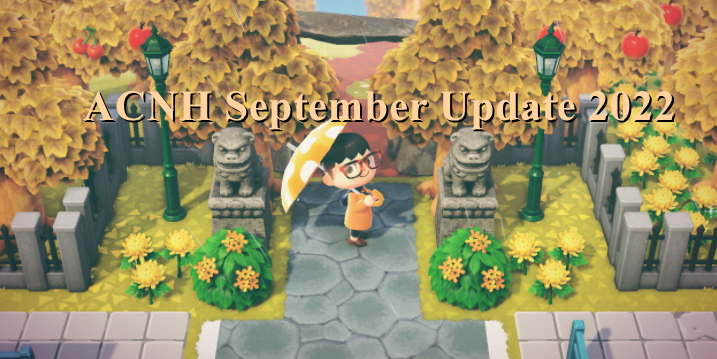 ACNH September Update 2022 - New Events, Items, DIY Recipes & Critters In Animal Crossing Fall Update
September is the start of the fall update in Animal Crossing New Horizons. This means you will start to see a few changes around your island, including a change in grass color, tree color, and decorations. Perhaps most importantly acorns and pine cones will begin falling from your trees. These ingredients are used for a variety of tree bounty items that you can earn during the entire fall season. Next, we are going to see everything about ACNH Fall September update 2022.
ACNH September Events 2022
Moon Viewing Day
From September 12 through to September 21, players can celebrate Moon Viewing Day and Chuseok by purchasing some exclusive items. Moon viewing day is essentially the real-world event in which people celebrate the autumn moon sometimes referred to as the harvest moon or the full moon that happens around the September equinox and basically admire its beauty. It's an event that has been celebrated in pretty much every Animal Crossing game as far back as the original that sees the likes of Tortimer or Isabelle hosting the small celebration and handing over an exclusive item. Anyway, to celebrate Moon Viewing Day, players can purchase the moon rug with ACNH bells. Most veteran players will probably already have the dango and the moon cakes which are both items for moon viewing day 2022.
Chuseok
Chuseok is traditionally celebrated in parts of Korea and sees families come together to pay respect to their ancestors whilst eating some delicious filled rice cakes. Chuseok is a harvest festival too which is why it's also celebrated around the autumn equinox. To celebrate Chuseok, players can also purchase the songpyeong food item.
Bug Off
The fourth and final bug off of the year happens on the fourth Sunday of September. When the Bug-Off event takes place, the Flick special character will be set up in a tent outside of the Resident Services plaza beginning at 5 a.m. Speak with Flick and request that he begin a challenge! You may take part in an endless number of time trial bug challenges from Flick, and although the first one is free, you'll have to spend 500 Bells to start new ones after that. You will have three minutes to capture as many bugs as possible around your island in order to earn points! These points may be used for special Bug-Off Animal Crossing items.
Grape Harvest Festival
The Grape Harvest Festival takes place in Jerez de la Frontera in September, coinciding with the commencement of the grape harvest, which is one of the city's major events. For the entire month of September in Animal Crossing New Horizons, you can pick up a grape harvest basket from nook shopping in celebration of the Grape Harvest Festival.
ACNH September Items 2022
As always with seasonal celebrations like this, if you make your way over to the resident services or access the nook shopping app using the nook phone. You can scroll over to the seasonal items tab to grab the ACNH Fall September items.
Moon Viewing Day - Dango, Moon Cakes, Moon Rug
Grape Harvest Festival - Grape-Harvest Basket
Chuseok - Songpyeon
Bug-Off - Bug-off Prizes
ACNH September DIY Recipes 2022
You can make a number of seasonal DIY recipes out of acorns and pinecones, including their own set of ingredients as well as the Maple Leaf set, which is available in November. During the months of September, October, and November, acorns and pine cones may be found across the northern hemisphere. However, if you reside in the southern hemisphere, you may expect to see acorns and pine cones in plenty from March to May. In the Animal Crossing New Horizons September update, you'll need to start shaking the trees on your island to gather acorns and pine cones. Trees with acorns and pine cones have different spawn methods. Acorns can be found in hardwood trees, while pine cones can only be found in cedar trees.
ACNG September DIY Recipe List
Acorn rug
6 Acorn
Acorn pochette
6 Acorn
Leaf campfire
3 Pine cones
5 Weeds
3 Tree branches
Pile of leaves
3 Pine cone
5 Weed
Pine bonsai tree
8 Pine cone
5 Clay
Traditional balancing toy
4 Acorn
2 Hardwood
Tree's bounty lamp
6 Acorn
4 Clay
Tree's bounty little tree
6 Pine cone
4 Acorn
1 Hardwood
Tree's bounty mobile
2 Pine cone
3 Acorn
3 Tree Branch
Yellow-leaf pile
3 Acorns
5 Weeds

ACNH September Bugs, Fish & Deep Sea Creatures
New Bugs in September (Northern Hemisphere)
Common Butterfly
Yellow Butterfly
Monarch Butterfly
Cricket
Bell Cricket
Red Dragonfly
Violin Beetle
Pill Bug
Centipede
New Fish in September (Northern Hemisphere)
Pike
Cherry Salmon
Char
Golden Trout
Mitten Crab
Sturgeon
Blue Marlin
New Sea Creatures in September (Northern Hemisphere)
Oyster
Sweet Shrimp