ACNH Best Winter Path Designs & Codes 2022 - 9 Snowflakes, Borders, Christmas & Winter Path Design Ideas
11/14/2022 3:24:38 PM
The holiday season is on the way coming to Animal Crossing New Horizons. If you are looking to transform your island into a nice winter aesthetic, the time has come. Today's ACNH Winter and Christmas path design guide is probably the most important. Showcasing a bunch of the best ACNH winter path designs 2022 for you, some are over the top and some are Christmas.
Top 9 Best ACNH Best Winter & Christmas Path Designs & Codes 2022
In this ACNH Winter path design guide, we are going to first start off with some beginner ACNH Christmas path ideas. Now not everyone has the path famous nine-piece pattern or more some people use 12 pieces, so some people have the standard paths that Nintendo gives us. Starting off everyone has the Nintendo paths and they do look really good in the snow. Some things to note there are obviously a lot of whites in winter obviously, but everything gets covered in snow. So you're definitely going to want to be mindful of what you use for pathing and we're going to check out the best ACNH winter and Christmas path designs and codes today.
1. Snowflakes Path
Code: MA-9372-5602-5964
It's more of a different way to decorate your standard pathing that comes in the game. This is just a snowflake pattern and squares of the path are rounded to make a circle. This snowflake pattern is pretty cool, you could you can do as much or as little as you want. You can put these snowflakes pretty much anywhere, under trees, you can space them out, you can put them all together. Even though this isn't like an official path or you can definitely deck out your existing paths. This is going to be great in a winter town or this is going to be great in a Christmas town. Most importantly, these little snowflake accents are going to look great all around your island.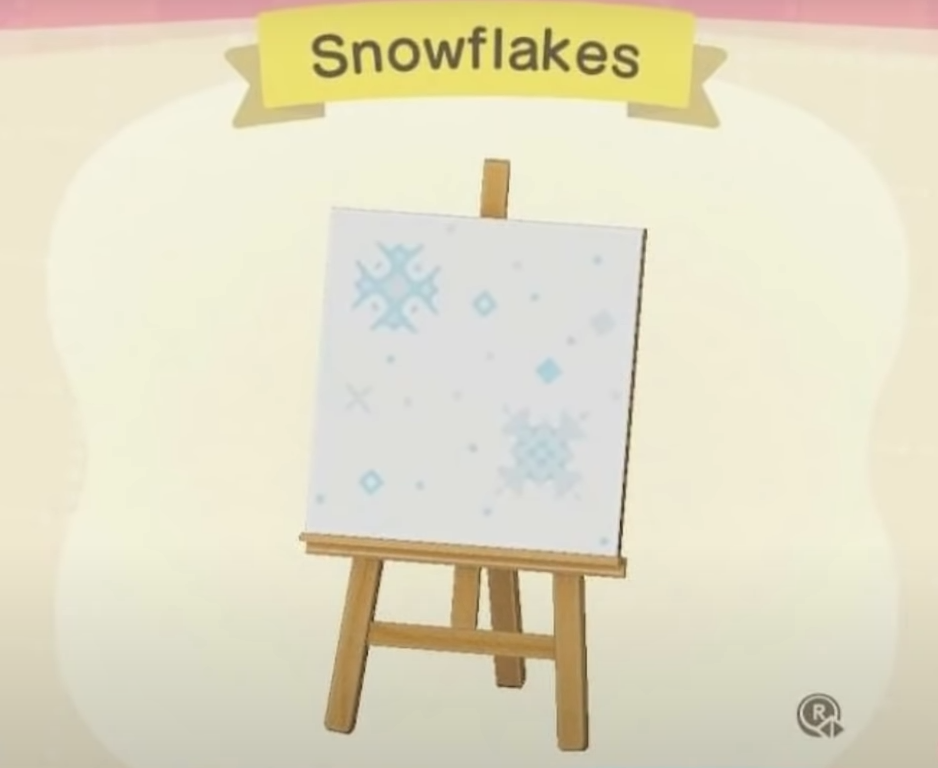 2. Boarder Path
Code: MA-2771-6029-4943
Number two best ACNH winter path is path borders and so you need the paths that come with the game. These paths are made for the snow, which is super subtle, you can have a great effect if you have them all the way down. There are different colors of green, there's a little snow border as well and there are actually little snow dots. Without a doubt, these best ACNH path border patterns are top-notch.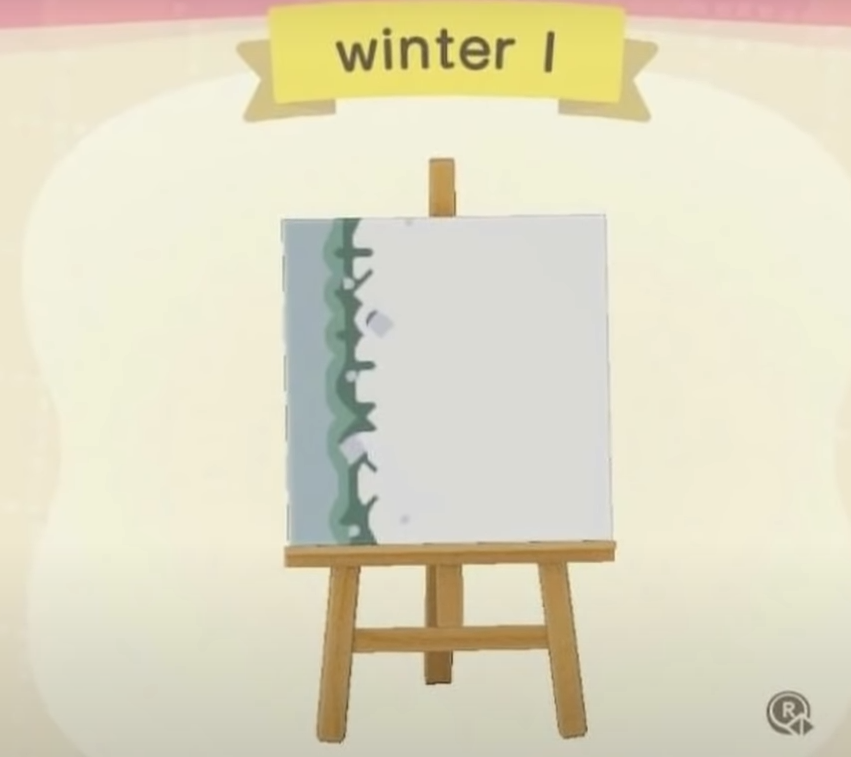 3. Winter Path
Code: Ma-6647-9230-4716
This is the common 9 to 12-piece pattern that a lot of people have in Animal Crossing New Horizons. This is a very neutral kind of light dirt pattern and is the best ACNH winter path design you can choose for your island. It's very neutral, with the snow with the cedar trees, and this looks amazing. Moreover, this is definitely a pattern that you can use even after Christmas.

4. Winter Path - Pingu Tracks
Code: Ma-7596-8570-4534
Pingu Tracks' path is very different from what we have right now. This is going to essentially be like an ice brick sort of pattern and there's snow on the corners. If you're going for an arctic sort of town, this just looks like a winter wonderland. It's very stiff compared to the normal Animal Crossing New Horizons winter path pattern because there are a lot of rugged corners.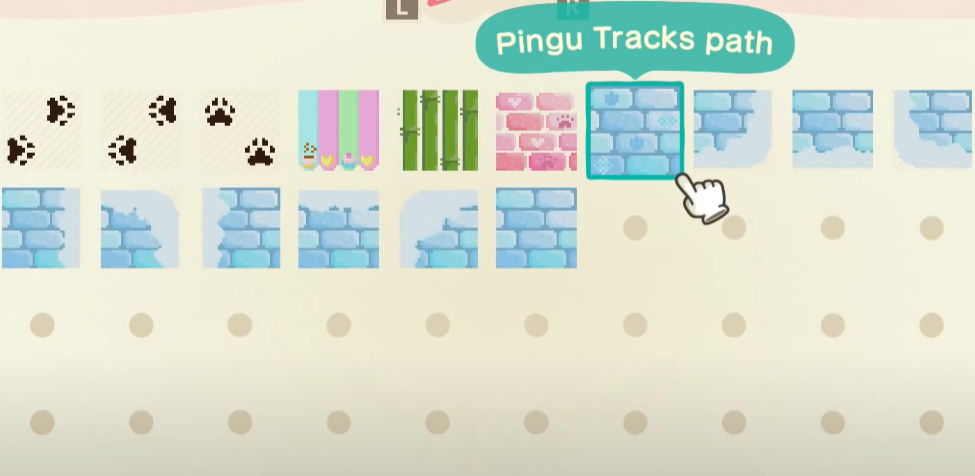 5. Winter Path
Code: MA-4929-5324-1073
This ice path is more of a flowy shape. If you have a ton of penguins in your town, this is pretty intense. Maybe you can use this pattern sparingly as an ice fishing pond. But as a whole pattern in your entire town, this is a little overwhelming, but this could work.

6. Christmas Path
Code: MA-0599-7747-9334
This is our first-holiday path pattern for Animal Crossing New Horizons and the theme of this is an ornament border. This could look really cute. If you were going hardcore with like a Santa island or a Christmas island, this is the best ACNH Christmas path design to use. There are red and green dots, we have ornament balls all the way around, and there are some small yellow ornaments too. Obviously looks good with the trees and in the bushes. Die-hard Christmas fans are really going to like this path!

7. Christmas Path
Code: MA-2808-9277-9303
This is probably one of the player's favorite holiday path patterns. This is a lighter dirt pattern that fits perfectly for the wintertime. Look at all the little holiday accents, we have candy canes, ornaments, dots of white, and sprigs of holly going around. The extra snow on the borders and the difference in color looks really good. If you are looking for a Christmas-inspired ACNH path pattern, this is the best Animal Crossing Christmas path design idea.

8. Christmas Path
Code: MA-7776-2285-8032
We've seen a lot of lighter patterns, and we've seen snow patterns, but this is the first darker dirt pattern that we've seen. The decorations on here are super cute. We have a snowman here, we have some bells on the bottom left-hand corner, we have candy canes and holly, and even a little Christmas tree. The only thing that it suffers from and there are a lot of spaces where there's like repeat patterns. That's the beauty of this Animal Crossing New Horizons path design. The coloring is unique, if you don't like the lighter one, you're going to like this one for sure.

9. Christmas Path
Code: MA-2096-3018-6835
Check out this best Christmas path design 2022 for Animal Crossing New Horizons. The Gingerbread holiday pattern for your paths looks stunning and amazing. The dirt color here is spot on. With the snow that looks great, the trim of the extra snow that's around the paths that looks very realistic. The gingerbread is the star of the show, it looks absolutely amazing. The little candy canes, pops of red, pops of green, the little snowflakes on here, this is the path to choose if you want to go all out with a Christmas town.

How To Change Path In ACNH?
You can easily test out different versions of the path instead of having to lay it out again and again. All you have to do is open up your design portal, type in your creator id, and then you're basically just going to take the same pieces and overwrite the ones that you already have saved. Once you exit out, you will see how all of the top left corners are now replaced, and that way you can very easily just lay down one type of pathing and then test out a few different versions without having to like just remove it and replace it.
Above are the 9 best ACNH winter and Christmas path creator codes, check out all of these creators, because you might find some gems.