ACNH New Update 2023 - Nintendo Information Revealed & ACNH Announcement (Official Guide Details)
2/8/2023 2:24:23 PM
Just a super quick update today, as Nintendo has just confirmed the next Nintendo Direct will be live-streamed tomorrow February 8th, 2023. Here are the latest details!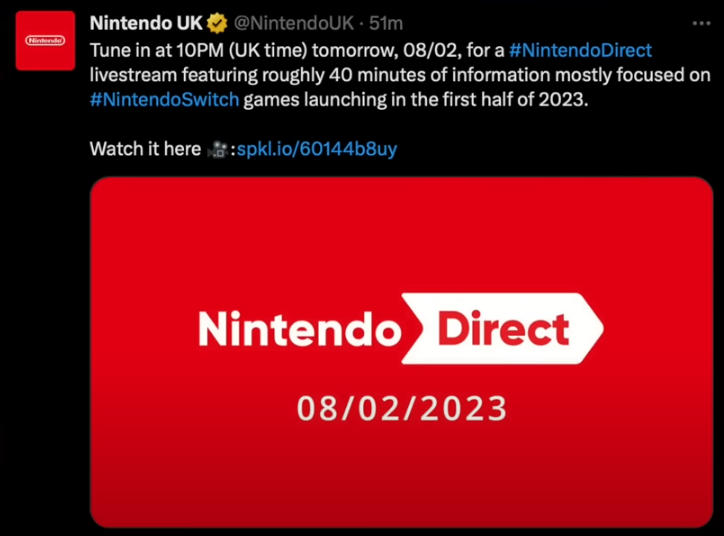 ACNH New Update 2023 - Nintendo Information Revealed & ACNH Announcement (Official Guide Details)
Nintendo's latest announcement
First, this is super exciting of course, because according to Nintendo's latest announcement, the Nintendo Direct airing tomorrow will feature approximately 40 minutes of information regarding Nintendo switch games that were launched in the first half of 2023.
Legend of Zelda tears of the Kingdom
Naturally, this is probably going to be heavily focused around the Legend of Zelda tears of the Kingdom being their biggest title for 2023, but will likely cover more news and gameplay surrounding other titles, including the Advanced Wars reboot Pikmin 4 and other games coming before the summer.
If Animal Crossing New Horizons ever sees any new content updates, such as the Zelda Villages which all Zelda fans to play Animal Crossing are hoping for it will be in tomorrow's Nintendo derays, if those 40 minutes go by and Animal Crossing isn't mentioned, even once it will be safe to say any previously released crossover villagers will not be coming to the game.
The Mario items and the Sanrio crossover Villages
Let's not forget both the Mario items and the Sanrio crossover Villages were all added in smaller minor updates, so there's still a chance with that said something, personally hoping for is some links to Awakening-style remakes of the Oracle of Seasons and Oracle of Ages games.
Animal Crossing collector's guide
A little bit of Animal Crossing New Horizons news to discuss which is nice, it's been a while since something new to talk about, but just yesterday a brand new Animal Crossing collector's guide has been unveiled and is now available to pre-order you may recognize its predecessor the official companion guide which even now is an extremely popular guidebook.
However, this newly announced collector's guide is a brand new up-to-date version that finally includes everything that has been added to Animal Crossing New Horizons, since the launch of the game as good as the old guide is, it's missing some core mechanics, such as swimming and Diving, whereas this new version, of course, includes everything the game has to offer including all updates the 2.0 update, and catalog of the new villagers, all holiday events and ACNH items, and even a guide for The Happy Home Paradise DLC.
Now, this is titled as a collector's edition which given how far away from launch, exactly it's a hardback version 2 which is absolutely amazing and probably the one thing, the physical companion guide lagged to give you an idea of how much content.
This guide includes is made up of 688 pages is compared to the 400 odd Pages the original includes, there's something like 70 more content which is amazing anyway, the new Animal Crossing New Horizons official complete guide is of course produced by feature press and officials, so licensed or endorsed by Nintendo it releases on April 30th later this year, but the official complete guide is now live for pre-orders in various regions, it's up for around 45 pounds which is roughly 55 in the US, so quite expensive, but considering it's definitely going to be a collector's item plus contains all of this new content is worth it for either.
Buy cheap Animal Crossing New Horizons items from AKRPG.COM, with constant delivery and safe deal!