ACNH Hard Mode Guide 2023: Restarting, Villager, Daily, Design & Economy Rules
2/27/2023 2:35:21 PM
It's time to make Animal Crossing New Horizons fun again. If you don't know how to play New Horizons, then this is the ACNH hard mode guide 2023 for you. This game has been out for three years now coming out in 2020, a dark time for most of us. People made a new game mode to really test veteran players and new players alike and it's a community event too. The more people that participate, the better time we're going to have.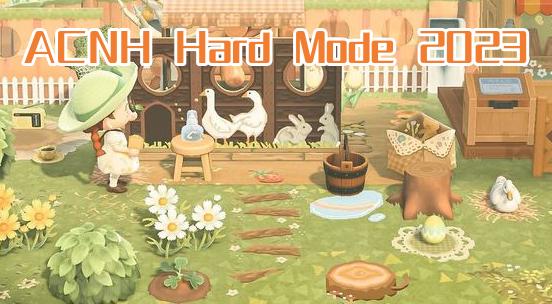 ACNH Hard Mode Guide 2023 - How To Play Hard Mode In Animal Crossing New Horizons
The rules in the Animal Crossing New Horizons hard mode, kind of look very intimidating. The first thing you have to restart, you have to start from nothing including no ACNH Bells, no materials, nothing and that's kind of the beauty of this mode is to kind of go back to when we first started. However, when you first start off, obviously, you are shown four different map options. Then you choose your map, and you have to use a name generator for your Island. Moreover, there are actually some villager, daily, design, and economy rules as well you need to be aware of.
ACNH Hard Mode Rules 2023
Restarting Rules
1. You can have up 1 re-roll on island layouts
2. Island name must come from an AC island name generator (unlimited amount of re-rolls)
3. Starting villagers pick their house spot
Villager Rules
1. You must keep at least one starting villager until you get their photo. If you choose to re-roll, you must get both villager photos before they can leave
2. All villagers with thought bubbles must be talked
3. You may only gift 1 villager per day
4. If someone asks to leave, you must let them go (starting villager rules still apply)
5. The max number of tickets you can use for hunts is 10. If you get to the 10th ticket, you must take that villager or autofill
6. You may only go to 1 mystery island per day (except on hunts)
7. No Amiibo scans, Sanrio ACNH items cannot be sold
Daily Rules
1. You can able to TT within a 7-day period (Example M-Sun) **No YY option for an extra challenge
2. You must purchase at least 1 thing from Nook's Cranny + Able Sisters shop once per day
3. You must get a daily fortune read Katrina
4. You must complete all 2x ACNH nook miles (supersedes economy rules)
5. You must participate in Daily Stretching (1 per day)
6. Must complete daily NPC quests (Gulliver. Label, etc.)
7. All new bugs, fish, sea creatures, fossils, and art must be donated before selling
Design Rules
1. You can only wear custom clothes you design or from another player's Ables. Your outfit must change every week (hats, glasses, and accessories are allowed to purchase)
2. You must post your designs in Ables
3. You can only use custom codes you design
4. You can design your flag
5. Cannot move villager houses until you can gift
Economy Rules
1. You can only have 4 3x3 plots for selling crops (crops must be in bunches of 3 to harvest)
2. You can only harvest and sell fruit from 9 fruit trees and 4 coconut trees
3. Turnips are not allowed, you must only sell them on your island. Can buy from other players on Sundays
4. Sunday Flea Markets. You are allowed to visit other hardcore mode players to buy and sell goods
5. Each Sunday Flea seller can have a max of 10 items for sale. You must pay 2000 bells in their donation box when you arrive on their island
6. You can only have a max of 5 Flea Market customers per Sunday (this includes turnip buyers)
7. No treasure islands. No Nookazon
8. Only sell bugs to Flick. Fish to CJ. Weeds to Leif. Materials, crafted items to Nooks, and all other items can only be sold at Markets (Sunday)
9. Crops, fruits, sea creatures, forages (mushrooms, acorns, shells, flowers, pinecones, etc) sold only in Nook Deposit Box
10. Money trees can only plant what you dig up
11. No trading flowers. No Selling fossils