Animal Crossing Tier List 2023 - Animal Crossing Games Ranked (Worst to Best)
4/10/2023 4:22:30 PM
Nintendo released several mainline games and spin-offs in the Animal Crossing series from the early 2000s, which is the best game to play, and which is the worst? Today let's get into an Animal Crossing tier list 2023 ranking all mainline Animal Crossing games, with ACNH included.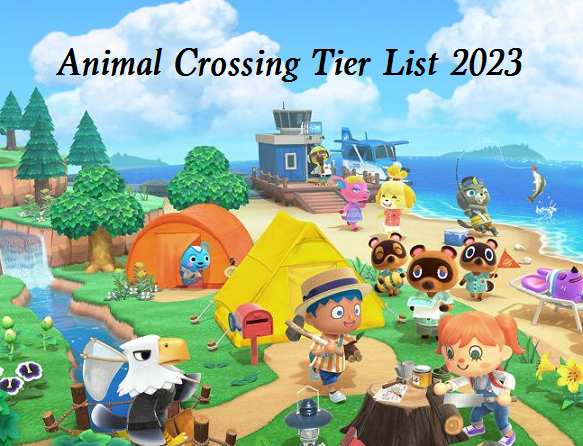 Animal Crossing Tier List 2023 - Animal Crossing Games Ranked (Worst to Best)
Is ACNH worth playing compared to other AC games? What is the best Animal Crossing game? Below we have a tier list of Animal Crossing games by chiaquie in 2023, ranking the worst to best.
No.5 - Animal Crossing Wild World
Animal Crossing: Wild World, which made its debut for Nintendo DS in November 2005, is the first game in the series to use a Nintendo Wi-Fi connection. Wild World is kind of good but not amazing, it has definitely aged the worst of the series, but the game itself isn't actually all that bad, you've got some great progression and excellent music, but you need to lower your expectations in terms of the graphic. It is ranked fifth on the list, one of the reasons being its clunky graphics, and it is not attractive as well compared to other games. Despite any flaws that lay within the game, it definitely was the first innovation pioneer for the series, it added things like Shampoodle, the Cafe, the Observatory, the ability to remove your stupid hat, and all that good stuff, it opened the door to more free range in your playthrough. Overall, it wasn't fulfilling in the long run.
No.4 - Animal Crossing City Folk
Animal Crossing: City Folk was released for the Wii in 2008, and this is at the very bottom of most people's lists, City Folk is essentially a deluxe version of The Wild World with better graphics, they are almost the same game, this is a really fun game, but some things about it just got old way too quickly like the selling point of the game is that you can explore the big city, but the city has very little new to get, you may feel bored after about the first two or three trips.
No.3 - Animal Crossing New Horizons
Being the most recent entry into the series, Animal Crossing New Horizons launched globally in March 2020, ACNH failed to do a lot of basic things that the games have had forever, with that being said it makes up for the missing pieces by giving the majority of people what they crave, the most full customization of your Island at the tip of your fingers, numerous ACNH designs can be made, it's really fun. But if you don't consistently do customization on your island, you will find that there is nothing too much to do, otherwise, even your villagers get pretty boring and bland after short-lived enthusiasm despite taking a long time to add things to the game and it's still feeling a little lonely.
No.2 - Animal Crossing New Leaf
Animal Crossing: New Leaf came out for the Nintendo 3DS in Japan in November 2012, ACNL is the favorite Animal Crossing of many players, it does a lot of things perfectly, this game kept pretty close to what made Animal Crossing so lovable in the first place, but it also added so many new quirks and mechanics that'll stick with the series like the idea of giving the player full control of the town by making them the mayor. New Leaf also features more realistically proportioned characters and flora, and the game environment and visuals received lots of positive reviews.
No.1 - Animal Crossing (Animal Crossing Population Growing)
The first Animal Crossing game released in NA is ranked number one on this list. The first generation of the Animal Crossing series was called Animal Forest, which is known as Dōbutsu no Mori in Japan, originally released in April 2001 for N64. Animal Forest was enhanced and released on GameCube the same year, GameCube is a game console released by Nintendo in September 2001. Then it was localized and launched in North America in 2002 September, and known as Animal Crossing or Animal Crossing Population Growing. The 2002 Animal Crossing for GameCube is the first game in this series to release outside of Japan. It makes the game even more special, the charm and simplicity that are baked so deep into this game cannot be matched by any pre-existing or future installments to the franchise, in fact, every game in the series just gets more and more complicated with new customization and different options, whereas this game you literally are just vibing.