ACNH Nature Day 2023 - Animal Crossing New Horizons Earth Day Dates, Items & Changes
4/18/2023 10:34:00 AM
A new seasonal celebration is going on in Animal Crossing New Horizons, it still takes place every year, but Nintendo ever made a change to it. Today, we'll take a look at ACNH Nature Day 2023 event, covering its dates, new items, and changes. What Nintendo changed and removed from the game?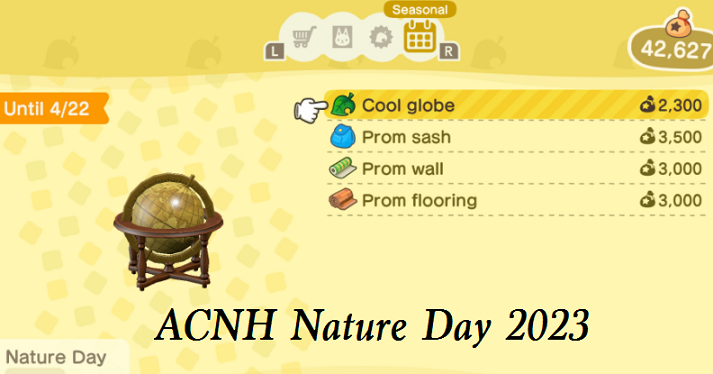 ACNH Nature Day 2023 Dates & Items
Nature Day is a seasonal event in Animal Crossing New Horizons, and also known as Earth Day in previous Animal Crossing titles. After the 1.9.0 Update in ACNH, the celebration of Nature Day starts on April 15 and ends on April 22, the same in 2023, players are able to obtain the limited-time Cool Globe item from the Nook Stop. The Cool Globe is an ACNH furniture that was added in 1.9.0, it can be placed on either the ground or on the surfaces of tables or other surfaces. To get it, you need to purchase it from Nook Shopping using 2300 bells during the event.
Animal Crossing New Horizons Nature Day (Earth Day) Changes
When Animal Crossing New Horizons was released, there was more abundant content surrounding the Nature Day event, but that was deleted from the game in the first year, so if you only participate in ACNH in the recent two years, you would have never known how was it celebrated at the beginning. The initial Nature Day was much more like May Day, it includes lots of activities and things to do, and also prizes to earn. During the event, Tom Nook would host special limited-time Nook Miles+ tasks based around nature and environment, and offer up to 5x bonuses for completing them. There were a total of 17 Nook Miles+ tasks available, which grants Miles rewards ranging from 100 to 300 before the bonuses were calculated. It provides a fun and fast way for players to earn Nook Miles. The purpose of these tasks is to encourage us to plant flowers, bushes, and trees, as well as to work on the landscape. After completing one Nook Miles+ task and talking to Tom Nook, he will reward you with the hedge fence DIY recipe. But now, it is just a mini Nook Shopping seasonal event that offers a single Animal Crossing item to buy.
Another change to ACNH Nature Day is the time, the event ran from April 23 to May and lasted for around 2 weeks, and Tom Nook get involved in it, while now it started earlier on April 15 and only lasted one week.
A few months after the launch of New Horizons, Nintendo completely nerfed the event, removed all traces of the Nook Miles+ tasks, and replaced it with Nature Day as we know it today. The Cool Globe is available from Nook Stop and Hedge DIY can be obtained from Leif. But the official reason is unknown. What we see is that Nintendo added lots of new seasonal events in the last two years, maybe they want to reduce easy ways to earn Nook Miles in the game.