ACNH July Events, Items & DIY Recipes 2023 - Animal Crossing New Horizons July (Summer) Update
6/1/2023 10:43:18 AM
The month of July is almost upon us in Animal Crossing New Horizons which means it's time for some returning and brand new seasonal items which you can only get for a limited amount of time from the Nook Shopping menu. In our ACNH July update 2023 guide, we talk about the events, items, and DIY recipes for summer. So you can get a hold of some of these really cool items which are only available in July.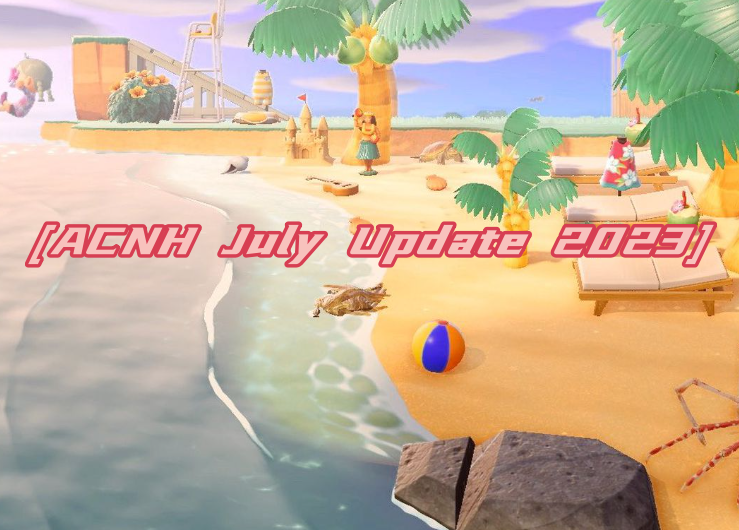 ACNH July Update 2023 - New Events, Items & DIY Recipes In Animal Crossing New Horizons Summer Update
In Animal Crossing New Horizons, there were some changes made to the game in July. An important change is the availability of new fish and bugs to catch, which varies depending on the hemisphere you are playing in. Some new seasonal items will become available in the Nook Shopping catalog, such as the Tanabata items that celebrate a Japanese festival. For those of you who like to click new items and don't want to miss out on any of these before they disappear from the game until next year, you'll definitely want to check ACNH July items guide 2023 out.
ACNH July Events & Items 2023
1. Tanabata (Bamboo Grass)
Animal Crossing New Horizons Tanabata (also known as Star Festival or Festival of the Weaver) is a Japanese festival celebrated on July 7th where people write wishes on strips of paper and hang them on bamboo trees. For our first ACNH item, we have the bamboo grass for the Tanabata Holiday in Japan which is from July 1 to July 7 in Animal Crossing New Horizons now. It's a really great item from Japan and basically, it has on it a bunch of different little pieces of paper which contain people's wishes. You can interact with the item, so you can check out all of the different characters' wishes.
What's really interesting is these wishes seem to represent characters around your Island and the different personality types. It seems like there's a different color for each personality type which is really cool. There's also one for some of the special characters as well. From July 1 until the 7 if you want to get this item in your game. it doesn't matter what hemisphere you're in you can get it as long as you log on and you check out the Nook Shopping App or Nook Shopping via the resident services terminal.
2. Marine Day (Ship Wheel Door Decoration)
Animal Crossing New Horizons Marine Day is an event that takes place on the third Saturday of July in Japan, which celebrates the importance of the ocean and marine life. In the game, players can participate in the event by swimming and diving in the ocean to collect various sea creatures such as fish and underwater bugs. From July 8 to July 22 and this is an item that actually exclusively goes on your door it's called the ship wheel door decoration. But the only way you're going to be able to display it is either inside your house on the walls or on a door outside. A lot of people seem to forget that you can actually give these door items to your villagers and they'll display them on their doors. This one definitely looks really good especially if you're going for a nautical kind of theme or maybe a pirate theme. You have until July 22 to get it from July 8.
3. Bastille Day (Phrygian Cap)
Bastille Day is a national holiday in France celebrated on July 14th every year. It commemorates the storming of the Bastille prison on July 14, 1789, which was a pivotal event in the French Revolution. The day is celebrated with parades, fireworks, and public gatherings across France, and it is also marked by official ceremonies, including a military parade in Paris. We have a clothing item which is the Phrygian cap and this item is from July 10 until July 20. It actually could be a really good educational resource for some people who aren't so familiar with the French Revolution. Now clothing items are always nice to get and although for a lot of people found this item might not be so appealing. If you don't like the color blue, don't worry because this item actually comes in a ton of different variations. There is a red cap, an orange one, a green one, a blue one and also a purple one. So your friends could all get together and wear this hat.
4. Cow Bow Festival (Rodeo Style Spring)
Cowboy Festival is a Brazilian Cowboy holiday. The rodeo style spring is available from July 15 until August 15 so you have a whole month and this is the only item going on into August. If you want to get your hands on this item, make sure you get it before that day.
ACNH July DIY Recipes 2023
In Animal Crossing New Horizons (ACNH), the following crafting materials and DIY recipes are available in July:
Summer shells: can be found on the beach, used for crafting summer-themed DIY recipes
Pearls: can be found by diving in the ocean, used for crafting mermaid-themed DIY recipes
Bamboo: can be found all year round, used for crafting various bamboo-themed DIY recipes
July Items
Angled signpost

Bamboo basket

Bamboo hat

Bamboo speaker

Beekeeper's hive

Gong

Iron hanger stand

Iron shelf

Ironwood chair

Ironwood dresser

Ironwood low table

Ironwood clock

Juicy-apple TV

Leo sculpture

Lily record player

Mermaid bed

Mermaid chair

Mermaid closet

Mermaid dresser

Mermaid fence

Mermaid flooring

Mermaid lamp

Mermaid screen

Mermaid shelf

Mermaid sofa

Mermaid table

Mermaid vanity

Natural square table

Oil-barrel bathtub

Orange end table

Peach chair

Peach hat

Peach surprise box

Peach wall

Peach umbrella

Peach rug

Red-leaf pile

Sandy-beach flooring

Sauna heater

Shell bed

Shell fountain

Shell partition

Shell pochette

Shell rug

Shell speaker

Shell stool

Shell table

Shell wreath

Signpost

Stone lion-dog statue

Tall garden rock