Best ACNH Design Ideas for Summer 2023 - Top 10 Build Ideas You've Never Seen Before in Animal Crossing
5/30/2023 6:36:51 PM
It's summer now, what better way to celebrate than by sprucing up your Animal Crossing: New Horizons island with some fresh design ideas? In this article, we are looking at some unique build ideas for your Animal Crossing island that maybe you've never seen before, these are design ideas for summer 2023 that will help you create a beautiful and unique island getaway.
Best ACNH Design Ideas for Summer 2023 June
Underwater Paradise: Use terrain manipulation tools to create a custom island shape and add in vibrant coral reefs, sunken ships, and schools of fish, even add hidden mermaid gardens to explore on the sea floor.

Campsite: Create your campsite on your island with tents, outdoor fire pits, and logs to sit around. You can also incorporate woodsy decorations like trees, logs, and woodland creatures to make it feel like you're nestled deep in the wilderness.

Carnival: Create a carnival atmosphere by adding carnival tents and games like balloon darts, ring toss, and a fortune-telling booth. You can also add in some carnival foods like cotton candy, popcorn, and food stalls.

The Shire: Recreate the beloved world of Middle Earth right on your island with grassy meadows dotted with traditional hobbit-hole houses, complete with adorable round doors. Add in a cozy garden and a beautiful village with a lot of greenery.

Crab Volleyball: Create a fun game spot on your island with crab volleyball. Make it a fun and inviting area with soft sand, coconut drinks, and beautiful palm tree shade. Add some beach towels, and you have a beach party area for you and your friends to relax.
Top 10 ACNH Build Ideas You've Never Seen Before
#1. Campsite Island Design - DA-4662-7598-8103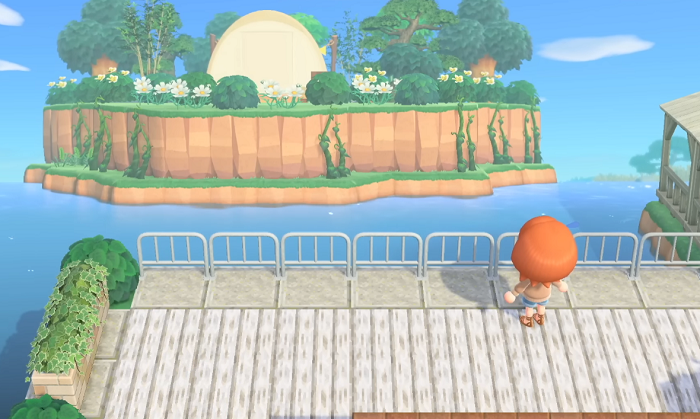 Look at how beautiful this is, this whole island has really cool naval themes going on a very like Port City, but look at this little campsite Island. This one is just so beautiful and natural, we adore this idea, the vines too, they add so much texture to the view instead of it just being an empty cliff face. We love all the nature going on, there's a combination of furniture and plants on the island making it feel super lush and it just looks amazing.
#2. Campsite Island Design - DA-9579-9375-3743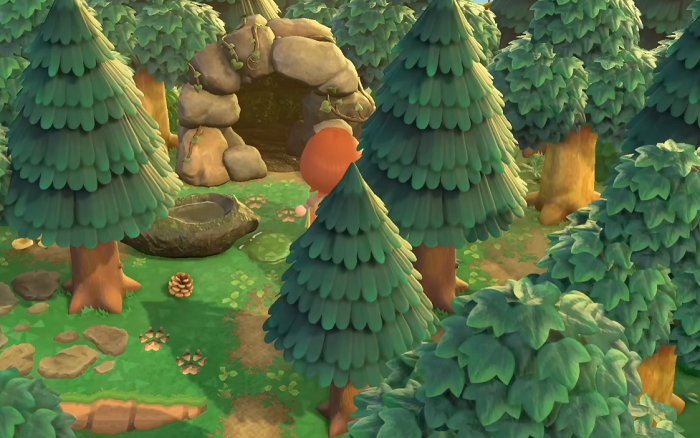 This one has a really nice overall theme and if you want to visit these islands, type the dream addresses. People are just so creative and it's really cool to see how cohesive an island can be aside from these unique build ideas. What we love about this one is that we've got the cave and there is a national park island, it's going to have the foresty like cave areas. But that's not all folks, there is a pipe that leads to an actual cave. There's an actual bear cave as this interior build. The combination of exterior with interior builds using pipes is so creative and this one is so expertly done, even the walls matching the way the cave item looks, literally genius.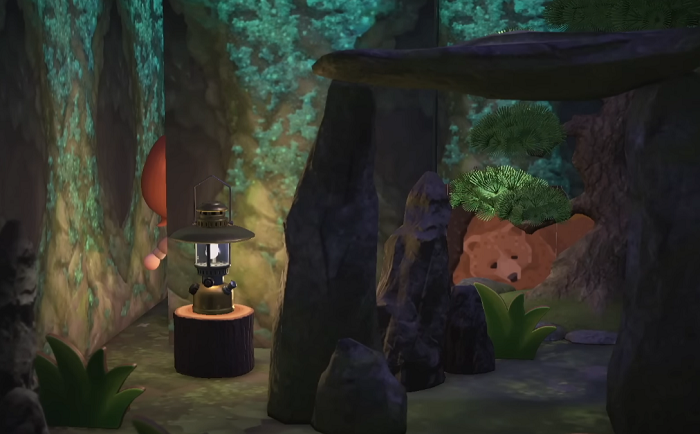 #3. The Shire - DA-8475-3013-7124
This island has a ton of movie and book references and they're all listed on the bulletin board. There is a Lord of the Rings inspired build, it's the Shire, they're literally little Hobbit holes, the design is so cute, it has that cozy vibe, it just feels so cottagecore and homey, so cozy, this is so adorable. The little pathways between the houses are so cool, people get so creative with how they use different items in their designs.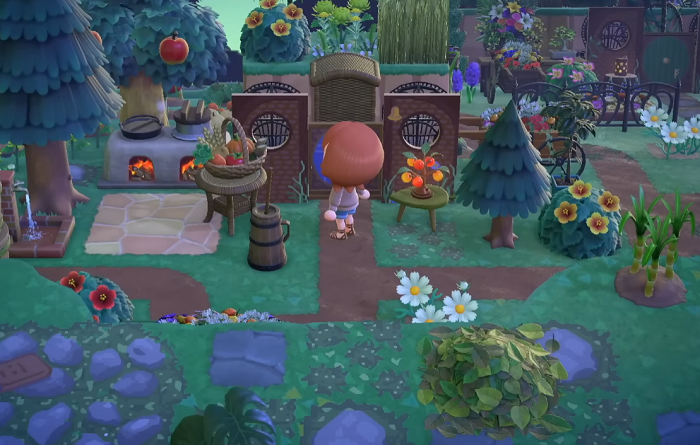 #4. Underwater - DA-7727-5646-4888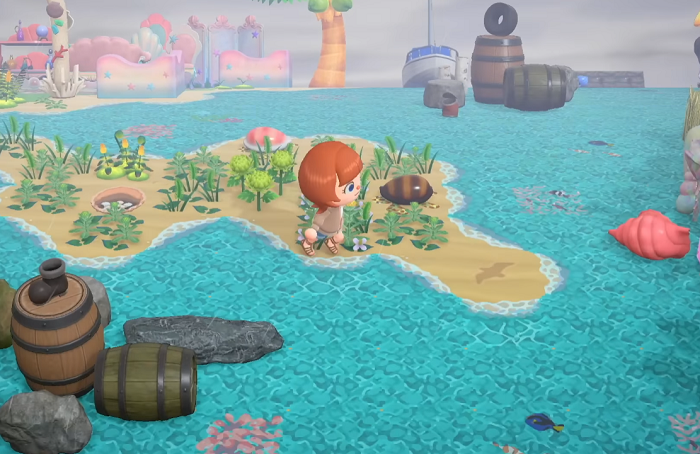 With the incredibly creative Island themes, this whole island is like water, it's like in the ocean. So there are islands, but there are also just houses underwater, so you can go see a little coral reef. Look at how cool this is, we feel like we're cheating by walking on the water, but anyway there's not much choice. Look at the little turtle too, even Sebastian, this is so cool, you can go and live your mermaid dreams with all of these underwater homes, little Islands complete with trees and wildlife, there's Rocky Shoals, there's just so much to appreciate. You can also be a mermaid princess in this underwater island, everything is beautiful, it's raining, it really adds to the watery ambiance of the island.
#5. Carnival Island - DA-2236-8686-7620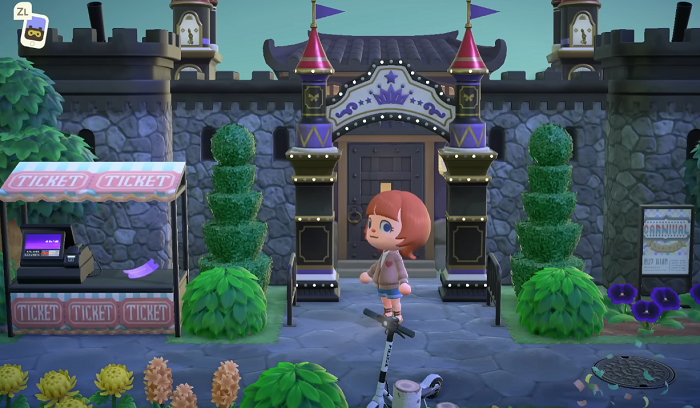 If you really loved back in the day when Islands were more simply designed and not like overwrought, this is the perfect inspiration Island for you, it is so beautiful, but it's not over-decorated like it's not packed or cluttered or anything. So just to throw that out there. But the concept here is that the exteriors are designed like simple, but you can tell like this is going to be a carnival.
#6. Carnival Island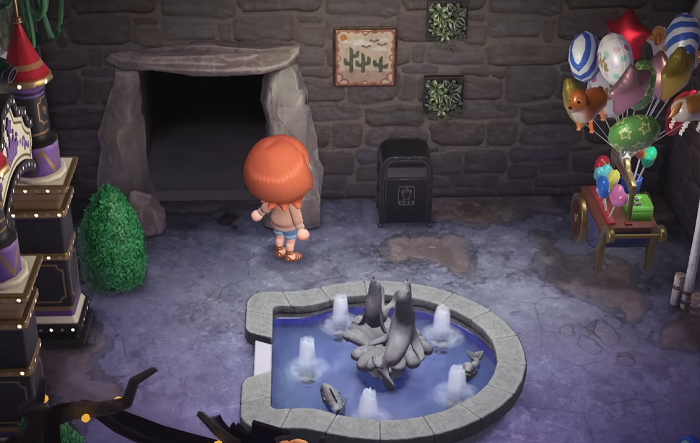 The interior is actually a carnival, so you get to experience like Fairgrounds, but indoors. The main room is like a little Courtyard, a little Plaza, you can get your balloons, your cotton candy, it's welcoming you in and this is labeled Garden, so you can go in there to go to the Garden. This is a desert vibe, judging by the little picture on the wall, and this has a spooky. There is also a little haunted ferris wheel, this is so creative, we also love the part gates like where you'd line up. The downstairs is like a little tailgating area food trucks, you can come here for lunch. Then upstairs is the little game area, this is perfect, this house is an entire Island to visit.
#7. Hedge Maze Island - DA-7806-6076-1740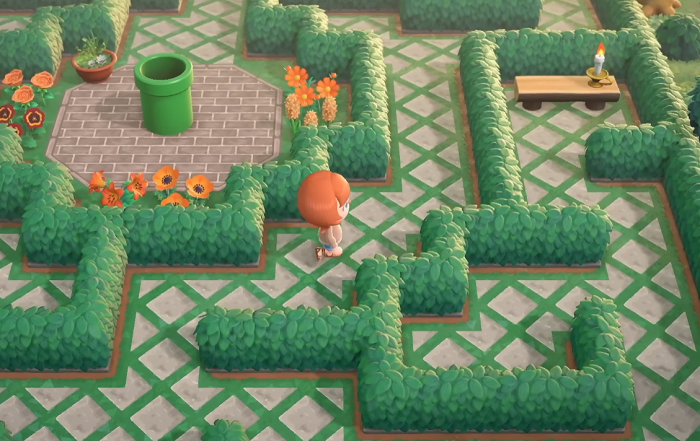 This is so cute, it lends itself to the elegant vibe, but you could make it work for any Island theme. You could make it spooky, make it witchy, this is so beautiful. Also, look at this Island's map because it is gorgeous. This island is immaculate.
#8. Egg Mining - DA-8459-2001-8070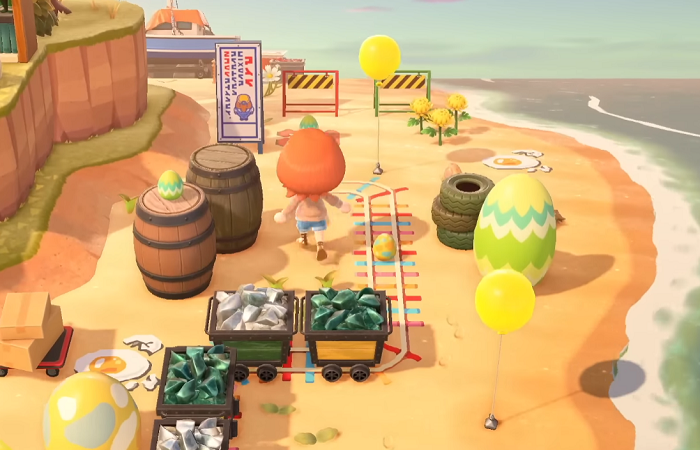 What a whimsical and happy Island! All we just very rarely see people make use of any Bunny Day item, the eggs are underappreciated a lot of us who were here for early Animal Crossing like March 2020 were traumatized by bunny day. But that's okay, look at how cute this stuff is, we love the mining cards, we love to see mining stuff in general, but you notice the colorful tracks beneath the train, everything about this is adorable, we are losing some eggs along the way. This is super cute and creative, it's something we've never seen before and a good way to fill your beaches which are notoriously hard to decorate for a lot of us.
#9. SciFi City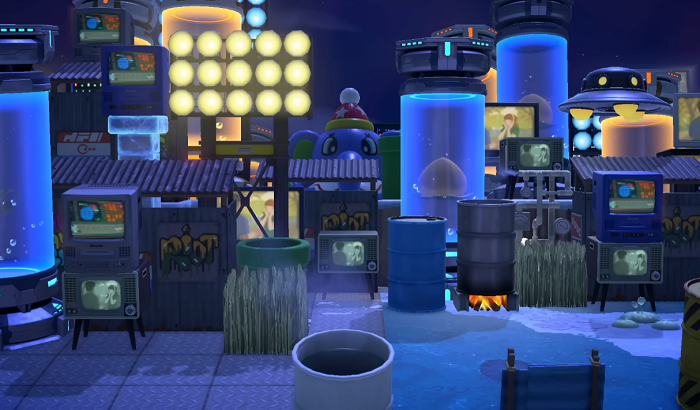 Look at how cool this is, it's like a space city, the effect is especially potent at night, we literally have a UFO here, the stars are out, aliens are abroad, we've also got some creepy villagers on this island like the robot frog. The peach surprise box inside the little chamber is so creepy looking, it's like an alien egg. There's a lot to see here, a lot of Illumination, a lot of different colors going on, it's so bright.
#10. Crab Volleyball - DA-8748-2769-7551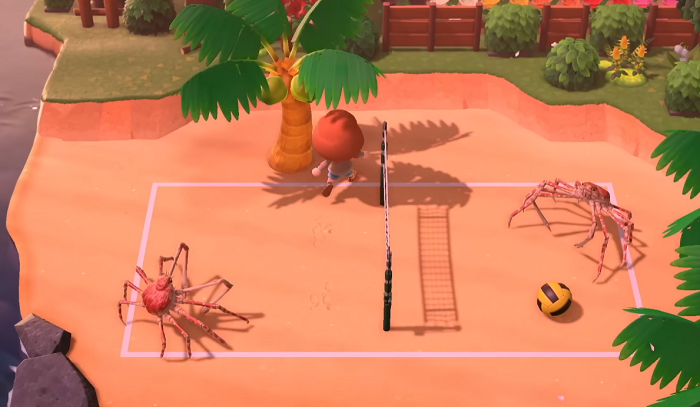 This is so funny, it is crab volleyball, these are so athletic, they are so talented. We also just love a good little volleyball area on the beach. If you are tired of just having your basic ball set up include some crabs or gyroids even, it makes the whole thing just so much better.