ACNH Kapp'n Islands Guide: Dates, Types, List, Villager, What Can You Find & How to Get To
6/27/2023 11:58:29 AM
The addition of Kapp'n boat tours allows players to visit new mysterious islands where you can find some special Animal Crossing items. How to get to Kapp'n Islands and what can you find on them? This article will go through ACNH Kapp'n Islands dates, types, normal and rare island list, materials, villager possibility, and more.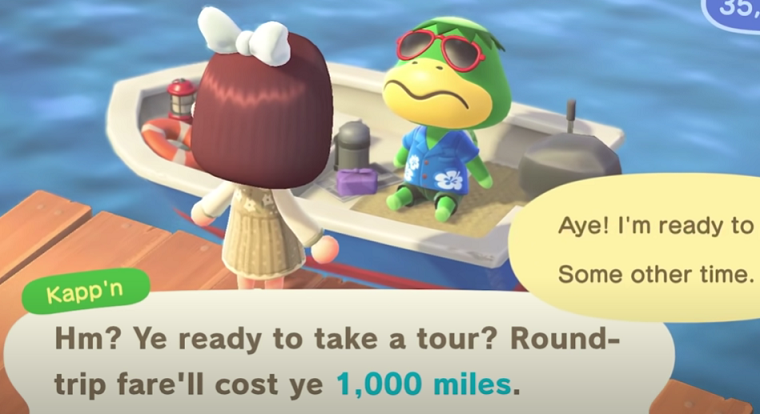 How Do You Get the Kapp'n Boat Tour in Animal Crossing New Horizons?
Once you achieve a three-star island and K.K. has performed, Kapp'n will appear in his little boat at your dock. He charges you 1,000 Nook Miles to take a trip to a Kapp'n island, which is cheaper than the normal Nook Mile Ticket island, but you can only go to one Kapp'n Island per day. Before you take your tour, empty your pockets of items you don't need for the island. Keep your tools, but pretty much everything else can stay at home. You'll want as much room in your pockets for ACNH bells, gyroids, DIY recipes, and other resources.
What Can You Find on Kapp'n Islands in ACNH?
Some of Kapp'n islands have seasonal items that you can't get all year on your own island. Going to Kapp'n Islands gives you a chance to collect resources like cherry blossom petals, mushrooms, and snowflakes. Every Kapp'n island you go to will have at least one gyroid fragment and one message in a bottle on the beach. Not all of the islands are full of seasonal fun resources, most of the islands you'll find are normal islands.
1)Normal islands
The normal islands will have a random DIY while the themed islands will have a recipe that follows along with that season or feature. The normal rainy island has a little something extra. There will be the normal gyroid fragment, but you can also find a full gyroid buried as well. For example, the glowing moss/vine island will have some of these cool new furniture items using moss and vines as ingredients. The normal Kapp'n islands are without some features that the regular Nook Mile islands have, such as bells in trees, furniture items in trees, and wasps. But there is a 5% chance that islands will spawn money trees instead of fruit trees. These money trees will only hold three 1,000 AC bell bags. The normal islands also have a 30% chance of one rock being a money rock and a 2% chance of all rocks becoming money rocks.
2)Rare islands
It's obvious what special resources each of the rare islands hold. Cherry blossom island has cherry blossoms floating around, the bamboo island has spring bamboo, etc. The fish and bugs that spawn on these rare islands follow the seasons of the actual Kapp'n island but follow the hourly clock of your main island. The rare islands will have seasonal recipes that are only available during that specific time of year, and the star fragment island will have Celeste recipes. Every rare island and rainy/snowy island automatically contains a money rock except for star fragment island which holds star fragment rocks. The rocks on star fragment island have a 14% chance of giving you a regular fragment, a 2% chance for a large, and a 7% chance for a zodiac fragment. On this island, you have 4 hours to wish on stars before the sun starts rising. You'll only need to wish on a maximum of 100 stars to get the most out of them.
3)Can you get villagers on Kapp'n Islands in ACNH?
No, you can only find them on the usual Nook Mile Ticket islands.
ACNH Kapp'n Islands Types - List of Normal and Rare Kapp'n Islands
When talking to Kapp'n, there's a 78% chance you'll find a normal island and a 22% chance you'll get a rare one. There are 11 total islands you can visit, 4 normal and 7 rare.
Normal Kapp'n Islands:
Gyroid Fragments Island
Vegetable Island
Vines & Glowing Moss Island
Rainy/Snowy Island
Rare Kapp'n Islands:
Winter Snowflake Island
Spring Cherry Blossom Island
Spring Bamboo Island
Star Fragment Island
Summer Seashell Island
Autumn Maple Leaf Island
Autumn Mushroom Island
ACNH Kapp'n Islands Dates
The date to unlock rare Kapp'n islands is based on when your character was created, each rare island has a specific date associated with it, and your character must have been created on or before the date of the rare island. You can time travel forward an entire year to be able to quickly gain access to all the rare islands, you can't just time travel forward a year, and then travel back to the present day and keep everything unlocked. You'll have to either stay in the future or wait patiently for everything to unlock normally.
- Winter Snowflakes: February 24 (Northern), August 24 (Southern)
- Spring Cherry Blossoms: April 10 (Northern), October 10 (Southern)
- Spring Bamboo: May 31 (Northern), November 30 (Southern)
- Star Fragments: June 15 (Northern), December 15 (Southern)
- Summer Shells: August 31 (Northern), February 28 (Southern)
- Autumn Maple Leaves: November 25 (Northern), May 25 (Southern)
- Autumn Mushrooms: November 30 (Northern), May 31 (Southern)