ACNH Best Fall Designs & Codes 2023 - Animal Crossing Autumn Island Design Guide
8/21/2023 11:20:05 AM
Welcome to the enchanting world of Animal Crossing: New Horizons, where the seasons change as swiftly as the leaves dancing in the autumn breeze. As we enter the delightful fall season in 2023, players around the world are once again embracing the magic of pumpkin patches, golden foliage, and cozy sweaters on their virtual islands. Today, we bring you the best ACNH fall island ideas and codes 2023 that are sure to captivate and inspire you to create your own autumn wonderland.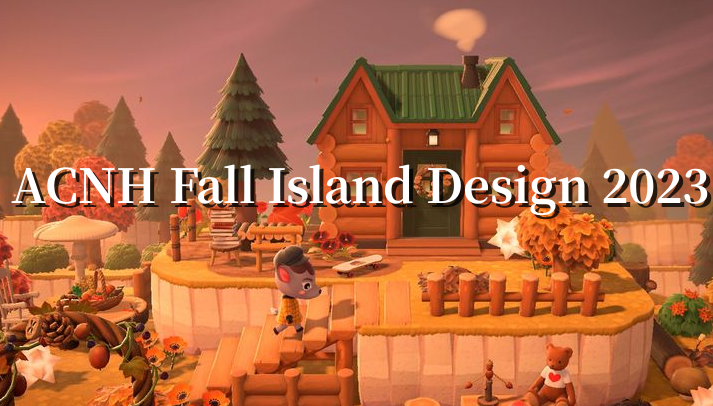 ACNH Fall Island Design Guide 2023 - Best

Autumn

Ideas, Tips & Codes For Animal Crossing New Horizons
Embracing the beauty of the fall season allows players to transform their islands with warm, vibrant colors, falling leaves, and cozy decorations. An autumn island design adds visual diversity and a fresh atmosphere to the game. Animal Crossing follows real-time events, making seasonal island designs a fun way to stay engaged with the changing calendar. Players can celebrate real-world fall festivals like Halloween and Thanksgiving by incorporating themed acnh items and activities. In this ACNH autumn island design guide 2023, we'll embark on a journey through the most captivating fall-themed islands that have sprouted in the imaginations of creative players.
Top 10 Best ACNH Autumn Design Ideas 2023
Pumpkin Patch Paradise: Design a sprawling pumpkin patch with various types of pumpkins and scarecrows. Add a cozy farmhouse and autumnal stalls selling pumpkin-themed DIYs and goodies.

Maple Grove Haven: Create a serene maple tree grove with falling leaves, wooden bridges, and hidden picnic spots. Incorporate vibrant autumn colors to capture the essence of the season.

Haunted Harvest Festival: Embrace the spooky side of fall with a Halloween-inspired island. Craft eerie mazes, haunted houses, and graveyard areas to host a frightful harvest festival.

Fall Market Square: Set up a bustling market square featuring stalls selling seasonal produce, artisanal goods, and cozy autumn-themed furniture for visitors to enjoy.

Cozy Café Courtyard: Design a charming outdoor café adorned with string lights and warm fire pits. Serve pumpkin spice lattes and delicious fall treats for a relaxing autumn retreat.

Fairy Tale Forest: Create an enchanted forest filled with magical creatures and whimsical decorations. Include fairy lights, mushroom furniture, and hidden fairy houses for a mystical touch.

Foliage Fashion District: Transform your island into a fashion hub with fall-themed clothing shops and a catwalk for fashion shows. Host seasonal fashion events with unique fall outfits and designs.

Autumnal Art Gallery: Set up an art gallery featuring paintings, sculptures, and designs inspired by fall landscapes. Encourage artists to display their autumn-themed artwork for island visitors to enjoy.

Thanksgiving Celebration Haven: Design a picturesque Thanksgiving celebration area with a grand banquet table, harvest decorations, and a charming outdoor feast for island residents and guests.

Fall Garden Sanctuary: Create a tranquil garden filled with seasonal flowers, flowing fountains, and peaceful seating areas. Utilize autumnal decorations to turn it into a serene sanctuary.
Best ACNH Fall & Autumn Codes 2023
Dream Codes are unique codes that players can use to visit other players' islands in a "dream" state, allowing them to explore without affecting the actual island. If you're looking for fall-themed islands to visit, these are the best ACNH fall island dream codes.
1. MA-8106-9516-3993

2. MA-7727-3976-9058
3. MA-2921-3878-1096
4. MA-2592-0658-2725
5. MA-1162-0572-5198
6. MA-2613-5015-3918
7. MA-8674-1895-0346
8. MA-3745-7775-6285

9. MA-9661-7903-0952


Best Tips For Designing ACNH Autumn Island
Designing an autumn-themed island in Animal Crossing: New Horizons can be a delightful and rewarding experience. To create a captivating fall island, consider the following tips:
Color Palette: Embrace warm, earthy colors like oranges, yellows, browns, and deep reds to capture the essence of autumn. Use custom designs or terraforming to paint the island with fall-inspired hues.

Seasonal Trees and Flowers: Plant maple trees and other autumnal trees around your island to showcase the changing foliage. Incorporate fall flowers like mums and cosmos to add bursts of color.

Pumpkin Patches and Farms: Create charming pumpkin patches, cornfields, and farm areas with scarecrows and hay bales to enhance the fall ambiance.

Fall Decorations: Utilize seasonal decorations like pumpkin stacks, leaf piles, and autumn wreaths to adorn your island with festive touches.

Pathways and Leaves: Design pathways with leaf patterns or utilize custom designs to create the illusion of fallen leaves on the ground.

Cozy Outdoor Spaces: Set up cozy outdoor areas with blankets, cushions, and fire pits to evoke a sense of warmth and comfort.

Autumn Market Stalls: Create a fall-themed market square with stalls selling seasonal produce, pumpkins, and harvest-related items.

Harvest Festivities: Design an area for Thanksgiving or harvest festivities with tables, food displays, and autumn decorations.

Seasonal Fashion: Create fall-themed clothing designs for your character and island residents to embrace the spirit of the season.

Halloween Spookiness: Incorporate spooky elements for Halloween, such as haunted houses, graveyards, and eerie pathways.

Foliage-Rich Forests: Design enchanted forests with abundant foliage, fairy lights, and hidden treasures to explore.

Scenic Photo Spots: Create picturesque photo spots like scenic overlooks, cozy picnic areas, and beautiful gardens for capturing autumn moments.

Natural Waterfalls and Ponds: Enhance your island's natural beauty by designing waterfalls, ponds, and rivers that blend seamlessly with the fall theme.

Mushroom Groves: Introduce mushroom-themed areas with mushroom furniture and custom designs to add a whimsical touch.

Custom Designs: Utilize custom designs or download autumn-inspired patterns from other players to elevate your island's theme.
Remember to experiment with different design ideas, incorporate personal touches, and regularly update your island as new items and seasonal events become available. By combining creativity, attention to detail, and the spirit of autumn, you can create a breathtaking and immersive autumn island that players will enjoy exploring and savoring throughout the season.