9 Best Custom Designs In Animal Crossing New Horizons - Patterns For Paths, Tracks, Bridges & More
8/17/2020 11:49:58 AM
Animal Crossing New Horizons players are incredibly creative, they have the ability to create custom designs and share them in Animal Crossing New Horizons. Today I'm going to be showing you some really cool custom design patterns for paths, bridges, tracks and more created by people all around the world in Animal Crossing New Horizons. Hope you are excited to check them all!
Top 9 Animal Crossing New Horizons Custom Designs (Paths, Tracks & More)
Creating your own personal island in Animal Crossing New Horizons can be overwhelming. With so many decorations, terraforming options and custom designs available, it's easy to miss some of the coolest items out there. Now the ability to make and share your own custom designs in Animal Crossing New Horizons will give the Animal Crossing community another chance to showcase its creativity. For helping you get some inspirations on designing your island, we'll share some of the best ACNH custom design patterns appearing online which you can use on your paths, bridges, tracks and more. Save and share designs using Design & User IDs, and feel free to share your work with us, too!
Read more: How To Design Horned Hat In Animal Crossing New Horizons - Pattern & QR Code Guide ACNH
1. Coco Excavation
Design By: ChaztheWeasel on Twitter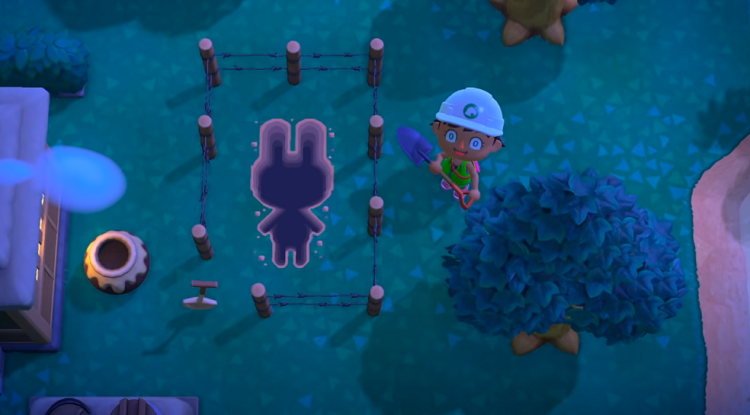 It's a really creative pattern of coco's excavation site. If you didn't know coco is actually based upon a gyroid which is this kind of creepy item that gets buried with the dead and this pattern works really well. It may remind you of looney tunes, you know where like they'd fall through something and their silhouette be stuck there. It's just such a creative pattern, so definitely a really cool one to start us off.
2. Abandoned Tracks
Designed By: u/xSeraiX on Reddit
Creator's ID: MA-4013-2434-7459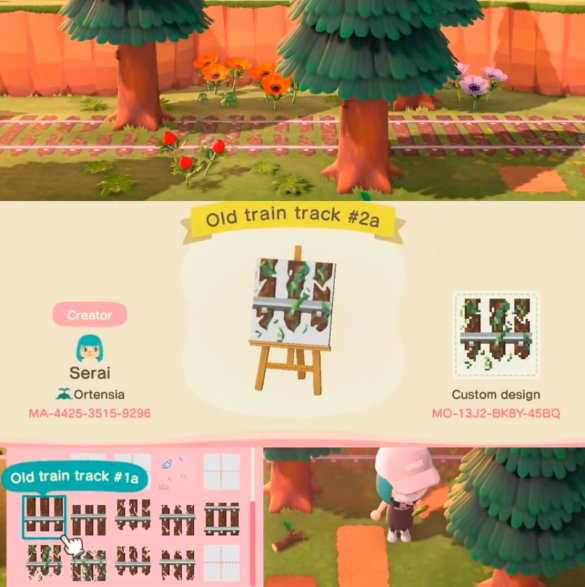 Thanks to Crossing Channel found this ACNH custom design on reddit and it's great. This is a old train track pattern and I love seeing people do lots of different kind of train tracks on railroads on their islands. I've seen some really cool train stations that always blow my mind just because of how cool they look. If you love to visit old and abandoned places, having one of these in your Animal Crossing island would be really great.
3. GameCube Dirt
Designed By: Denim2-mori on Twitter
Creator's ID: MA-6647-9230-4716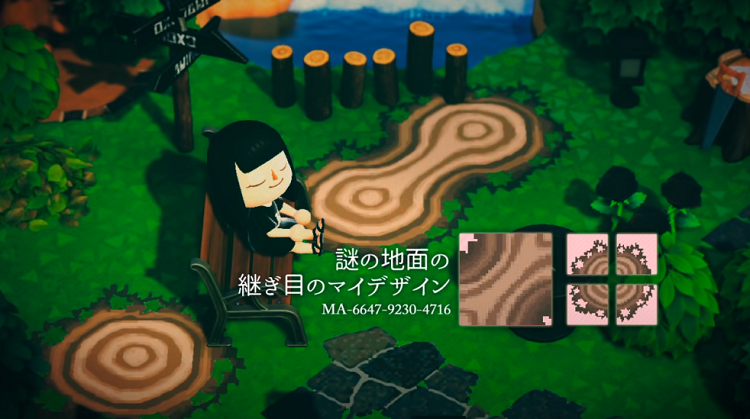 This one is made by one of the popular creators Denim2-mori, who actually created the very famous custom pathway called the path that you may have heard about, but one of their lesser known designs is these two here. These are dirt patches that are themed after Animal Crossing GameCube, they're inspired from that and they look so cool with some custom patterns. They don't blend too well into the island but these ones work really neatly. They look so great, they just blend perfectly with the grass. Having such a custom design in Animal Crossing New Horizons is really great.
4. GameCube Station
Designed By: Iltacat on Tumblr
Creator's ID: MA-9255-9699-8531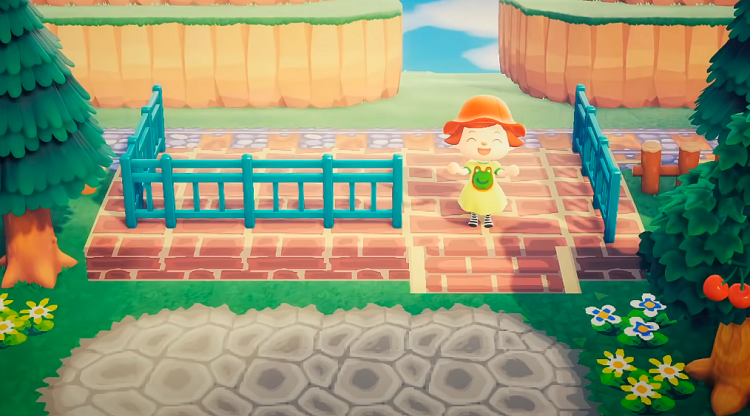 Speaking of Animal Crossing on the gamecube, we have these really great and creative ones that are themed after Animal Crossing on the GameCube's train station. Not only that but we have the train tracks at the back there and we also have the cobblestone pathway that you would get off onto and finally to add the cherry on the cake. There are also flowers from Animal Crossing on the gamecube. So if you loved that game, definitely get these patterns, they would work so well on your island. The use of the fences are great as well to really make it work and sell you on it, it's just so great and this really shows how creative Animal Crossing players have been with Animal Crossing New Horizons.
5. Beachy Path
Designed By: maasuKeOO1 on Twitter
Creator's ID: MA-9921-6060-9072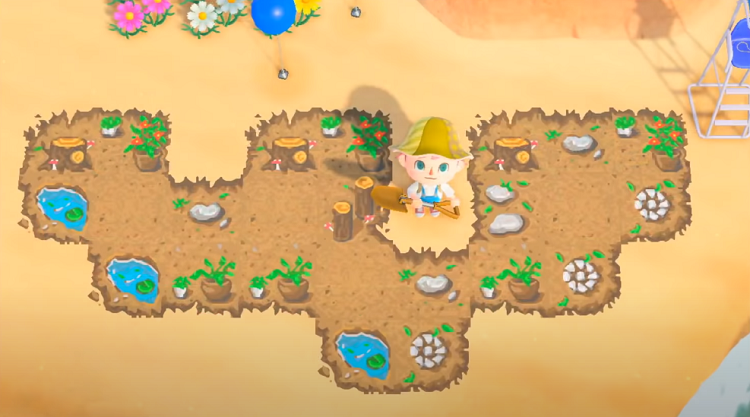 This is kind of a more beachy type path design, it's really neat, it has kind of a lot going on. There's some stones, some little poles and a bunch of really cool stuff. If you don't know what to do with your beach maybe you could put pathways down like this on it. It does take up a lot of space but at the same time it looks really cool. It's just so neat to see.
6. Drain & Stall Covers
Designed By: atsumori_tof on Twitter
Creator's ID: MA-7769-4996-1568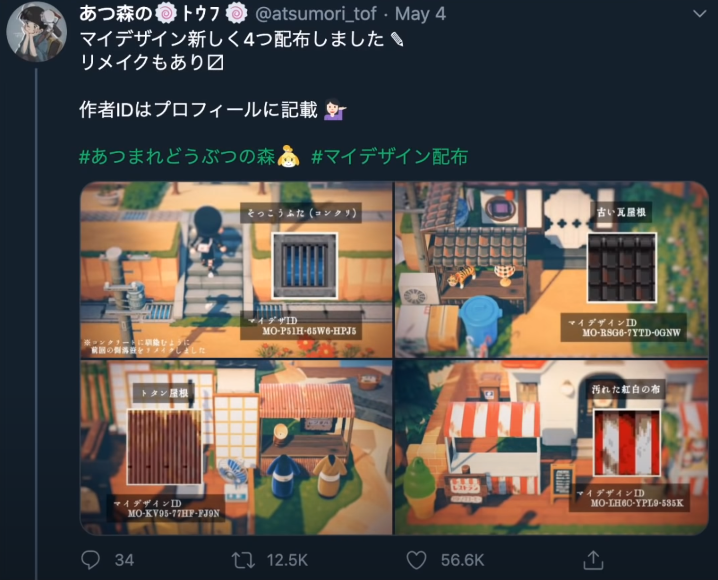 This one actually features four different patterns by one of my other favorite designers for Animal Crossing New Horizons. First of all, they have the storm drain which is really cool. You can use this one on your island and you can get other little pieces that kind of extend it and work really well. The other three are actually things that you can use on top of the stool item to make your own marketplaces and they just work so well.
7. Custom Bridge
Design By: chamomile-crossing on Tumblr
Creator's ID: MA-8394-0449-6412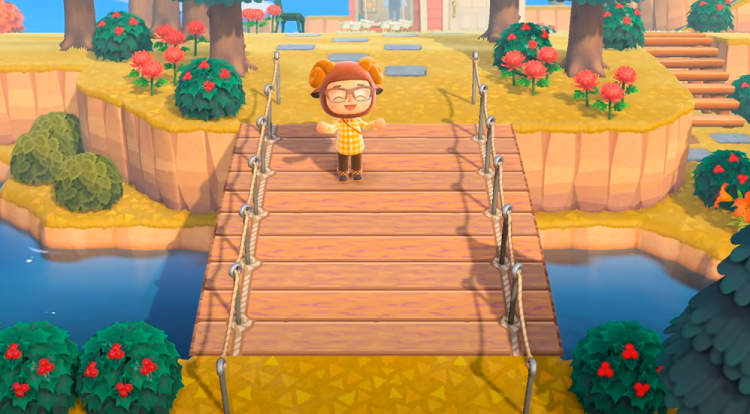 This custom design highlights the creativity of Animal Crossing players extremely well. This is a bridge that is made over cliffs. As you will know you cannot make a bridge going over two cliffs, it would be kind of neat if you could do that in game and have your own sort of bridge going over. But since you can't, players have had to be creative and make their own and this one works really well. It also doesn't look like it's too many patterns. So that's definitely really cool and they're using the fences here to make it blend in even more and I think they've done a really great job. This is definitely quite an ambitious one and a definitely an ambitious idea. But it's good to see that it's paid off so much because it just looks absolutely fantastic.
8. Witchy Path
Design By: 13_31zzz on Twitter
Creator's ID: MA-9921-6060-9072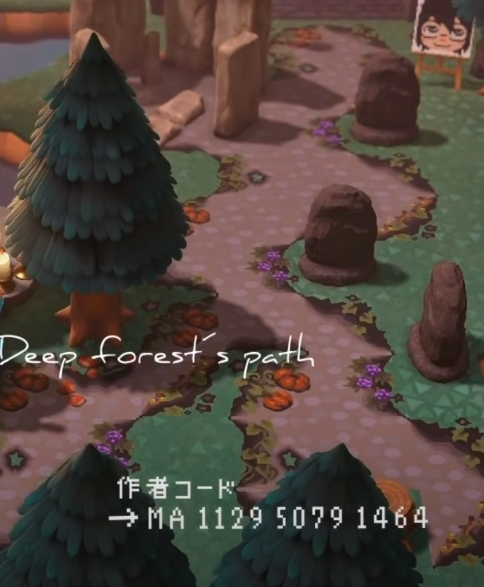 This is another variant of the custom design path. All of these are just so wonderful. It's kind of witchy and a lot of you have islands that are kind of themed that way. This one has little pumpkins going around the path, dark purple flowers, orange flowers and mushrooms. It looks really great. If you want to make your island stand out a bit more, custom patterns are the way to go because they can be unique to anyone and the way you style your island with them can be completely unique. So that's really cool and these are just so great.
9. Farming Patterns
Design By: nanase__game on Twitter
Creator's ID: MA-4013-2434-7459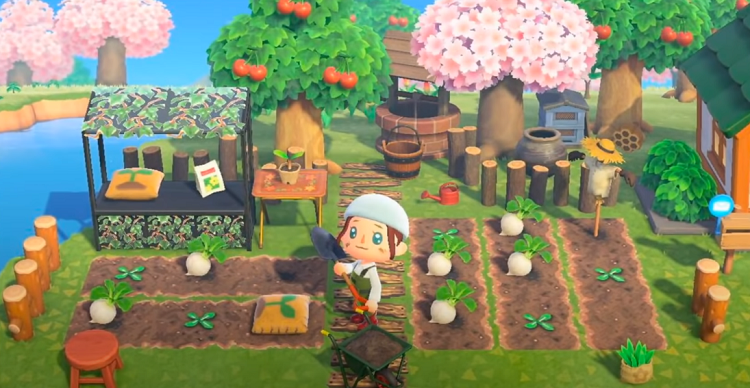 We have these really great farming inspired patterns. We have three patterns here, we have the one that goes on top of the stall, we have the crops that go on the floor and we also have the fertilizer bag. So the fertilizer bag is a pillow that's been customized which is really creative, that works well. But my personal favorite are the actual crops and here is a tip for you with those crops.
Instead of just placing them flat on the ground, what you should do is you should overlay them on top of the dirt pathways, you have two, you have the light dirt pathway and the dark dirt pathway, if you overlay these patterns on top of those, they'll blend in much nicely, it'll just look great. Overlay the patterns on top of a pathway like the dirt pathway because otherwise the edges will be jagged and it will cut off abruptly.