ACNH Halloween Event Date, Items, Furniture - Animal Crossing New Horizons Halloween Predictions
8/17/2020 2:58:51 PM
Thanks to the ACNH summer update wave 2 trailer released last month, which gives us the first little sneak peek at the next update, what we introduced in our ACNH fall update prediction is that the Animal Crossing Halloween event will be returning in the game, along with the special character Jack. What offers will be available? Follow us to take a look at the ACNH Halloween Event Predictions & Guide, featuring the release date, character Jack and his rewards (ACNH Halloween items), trick-or-treat & mini-games, how to get candy & lollipops, masks and Halloween set items.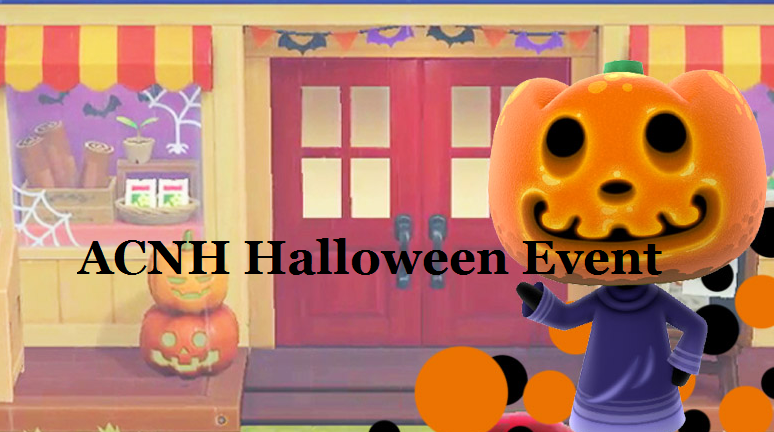 Animal Crossing New Horizons Halloween Event Release Date
Even though the Animal Crossing events do differ slightly from game to game, you can still get an overall idea of what past Halloween event has been like and what role does Jack play. Now, we can speculate Jack will return to New Horizons with the Halloween activity and play a role similar to the previous series. So, all the contents included in this article are based on the ACNH Halloween event predictions. New features will be available on akrpg.com when more information is confirmed.
The ACNH Halloween event is most likely to start on the night of October 31, 2020, which is the schedule of Halloween in the real world.

Animal Crossing New Horizons Halloween Event - Jack and His Rewards
Jack, who is a character from the Animal Crossing series, is the self-proclaimed Czar of Halloween. During the event, he will wear a pumpkin on his head to make him indistinguishable from other villagers who are also dressed like that. He typically appears once a year for Halloween in October, from 6 PM to 1 AM the following day, the event may differ slightly from past games, but for the most part, Jack hosts a kind of trick-or-treat style game that involves scaring villagers and distributing Halloween-themed ACNH items. The spooky furniture can only be obtained from Jack. In the video for ACNH summer update 2, Jack was confirmed to appear in New Horizons, in the next update set for autumn.
Animal Crossing New Horizons Halloween Event - Scaring Villagers and Trick-or-Treat Games
How to get candy in Animal Crossing? Win a mini-game with an outdoor villager. During the Halloween celebration on October 31, villagers around the island will chase you outside and start a game of trick or treat, when interacting with these villagers, you can either hand over candy when they catch you or accept the trick by playing a mini-game such as Charades, if you win the game you earn more candy, but if you lose, items in your inventory or even the clothing items you're wearing can be replaced with trash items, for example, turning an inventory item into a Jack-in-the-Box; replacing your top with a Patched Shirt or Moldy Shirt; giving you, or replacing your hat with a Pumpkin Head helmet. Get as many treats as you can and getting tricked as little as possible.
How to get lollipops in Animal Crossing? Talk to an indoor villager while wearing the correct mask. Players can scare others staying at home by wearing certain masks that are available to buy from the Able Sisters throughout the month. If you wear the correct mask and successfully scare the villager, you can earn the lollipops. Candy and lollipops can be redeemed for limited seasonal items. Jack is often the go-to character to earn furniture items from both the spooky set that consists of a bunch of bright orange pumpkin-themed furniture items and the creepy set that consists of the creepy graveyard and Halloween themed items

What mask should you wear for scaring villagers inside? When interacting with villagers who stay at home, you have to wear specific Halloween masks, including Bug Mask, Ghost Mask, Monster Mask, Mummy Mask, Skeleton hood and Werewolf hood. Each villager has a specific mask to wear.

Animal Crossing New Horizons Halloween Items & Theme Furniture
What items you can get on Halloween and how to get? New Leaf releases the following list of items obtainable during the Halloween event. The Creepy/Spooky DIY recipes should also be available to craft the themed furniture and other items. The whole set of Animal Crossing Halloween furniture can be used to create a theme design. Some of the Animal Crossing items such as the masks are available to buy from shops in past games but sets like the spooky set can only be obtained directly from Jack like how you would only get the pirate set from Gulliver in New Horizons. Please note that the Animal Crossing Creepy items need to be gained through trading a lollipop with Jack, while for obtaining the Animal Crossing Spooky items, you should give Jack candy. You can also get a variety of clothing items released with the ACNH fall update trailer.
ACNH Halloween Costumes (Confirmed):
Jack's Masks
Jack's Robe
Mage's Dresses (White, Grey, Red, Orange, Green, Purple)
Halloween Skin Tons & Eye Colors
Horns (Purple, Black, Red, White, Green)
Halloween Tights
Commoner Shoes
Warewolf Tops (Red, White)
Warewolf Caps (White, Red)
Warewolf Shoes
Commoner Top (Orange, Green)
Bat Wings (Black)
Halloween Hat
Zombie Top (Black, Orange)
Zombie Pants
Animal Crossing Creepy Set (Possible):
Creepy Bat Stone
Creepy Cauldron
Creepy Clock
Creepy Coffin
Creepy Crystal
Creepy Floor
Creepy Skeleton
Creepy Statue
Creepy Stone
Creepy Wall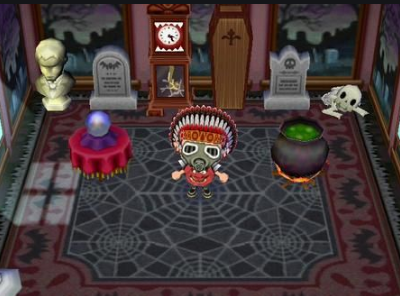 Animal Crossing Spooky Set (Possible):

Spooky Bed
Spooky Bookcase
Spooky Carpet
Spooky Chair
Spooky Clock
Spooky Dresser
Spooky Lamp
Spooky Sofa
Spooky Table
Spooky Vanity
Spooky Wall
Spooky Wall Lamp
Spooky Wardrobe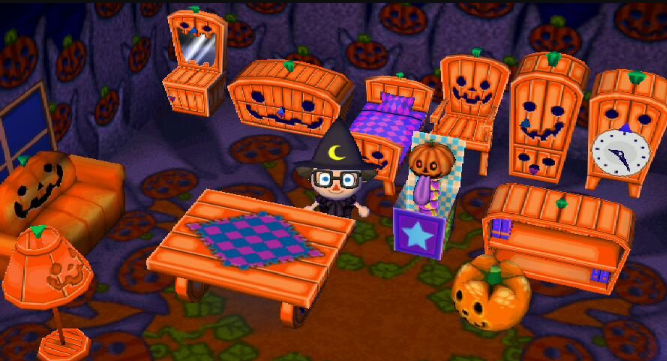 More Animal Crossing Halloween Items:

Pumpkin Head
Green-Pumpkin Head
Purple-Pumpkin Head
Red-Pumpkin Head
Yellow-Pumpkin Head
Old Flooring
Old Wallpaper
Patched Dress
Patched Shirt
Patched Shoes
Jack-in-the-box
Lollipop
Candy
We can expect the event will be more fun this time and involve collecting candy and scaring villagers while earning creepy or spooky DIY recipes. All we sure are that there is a free update will come in this autumn and Jack would return to New Horizons as the master of Halloween event. As long as any official announcements are available, we'll keep you up to date.