Guide & Tips for Getting Villagers with Nook Miles Tickets in Animal Crossing New Horizons
9/23/2020 12:00:14 PM
Animal Crossing New Horizons Nook Miles Ticket can be purchased with miles that you earned through various tasks in the game, such as catching a fish, buy ACNH items, write a message on the bulletin board, etc. Open your Nook Phone, you can check how many nook miles you have obtained. The ticket provides chances for players to visit other deserted islands on mystery tours and collect crafting materials or inviting villagers to your island.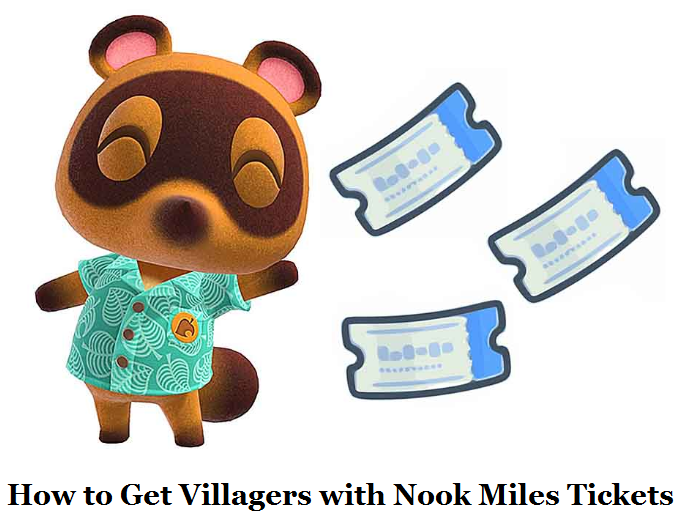 How to Get Villagers with Nook Miles Tickets in Animal Crossing New Horizons?
As long as you've got 2000 nook miles, you can use them to buy nook miles tickets from the Nook Stop and take the NMT to the airport and start your flight to a deserted island to collect resources you needed, you can also recruit villagers on the island to come and live on your island. Each time you purchased an ACNH nook mile ticket, an island will be generated, you can't try to get a different island with the same ticket even resetting the game.
1. Place the house kit to prepare a plot
2. Take an ACNH NMT to visit a deserted island
3. Recruit a villager from a mystery island
4. Craft and submit all the furniture for the lot
5. Talk to Tom Nook
6. The invited villager will move in the next day
Why Are There No Villagers When I Use a Nook Miles Ticket?
When the number of villagers on your island reaches the maximum - 10, there will be no villagers show up on the Nook Miles island, once there is a vacant plot again, they might appear. This means if you have no place to host any new villagers, there are no animals on the island.
How to Get Specific Villagers in ACNH?
You can get the third to fifth and seventh to tenth villagers through the mystery tours, invite the villager you like on the Nook Miles island. If there is no resident on this island you like, you need to use more Animal Crossing nook miles tickets to travel to other islands until you find the one you want. The first, second and sixth villager can't be chosen.
You can find players who are willing to get rid of their villagers in different Discord servers, once a villager agrees to move and unpack their boxes slowly, you can convince them to move to your island, this is a way through trading an amount of ACNH nook miles tickets for a guaranteed interaction with a popular character, which often costs a lot. If you want to choose a specific villager, you need to own the amiibo card of the character you want to live on your island and unlock the campsite. Once you've scanned the amiibo card, you'll invite them to stay at your campsite.
Tips for Inviting Villagers through Mystery Tours
- Set aside at least one vacant plot.
- You can only invite one villager to move to your island each day.
- If the villager has been invited, he/she will not appear on mystery tours on that day.
- Make sure to invite villagers before the 5 AM the next day, because if you invite a character after that time, a random villager will move in.