10 Best Island Entrance Design Ideas In Animal Crossing New Horizons - How To Design Your Island Entrance & Entryway
9/23/2020 4:32:48 PM
Feel stuck in designing your island entrance in Animal Crossing New Horizons? Looking for better ways to decorate your entrance & entryway and make the best of your outdoor space and attract more visitors? Here we share some different design ideas for your island entrance, which will help you make a great first impression of your island!
10 Ideas For Your Island Entrance In ACNH - How To Design Your Island Entrance & Entryway
The island entrance is often the first thing visitors see upon entering the island, players should take special care when designing it. With all the possibilities for customization in Animal Crossing New horizons, players can create their island any way they want with unlimited creative. So the following guide (made by famous Youtuber Tiger) will share top 10 best island entrance design ideas in Animal Crossing New Horizons created by some amazing people, helping you design a memorable entrance in ACNH island and impress the visitors.
Note: All these design ideas for island entrance collected from Youtuber and Instagram.
ACNH Entrance Idea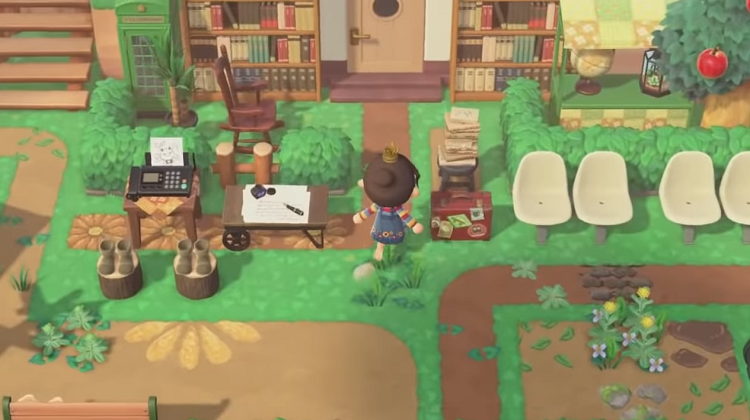 This one is so unique and so different from any other entrance. The pathway in this area is the in-game dirt pathway with some custom designs and weeds placed on top of it. There is also a Nooks Cranny over on the left side making it very accessible for visitors. A little visitor station in the background with a villager house is really great and there's luggage and books. It's like a rustic town vibe but it's also not too much like the city and it just looks really nice. There's not a whole lot of cliffs going on it's just like a very flat entrance.

Island Cottagecore Entrance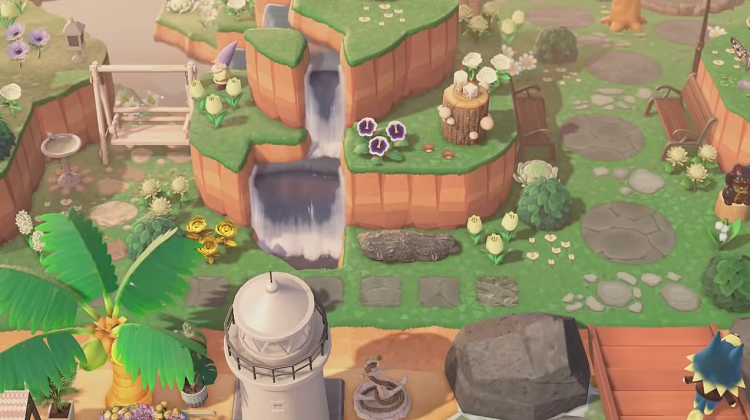 Such an island cottagecore entrance is so peaceful and inviting. The wolfgang is wandering around and he is adorable. There are cliffs on either side of the entrance which looks really nice. There's so many cute little details like the tiny lucky cat, there's butterfly models, the shelf fountain up on the cliff, the padding with the circular shaped stone, paths with the stone like stepping stones in between it, it looks really nice and it looks great against the green tones of all the naturey items that are everywhere. This cottagecore entrance is just so cute.
City Kidcore Island Entrance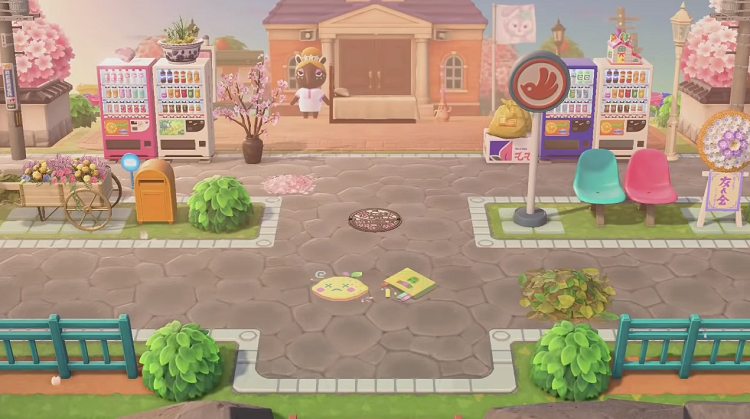 There is a mailbox right at the entrance which is really charming and she just used all these like sophisticated city items but also mixed in a lot of really colorful and vibrant kitty oriented color themed items. The creator put stuff on top of the vending machines too which was a really nice detail. And the pathway looks really cool with the custom border going around it to make it look like a street. This one is definitely really relaxing to visit with the sakura petals floating around while you are running and recording.
Tropical Island Entrance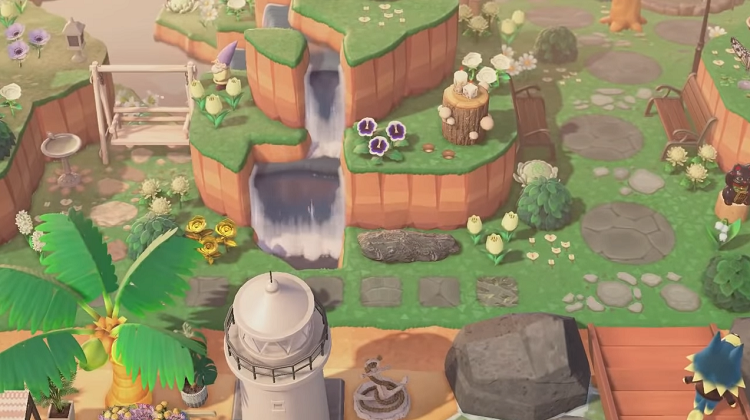 This one was magnificent. The marble tiled pathway around the entire island was really insane. The outdoor bath hidden encased in the cliffs right at the entrance which was just gorgeous. The vibrant loud colors of the flowers are really beautiful. There was a surf rental area with some bicycle parking, lots of bamboo trees and coconut trees. This island entrance was just so colorful and just really nice and refreshing to visit.
Cottagecore Island Entrance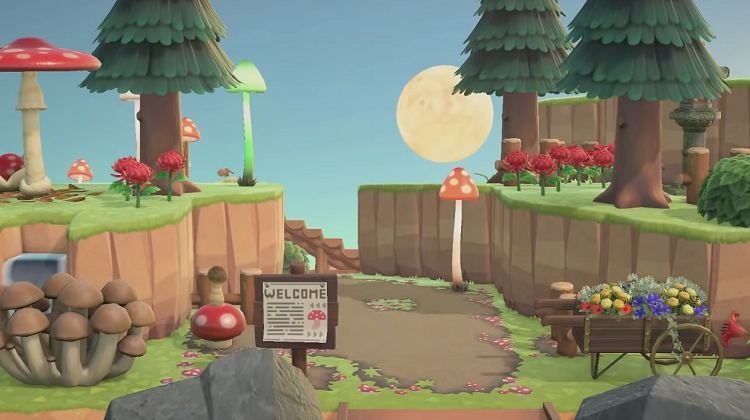 This idea for island entrance was so serene and peaceful, the pretty pathway led up to the residential service area. There was also a moon going on and so many mushroom items, there was even a mushroom welcome sign and a mushroom pathway. The flowers really complemented the mushrooms too since the creator used red flowers and she had a staircase right in front of the plaza which was really interesting.
Best Entrance Design Idea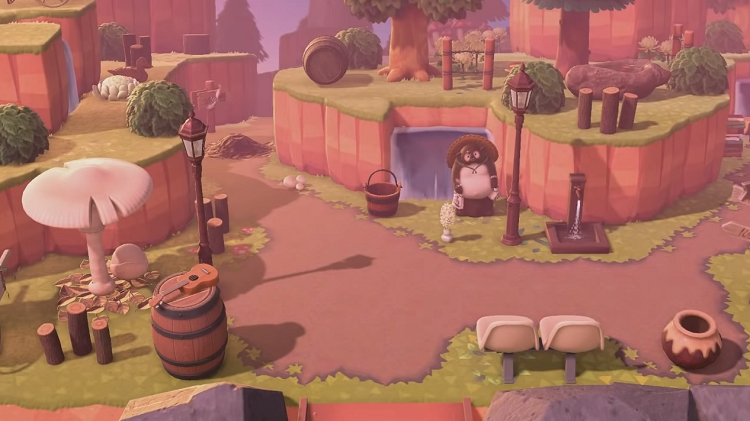 This entrance for island ACNH was so nice, all the colors looked amazing together. There were so many different brown tones and greens and whites just complemented each other perfectly. The lighthouse on top of the cliff in the background looked legendary and it was amazing. On the right side there was a pathway that led up to the residential services and the flow on this island was just really magnificent, everything was so organic. The ukulele on top of the barrel was such a nice touch.
Festival-Themed Entrance Idea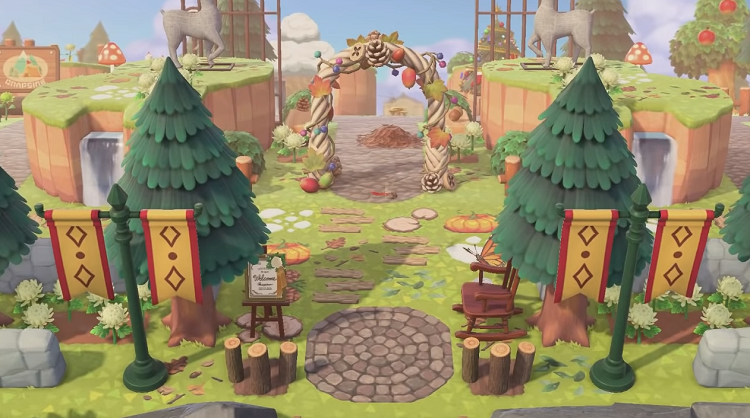 This beautiful island entrance was very fall and holiday-esque. It reminded most of us the Christmas and Halloween and just the fall holiday season. There were so many different little festive items around like the reindeer, the Christmas trees and globes. The color coordination on this one was amazing, it was also very symmetrical. And there were so many different pathways, just looked amazing. She also had a little rocking chair and a welcome sign with those market little banner thingies. You can definitely design such an unique entrance in your island!
Tropical Entrance Design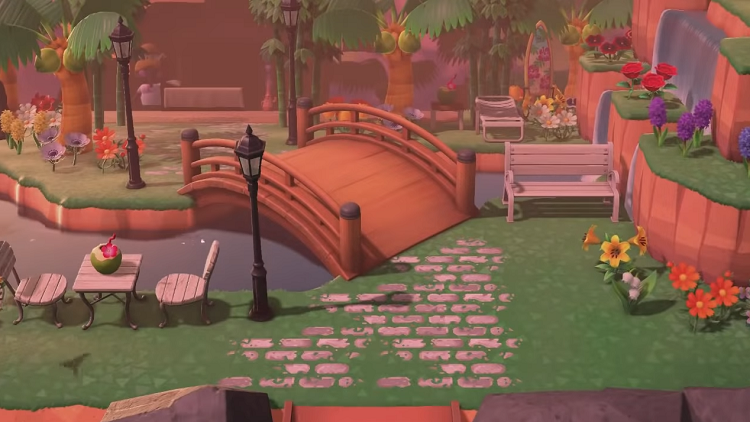 The bridge in the middle was just really nice with the street lamps around it. There was a seating area with some coconut juice and this one was really close to the residential services. So you can do things if your residential service is close to your entrance. There was also a little relaxing area with the surfboard, the beach chair and the coconut juice.
Best Island Entrance Design Idea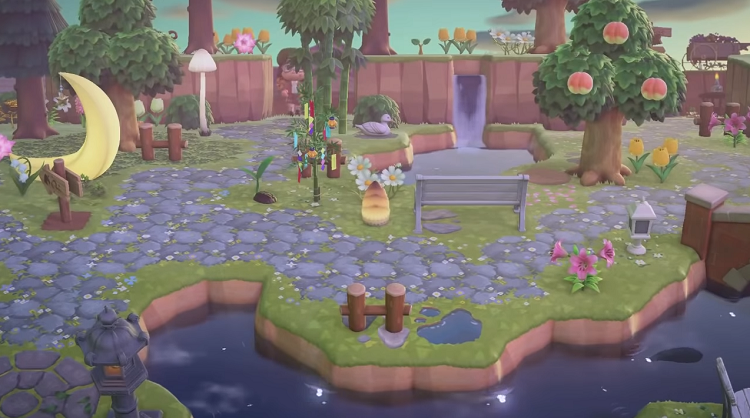 In this entrance, all the water features around look so great together and there's just like an assortment of different unique items that you don't normally see. All the little details were just so great like the coconut trees kind of planted that haven't grown yet and the little moon chair and the star fragments, everything was just very peaceful and dreamy. The view from above was so cool with all the water features around. You should definitely go check out Foggycrossing's channel.
Best Idea For Your Island Entrance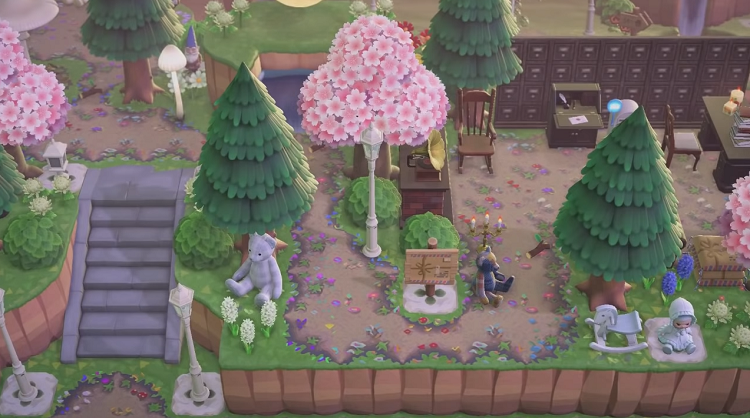 This entrance was so cool. There was an awesome staircase right off the bat that led up to this beautiful cliff area with a cliffside postal office type space and a bunch of trees and different stuff. The giant teddy bear was really cute and there was another staircase that led down into the residential services. The post office was really great, there was teddy bears and the mailbox, these simple panel designs that look like po boxes and this one was so unique. The view from the cliff was just like amazing, you could see all thee waterfalls and all the really cool stuff.
Do you like these top 10 best island entrance designs ACNH? Which one was your favorite? Be sure to follow all of these creator over on instagram and definitely credit them if you decide to use their island entrance as inspiration or as an idea for your own. If none of these are what you want, you can get more Animal Crossing Designs here. Also if you are looking for any entrance style items, welcome to check out our offered budget ACNH items!