ACNH Fall Update New Items: How To Collect Pumpkin DIY Items, Halloween Costumes, Furniture In Animal Crossing?
9/27/2020 10:26:11 AM
Finally, the release date of Animal Crossing New Horizons Fall Update and Halloween Event has been confirmed, along with Nintendo published a new ACNH fall update trailer which revealed Halloween costumes and decorations, Pumpkin Farming and DIY, Halloween celebrations, new revisiting dream options, and NookLink App update. In this post, let's focus first on the new items we could get from the Fall update, featuring Halloween items and pumpkin-based DIY projects to collect for preparing Halloween Night Celebrations!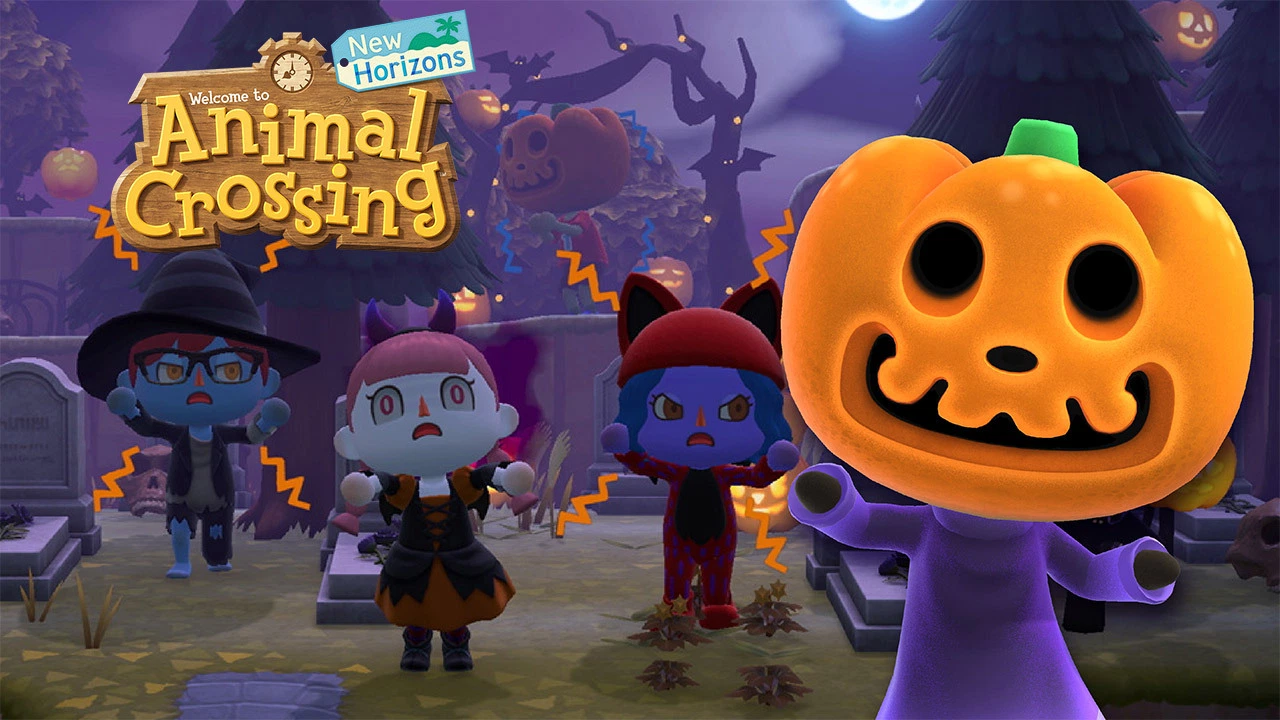 Animal Crossing New Horizons Halloween Pumpkin Farming & DIY Recipes
The first time, Nintendo introduces the pumpkin farming into the Animal Crossing series, with which, you can plant and grow pumpkins, then pick up them to craft Halloween themed items, or use as decorations directly or eat for Stamina Points.
ACNH Pumpkin DIY Items and Halloween Decorations
From the trailer, we have discovered some Halloween themed items we can collect during the event time, which could be craft with the pumpkins from farming and related DIY recipes:
Pumpkins

Spooky Arch

Spooky Candy Set

Spooky Chair

Spooky Lantern

Spooky Lantern Set

Spooky Scarecrow

Spooky Standing Lamp

Spooky Table

Spooky Tower

Spooky Flooring

Spooky Garland

Spooky Rug

Spooky Table Setting

Spooky Wall
How To Farm and Grow Pumpkins in Animal Crossing New Horizons?
1) Get Pumpkin Starts - Buy Pumpkin Starts from Nook's Cranny or Leif with 140 bells per one or 700 bells for 5.

2) Plant - Grow a pumpkin directly from your inventory by digging a hole with a shovel, the same things as bushes and flower planting.

3) Water - Water your pumpkins to make them much happier and take care of them every day to grow. Happy pumpkins earn even more to harvest.

4) Harvest - A few days after planting pumpkin starts, go to pick up the pumpkins which would be indifferent color (Orange, Yellow, Green, White) due to the maturity.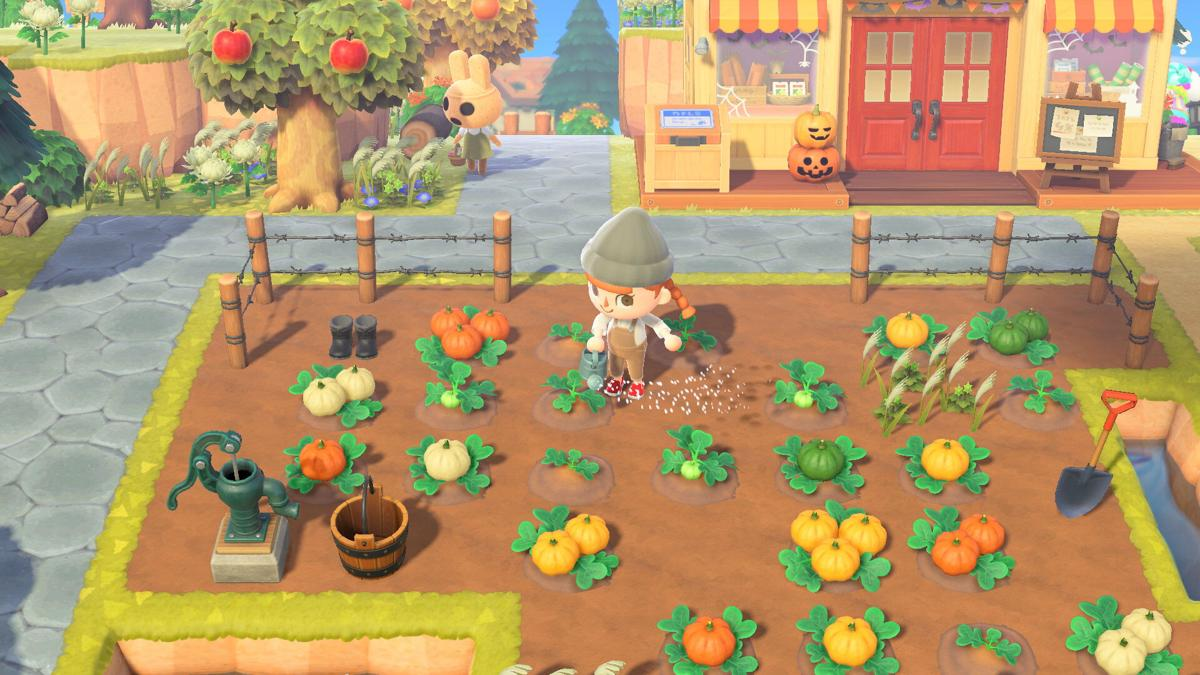 What To Use Pumpkins For During Halloween Event In Animal Crossing?
1) Used as DIY crafting material for Halloween Pumpkin themed items such as the decorations listed above.

2) Used as Halloween decorations directly such as placing them on a table or floor outside/inside to add cottagecore and holiday favor to your island.

3) Used as a Stamina supplement like eating fruits, turnips, mushrooms, and bamboo shoots to boost your stamina points.

4) If you are interested in filling your bell bag, an extensive pumpkin harvest is also worthwhile. You can sell a fully grown pumpkin for 350 bells; So if you buy 10 pumpkin seeds from Gerd for 140 bells (1400 bells in total), water them all two to three times a day and then harvest 3 pumpkins per seed, you get 30 pumpkins that you can sell for a total of 10500 bells. Not that bad!
How To Get Pumpkin DIY Recipes In Animal Crossing New Horizons?
To craft the pumpkin theme items as usual you not only need pumpkins as materials but also need related DIY recipes, so how to collect them? There is no official information released, while we can predict the below methods would be work:
1) Get Pumpkin DIY Recipe from Isabelle as a gift during Halloween event time after the Fall update releasing

2) Learn Halloween DIY projects from your fellow residents

3) Collect from Balloon Presents every day during the Halloween event time including the preparing time

4) Get from Jack as a reward by completing some certain quests
We will update more information once the official information announced.
Animal Crossing Halloween Costume & Outfits
Surely, to prepare for the Halloween Night Celebrations and enjoy the holiday, you need to find spooky or creepy style by makeup yourself with Halloween Costumes, Body Paint, Colored Eyes and Face. Below is the list we are able to collect during the month of October and the Halloween event.
Jack's Masks

Jack's Robe

Mage's Dresses (White, Grey, Red, Orange, Green, Purple)

Halloween Skin Tons & Eye Colors

Horns (Purple, Black, Red, White, Green)

Halloween Tights

Commoner Shoes

Warewolf Tops (Red, White)

Warewolf Caps (White, Red)

Warewolf Shoes

Commoner Top (Orange, Green)

Bat Wings (Black)

Halloween Hat

Zombie Top (Black, Orange)

Zombie Pants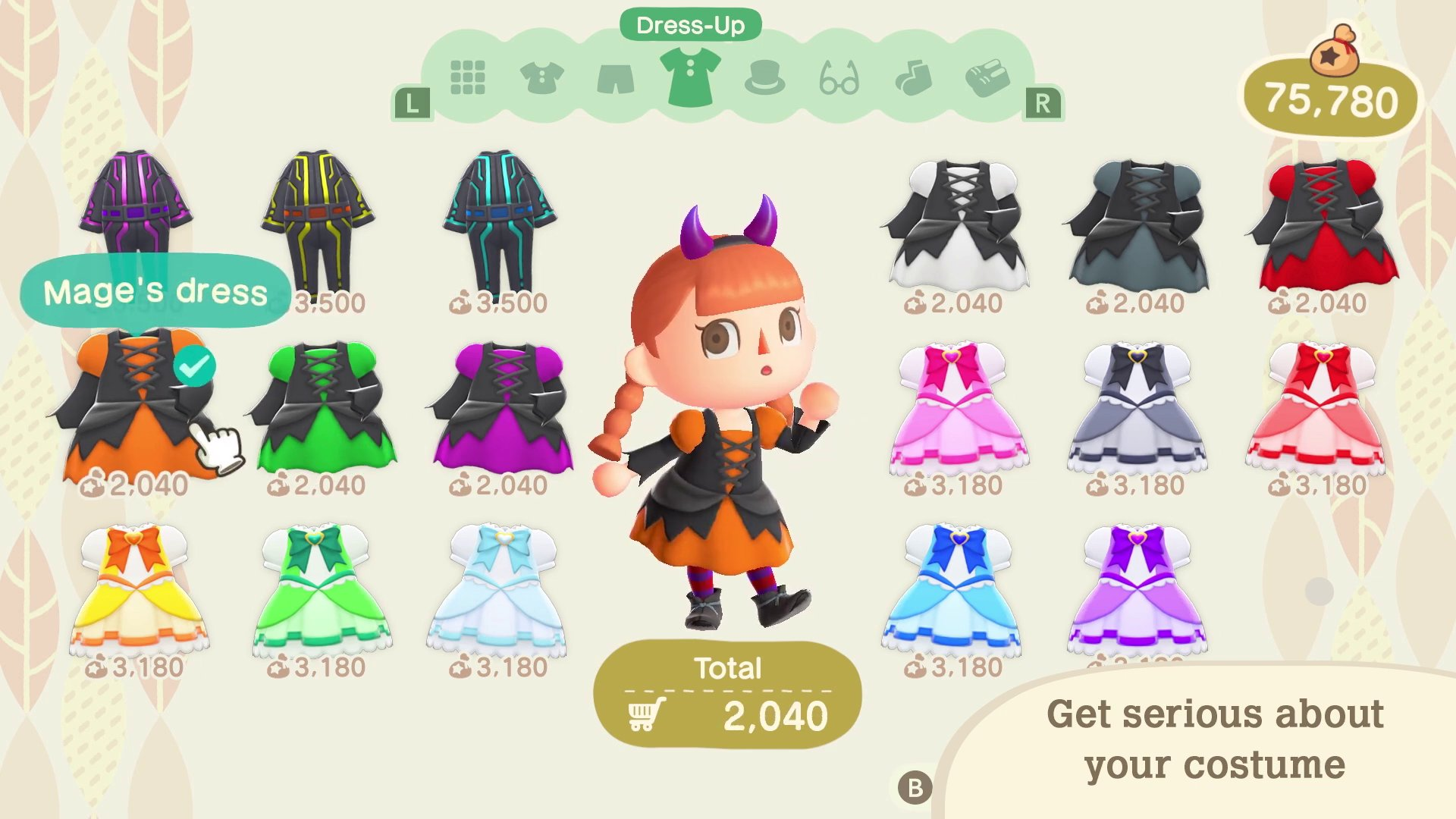 How To Collect Halloween Costumes & Dress Ups In Animal Crossing?
1) Purchasing Halloween costumes, like a mage's dress, at the Able Sisters shop during the month of October

2) Procure Halloween face skin tons, body paint, and colored eye contacts by exchanging Nook Miles at the Nook Stop in Resident Services.

3) Make your own Halloween style outfits with Custom Designs Patterns, on our other guide, you can find more ACNH Halloween Costume Custom Designs

4) Get some special Halloween decorations as rewards such as Jack's masks from mysterious guests - Jack.
How To Get Halloween Body Paint and Eye Color Options?
1) Go To Nook Stop in Resident Services
2) Click "Redeem Nook Miles", you will find new "Body-Paint Costume Tips" & "Exploring New Eye Colors" on sale for 2,400 bells each one
3) Select them and go to redeem with Nook Miles, then you learned new body paint or eye color changed techniques

4) Go to change up your look with the new body paint and eye color with a vanity or a mirror
Other ACNH Items To Collect After Animal Crossing Fall Updates
Once the Fall Update launched in the game, there are other items you should collect if you want to join the Halloween Celebrations.
1. Candy & Lollipops
Candy is always necessary for Halloween, you will need some to play Treat or Trick on the Halloween night arrives on Oct. 31, after 5 p.m. By giving Jack lollipops and candy, you'll earn spooky in-game rewards. Buy giving candy to your neighbors, you will get some rewards too, otherwise, you might get pranked! Check out our guide to learn How To Collect Candy and Lollipops.
2. Halloween Fear Reactions
A couple of new Reactions will be available for you to learn to properly express your feelings of fear.
3. Ring Con Item
Ring Con Furniture Item from Ring Fit Adventure will be sent as a gift to all users that download the Animal Crossing: New Horizons Fall Update.