20 ACNH Halloween Design Codes - Best New Path & Clothing Designs For Animal Crossing Halloween Update
10/7/2020 6:00:42 PM
Don't have any Halloween ideas for your ACNH islands? Here we share some Halloween themed design codes for you to use when decorating your island for the Halloween season. Hopefully these inspire you to have a think of what you could include on your island!
Animal Crossing New Horizons Halloween Design Codes
Halloween is coming at the end of October in both real life and players' islands in Animal Crossing New Horizons. With this in mind, ACNH fans have been working hard making some incredible clothing, pathways, and more custom designs for Halloween update. Here are some spooky designs inspired by Halloween, with each design codes presented (shared by Youtuber Tiger). These designs all range from cute costumes, paths, face paint to spooky floor patterns.
Note: All the shared design ideas for Halloween season collected from Twitter and Instagram.
Halloween Design 1 - Pumpkin Flannel (Long-sleeve dress shirt)
Creator code: MA-04220-8019-8907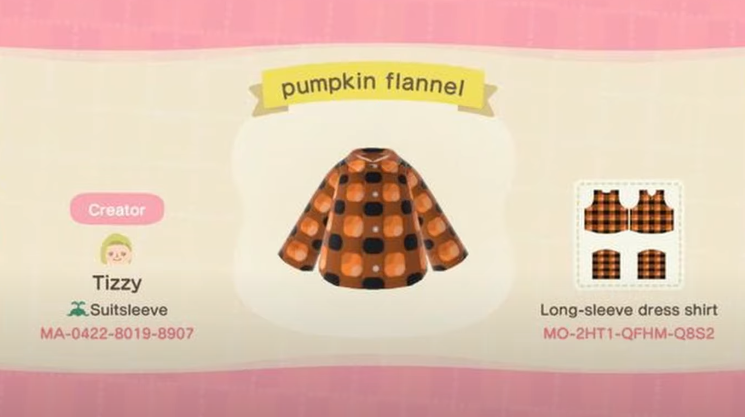 Halloween Design 2 - Witchy Freckles (Face paint)
Creator code: MA-9335-3747-3640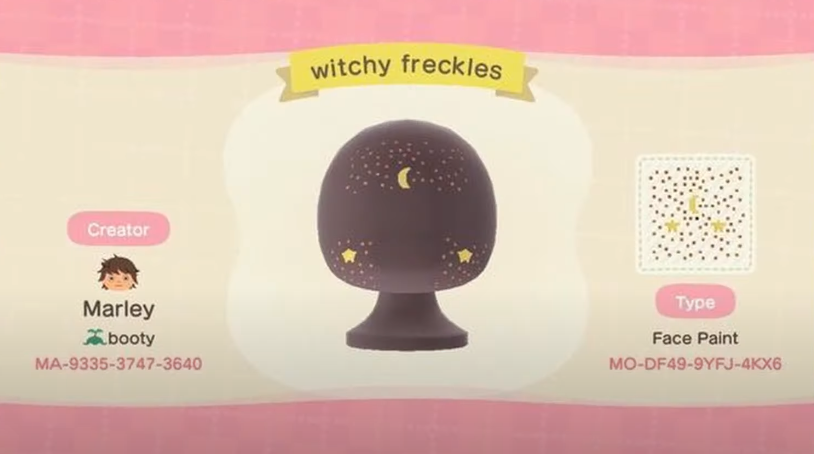 This would be amazing for the night of Halloween for like the trick-or-treating. Whenever you get to dress your character up and go around and give out candy, this would be really nice to add on to your Halloween costume.
Halloween Design 3 - Forest Ram Skull (Custom design)
Creator code: MA-3661-3687-4767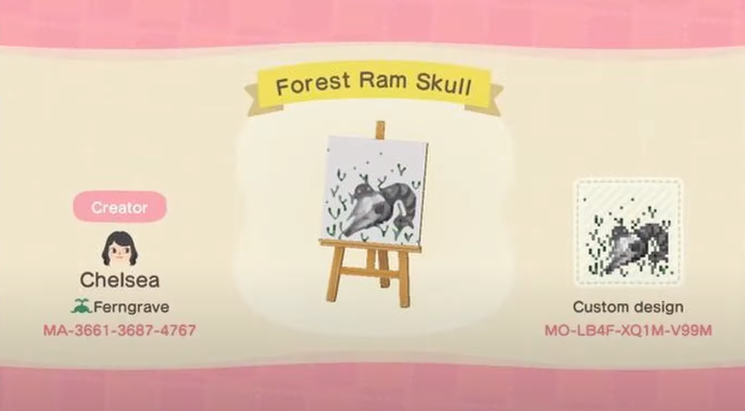 This is so cute and aesthetic, you can place them on the ground of your island and add a creepy look to your ground.
Halloween Design 4 - Casual Witch (Short-sleeve dress)
Creator code: MA-0999-5924-4658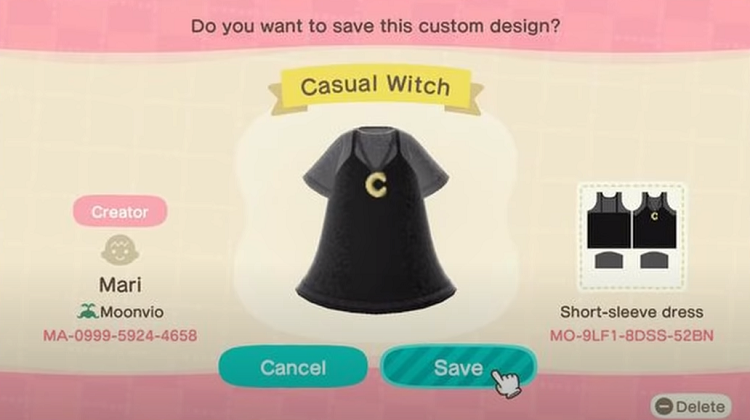 With a moon, a necklace, it's so pretty and very Halloweeny.

Halloween Design 5 - Pumpkin Spice (Coat)
Creator code: MA-2857-6242-8011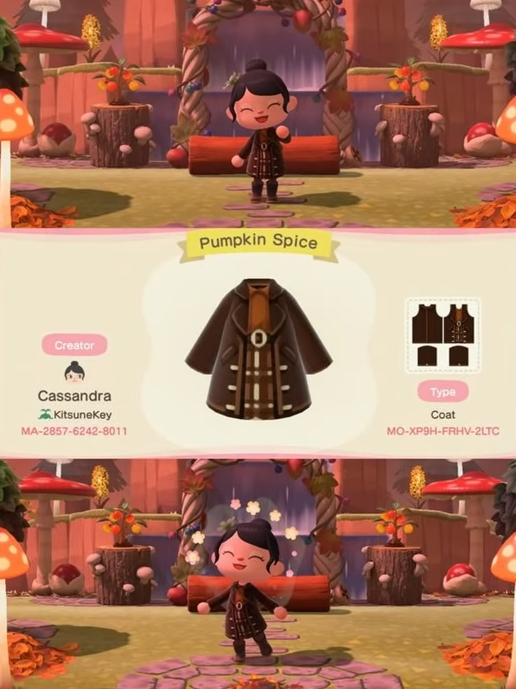 Halloween Design 6 - Pumpkin Tart (Balloon-hem dress)
Creator code: MA-4266-6018-2101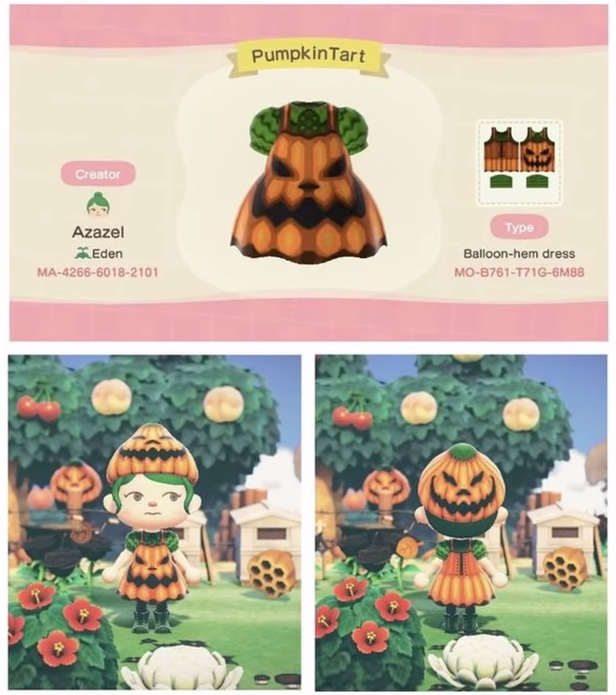 This would be a great Halloween costume for Halloween night whenever Jack visits your island and you get to hand out candy, it's really adorable.
Halloween Design 7 - Autumn Waning Moon (Long-sleeve dress)
Creator code: MA-6868-9100-2516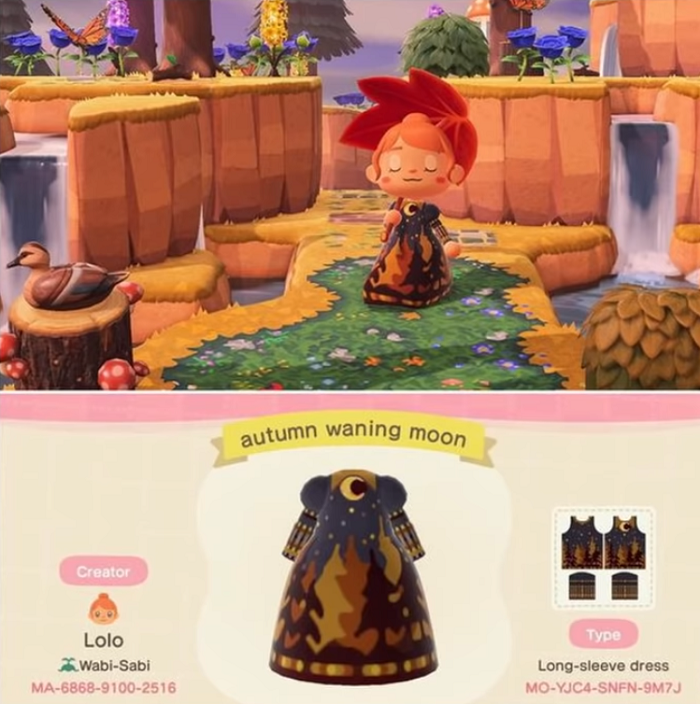 Halloween Design 8 - Halloween Dress 2 (Long-sleeve dress)
Creator code: MA-7619-0309-4958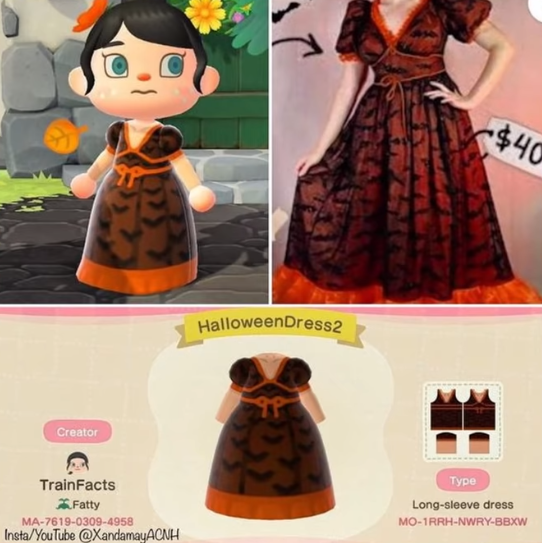 Halloween Design 9 - Potion Sign (Custom Design)
Creator code: MA-0260-7053-5263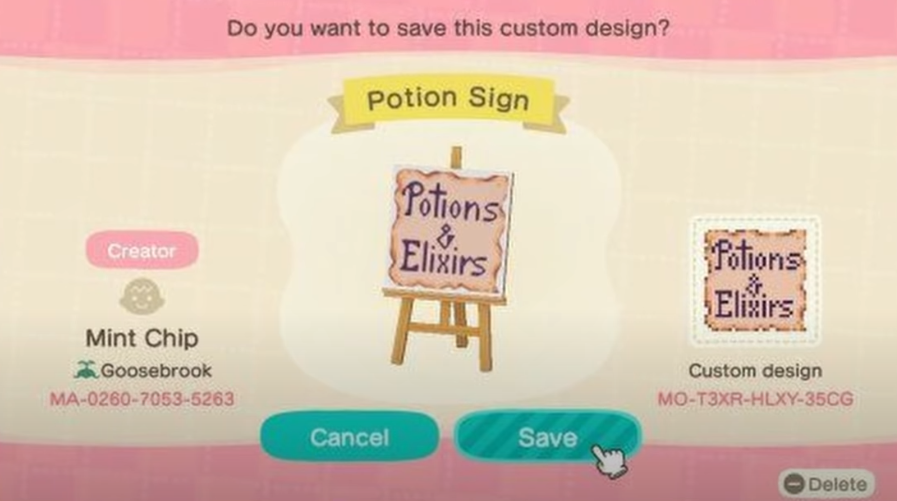 Halloween Design 10 - Pumpkin Dress (Balloon-hem dress)
Creator code: MA-2428-2927-9549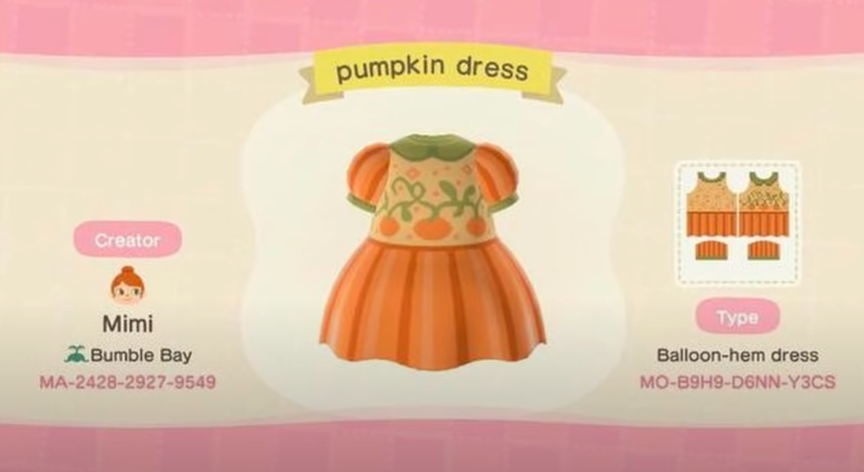 Halloween Design 11 - Pumpkin Cheeks (Face Paint)
Creator code: MA-3954-7651-6941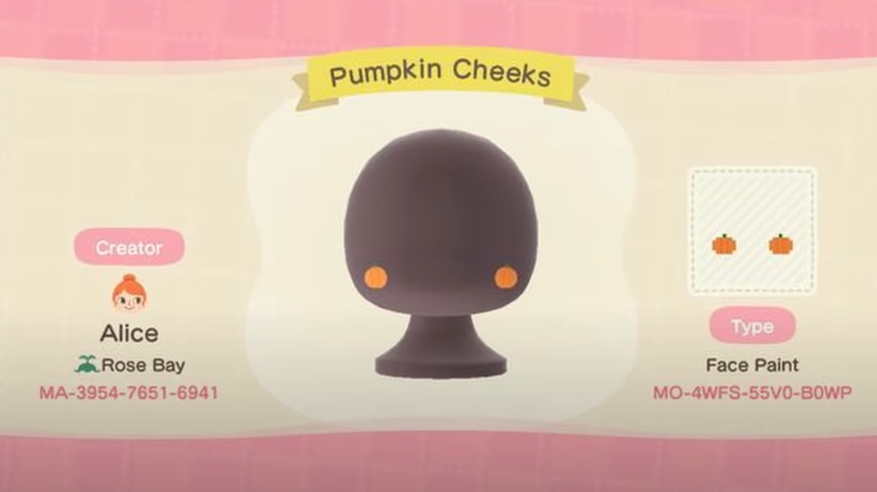 Halloween Design 12 - Paper Lanterns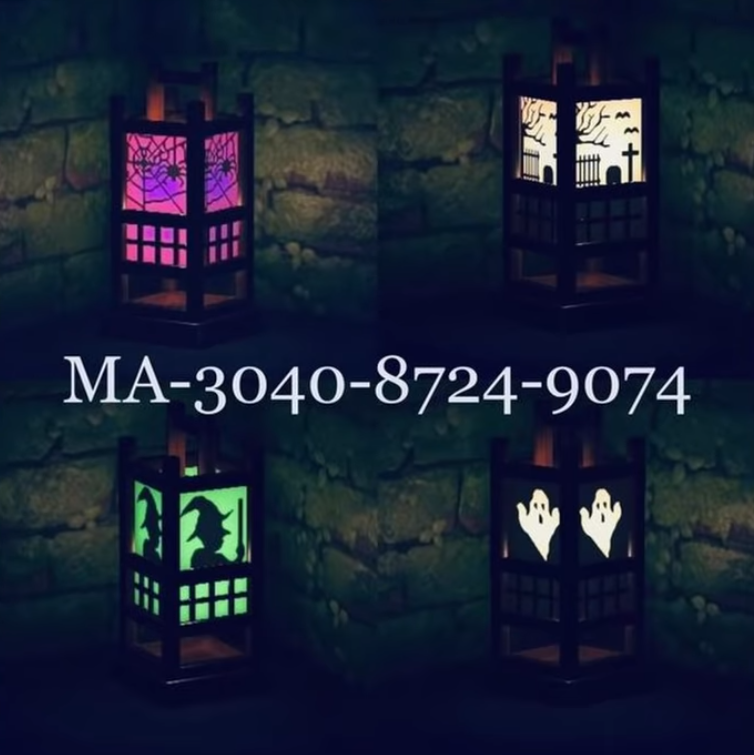 You can put these 4 designs on the paper lanterns. They have a ghost one, a spiderweb one, a witch one and a graveyard one. They are so cute and beautiful at night in your island.
ACNH Halloween Clothing Design Codes
Creator code: MA-9077-0757-9322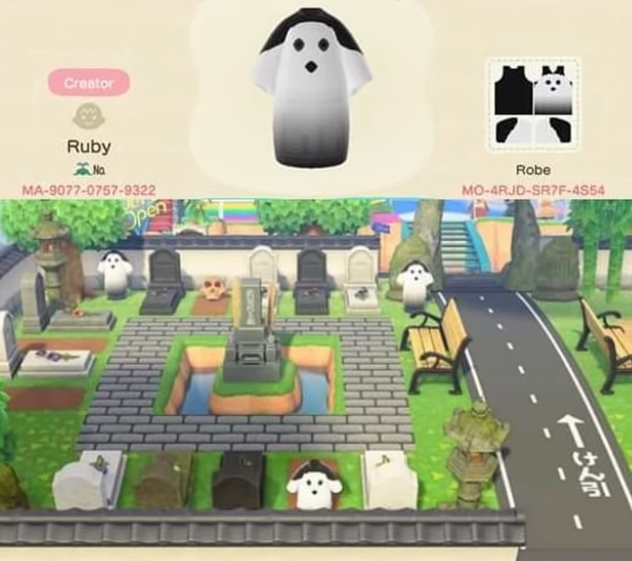 Creator code: MA-4404-5620-5831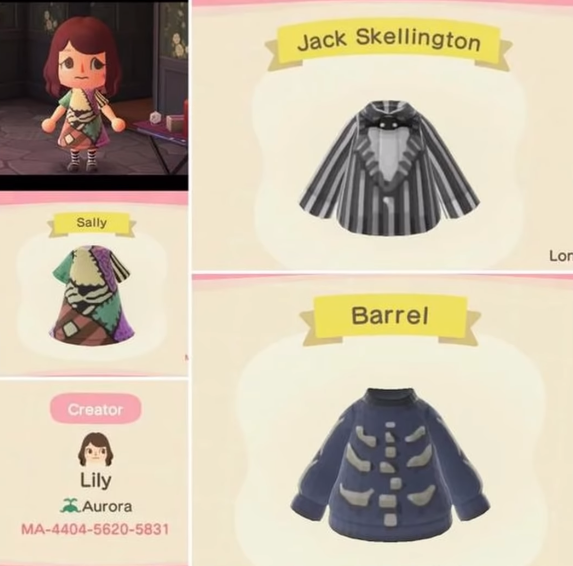 Creator code: MA-4394-3284-0180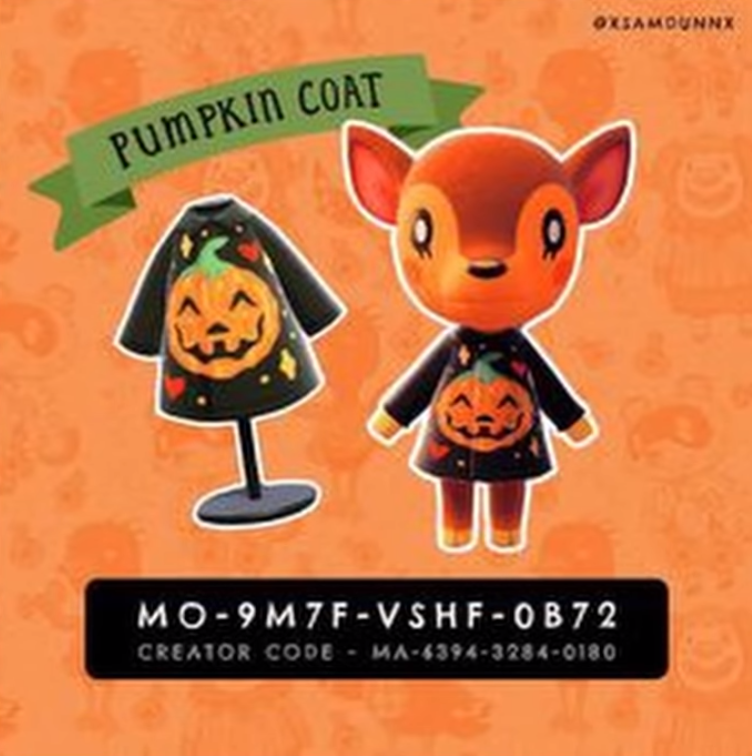 Here are also some best Halloween pathway design ideas for your ACNH island.
ACNH Halloween Path Design Codes
1. Pumpkin Pathway
Creator code: MA-7336-1581-4501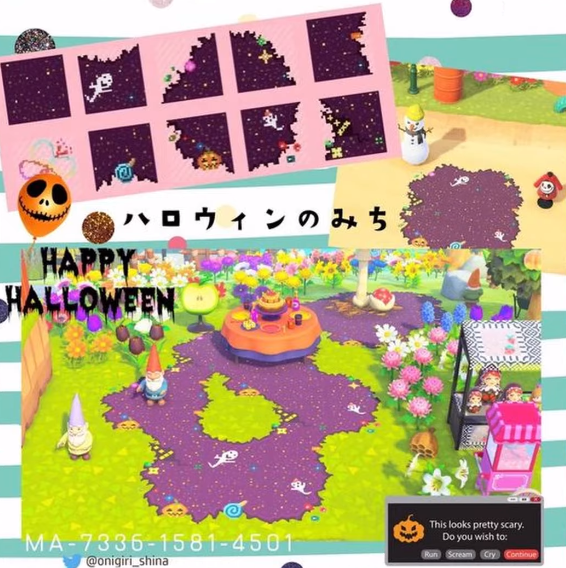 It has pumpkins and little ghosts floating around in the path.
2. Colored Dirt Pathway
Creator code: MA-7448-6409-1131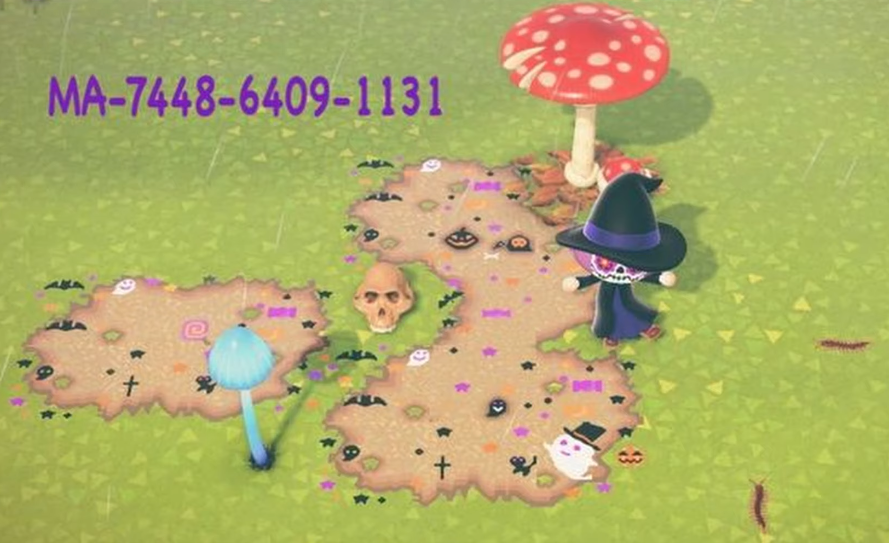 It has kitties and crosses little purple details and a little ghost that's wearing a hat.
3. Pumpkin Path
Creator code: MA-3916-5652-0119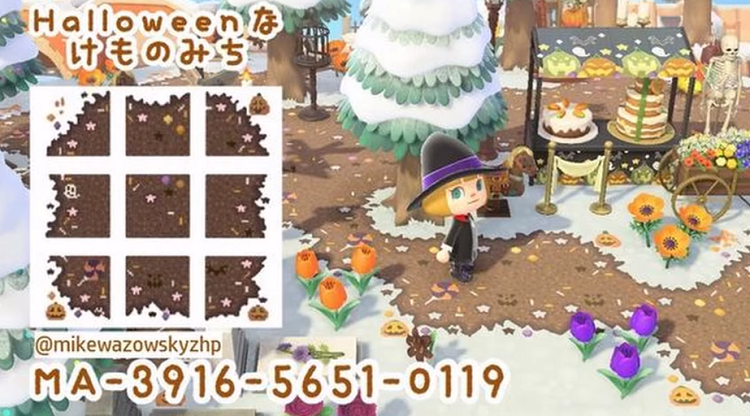 4. Fully Black Path
Creator code: MA-3716-0662-9443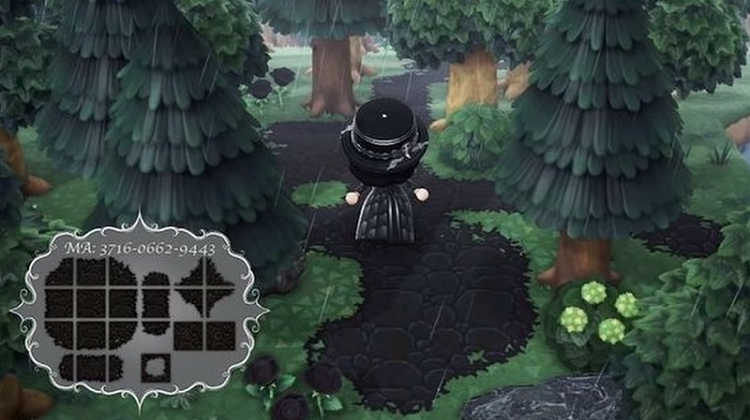 It's fully black with the trees and the rain, it's kind of creepy and it would look especially nice during Halloween with like a fog maybe happening on your island.
5. Stone Path
Creator code: MA-1482-7518-4706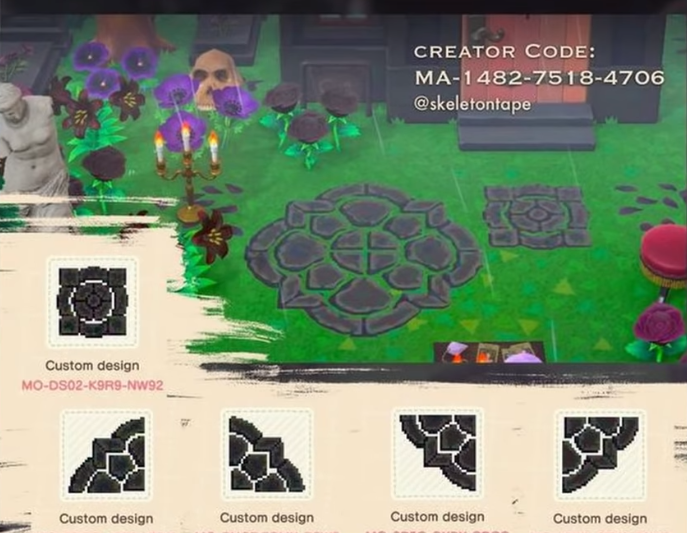 6. Brick Patterned Pathway
Creator code: MA-0899-1820-2626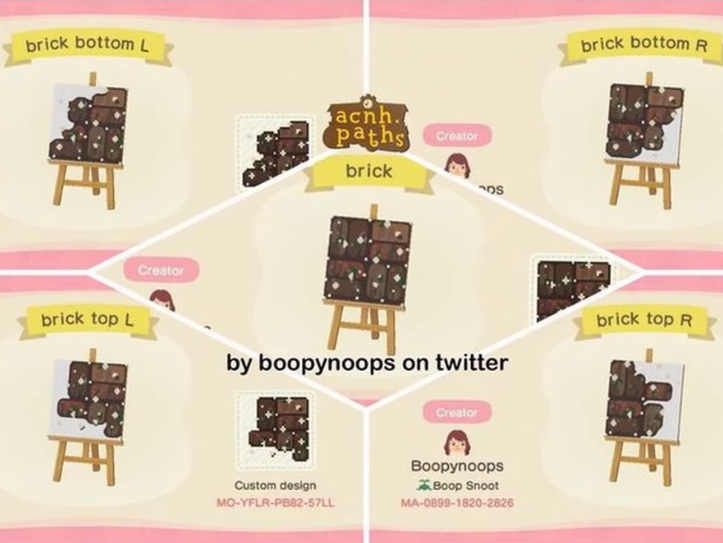 Hope you enjoy this ACNH Halloween design code guide! And be sure to follow all of these creators over on Instagram or twitter and definitely credit them if you decide to use their custom Halloween designs as inspiration or as an idea for your own. If none of these are what you want, you can get more Animal Crossing Designs here.