ACNH November Update Leak & Predictions - Animal Crossing New Horizons Winter Update
10/7/2020 2:11:12 PM
Following with the trailer of the ACNH fall update, Nintendo has announced the next free update for Animal Crossing New Horizons will be coming in the late November, it also brings obvious hints about the new characters who are very likely return to the game. Let's take a look at the leaks and predictions of the ACNH November (Winter) update, check out the new items, events and changes that possibly appear in Winter.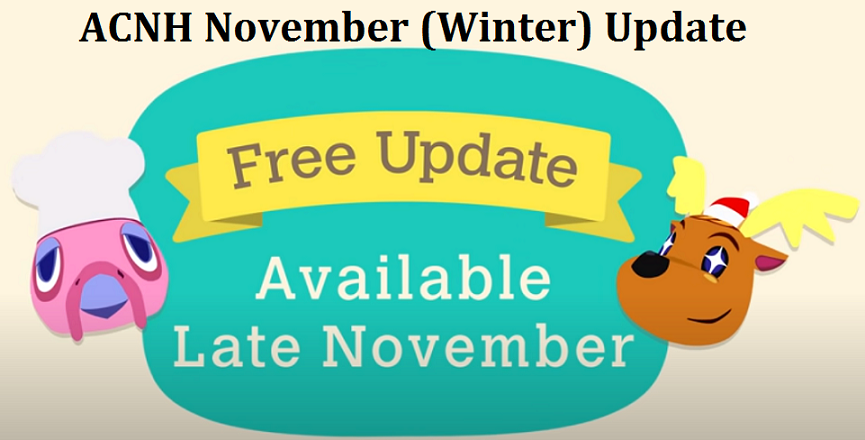 Animal Crossing New Horizons November Update Release Date
With the time getting closer to November, the fall is going to end in late November. Players can expect the launch of the ACNH winter update (1.6.0 version) in December, but according to the previous calendar, the release date of Animal Crossing New Horizons November update trailer should be scheduled at the end of November, considering the date of Harvest Festival, it's probably earlier than November 26, 2020.
Update (November 19):
The Animal Crossing New Horizons Winter Update is confirmed to launch on November 19, 2020, featuring ACNH Turkey Day, Toy Day, new nook shopping items, new reactions, new hairstyles, storage expansion, save data transfer, dream address update, and more.
More details:
ACNH November Update Leak & Predictions - ACNH Winter Update Speculations
The ACNH November update predictions are mainly focusing on what's going to be added in the game, the exact work mechanism and new ACNH items of each event are unknown now, more details will be introduced in the guide on akrpg.com when any confirmed information is available. What we can expect next month?
Franklin and Harvest Festival (Thanksgiving)
There are two characters on the screen that heralds the November free update, we have Franklin on the left and Jingle on the right. Franklin is a turkey character that appears during the Harvest Festival in the previous Animal Crossing series. In New Horizons, Franklin may take a similar role to that in New Leaf. Franklin acts as a cooker for Harvest Festival, he will tell the player what ingredients he needs for preparing the food, including a special ingredient, players have the chance to get the special ingredient and other information about the dish through asking villagers. When you found and gave the items Franklin required, he is able to complete the dish, then you will receive an Animal Crossing furniture item from the Harvest Series as the reward. Harvest series furniture including Harvest Bed, Harvest Chair, Harvest Clock and more. Franklin will make four dishes in total, if all the dishes contain the special ingredient, Franklin will award the player a cornucopia.
Harvest Festival is a yearly celebration that takes place once a year on Thanksgiving, around the time of the main harvest of a specific region. In New Horizons, Harvest Festival is predicted to start on the fourth Thursday of November - November 26. We can expect some themed furniture and more vegetables that can be farmed then either cooked with cooking recipes or used as decorated items. Cooking and farming should be a important part in the Harvest Festival. What Nintendo planned for Thanksgiving celebrations are not shown now.
Jingle and Toy Day
Jingle is a reindeer character that generally shows up on December 24 for the Toy Day event in place of Christmas and/or any similar celebrations in Animal Crossing. During Toy Day, players need to dress up as Santa and hand out presents to the villagers. Jingle will give the player a magic sack full of items, according to the hints on what gifts villagers want, you can give the villagers the perfect gift, when you delivers at least 7 perfect presents, Jingle will mail his photograph to you the next day. When the bag is empty, you must return to Jingle and he will reward you a Christmas wreath. There is also a set of Jingle furniture that appears in the previous game, including Jingle Wallpaper, Jingle Carpet, Jingle Shirt, Jingle Dresser, Jingle Piano, Jingle Bed, Jingle Table, Jingle Chair, Jingle Lamp, Jingle Wardrobe, Jingle Shelves, Jingle Sofa and Jingle Clock.
Brewster and His Cafe
Brewster is anticipated for a long time, from summer to winter. Even though Brewster has not appeared in the game until now, we always believe it will return to the game in some time. With the weather getting colder, it's time for drinking a coffee and expecting the appearance of Brewster's cafe. There is a little advertisement released by Nintendo Switch for Animal Crossing update says "The leaves are changing color, wardrobes are getting cozier, and beverages are getting warmer". Maybe this is the implication of addition of Brewster and his cafe.
In addition, gyroids items are hinted in the Animal Crossing data, it should be added in the near future. When it comes to seasonal items, players in Northern Hemisphere can find mushrooms and use them to craft various mushroom items such as Mushroom Wreath and Mushroom Screen. More seasonal materials available in November are Pinecone, Acorn, and Maple Leaf. Check out all the November and Winter recipes in ACNH here.