ACNH November Update Predictions - Harvest Festival, Xmas Toy Day, Seasonal Items, Events In Animal Crossing New Horizons
10/6/2020 2:24:53 AM
At the end of the last 1.5.0 Fall Update, Nintendo has given us a small sneak peek at the next ACNH November update ahead. In late November, Animal Crossing: New Horizons will be updating with more sorts of lovely fall-themed updates as well as a Thanksgiving Harvest Festival event and Christmas Toy Day Event. Also, possibly the new ceiling furniture items, new characters, holiday costumes, decorations, and a brand new mechanic will be added into the game. In this post, we are going to cover some predictions for the Animal Crossing New Horizons November Winter update, with that you could learn the new changes and features upcoming.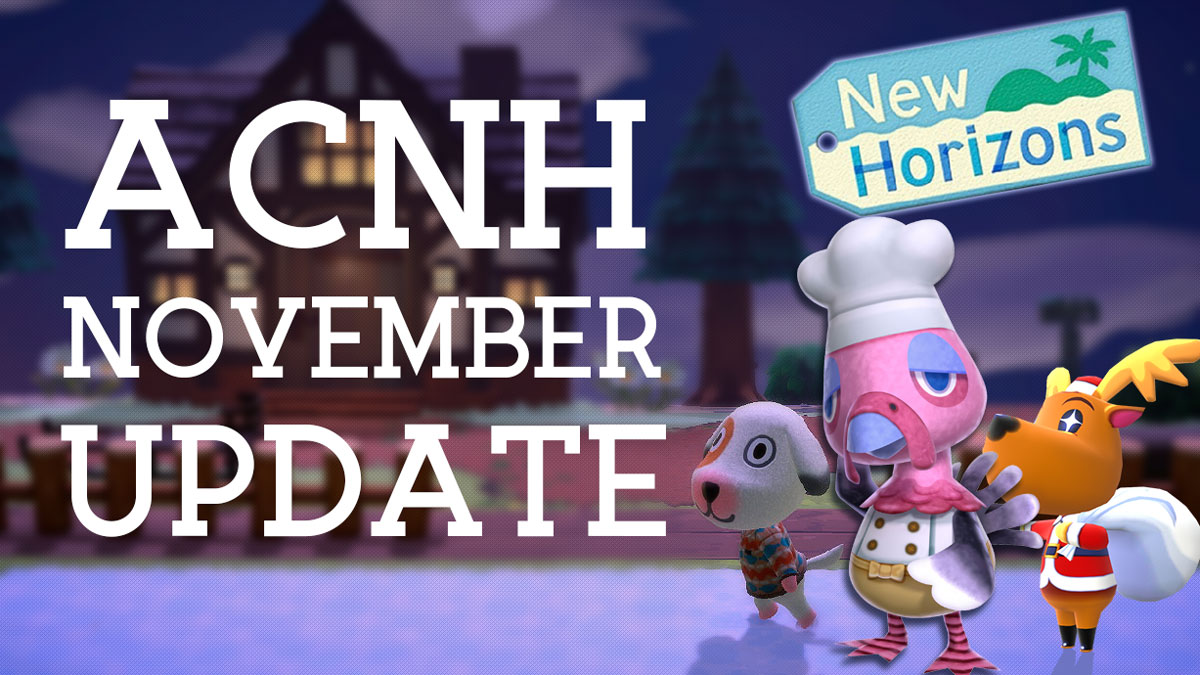 Animal Crossing New Horizons November Update - ACNH Winter Update
Animal Crossing November Update 2020 has been announced at the end of the last Fall update trailer. We don't know exactly what will be contained in the next update, but Nintendo has provided a few hints as usual by sharing images of past special characters Franklin and Jingle on the screen. Long-time players of the Animal Crossing series will know, that's a clear signal for both the Harvest Festival Event for Thanksgiving and the Toy Day Event for Christmas. Let's get into our Animal Crossing November Update Predictions and Wishlist.
Related Read:
Best ACNH Halloween Island Dream Codes
Rumored & Confirmed Characters Will Come In ACNH Winter Update
ACNH November Update Release Date
Nintendo has given us a small sneak peek at the next update ahead as well. Much like we expected, the next update for Animal Crossing: New Horizons will arrive in late November, surely including the Thanksgiving event - Turkey Day. Considering the date of Thanksgiving in 2020, the release date of ACNH November Update is scheduled starting November 19th.
ACNH November Winter Update New Features & Changes Prediction
1. Franklin & Thanksgiving Harvest Festival Event (Confirmed)
Of course, the main event that's going to be advertised for the second wave of fall update will be the harvest festival, which happens once a year on Thanksgiving (4th Thursday in November). The harvest festival would work exactly as it does in previous games especially new leaf, where you'll be cooking meals with the turkey Franklin or preparing meals but maybe actually cooking them this time. Franklin takes care of the Harvest Festival, Animal Crossing's Thanksgiving analog, who would send you around to other villagers to gather ingredients for dishes he's preparing. The harvest festival is a really fun event where you can collect a bunch of ingredients and get some cool harvest themed Animal Crossing items. In terms of the items that we're going to get, we think Halloween basically showed us, they're not going to bring back the traditional indoors themed furniture set instead they'll probably give us furniture that can work outdoors which is kind of cool. You can find more details about how will the event work by reading our ACNH Harvest Festival Event Guide.
2. Jingle & Christmas Toy Day Event (Confirmed)
Jingle is another confirmed familiar face we will see again in the Animal Crossing November winter update, who takes care of Toy Day, the game's version of Christmas. Part of the fun of Toy Day in the past has been helping Jingle distribute presents to the villagers. All December, you would need to speak to villagers and make note of what they're hoping to receive on Toy Day. Then, on December 24, you would need to dress as Santa and deliver the right presents to each villager. Toy Day has always stood out as one of the most fun holidays in all of Animal Crossing. While in Animal Crossing New Horizons, we can expect more mechanics added to the event, such as players can help Jingle build the toys that the islanders want with more crafting recipes.
3. New Winter Seasonal & Holiday Items
Similar to the Halloween event, we are very looking forward to getting more holiday theme furniture and exclusive item sets with the Animal Crossing November update. In the previous AC series, Harvest set, the Festive set, Jingle set, and plenty of winter seasonal items were offered between the two holidays presumably represented in the Fall update. But, it could be even more engaging in Animal Crossing New Horizons thanks to the crafting system, these new seasonal items will probably take the form of DIY recipes or holiday gifts. We also can expect some eclectic decorations and costumes for November holiday events.
4. New ACNH Ceiling Furniture Items
A new big feature has been discovered by data miners - the Ceiling Furniture Items may be coming soon to Animal Crossing: New Horizons too. Ceiling Furniture was basically a type of items (chandeliers, ceiling fans, shelving, and even disco balls) that could be fastened to the ceiling and moved around accordingly, which was introduced in the Nintendo spin-off game called Animal Crossing: Happy Home Designer. With the keywords "cRoomEditCeilingNear", "cRoomEditCeilingNormal", "cRoomEditCeilingFar" were found in code for the Fall Halloween Update by data miner Ninji, It's looking promising that ceiling furniture will return to ACNH in the near future and will likely introduce chandeliers, free-hanging TVs and monitors, and a bunch of other things like plants and shelves for us to decorate our ceilings well.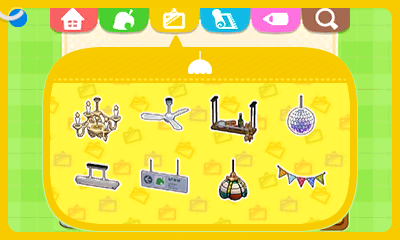 5. New Vegetables Farming & Cooking DIY Recipes
We definitely except they're going to add more vegetables, that have been discovered by dataminers. Since from the update 1.4 for New Horizons, data miners have found out that buried within the files of the new update are references to tomatoes, wheat, sugar cane, potato, carrot, and squash, all of which are referred to as vegetables that you plant. Though we could not see these new vegetables in the ACNH Fall update, pumpkin farming has given us a good signal. If they didn't introduce them all now with this or at least more of them now so you can actually cook meals. Cooking and sewing DIY recipes would be added into the game so that you'll be able to use your vegetables to actually cook dishes and that will relate to the event with the harvest festival. You'll probably get more recipes and are able to actually feed the food items but it may be the case where the food items are kind of just like you know decorative ones.
6. The Return Of The Mayor Tortimer
Mayor Tortimer is the character is mentioned in both ACNH Thanksgiving Harvest Festival and Christmas Toy Day event. The old guy is name-dropped by both Franklin and Jingle though he doesn't play a central role in either celebration, so we do think it could be a perfect time to bring Mayor Tortimer back to the island enjoy his holidays in November update.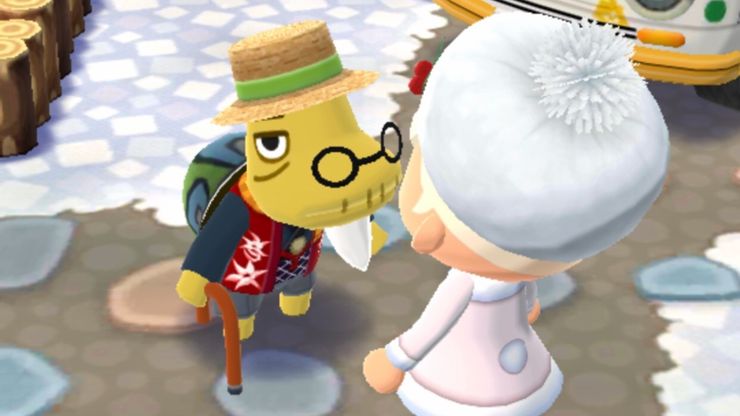 7. Brewster & Museum Cafe
This would surely be the perfect time for Brewster to return to the game running his Cafe in the museum. If it doesn't come in this update we think it's fair to say it won't be coming in 2020. We have seen it in the data mine so it is actually there to be ready to come and would happen in the November update just because this update is going to be a big one. It's going to combine winter and sort of late fall events into one update and they probably won't have an update in December. Things are getting cold you want some hot drinks, the Roost has always been about creating a cozy respite in town, so there' no better time to add The Roost to New Horizons than the chilly Fall months. Also, it would tide players over until potentially the next update which could be in February when they add in parliament and festival, so we're going to need something substantial to enjoy. Since the Halloween update introduces pumpkin growing, if players can grow and pick more vegetables, maybe the player could bring some of the crops to Brewster and make some seasonal drinks.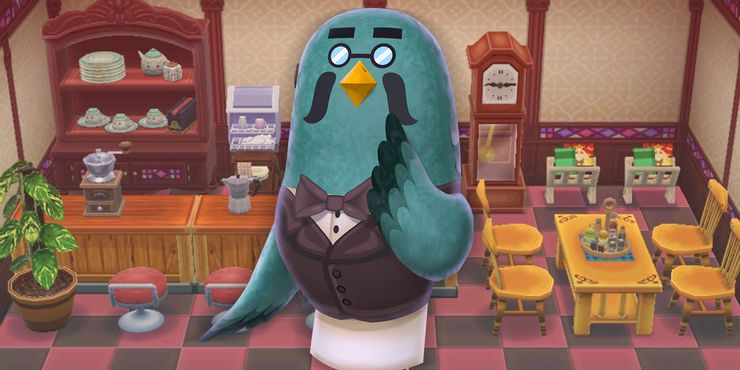 8. Gyroids & Museum Haniwa Room
Gyroids, mysterious items that usually would appear buried in the ground the day after it rains, seems to have been completely omitted from New Horizons. However, these data mines imply that they may make a return to the game, once Brewster gets his cafe back. Brewster, the pigeon who runs the cafe, is a Gyroid collector and who would even give the players Gyroids he made to look like him. Gyroids are based on haniwa, clay figures that were buried with dead people in old Japan. Though it's morbid to think about how they would appear after it rains, the funky Animal Crossing versions don't have the same grim function. Gyroids come in a variety of sizes and make unique sound effects that typically go to the rhythm of the music playing.
9. Old Feature Return - Villagers Visit Your House
A look at the latest ACNH data-mine findings that suggest an old Villager feature may be returning to New Horizons in a future update or maybe in winter update. Currently, in the Animal Crossing New Horizons, we can do tasks for villagers around the island, talk to them whenever we want, visit their homes if they're in, even drop medicine off if they're sick at home, but they never visit our homes. However, all new Villager Dialogue (including the villager referencing items placed inside our homes) discovered from the 1.5.0 update data codes provides hints at that: villagers may soon drop by our homes for a visit and comment on our choice in furniture whilst in conversation. This is actually an old feature in the previous AC series. It would be welcomed by players if Nintendo give a return of this feature in the upcoming ACNH November update or late winter updates!
10. NPCs & Characters' Items Will Be Available For Players
The fall update not only introduces a new farming mechanic, but also added a bunch of new keywords into the game specifically for items that are held by NPCs, or special characters and villagers. You could probably think of these kinds of items as anything from KK Slider's guitar, Label's Clipboard to books, baskets, and cups of coffee, villages wander around with. Pretty many items the characters can use but we as players can't. Now thanks to the data miners, we know the list of items that NPCs can hold has gained these incomprehensible entries: PBag, Cane, Pkax, Tr, MChart, Fpan, Mcas, FAndK, CUten. Since the summer update back in August, Nintendo has begun shortening item names such as these in an attempt to keep unreleased features hidden. So despite knowing these keywords exist, and are used for items held by NPCs in New Horizons, we don't really know what they are, the good news is it's safe to say it's pretty obvious what some of these stand for, and the Animal Crossing community didn't take long to piece together feasible guesses for each entry. For example, it seems reasonable to assume FPan is frying pan, FAndK is fork and knife, and CUten is cooking utensil, this also adds weight to the theory that a cooking mechanic is coming to New Horizons, but could also be linked to Franklin and the Harvest Festival later in November.

Furthermore, the community thinks it's possible Mcas could be Maracas and TR is Trumpet, which may hint that at some point, villagers could use musical instruments, similar to the Ocarina or Pam Flute that players can use. And finally, some of the more exciting entries include Cane, which has led to a very ambitious theory that Tortimer and his iconic cane are returning. OKax stands for pickaxe is hinting that Mr. Rossetti himself could make an appearance at home at some point in the future.