10 Most Hated Villagers In Animal Crossing New Horizons For October 2020 - Worst ACNH Villagers October
10/12/2020 4:11:34 PM
New result of voting your favorite ACNH characters has been updated! Here we are going to cover the top 10 most disliked villagers in ACNH for October 2020.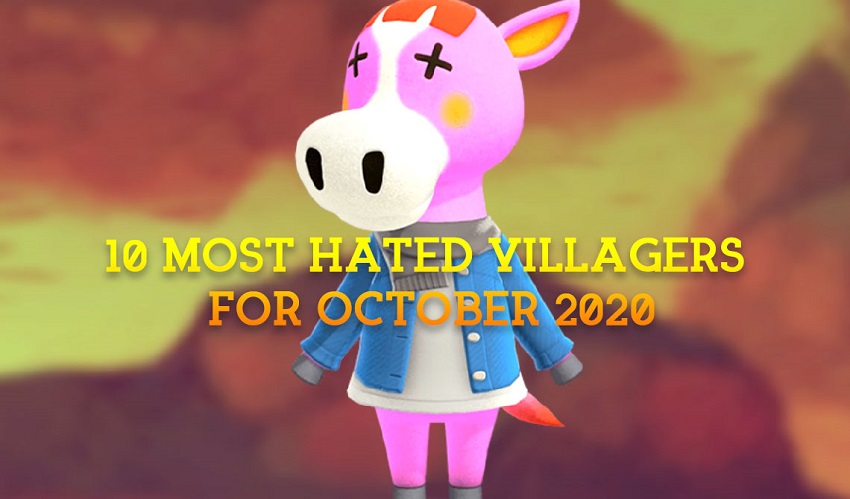 Top 10 Most Hated Villagers In Animal Crossing New Horizons For October 2020
Every player has his own most loved and most hated villagers in Animal Crossing New Horizons. They like having some cute, sweet and supportive characters villagers on their island. While on the other hand, there are some villagers that players simply do not like wandering on their island. However, one player's hated villager maybe someone's favorite. Personalities and appearance both factor into whether a villager is loved or hated. The smug personality makes the villager haughty and rude, but players are willing to ignore that when the villager is cute. Now here is the list of top 10 Animal Crossing least popular villagers in October. Who is the ACNH most disliked villager by players and why he is unpopular? You can find some explanations here.
Related Read: ACNH October Top 10 Most Popular Villagers
Top 10 - Curly
He's a pink pig with reddish pink cheeks. The inside of his ears are dark blue and he has a curly tail. He has light pink hooves, he also has a pink nose with his nostrils sticking out like all of the pigs in the Animal Crossing series. His eyes are wide open and without any certain color., "Pig" is often used as an insult for indulgent people, so if anything, he should belong in the lazy category of villagers.
Top 9 - Mott
Mott looks like a sweet guy, he just graduated college with a 4.0 and high scholars. But then he talks and acts like he is the CEO of Microsoft and Nasa at the same time. He's also one of the few villagers to wear an accessory in their default appearance, a pair of reading glasses. In New Horizons, Mott's house resembles a college dorm room, matching the outfit he wears in the game, a college cardigan. It includes a study desk, wastebasket, and a wall calendar. He also has multiple best Animal Crossing items.
Top 8 - Buzz
Buzz is a milk chocolate brown eagle. His hooked beak is orange-yellow with a coal black tip and his legs are the same color as his beak with white talons. His eyebrows are pushed over his white and black eyes so that he looks angry most of the time. Now in the autumn he has taken a major fall and is now in the bottom 10. People do not like yellowish orange color schemes look outside, it's all yellow and orange trees, doesn't that make you like the color scheme of Buzz a little more?
Top 7 - Chops
This month the most popular villager list does not have the chops to be a top tier villager plain and simple his design is just Ill, the greasy yellow toupee and the accentuated mustache are just so off-putting and deep down disturbing. Generally, Chops will get along with lazy, normal, snooty and peppy villagers, and may conflict with cranky villagers.
Top 6 - Peaches
Peaches is the top 6 most hated villager for ACNH October 2020. Some people think this could be the worst decision ever made since oreo released. Hot and spicy cinnamon oreos Peaches deserves to be in the most loved category, not the most hated. As he has a normal personality, and frequently acts kind towards the player. When you're so amazing and unique like Peaches is the harder it is to let people relate to you and get to love you.
Top 5 - Mallary
Mallary is light purple, almost lavender, with some brown hair and an orange beak. Her tail has white stripes. She has slanted down eyelids with brown eye shadow. She has a snooty personality, which means she loves make-up and gossiping. Mallary has been floating around the bottom of this list for a couple of months.
Number 4 - Violet
Violet is a purple gorilla with a pink-colored muzzle and paws, red lipstick, and blue pearl wristbands around her arms, legs, and forehead. Her catchphrase has evolved from "faboom" to "sweetie." The latter is condescending and irritating. Violet being one of the most disliked villagers in the entire game is shocking and unreasonable.
Top 3 - Queenie
Queenie is a purple ostrich who has pink blush on her cheeks and short dark purple hair with choppy bangs. In New Horizons, she has subtle dark brown irises. She has gray and white wings with an orange beak and pink legs. She's actually one of many people's favorite villagers in the whole entire game. She fell all the way down to number 395 out of 397 villagers really hurt people's feelings.
Top 2 - Gwen
The second October most hated villager ACNH just doesn't make sense on an Animal Crossing level, it doesn't make sense on a penguin level, it doesn't even make sense on a super mario 64 level. The pink eye shadow that's beautiful, the eyelashes that reach her cheekbones, her forward thinking fashion. Inside her house, she has all the ACNH chess furniture items from the Chess Theme series. She also has stereo, which plays K.K. Gumbo.
Top 1 - Clyde
He is a lazy horse, devoid of any motivation whatsoever. This horse has eyes that look quite unnerving as well. His eyes look sad and lifeless, and the horse doesn't really fit in well with the positive, relaxing outlook most players have with the game. Clyde is someone who has received the most eviction notices from players than anyone else. Players have complained that interacting with him is particularly dull and drab.