October Top 10 Most Popular Villagers In Animal Crossing New Horizons - Best ACNH Villagers October 2020
10/12/2020 11:15:41 AM
It's October 12th 2020 and it's time we share the list of top 10 most popular villagers again! Here we are going cover the top 10 most loved & popular villagers in Animal Crossing New Horizons for October 2020 and ACNH Villager tierlist with values.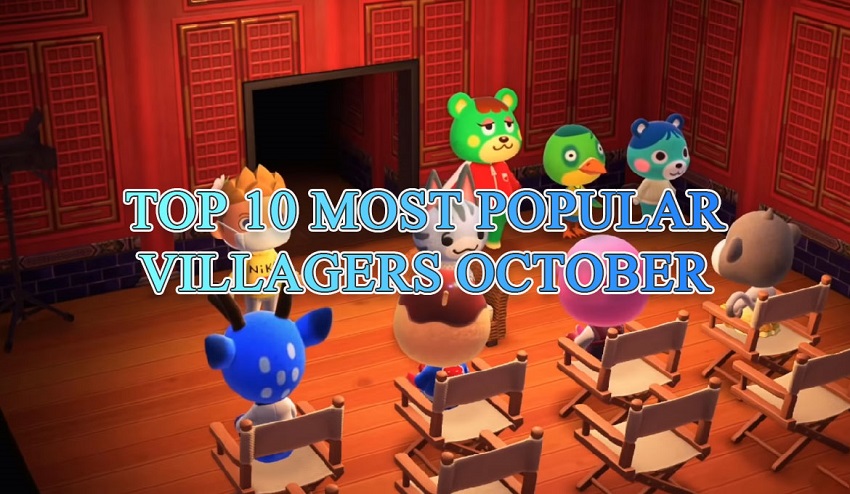 Animal Crossing Best Villagers Tier List October 2020
Every month, animalcrossingportal.com does a crazy poll where they ask thousands of Animal Crossing fans who their favorite villagers are, so as to update the list of most popular, most sought after and most expensive top tier Animal Crossing New Horizons villagers. But every month this list changes in wild and unexpected ways. This is what our ACNH most popular villagers for October 2020 list is created from.
The popularity is compiled into 6 tiers, with Villagers in the top tier being the most valuable/sought and worth between 15-20 million ACNH Bells, or 1,000 Nook Miles Tickets. While the list shows which villagers are the most popular. The list will update twice a month, every 15th, and the end of the month (30th or 31st), so you can check the popularity list at the right time and make the best villager trade.
Tier List At A Glance (Updated 10/12)
Click here to check the full list of Animal Crossing villager popularity and vote for October's poll.
S-Tier: Super popular. Just about everyone wants them on their island.
A-Tier: A great villager. You should consider adding them to your island.
B-Tier: Above average.
C-Tier: Average villager.
D-Tier: Below average or awful.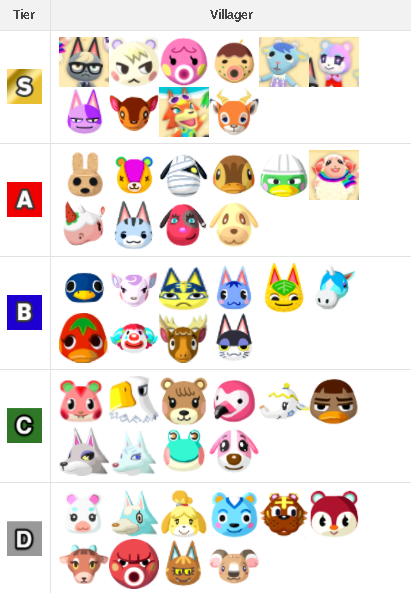 Villager tier list with values:
Tier 1 - Max worth 15-20M Animal Crossing Bells/1000 NMT
Tier 2 - Max worth 8M Bells/100 NMT
Tier 3 - Max worth 5M Bells/50 NMT
Tier 4 - Max worth 1 M Bells/25 NMT
Tier 5 - Max worth 250K Bells/10 NMT
October Top 10 Most Popular Villagers In Animal Crossing New Horizons
It's time once again to find out the top 10 most popular characters list! Thanks to the October10 most loved villager guide shared by the famous Youtuber Nikachu and lovely lists on animalcrossingportal.com and all who voted for them. October 2020 ACNH most popular villagers look different from last month. There are some brand new entries for October, and even some unexpected movements that have seen some Villagers drop right down and out of the chart. And put some previously unknown villager at the top such as Erik, Tabby, Stitches. Now we take you through the October villager popularity ranking & October most loved Animal Crossing New Horizons villagers to see what makes these cute critters so popular.
Read more: 20 ACNH Halloween Design Codes
Animal Crossing New Horizons Candy Guide
ACNH Most Hated Villagers For October
Top 10 - Stitches
This villager will draw on a happy face after finding out he's in the top 10 most loved villagers. The lazy cub villager Stitches' unique sense of humor will also being a stitched up teddy bear is both confusing and hilarious, this thing is so cute. In terms of his personality, he is friendly and easy to get along with. His house has a kiddie theme and has lot of toys. He also has various Wooden furniture as well as furniture from the player's mom such as Mom's cushion, Mom's embroidery, Mom's lively kitchen mat. The former king of Animal Crossing New Leaf has taken the back seat in Animal Crossing New Horizons, but he still has managed to stay in the top 10.
Top 9 - Bob
Bob is the type of purple cat you can go out with. He can go out to eat party in the club, he can crash on your couch and then when you wake up in the morning he's already gone with a cup of coffee in his hand. He's respectable, he's chill and of course a lazy villager. He's a big hit among cat lovers, and that's the most likely reason for him to be sticking around just inside the top 10.
Top 8 - Zucker
Zucker is one of the best villager in ACNH. He is an innocent and adorable freckled octopus with a food-like appearance. His head resembles a takoyaki ball with his green freckles resembling seasonings put on takoyaki, and his "hair" representing a sauce that is usually served with takoyaki. As a lazy villager, Zucker will be friendly and easy to get along with due to his laid back lifestyle. Zucker's house is really adorable, it resembles an outdoor vendor, referencing how takoyaki is associated with yatai street food stalls. Should you ever have the opportunity to invite Zucker into your town, do it. And if he does become a resident of your island, make sure he never leaves.
Top 7 - Judy
Judy is a much loved villager in ACNH. She has been a staple on this list since New Horizons launched. Her eyes are the reason that she's so adorable. Her ego isn't blinded by the lights and she can spend the weekend enjoying herself. She's actually the focus of a lot of challenges that players undertake to see how quickly they can find her on a Nook Miles Ticket. A nice way to spice up the game if you don't want to tend to your flowers. Everyone loves Judy so it makes sense that she's all the way here at number 7.
Top 6 - Merry
Merry has had an insane rise to the top of this ACNH October top 10 most popular villagers list. She rose all the way to number one out of nowhere, no one expected, everyone looked at her was like what's this girl doing here. But ever since a video she's been slowly falling down the list there was a huge controversy associated with that list because the reason she was so high was because an Animal Crossing streamer asked all their supporters to rank Merry at number 1. Merry has a lot of passion and excitement around her and she's still staying really strong down at number six.
Top 5 - Sherb
Sherb has been falling slowly down this list over the past few month, but now he seems to be sticking firmly around the top 10. He's been voted for number four in September and this month he's at number five of the most loved villagers in the game. He's got lovely blue fur, he's sweet, he's cool and he's quickly becoming one of the most iconic Animal Crossing villagers in history.
Top 4 - Tabby
He's the biggest wild card in this entire October top 10 most loved villagers list. Tabby rose through the ranks of the Villager popularity tiers last month, and is now placed just outside of the top 3. She's a peppy cat Villager, but most players love her because of the way she looks. This garfield gone wrong design is interesting. The same thing happened to Tabby that happened with Merry, someone made a group of people who really liked Tabby and they all voted in mass crowds. That's what happens when you have lots of passion energy behind you. Garfield is the most controversial.
Top 3 - Raymond
Raymond has always been a firm favourite, so it's no surprise that he's in this month's list. It's his different coloured eyes that most players fall for. But he's started to dim a bit and the audience kind of moved on, but the audience still adores Raymond, the community is all in on Raymond. He can probably put this down on his tax exemptions.
Top 2 - Erik
Eric has never been in the top tier for Animal Crossing New Horizons and this is the first time he's been voted on top tier. He is many Animal Crossing fans' most wanted dreamy villager. He is the perfect holiday season themed villager looking like one of Santa's dear helpers. His house has an outdoorsy winter theme, with a Ski-slope wall and flooring, as well as a selection of ACNH furniture items from the Frozen furniture series, including the bed, table, chair, and counter. Erik also has a fantastic woolly jumper, and looks thoroughly autumnal, which is loved by many people. So he's all the way near the top of this 2020 Octobe most popular villagers list.
Top 1 Most Popular ACNH Villager October - Marshall
Marshall back at the number one spot after being rudely interrupted by Merry and Tabby for a short while. He looks like the type of villager not care about a crown but then sneakily steal the crown when everyone's asleep. His "sulky" catchphrase matches his emo-esque exterior. Placing such a devious look on his marshmallow-like body makes him irresistible to many players. Averaging over 246,000 monthly Google searches, this cutie-pie's popularity largely derives from his sassy yet charming attitude. Marshal has maintained a high status among Animal Crossing: New Horizons fans since the game released in March 2020.
We now know exactly which villages are the current 10 most popular for the month of October in Animal Crossing New Horizons, do you agree or is your most adored Animal absent?