Best ACNH Halloween & Spooky Island Dream Codes - Animal Crossing New Horizons Halloween Dream Address
10/13/2020 12:15:51 PM
Do you want to take a tour to a magical Halloween island in Animal Crossing New Horizons? There is a slew of 5-star Halloween themed islands are built with beautiful landscaping and terraforming, as well as creative spooky designs. Here is our list of recommended ACNH Halloween (spooky) island dream codes, to find the best islands of different styles with the dream address.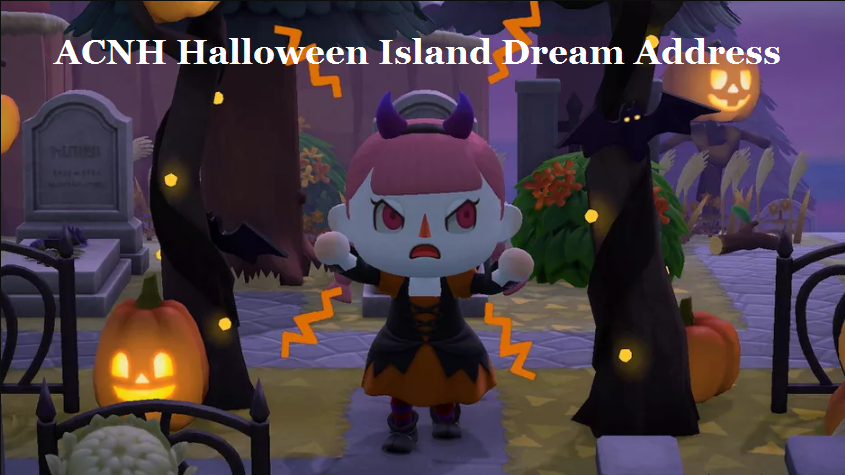 Related Read: ACNH Halloween Face Paint Design Codes
ACNH Cafe Design Ideas & Codes
Best ACNH Halloween Island Dream Address - ACNH Spooky Island Dream Codes
The Animal Crossing New Horizons Halloween event is scheduled for October 31, 2020. Many players have made their island become spooky and haunted to prepare for the festival. With the release of ACNH spooky items and Halloween costumes, there should be no better time than these days to take the advantages of the new opportunities and unleash your creativity on the island design and decoration. If you don't have good ideas or inspirations, try to visit other dream suites without costing any Animal Crossing nook miles ticket. More dream islands are ready for the trick-or-treating and other games during the Halloween day. Start to explore various creepy and horror islands in the perfect time of this year! Check out the following list of ACNH spooky & Halloween island dream address.
1. DA-6984-5523-9028 - Moonscar Island(Kale)
This is a 5 Star Haunted Cottagecore Halloween Animal Crossing New Horizons island, won the most positive reviews on the list. Combing the two popular themes of Halloween and Cottagecore, it has spooky witchy themed farmer's markets, a poison apple orchard, pirate ships and treasure islands, a tattoo shop hidden away in a treehouse, you can also find a host of custom designs for the bridge, path, stone, sign, door, hats, and more Animal Crossing items.
2. DA-1615-8575-7962 - Bangtan (Katie)
This is a fun, spooky 5 star Halloween town island created by Katie, it's a new Animal Crossing Halloween island design that uses lots of pumpkin and spooky items, but it's not scary. There are spooky lantern set and spooky tower placed at the entrance, then walk along with the entryway, you can see an array of cool pumpkin items. The main designs including cute cider donuts, spider beach, a big pumpkin patch, a spooky carriage, a cool Halloween house and lots of incredible room decorations based on trick-or-treating and Halloween theme, which can completely put you in the spirit.
3. DA-6152-5388-8790 - Eyeland
This a beautifully spooky and witchy island, a variety of theme designs such as cave design, farming area, camping area and more space utilizes custom fall paths and ground with leaves and petals elements, mushroom items, Halloween costumes, as well as various fruit trees, flowers and bushes in rich colors. You can visit all the houses of this island, each room is designed to a different style with abundant items.
4. DA-1438-1370-5654 - Koriko (Kayla)
This is an autumn and Halloween themed island, some trees on the island have turned to autumn colors, there are also leaf designs all over the pathways, along with the Halloween theme, it includes a pumpkin patch, apple orchards, a haunted house, a witch-themed library and much more creative designs.
5. DA-1238-1015-5919
Another new 5 star Halloween town & Disney theme island created by @MBoz2317, also uses pumpkin lantern at the entrance, the bug design on the paths is unique, along with the spooky theme, there are lots of ghosts towers, spooky scary skeletons, a haunted Egypt, a trick-or-treat alley, Pietro's portrait, driving theater and more magic area to explore!
6. DA-9690-9254-2028 - AzureBay
This is an aesthetic Halloween island, the player leaves a witch outfit as gift for the visitors. There are little candles everywhere on the island, a lavender farming area, a reading area, scary room, a costume area, it's perfect for Halloween trick or treating, you can add more pumpkin items and spooky designs based on this island.
More ACNH Halloween & Spooky Island Dream Address:
DA-9793-1588-5075
DA-3017-4714-7749
DA-1182-7179-4326
DA-0167-0836-7272
DA-1254-1317-4420
DA-9184-7436-2844
DA-0480-2729-0811