Best ACNH Winter Island Dream Codes & Design Ideas - Animal Crossing Winter Snow Island Dream Address
11/3/2020 9:43:17 AM
Want to take a tour to a fabulous winter and snow theme island? Here you can find 5-star Animal Crossing New Horizons Island dream codes for the best Winter & Snow islands with different themes, beautiful landscaping, as well as creative terraforming and ideas. Go to discover the best ACNH Winter Island Designs with these dream addresses, along with some amazing winter themed design ideas for island and house. If you want to want winter themed Animal Crossing New Horizons items to decorate your island, please go to akrpg.com.
Best Animal Crossing New Horizons Winter & Snow Island Dream Address
In Animal Crossing New Horizons, winter is here, and heavy snow covers the entire island, but it does not mean that it is monotonous and boring. On the contrary, more fun has been discovered by some creative players. Whether you just want to get more creative designs or just want to visit a certain scenic island, the following Animal Crossing New Horizons winter theme islands are worth your visit.
Related Read:
Here is a list of the best 5-star ACNH Winter Island Dream Addresses, go to discover the best design ideas:
1. Blushfaiiry's Winter Fairycore Island - DA-8418-3998-3588
This is a beautiful fairycore winter woderland, which is full of fairy aesthetic and come with the most creative idea. It features a little ice skating ring, Christmas fairy circle and more. It is well worth a visit and will give you the illusion of being in a beautiful wonderland.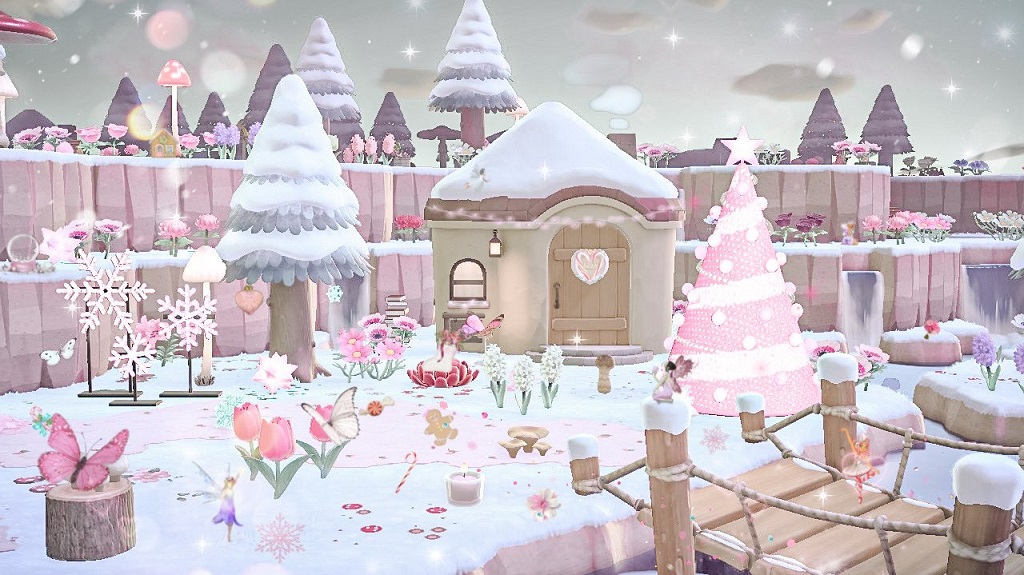 2. Tian - Dream Address: DA-6439-2496-4580
This is a natural woodland theme island, features Marshalbucks, Ables marketplace, Dark forest, Sushi restaurant, Museum walkup and merch stand, and more. 95% of these island sites are accessible via stone or dirt paths. You do not need to hop over furniture, a vault, or a ladder to see everything.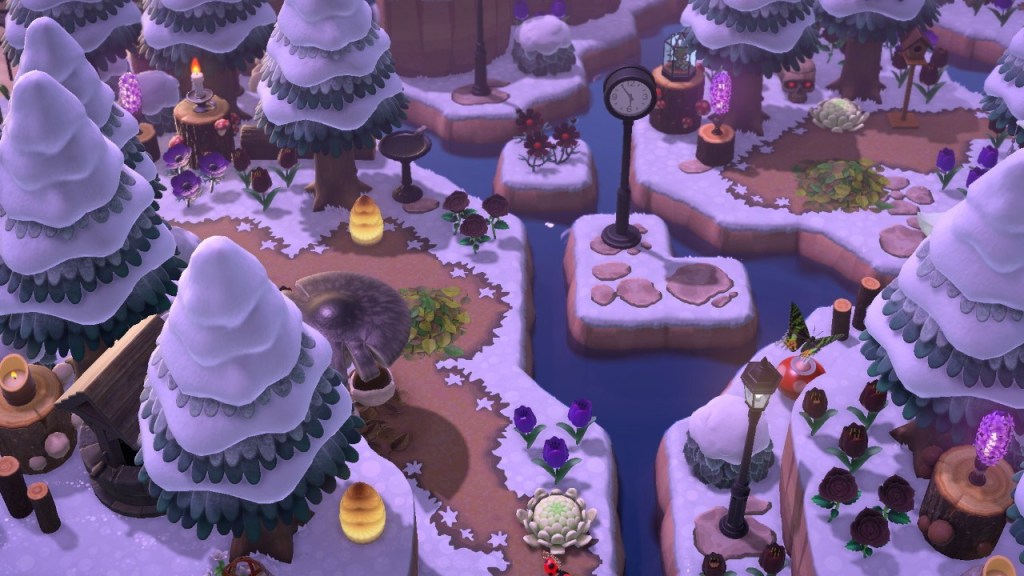 3. Bat Bay - Dream Address: DA-6477-2805-8985
Bat Bay is a winter town-like island where every day is Halloween, include an oddities shop, an outdoor moving screening, a pumpkin patch & a gravesite. It is very easy to navigate & doesn't make one feel lost even if it's your first time visiting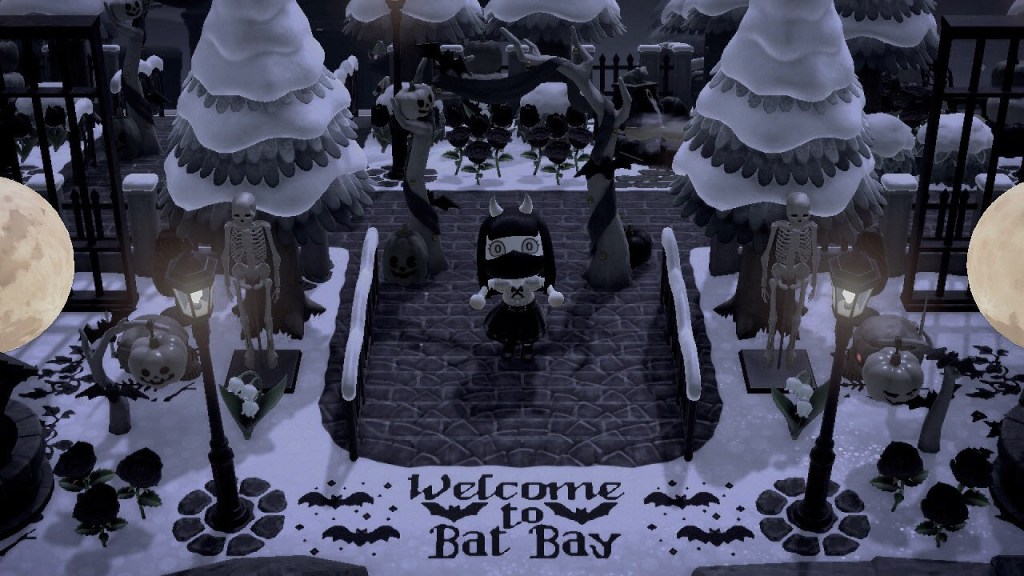 4. Kua Ran - Dream Address: DA-4290-2669-9220
Bundle yourself up and come visit this 5-star Hallo Winter island where the Holidays are celebrated every day! Sip on some hot cocoa while enjoying all the Christmas and Halloween decorations.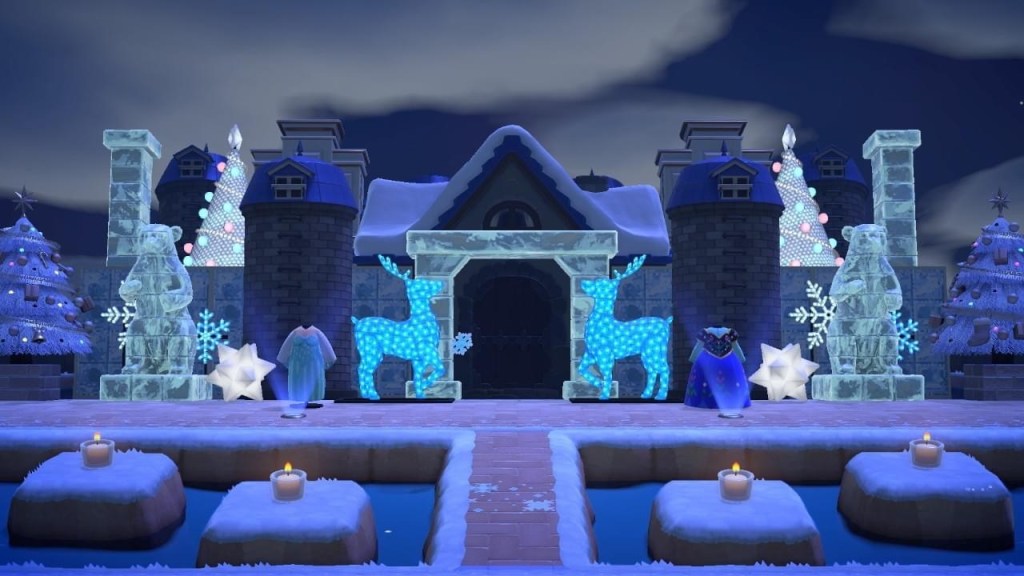 5. Foxy Beach - Dream Address: DA-9245-5760-3735
This is a dark theme 5-star winter island, with a gorgeous sky lit up by northern lights. It features haunted forests, cemetery, costume shop, haunted musical theatre, sci-fi house, pink candyland house, a pink oasis, haunted wedding chapel, pretty wedding chapel, a witches / Halloween bar and lots more - will take some time to tour. It's fun to go inside all of the houses, there is so much to see!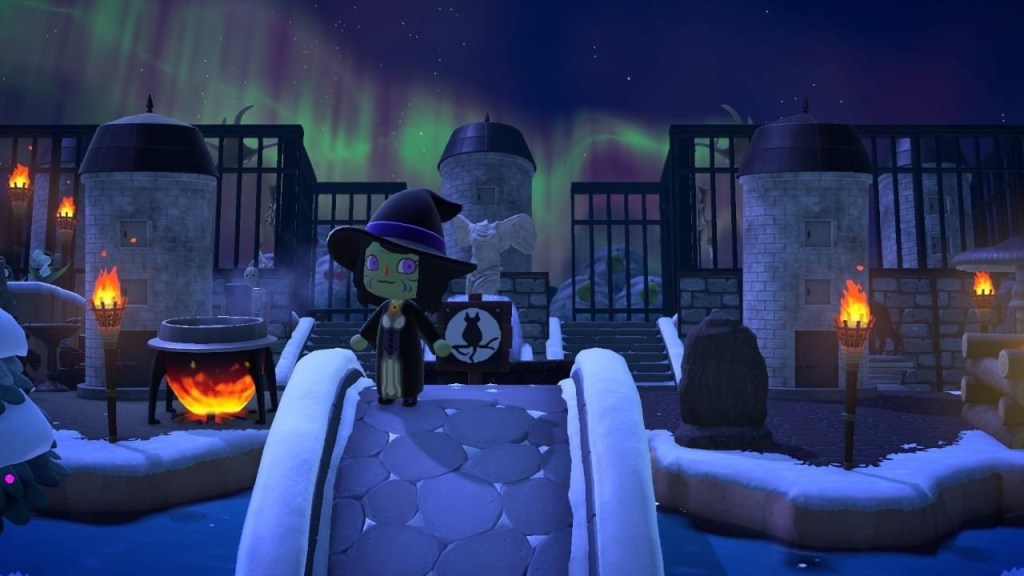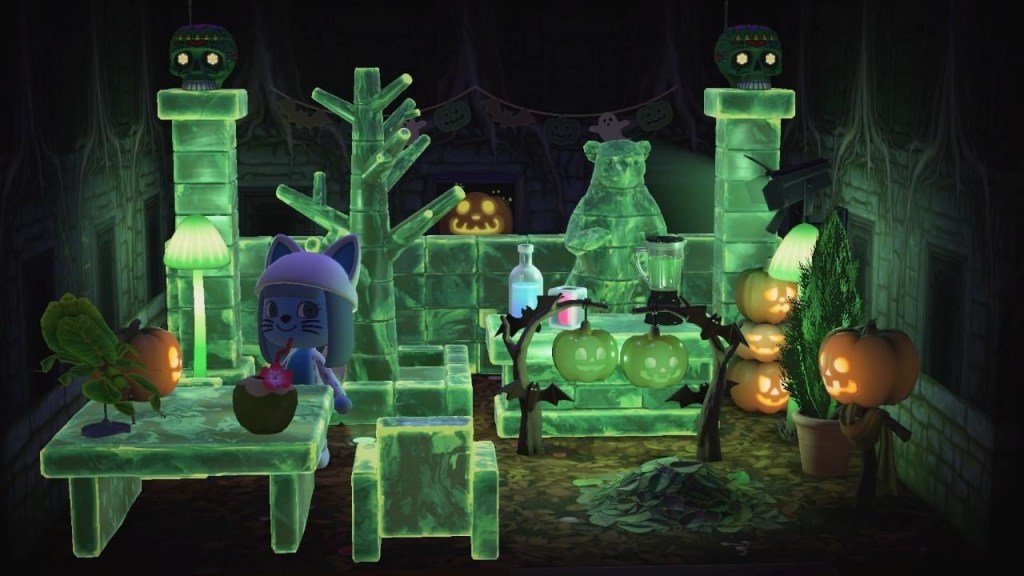 6. Fortune - Dream Code: DA-1220-2890-1489
Fortune is a 5-star island based in the Southern Hemisphere with 690 hours of playtime. It features many oriental, modern, and nature-themed areas such as an oriental tea room and massage parlor, Zen picnic area, Bamboo forest, Wedding aisle, Beachside resort, Playground, and more.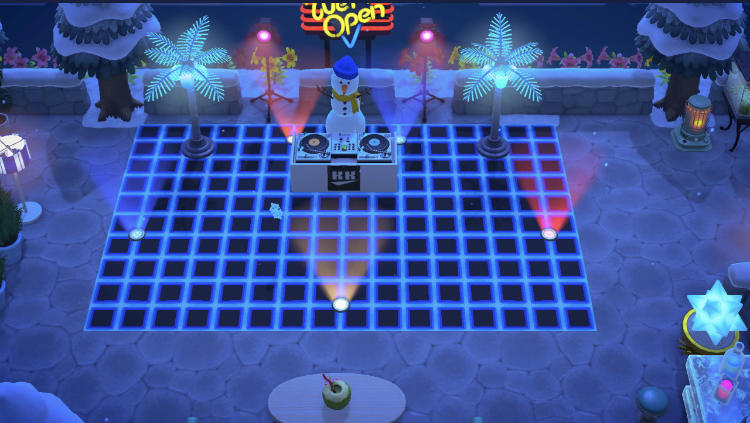 7. Frostine - Dream Code: DA-1379-0049-9385
This is a nightlife magic rainbow winter wonderland, features an entrance designed for hosting spin the wheel events, star gazing area, zen garden, opalescent beaches, diagonal land bridges/paths decked out in rainbow flowers & lights, and fashion show stage, vanity room upstairs on the left & judges lounge/spa on the right.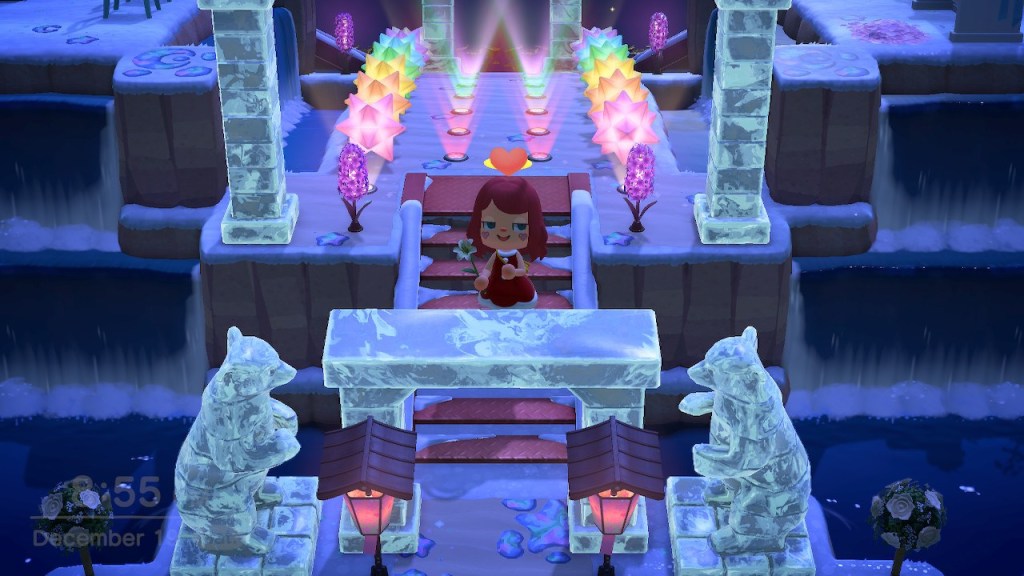 8. Purgatory - Dream Address: DA-9246-2262-8556
This is a 5-star totally normal white-themed island with a lot of natural decoration. The island was designed to loop around itself, so there's no definite path to take! In the plaza there are also essential tools laid out to enhance your dream experience.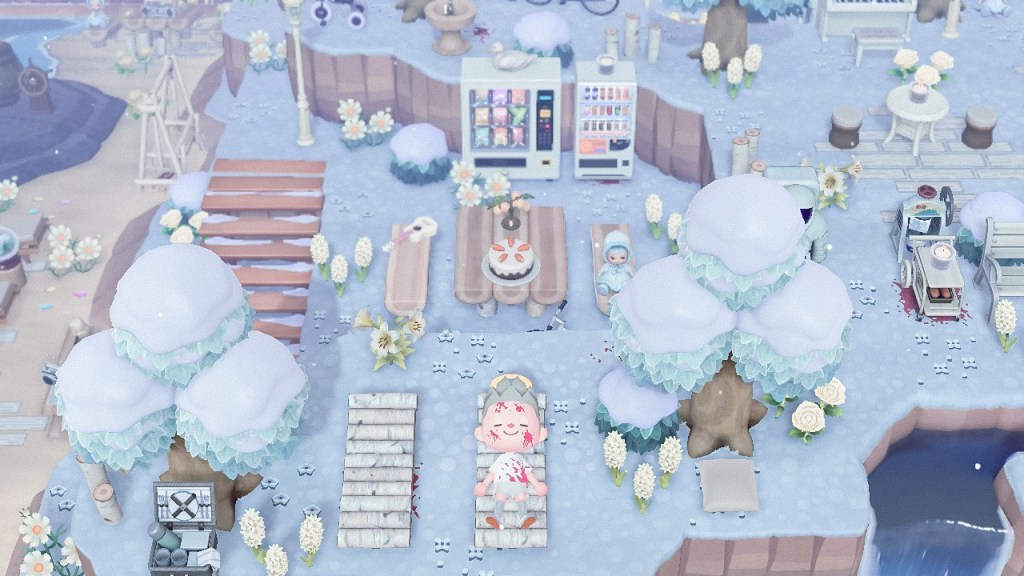 9. Willowbell - Dream Address: DA-9764-8379-1391
Willowbell is a 5-star winter medieval theme island that features a white large castle, beach campground, ice sculpture park, pirate-style outdoor restaurant, beautiful terraforming designs.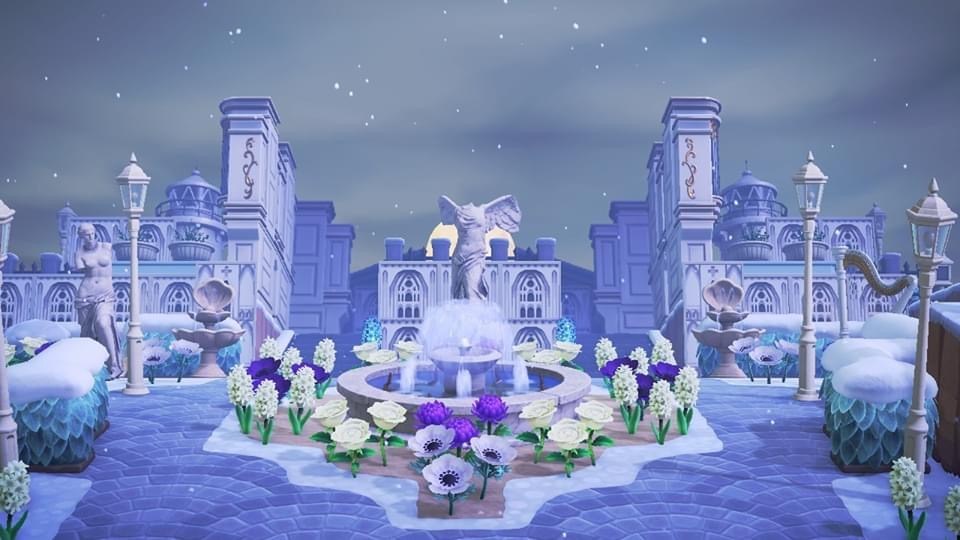 Animal Crossing New Horizons Winter Design Ideas For Interior & Exterior Areas
Winter is fast approaching, it is a wonderful time to create some winter & snow landscape on your island. In case you only want to get a winter vibe into your island for some areas or don't have much time to take a tour to the above top rated snow-themed island, we collected these great winter designs for certain areas in Animal Crossing New Horizons for your reference:
1. ACNH Winter & Christmas Theme Entrance Design (By @inthestars03)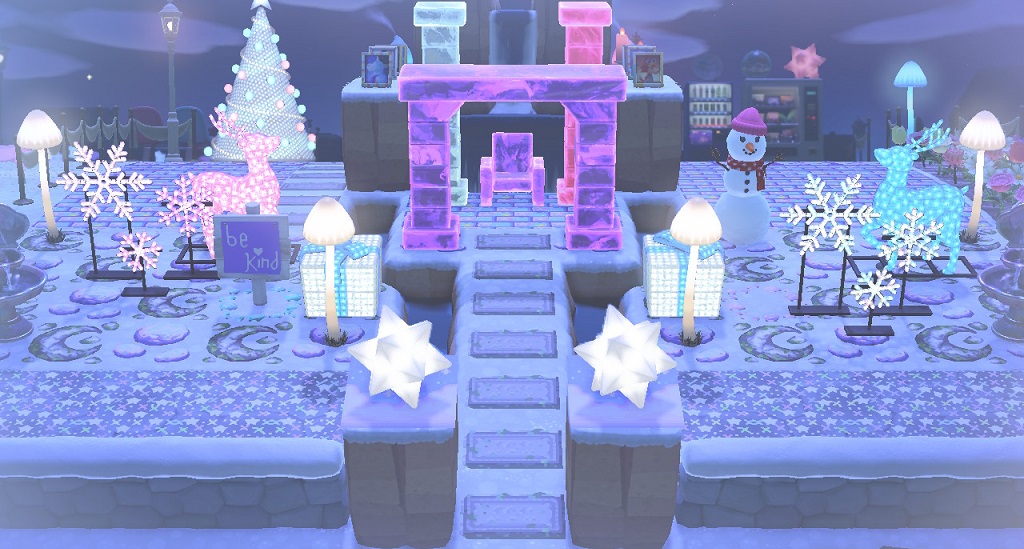 2. ACNH Winter Ice Skating Ring (By @blushfaiiry)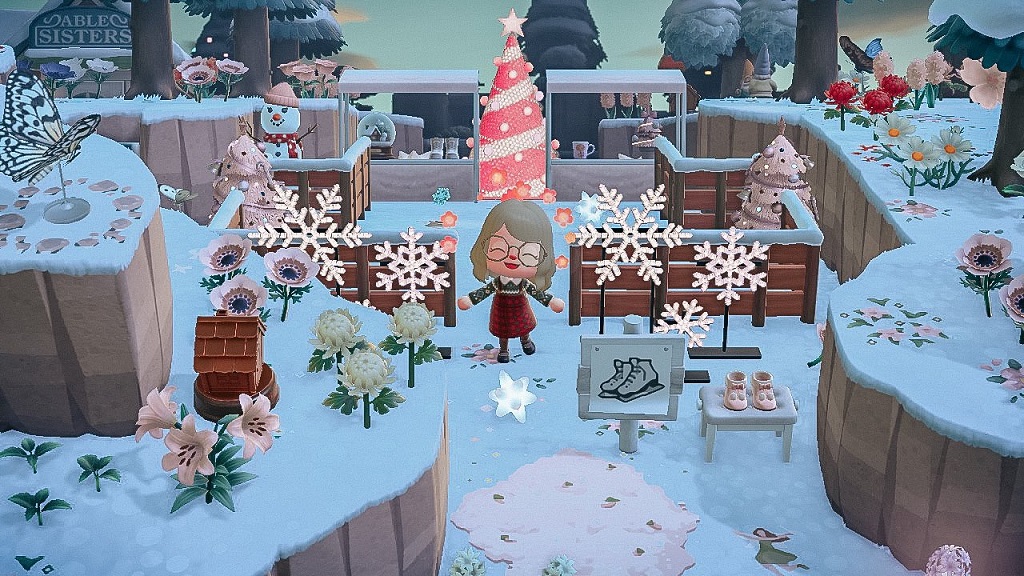 3. ACNH Winter Path With Snowman (By @ACNHAlcatraz)