What To Expect For ACNH New Year's Eve - Animal Crossing New Horizons New Years Event Guide
12/31/2020 10:29:17 AM
Happy New Year!
2020 is drawing to a close and the big celebration of the year happens today - New Year's Eve. Every year on December 31st we count down to the new year, and in Animal Crossing there is no exception. Then what can we expect from ACNH New Year's Eve? What are the activities? In this guide, we'll be talking about the Animal Crossing New Horizons New Year's event which is happening today. We'll be going over all the details you need to know!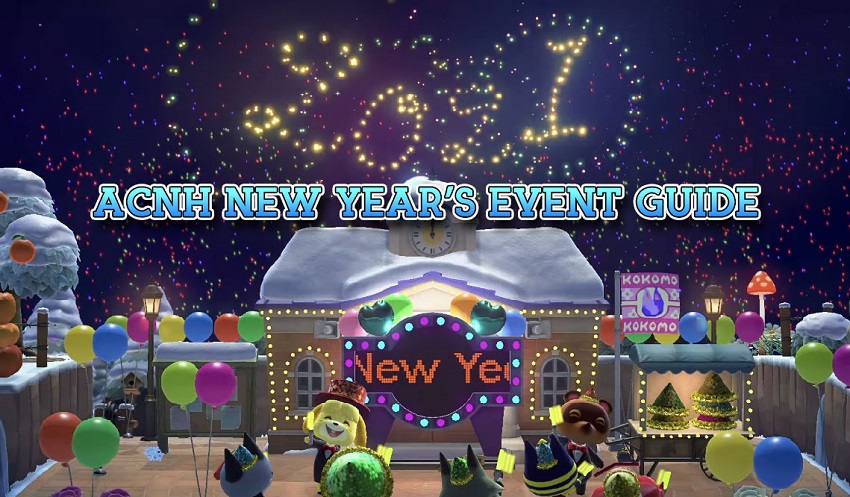 Animal Crossing New Horizons New Years Event Guide
During the entire day on December 31st, the whole island in ACNH will be celebrating the coming of the new year with a giant party on the plaza. A fun fact about this event is that it's one of the very few events that was in the game. From the start New Horizons has received many updates adding back seasonal events like Turkey Day and Toy Da, but New Year's is an event that you could have time travel to from the beginning around this time. Now, let's everything about the ACNH New Year's Eve celebration and all of things you can do.
Read more: ACNH New Years Items 2021
What Happens On New Year's Eve In ACNH - What To Expect For New Years Eve
When you start up the game on today, you'll get a little message from Isabel telling you that this is the last day of the year and that celebrations for the New Year will be starting in the resident services plaza as they do with most events in this game. We've summarized the main activity flow for this event below, with more details on each part later in this complete guide.
Talk to Isabelle and Tom Nook at Resident Services in a rare outdoor appearance.

Get a Light Stick item from Isabelle and Party Poppers from Tom Nook for free.

Purchase one of two types of New Year's Hats from Tom Nook in 4 of 8 different color variations.

Experience a lot of new music tracks throughout the day.

Watch the New Year's Eve countdown and fireworks set off at Midnight with your villagers.

Buy New Year's items from the Seasonal tab in Nook Shopping or AKRPG (reliable ACNH items store), both from December 26th to 31st and January 1st to 15th.
Countdown To New Year's With Isabell And Tom Nook
When you head to the plaza you'll see Tom Nook and Isabel dress to the nines with fancy tuxedos and you also discover that the plaza is decorated heavily with tons of balloons and the building itself is covered in all kinds of pretty lights. The main centerpiece will be the countdown board which will count all the way down to midnight for a live update of the current time.
Get Light Stick & Party Popper Items, Purchase New Year's Hats
Isabel and Tom Nook will provide you with some cool items. So talk to Isabel first and she'll let you know about the preparations as well as give you a brand new item which is the light stick. This is the only day of the year you can get this holdable item. So getting one for yourself so you can wave it around come new year's day. At midnight Tom Nook will provide you with a free stack of 5 Party Poppers which are certain to help you start the new year with a bang. These five are on the house, but additional Party Poppers can be purchased in packs of five from Tom Nook during New Year's Eve at a discounted price (for just 300 ACNH Bells). He will also sell some brand new New Year's hats which you can get in a wide variety of colors. By having a chat with him you can purchase one of these and select the perfect color for your character.
Experience New Music Tracks
More another tidbit about this event is that you can experience a lot of new music tracks throughout the day. If you're used to the hourly music, this is probably a nice little change and some of them are super cool so it's really great. They compose lots of music for the New Year's event as they typically do in Animal Crossing.
Buy Nook Shopping App New Year's Items
You can also get some cool New Year's items from the Nook Shopping App which are also limited (from January 1st to 15th). So make sure to purchase those to help you celebrate the event.
Watch New Year's Countdown & Fireworks At Midnight
When you get closer to midnight, you'll get a little announcement telling you to make your way to the plaza to celebrate. When you're in the plaza you'll see many of your residents have gathered and they wear super cute little party hats alongside some fancy outfits too. They all look super dapper with their sunglasses and they all pull out their very own light sticks. Totally ready to celebrate the turning of the year.

With a minute to go, the camera angle of resident services will become fixed similar to when you take a photo of the game, it definitely makes the celebration feel even more special. With just 30 seconds to go, all of your residents will gather together ready for the countdown to finish, with a mere 10 seconds left you can use your own light stick by pressing A to join in the fun with everyone and then boom happy new year in Animal Crossing. You'll see some beautiful fireworks and get a nice little announcement about the new year finally coming. Everyone will celebrate and dance around the plaza with even more fun unique dialogue to enjoy. So make sure you get chatting to your favorite villagers, overall it's a really nice way to ring in the new year. You can expect to see everyone looking super cheerful blowing party poppers and shaking their glow sticks around too. The fireworks look fantastic as well as they usually do in Animal Crossing. It wouldn't be a New Year's event without tons of really great fireworks. You can enjoy the celebrations of the New Year with fireworks continuing all the way until 2 AM.
It's time to countdown the remaining hours of the year with your favorite villagers! We hope you enjoy your New Year's Eve in Animal Crossing New Horizons today!