ACNH Festivale Updates 2021 - Festivale Themed Items, Outfits, Reactions And More In Animal Crossing New Horizons
2/1/2021 7:03:32 PM
Animal Crossing New Horizons Festivale Update is one of the most exciting new updates. In order to help you prepare for the upcoming ACNH Festivale event, here we bring you all the Animal Crossing February 2021 updates and changes for items, outfits, reactions, dialogs and more.
ACNH Festivale Updates 2021 - Festivale Themed Items, Outfits, Reactions And More In Animal Crossing New Horizons
ACNH Festivale Update will take place on February 15, 2021. Some of the new Festivale contents already appear in the game. Pave as the host of the Festivale events will bring happiness and joy to every player. As with the previous Animal Crossing games, there's no doubt that a lot of content will change and new additions will add to the game. Next, listed the new changes, Festivale items and reactions and the method to get them.
New Resident Services
As is often the case that ACNH Festivale events are celebrated outside the resident services on the plaza. Resident services have been decorated with beautiful festival themed stuff all around the buildings to welcome February events for Animal Crossing. Isabelle and Tom Nook will also be busy preparing for this. The Resident Service will keep the new decorated look up until the Event starts and disappears the day after.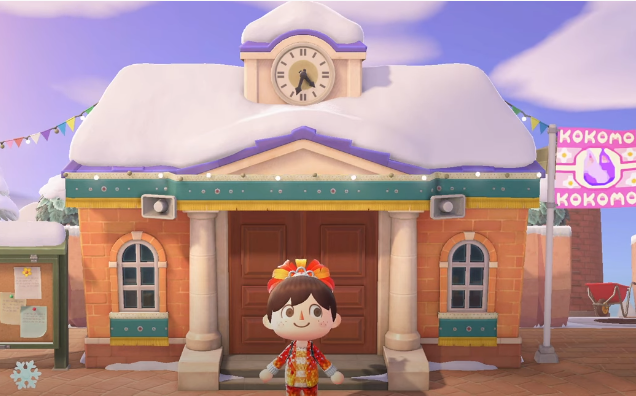 New Festivale Items
Nothing is more important than the fact that ginormous 92 brand new ACNH Festivale items are waiting for players to unlock. Starting from 1 February, there are various Festivale themed items are available for sale in Animal Crossing New Horizons Nook's Cranny. Players are free to buy almost every seasonal Festivale events items with ACNH bells except the Festivale Float. Which you are going to get by exchanging for rainbow feathers. But it's a pity that you can not purchase every color of the Animal Crossing Festivale limited items from Nook's Cranny.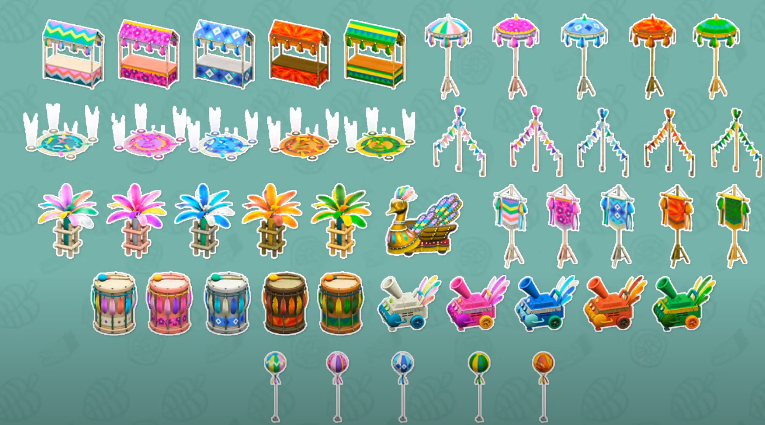 How to Get New Festivale Items
There are several ways you can get the whole set of ACNH Festivale events items, either you trade with other players online or collect different rainbow feathers by playing Festivale on the 15th of February. In order to get rainbow color customization, you need to craft rare rainbow feathers which is a new recipe from Pave. In a word, capture as much feather as you can to get all colors of items. The fast way is to buy Animal Crossing Festivale items at Akrpg.com, we keep providing the newest and legit items for players at a cheap price.
New Seasonal Items And Miscellaneous
There are various New Year's Event or Valentines' Day items that have been added to the game. Like Envelope, Football Rug, Mermaid Fence, Chocolate hearts and more. As for the new miscellaneous like megaphones, the throwing beans, maracas and more.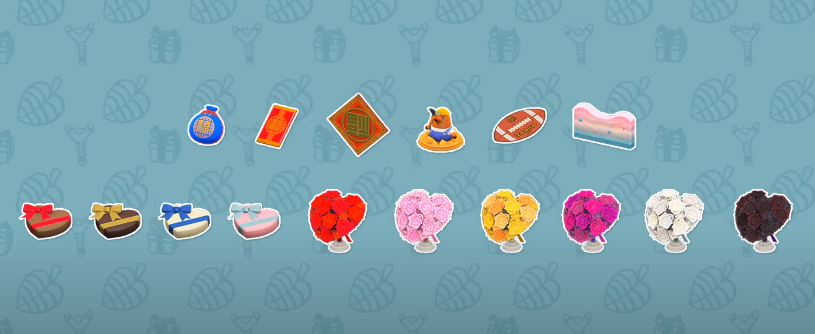 New Reactions
Nintendo has added a new permanent Viva Festivale Reaction Set that worth 19,800 ACNH bells in Animal Crossing New Horizons, meanwhile it's the first time that Nook's Cranny sells reactions collection. Animal Crossing's new reaction as follows: Feelin' it, Let's Go, Viva, Confetti, and perhaps more will be released on February 1.
New Festivale Outfits
No less important is having Festivale themed clothing items to put on in ACNH February event updates. Starting from February 1 at the Able Sisters, you are able to buy Festivale accessories on the show floor and the dressing room. What's more, a wide range of colors (orange, purple, green and blue) for fancy clothes, include Festivale Thai Dress, Festivale Costume, and Festivale Headgear.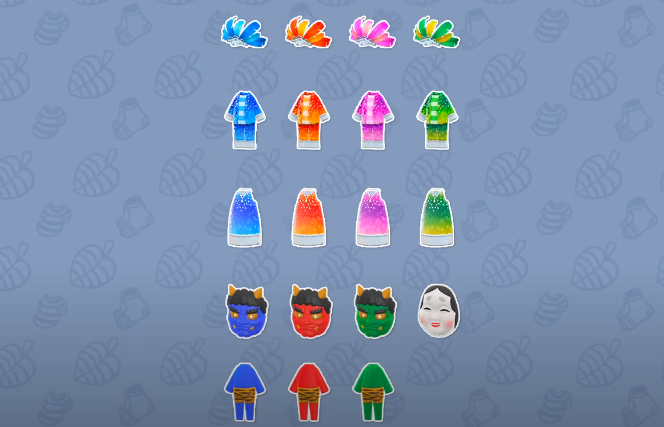 New Dialog
There's no denying that the fact that villagers rarely have anything new to say in Animal Crossing New Horizons. After the as main ACNH Fetivale events updates arrive, new dialogs of villagers will be released. You can go chat with your villages and get brand new dialogs.
Above all, the 2021 February Festivale event updates you can look forward to in Animal Crossing New Horizons. The details about brand new reactions, items and dialogs. Unlock Animal Crossing unique Festivale items build your tropical vibe island.