ACNH Spring 2021 Changes & Items - Animal Crossing New Horizons March & April Updates
2/25/2021 7:42:06 PM
Spring is finally almost upon us here in the Northern Hemisphere, while southern hemisphere players can enjoy the end of summer and lead into fall. Northern players can finally see that snow disappear after what has felt like ages, finally our islands will be green once again and there are a bunch of really cool changes that you can experience for yourself in Spring. Here we are going over five spring changes that you should know about.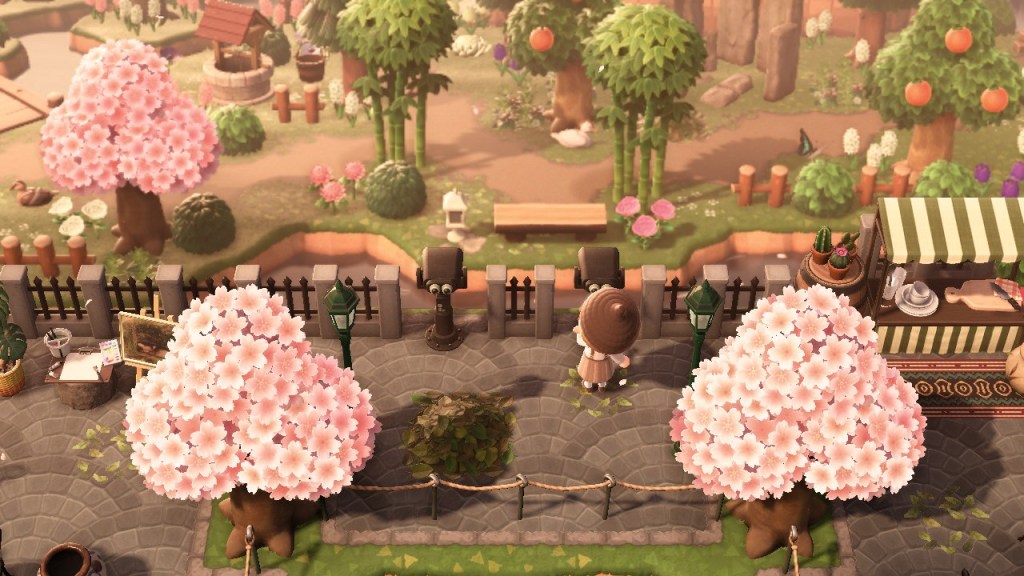 Related Read: ACNH 1st Anniversary Update Guide
1. Major Aesthetic Changes
Now as we mentioned earlier, we've literally just started a brand new season here in the northern hemisphere moving from Winter to Spring, and only days away from a new season in the southern hemisphere that will see players move from Summer to Autumn from March 1st. During this time, we can expect to see a lot of changes to the island scenery including grass, trees, weeds and even buildings. Players in the northern hemisphere will see the grass and leaves around the island change to more vibrant spring colours as the weeks go by, with even the weeds starting to flower. The only plant that won't be changing during March are the camellia bushes that have been blooming since January, these will continue to flower throughout the entire month of March. Finally Nook's Cranny replaces its wintry decorations with a Spring theme including butterflies and flowers. Of course players in the southern hemisphere experience much the same with seeing more orange and brown scenery as they transition from Summer to Autumn and looks Cranny updating their summer themed decorations in favor of mushrooms and leaves. The only difference is that players in the southern hemisphere will see a change to their bushes with hibiscus plants no longer flowering from March 20th, at which point olive bushes will begin to bloom instead.
2. Spring Weather - Rain Shower & Rainbow
As we mentioned earlier with the change in season and the snow finally disappearing in the northern hemisphere to mark the start of Spring, we will finally see rain showers again which of course replace the typical snow showers we experienced during the winter. Furthermore, with an increased chance of rain throughout the month of March, you're more likely to see rainbows during the day because of this. The rainbow is a weather phenomena that only occurs between February and November at least in the northern hemisphere and typically appear randomly for 45 minutes at a time. Sadly with the change in season this means neither hemisphere will see any auroras again until the winter.

3. ACNH Spring Critters
Now probably even more obvious than the season change, especially for those who have been playing for a while, is of course to the bugs, fish and deep sea creatures that we can encounter around the New Horizons island. Of course with the change in season, we can expect a larger shift than usual to the critters that are either leaving or arriving to the island.
Players in the northern hemisphere will be able to encounter 20 new critters in total during March, there's too many to cover right now but some of the new critters include the bard knife jaw, the orchid mantis, and the spider crab which you'll be able to encounter for the first time in a while.
Players in the southern hemisphere are in the same situation with 22 new critters arriving during March, some of these critters include the king salmon, the bell cricket, and the sweet shrimp, again for those who've been playing for some time may have already encountered these but new players will only be seeing some of these for the first time.
3. Cherry Blossom Season
If you're a big fan of Animal Crossing, you probably already know about the cherry blossom season which is perhaps the most exciting thing to happen in Spring. There are a few important dates to keep in mind here so let me break them down for you. On April 1st, the cherry blossom season will begin and you'll be able to get the really beautiful looking cherry blossom trees around your island, this change will only happen to the regular hardwood trees not fruit trees, so make sure you have a lot of these planted for this day. At this time, you can also occasionally find cherry blossom petals floating around your island, a crafting resource you can use when crafting the cherry blossom themed DIY recipes that you can find in balloons. The most significant change that will happen is on April 7th, when you can see the cherry blossom petals constantly falling from the sky just like confetti, even floating down the river which is a really nice little touch.
4. ACNH Spring Seasonal Materials and Items
With a brand new month on the Animal Crossing New Horizons, March introduces a new seasonal crafting material and DIY Animal Crossing items for both hemispheres.
Spring Crafting Items In Northern Hemisphere
From February 25th and through to the end of May, young Spring bamboo will begin spawning in the northern hemisphere inside your typical bamboo trees alongside the ordinary bamboo. Young Spring bamboo is basically a spring version of bamboo and is the seasonal material used to craft items such as the basket pack, the bamboo doll, and the green leaf pile. Just like last year and all seasonal materials since the young spring bamboo DIY recipes can be found inside the balloon presents that float across our skies.
April 10th, you can collect the cherry blossom themed DIY recipes and items, and the petals that float around your island with a net. It seems like you'll be able to get way more pedals around the April 7th, so that could be the best time to gather and hunt for them and get all that you need.
Spring Crafting Items In Southern Hemisphere
For players in the southern hemisphere, you'll be able to find acorns and pine cones from March 1st and all the way through to June which is a pretty long time. Acorns and pine cones can be found by shaking trees and of course the Autumn seasonal materials you'll see throughout March, these can be used to craft items from the trees bounty series including the tree's bounty lamp, acorn porchette and of course the yellow leaf pile. You will eventually see two other seasonal materials during autumn but not until April, so collect as many acorns and pine cones during March while you can.
If you've been playing since launch, you'll probably already have seen these materials in previous rotation which was directly after the launch of the game; if you've joined the community since then and are playing in real time, you'll probably be seeing these for the first time.
5. ACNH Spring Bush Changes
With bushes being introduced into the game for the first time in April 2020, we're coming up to our first full year of enjoying bushes and their different looks each season, there are some fun ones to enjoy this Spring. Azalea bushes will start to bloom from April 11th to May 31st for northern hemisphere players, you can of course enjoy the pink and white flowers on these bushes which you might not have even noticed up until this point. They've been blooming but the pink and red camellia bushes will stop blooming from March 31st, so make sure to say goodbye to those before they disappear. This means that from April 1st to April 11th, no bushes will be blooming on your island.
6. ACNH 1st Anniversary Event
Finally, it's definitely worth mentioning the anniversary on March 20th 2021, Animal Crossing New Horizons will of course be celebrating the first anniversary of the launch of the game which is absolutely crazy to think the game has already been out for a year. Anyway although there's been no official word as yet and this is pure speculation, there's a good chance that we'll see some sort of anniversary celebration at the end of March, either as an event or with the distribution of limited time items. This is backed by the fact we usually get a preview of the next update at the end of the current updates trailer, whereas this time that didn't happen, which suggests nintendo are planning something for the next update and aren't quite ready to share it yet or at least until Mario day on March 10th has been and gone. So 100% watch this space for something anniversary related coming to New Horizons very soon, with Pocket Camp having seen two or three anniversary celebrations, it's highly unlikely Nintendo will ignore Animal Crossing New Horizons.
7. Super Marios Crossover & Sanrio Characters Collaboration
Thanks to the latest 1.8 update, which is now live we can take part in the first ever Super Mario crossover event in New Horizons from March 1st, all new Super Mario themed items will be available to purchase from the Promotions Tab from either the Nook Stop inside resident services or the Nook Shopping App on the Nook Phone. While with the ACNH Hello Kitty Crossover Sanrio 1.9 Update, player will be able to buy and scan amiibo cards in game to invite the inspired Sanrio villagers to your island, plus unlock ordering both Sanrio themed furniture and clothing items as well, you can check all all the details of Animal Crossing New Horizons Sanrio Villagers and Items here.
8. Other Changes In Spring
Although we've gone over all of the major changes happening throughout the Spring season, there are still some of the other fun and interesting changes that you can discover around your island this Spring. For a start you may have already noticed that the weeds around your island have started to change for the season, these are much more colorful and although they're weeds and you should probably want to get rid of them. Of course a ton of new bugs will start to appear in Spring, so in general it's a much better time to head out there and click the ones that you need, as they'll be flying around enjoying the sunshine. There are lots of fun events happening in Spring too, not forgetting the dreaded Bunny Day which happens in April, also Tom Nook and Isabelle will start to wear their warmer outfits too.