ACNH Sanrio Villagers & Items - How To Get Sanrio Items & Characters In Animal Crossing Anniversary Update
3/20/2021 2:52:03 PM
It's always thrilling to see new furniture sets and villagers added to the Aniaml Crossing. The anniversary update adds a whole bunch of content including new seasonal events, new custom design slots, features and Sanrio Crossover. New Sanrio functionality in more detail and we highlight everything you need to know including how to obtain all Sanrio items and Sanrio villagers/characters in Aniaml Crossing New Horizons 1.9 Anniversary Update.
Animal Crossing New Horizons Anniversary Update Sanrio Villagers & Items
Start from March 18, Sanrio Crossover is now available to download worldwide and will take Animal Cross New Horizons up to version 1.9. The Sanrio Crossover adds 6 brand new Sanrio villages in Animal Crossing who are all based on well-known characters from the Sanrio franchise. During anniversary updates also adds over 90 Sanrio themed furniture and clothing items around each new villager. All of which come with their respective villager pictures and posters. To get Animal Crossing Sanrio Crossover items to work in exactly the same way as the in-game posters. The reprints of Sanrio cards are set to release on March 26. Next, you are about to see the best ways of obtaining these ACNH Sanrio Villagers and ACNH Sanrio Items.
1. How To Get Sanrio Villagers In Animal Crossing
To obtain the villagers, you simply have to scan their corresponding Sanrio amiibo cards and invite them to your campsite. Eventually, with a little persuasion, you can prompt them to move to your island as well as any other visiting character or amiibo card. Unfortunately using the amiibo functionality is the only legitimate way to get these Animal Crossing Sario villagers and move them to your island.
Pay Attention
It is not possible to adopt these Sanrio villages from other people's campsites. Or by inviting them to move to your island when they're in boxes on someone else's. Furthermore, you will not encounter these villagers on mystery island tours.
2. ACNH Sanrio Character
With the update of Animal Crossing Anniversary 1.9, released six brand new Sanrio villagers in Animal Crossing which are inspired Sanrio. By using the Sanrio Amiibo Cards, you can invite to your island in Animal Crossing: New Horizons.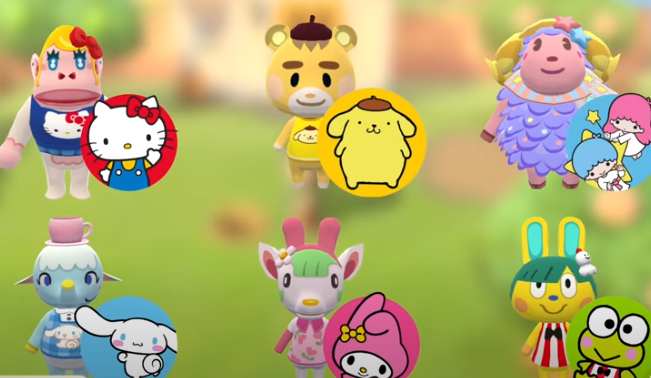 Rilla

Marty

Étoile

Chai

Chelsea

Toby
3. How To Get Sanrio Villagers In Animal Crossing
Regarding the new ACNH Anniversary Mario items for those who don't own or don't want to purchase the amiibo cards. There is the easiest way to obtain the Sanrio items is by scanning the amiibo the same as Sanrio villagers in Animal Crossing New Horizons. Once scanned you can order the corresponding village of furniture sets from the promotional tab at the next stop or through the nook shopping app on the nook phone. The thing is the daily limit of five orders per day. Fortunately, unlike Sanrio villagers, it's entirely possible to own the Sanrio items without using amiibo cards. At last, if you are looking for the quickest way to get all items, akrpg.com has every new ACNH Sanrio themed item in Anniversary updates at a cheap price.
Pay Attention
However, it's not possible to catalog Sanrio items from another player and order your own sets from your own nook stop. Even if you attempt to catalog someone else's Sanrio-themed items by picking them up and dropping them down again, they won't be available in your catalog.
4. ACNH Sanrio Items
This is a list of all Sanrio Collaboration items available from the March Aniversary Update in Animal Crossing New Horizons for the Nintendo Switch. Each Sanrio villager in Animal Crossing New Horizons comes with a selection of themed furniture and clothing items unique to them, matching the setup seen inside their house.
Rilla's Hello Kitty Themed Furniture & Clothing Set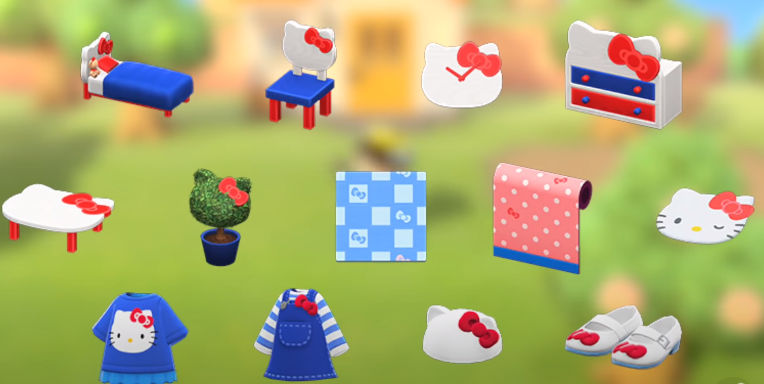 Hello Kitty Bed

Hello Kitty Chair

Hello Kitty Clock

Hello Kitty Drawers

Hello Kitty Flooring

Hello Kitty Planter

Hello Kitty Poster

Hello Kitty Rug

Hello Kitty Table

Rilla's Poster

Hello Kitty Wall

Hello Kitty Dress

Hello Kitty Hat

Hello Kitty Shoes

Hello Kitty Tee
Marty's Pompompurin Furniture & Clothing Set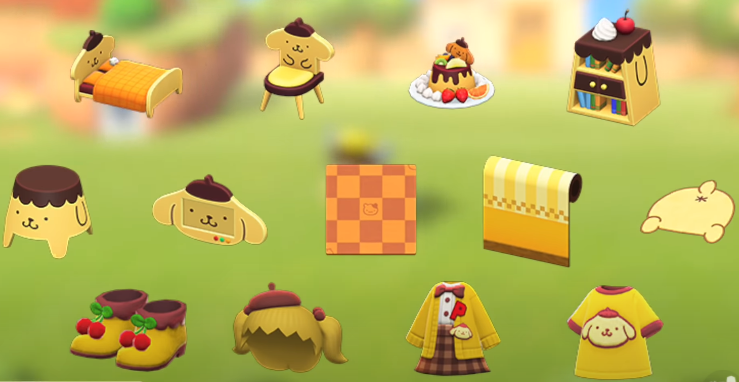 Pompompurin Boots

Pompompurin Hat

Pompompurin Outfit
Étoile's Kiki and Lala Themed Furniture & Clothing Set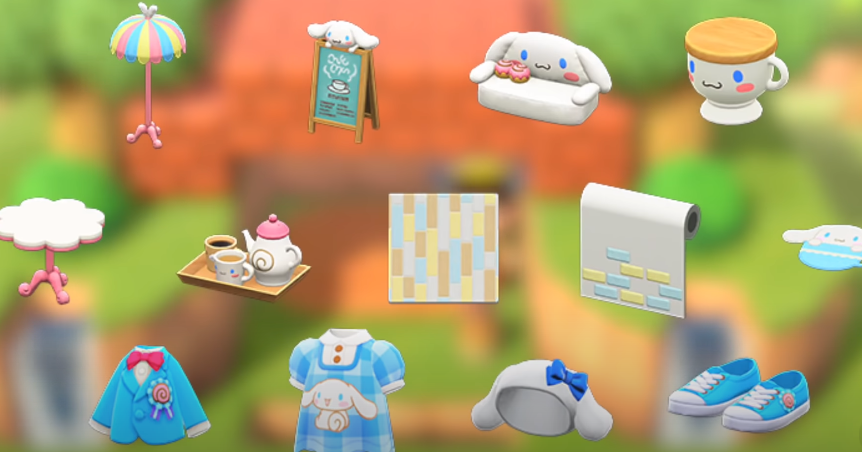 Kiki & Lala Bed

Kiki & Lala Clock

Kiki & Lala Cloud Maker

Kiki & Lala Sofa

Kiki & Lala Table

Kiki & Lala Wall

Kiki & Lala Flooring

Kiki & Lala Rug

Kiki & Lala Wand

Kiki & Lala Pin

Kiki & Lala Tee

Kiki & Lala Dress

Kiki & Lala Shoes

Kiki & Lala Socks
Chelsea's My Melody Themed Furniture & Clothing Set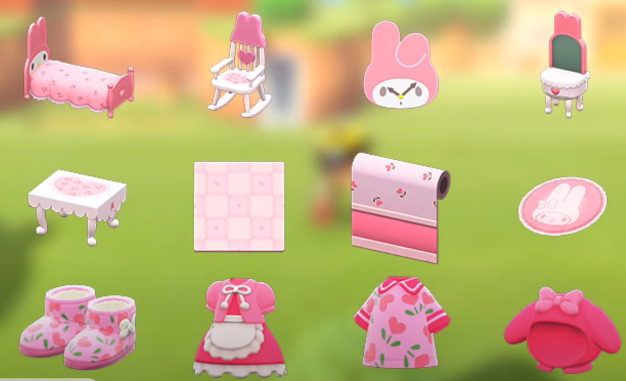 My Melody Bed


My Melody Chair

My Melody Clock

My Melody Dresser

My Melody Table

My Melody Wall

My Melody Flooring

My Melody Rug

My Melody Hood

My Melody Shirt

My Melody Dress

My Melody Boots
Toby's Kerokerokeroppi Themed Furniture & Clothing Set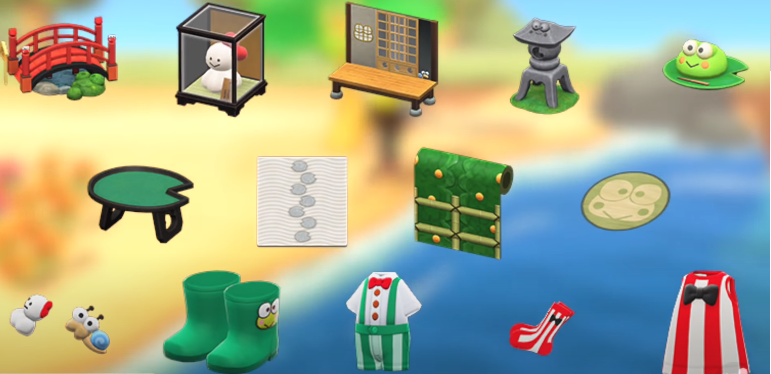 Kerokerokeroppi Bridge

Kerokerokeroppi Doll

Kerokerokeroppi Hallway

Kerokerokeroppi Lantern

Kerokerokeroppi Snack

Kerokerokeroppi Tray

Kerokerokeroppi Wall

Kerokerokeroppi Flooring

Kerokerokeroppi Rug

Kerokerokeroppi Pin

Kerokerokeroppi Tank Top

Kerokerokeroppi Outfit

Kerokerokeroppi Boots

Kerokerokeroppi Socks
ACNH Mario Villagers' Post & Picture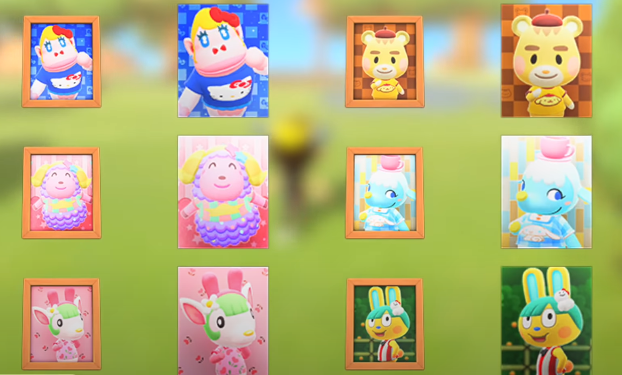 Chai's photo

Chelsea's photo

étoile's photo

Marty's photo

Rilla's photo

Toby's photo

Chai's poster

Chelsea's poster

étoile's poster

Marty's poster

Rilla's poster

Toby's poster
How To Get Amiibo Cards In Animal Crossing
In about a week's time pre-orders for the amiibo cards are slowly going live with many EU countries that are updating their websites, including the UK, USA and Canada are far behind. You can head over to animalcrossingworld.com since they actively updating their website when pre-orders go live.