Best ACNH City Island Dream Address & Ideas - Urban Inspired Designs & Tips In Animal Crossing New Horizons
4/21/2021 5:24:22 PM
Want to get some unparalleled ideas to build up a city theme island in Animal Crossing New Horizons? Take an island tour with these best ACNH city island dream address to discover creative designs, follow our useful tips to build up unforgettable urban views on your town!
Animal Crossing New Horizons Citycore Theme Island Ideas
Are you tired of the highly sought-after country style and cottagecore natural landscape, and are considering creating a different theme to give your island a whole new look? We recommend that you create a cityscape island inspired by typical views of famous cities, and provide distinctive bars, streets, parks, and urban architectural areas. For lack of good inspiration and don't know how to start your city island building? We have sorted out the best ACNH city island dream codes for you, with which you can take a tour of some beautiful urban towns and discover creative design ideas.
ACNH City Island Design Ideas & Tips
Animal Crossing: New Horizons gives us the possibility to give free rein to our imagination and to create islands according to our taste and our attitudes; the initial environment at our disposal allows us to optimize customization and build thematic areas. With various items and creative tips you are sure to reproduce your La La Land on Animal Crossing New Horizons:
Build Public Areas - Don't forget to build some urban businesses and public spaces - outdoor restaurants, movie theaters, cafes, bars, night and dance clubs, libraries, the outdoor markets even street art should be a part of city-style island design.

Create Buildings with Illusion Patterns - For Japanese or Asian-themed cities, use the Zen fencing on top of a terraformed area to create a roof and place customized panels in the front to create the illusion of stores houses, etc. We also can take a trip to Greece and recreate the typical white houses with doors and shutters in bright shades of blue, which climb up the alleys and streets of the various villages. To do this we will need some Simple Panel that we can customize with the help of some of the patterns we propose; in addition, we will be able to use some Clothesline pole and some stalls to create a more romantic setting at nightfall.

Be Clever With Space - Lay down different QRs and paths to divide areas, this works great for both big and small spaces like parks, public entertainment venues, or residential areas and will make the space feel full.

Use NMT Items - Place phone booths, snack machines, street lights, and utility poles to make your island feel more authentic to a city. Trade with friends to get different colors and variations or buy ACNH items on AKRPG.COM, and pack items around front yards and on corners.




Neighborhood Tip - If you're running low on ideas and have a lot of space to work with give your villagers a big yard inspired by the indoor of their house. It will add personality to their home and they will love it.

Create Walls - Use the back of items like the climbing wall or the bookshelf to create walls and separate areas without the need to terraform. It's a great way to separate parts of your island too.




Using Every Space - Build rooftops by terraforming a part of the land and put down QRs that look like roofs. Place antennas, piles of leaves, and even chairs for when your friends come over.

Cluttering Tip - If you're going for the cluttered city aesthetic, try placing down trash bags, cardboard boxes, and scattered papers. This helps to make your city look more lived in and real for an added touch of realism.
Best ACNH City (Urban) Island Dream Codes
Still have no good ideas to build up your city-themed island? Here are some 5-star beautiful city-inspired islands you should take a tour, in where we will be able to enjoy the dreamlike landscape of an island immersed in the colors and scents of some of the most famous cities in the world and stroll along characteristic alleys and streets.
1. Dimsum (Korean Inspired City Island) - Dream Address: DA-8076-6607-5056
Dimsum Island is where you can get a whiff of Korean rural town cluster core, which will impress you with the royal buildings with oriental classical style, lively streets of Asian cities.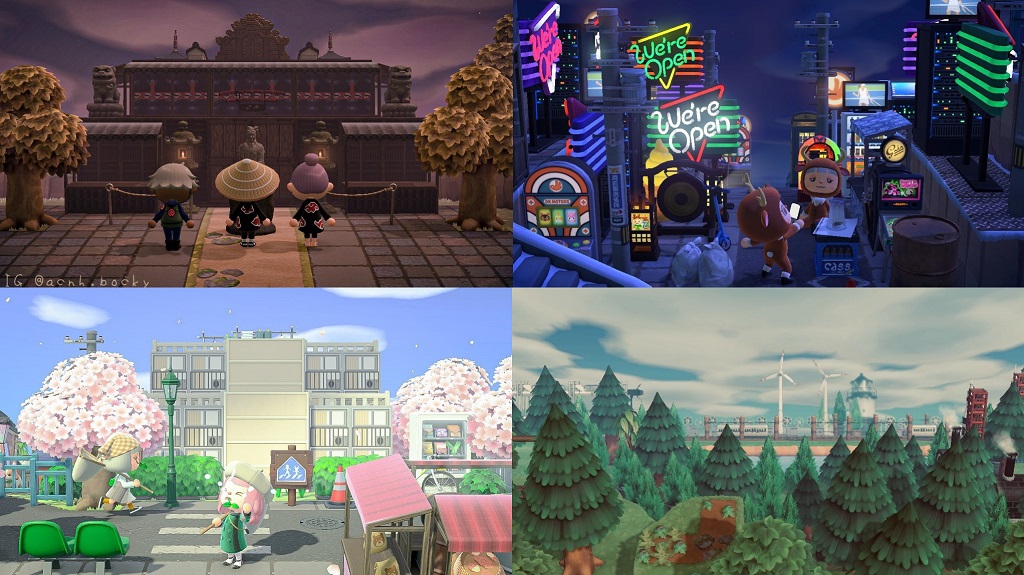 2. Valinor (Japanese Kawaii Theme City Island) - Dream Address: DA-5653-5890-7822
This is a 5-star Japanese pink Kawaii girly theme with S-tier villagers, which goes for more of a town look rather than a natural look like most islands do. Here are some highlight areas you should visit such as Picnic area, Karaoke bar, Tiki lounge, Sushi bar and restaurant, Flower shop, and bonsai shop, and many more to discover.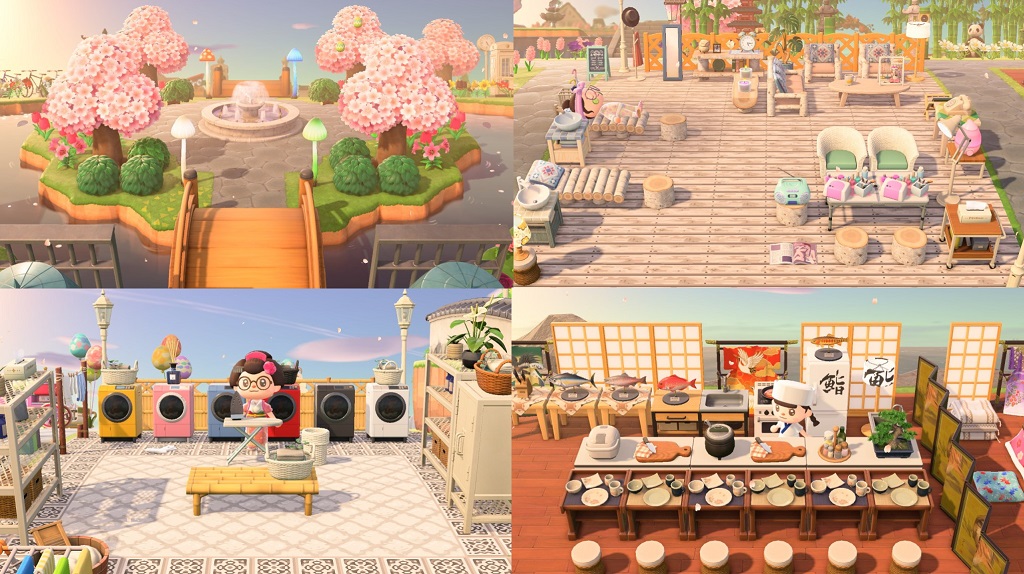 3. Bollywood (India Inspired City Island) - Dream Address: DA-6242-0671-7621
Bollywood is a city theme island inspired by India, there is no doubt that you can find the famous Taj Mahal on the island, local market filled with stalls, old-fashioned railway stations, and outdoor leisure places with local characteristics.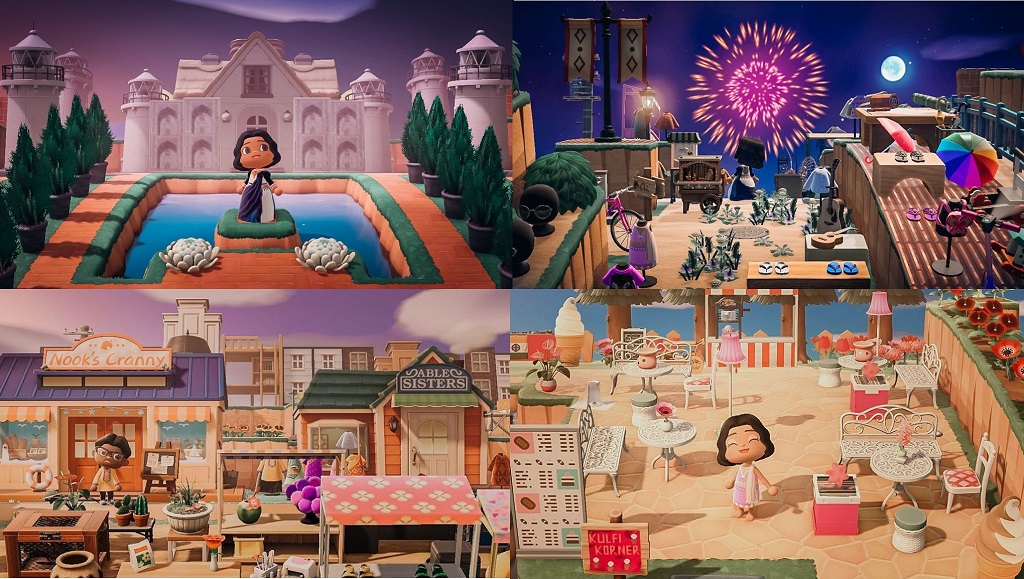 4. Kokoroko (Mix Themed City Island) - Dream Address: DA-8971-8508-2821
This is a magical island with a breathtaking cityscape vibe, everything in the different theme is perfectly mixed. Creator built different landscapes corresponding to different areas in Avatar TLA and the legend of Korra world - like urban area (the republic city) with a circular shopping mall (little Basing Se mall) and an estate (the Sato estate), volcano village (Mt.Mapaku), desert town(Mist palms oasis), hidden library(Wan Shi Thong's lib), temple (air temple) and more.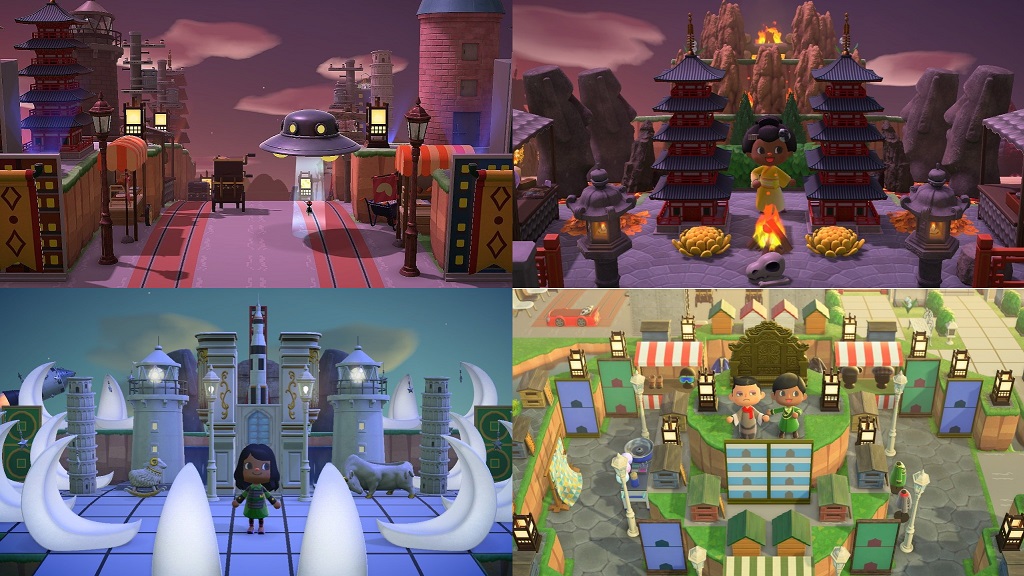 5. Ellegarden (Greek Inspired City Island) - DA 1270-8867-4174
This is a beautiful European island inspired Greek urban vibe, creator brings the power of custom designs to the extreme. Both the Greek-style blue and white houses and European medieval architecture have been perfectly copied.