ACNH July Summer Update 2021 - New Events, Seasonal Items, DIY Recipes, Critters In Animal Crossing New Horizons
6/1/2021 3:49:49 PM
In July, as tradition in Animal Crossing New Horizons, there are a great number of items and events will be introduced in the upcoming summer update. Now follow us to discover what new events, items, DIY materials, bugs, fishes and new sea creatures you can expect in July, as well as the island aesthetics.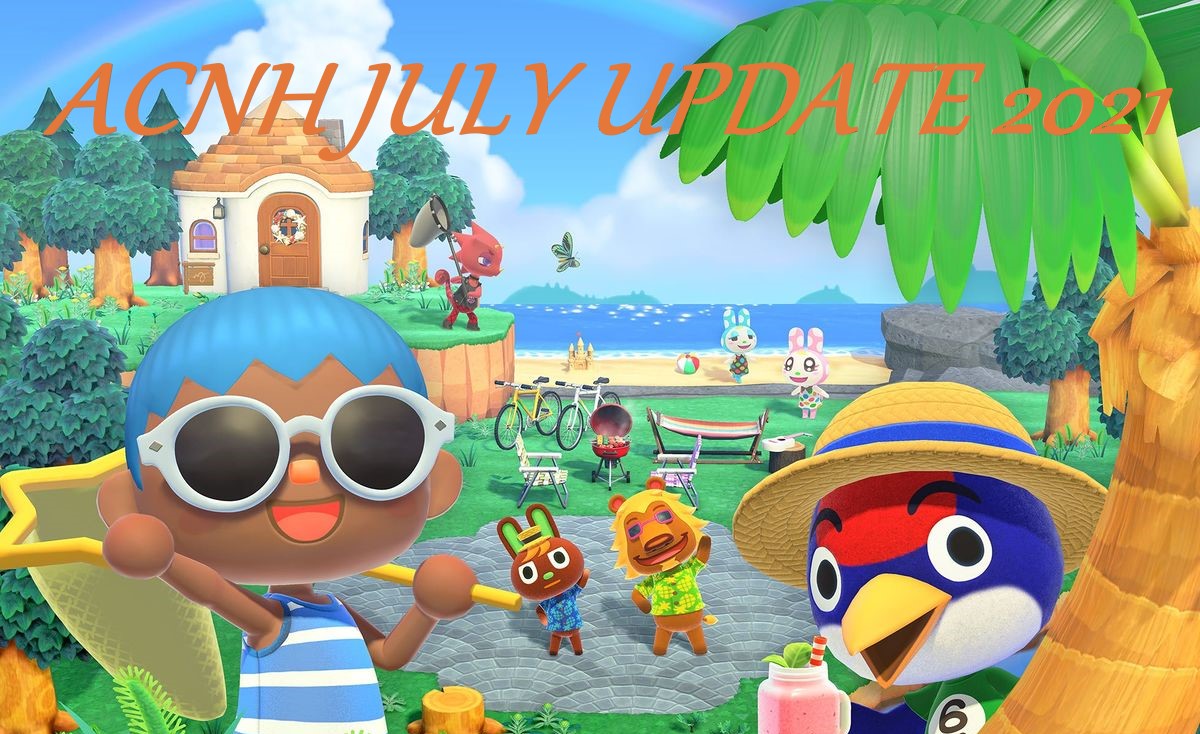 ACNH July Update 2021 - Animal Crossing New Horizons July Summer Update 2021
In July, our Animal Crossing New Horizons islands enter the second month of summer in the Northern Hemisphere, and the second month of winter in the Southern Hemisphere. So in the Northern Hemisphere, summer will cover your islands more comprehensively. Weeds in the northern hemisphere will flower more. Sunny weather is very suitable for hanging out with friends, will also result in your skin tanning. And the rainy day in July is the best time to capture Coelacanth. In the southern hemisphere, red and pink camellia bushes will continue to bloom, naturally because the transition into winter is almost completed, and the island will be covered with heavy snow, which is a great season for building ski resorts to collect ice-themed items. So if you want to find out what events and items you can expect in ACNH June's Summer Update then keep reading!
Relate Read:
ACNH August Update 2021 - Events, Items, DIYs, Critters
ACNH 1.11.0 Update - Events, Seasonal Items & More
Best ACNH Industrial Island Deasign Ideas & Dream Addresses
ACNH July Seasonal Events and Items (2021)
In Animal Crossing New Horizons, as summer or winter comes to our island completely, there is no doubt that new activities and seasonal items will return in July, along with some new added content and features.
Tanabata
Date: July 1 to 7
Items: Bamboo Grass
Tanabata also known as Starcrossed Day is Japanese traditional holiday in remembrance of literally star-crossed lovers Hikoboshi and Orihime. Start from July 1st, the special Tanabata festival seasonal item will be available on Nook Shopping for a week. If you want to place it on your island especially Japanese theme island, don't miss it.
Marine Day
Date: July 8 to 22
Items: Ship-Wheel Door Decoration (NEW)
On the third Monday of July every year, Japan celebrates Sea Day, also known by its English name Marine day, this event serves to give thanks to the ocean for the abundance it has given to the nation and to recognize its importance. So this year, start from July 8th, we will be able to celebrate this event again in Animal Crossing: New Horizons with the addition of a new seasonal item - Ship-Wheel Door Decoration available on Nook Shopping.
Le 14 Juillet
Date: July 10 to 20
Items: Phrygian Cap (NEW)
In honor of the Bastille Day which is celebrated on July 14, we will have the opportunity to order new seasonal items dedicated to Le 14 Juillet from the Nook Shopping, in the period between 10 and 20 July.
Cowboy Festival
Date: July 15 to August 15
Items: Rodeo-Style Springy Ride-on
Brazil's "Cowboy Festival"will return to Animal Crossing New Horizons, but this year, it is starting to be celebrated from July 15th, once again, the special item - The "Rodeo-Style Springy Ride-On" is similar to the regular "Springy Ride-On" can purchased with Nook Miles and Bells in 10 days.
C.J.'s Fishing Tourney
Date: July 10
Items: Trophies and Random fishing-themed item
The Fishing Tournament is something that fans are familiar with will back in July again. If you want to collect the fishing-themed items and Fishing Tournament Trophies, try to catch as many fish as possible in a limited time for amassing enough points over the course of the Fishing Tournament day.
Flick's Bug-Off
Date: July 24
Items: fishing-themed items and trophies
In July 24, Flick will return on Northern Hemisphere's islands to hold Bug Off event, also you have to catch as many bugs as possible in a limited time to accumulate points for exchange fishing-themed items and bug off trophies from Flick.
ACNH July DIY Recipes & Crafting Items (2021)
Still, in July, we can collect different seasonal materials and recipes in the northern and southern hemispheres to make a series of items. If you do not own these items, don't miss the best time this year, otherwise you may wait another year.
Mermaid Furniture Set DIY Crafting Recipes
Date: Any time
Summer is also a great time to build up mermaid theme room in your house. To get the Mermaid Series items, you can dive into sea to collect scallops for Pascal to exchange Mermaid DIY recipes and Pearls at anytime. You also can find these rare Pearls in the ocean when swimming and diving.
Full List of Mermaid Items:
Mermaid Bed

Mermaid Chair

Mermaid Closet

Mermaid Dresser

Mermaid Flooring

Mermaid Lamp

Mermaid Rug

Mermaid Screen

Mermaid Shelf

Mermaid Sofa

Mermaid Table

Mermaid Vanity

Mermaid Wall Clock

Mermaid Wall
Summer Shell Recipes & Shell Set Furniture
Date: June 1 to August 31st
In July, in the northern hemisphere, you can still continue to collect Summer Shell Materials and Recipes, because the shell season will last until the end of 8th.
Full List of Summer Shell Items:
South Seas Wall

Water Floor

Underwater Flooring

Shell Wand

Shell Pochette

Starry Sand Floor

Shell Wreath

Underwater Wall
Winter Snowflake DIY Recipes & Frozen Set Items
Date: June 11 to August 24th
In the southern hemisphere, during the season of winter, the snow is getting heavier. It is a good time to collect snowflakes to make ice theme and frozen series furniture. To craft the Ice (Frozen) items, don't forget to collect DIY recipes by building up perfect snowboys.
List of Ice Themed Items:
Snowflake Wreath

Ski Slope Flooring

Frozen Arch

Frozen Bed

Frozen Chair

Frozen Counter

Frozen Partition

Frozen Pillar

Frozen Sculpture

Frozen Table

Frozen Tree

Frozen-Treat Set

Ice Flooring

Ice Wall

Ice Wand

Snowperson Head

Three-Tiered Snowperson
ACNH July Bugs, Fishes & Sea Creatures (2021)
July is a summer month in Northern Hemisphere, there's a swarm of new fishes, bugs and sea creatures to nab in Animal Crossing New Horizons, so it is a good time make lots of money from them. So take out your nets, finishing rods or dive into the sea! While, in July's Southern Hemisphere, there is no new critters arriving the island due to the cold winter.
New Bugs In July
Northern Hemisphere
Blue Weevil Beetle

Brown Cicada

Cicada Shell

Cyclommatus Stag

Earth-boring Dung Beetle

Evening Cicada

Giant Cicada

Giant Stag

Giraffe Stag

Golden Stag

Grasshopper

Horned Atlas

Horned Dynastid

Horned Elephant

Horned Hercules

Miyama Stag

Robust Cicada

Saw Stag

Scarab Beetle

Walking Leaf

Walking Stick
Southern Hemisphere
New Fishes In July
Northern Hemisphere
Blue Marlin

Napoleonfish

Ocean Sunfish

Puffer Fish

Sweetfish
Southern Hemisphere
New Sea Creatures In July
Northern Hemisphere
Moon Jellyfish

Giant Isopod

Horseshoe Crab
Southern Hemisphere
These are the new items and events we can expect to see in the July Summer Update. Perhaps Nintendo will bring more new content to surprise players as the rumors say, such as the return of Brewster and Kapp'n. More information will be updated here, so stay tuned.