ACNH Top Five Summer Peninsula Design Ideas With Design Codes - Best Summer/Tropical Themed Island In Animal Crossing
5/24/2021 11:12:19 AM
We have 5 peninsula ideas that are going to be summer-ready. that's right, summer is just around the corner. even though the weather might not look like it outside, it is coming soon and people are starting to think about doing summer-themed islands or tropical islands, we're showing you 10 design inspirations for your peninsula, for your summer islands. these are designs are a series of designs that are collected from the internet. we've taken some inspiration and there, we've got items from a boat ride spot to a campfire cookout type, jacuzzi area. we've got a whole bunch of different ideas to show you and this will give you some inspiration to go away and build your own. and the design code that is used you can find at the end of the article!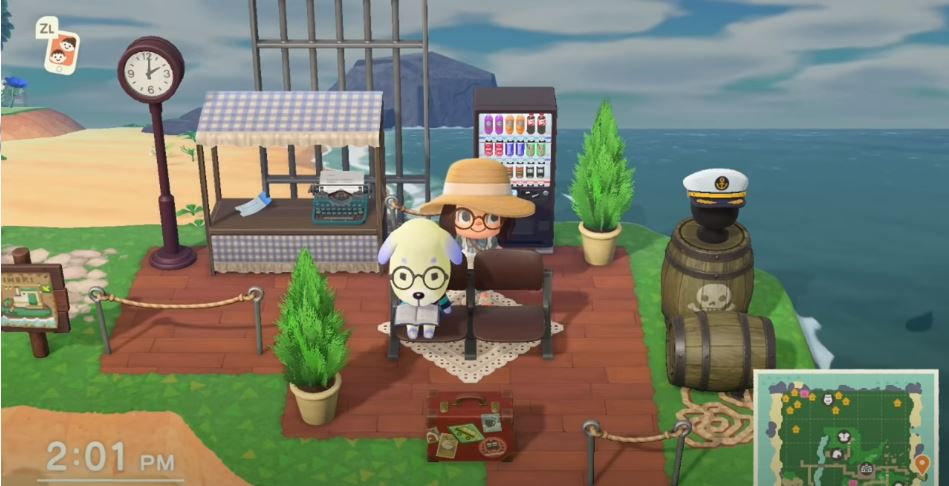 The Boat Rides Port Area
This is the waiting area for where the boat pulling up, as you can see, daisy is waiting patiently for her boat to arrive. the inspiration with this is like a summer boat trip day out on the sea and you can come here, pay for your ticket, get on the boat enjoy a day out at sea. we've got the vending machine to get some snacks, use a cute captain's hat. we've got a few custom designs: the rope, the custom design on the rug. their design codes are in the end. so why not give yourself a little dock area for your tourists' boat rides?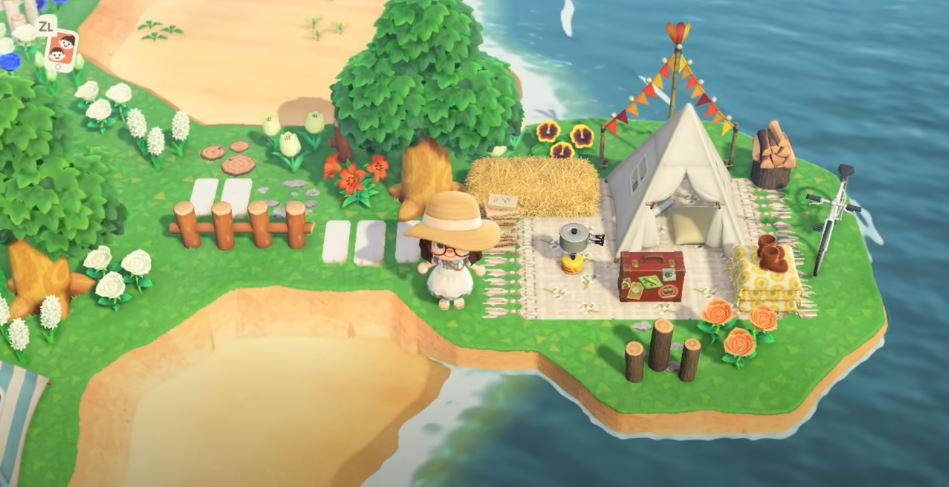 The Campsite On The Peninsula
For this one, we try to use some different colors which people don't normally use. We've gone for some oranges yellows, colors that were quite summery, remind you of the sun. what we've done is we put the kid's tent, a blanket underneath, the hay bale. it's quite appropriate for a little mini campsite. we've got lots of little details: firewood, the festival garland, some wood planks leading back out of it. it's the perfect space for a little campsite. we have different sized ones and it would work with whatever size peninsula you have, whether you have a big one or a small one. this looks fabulous.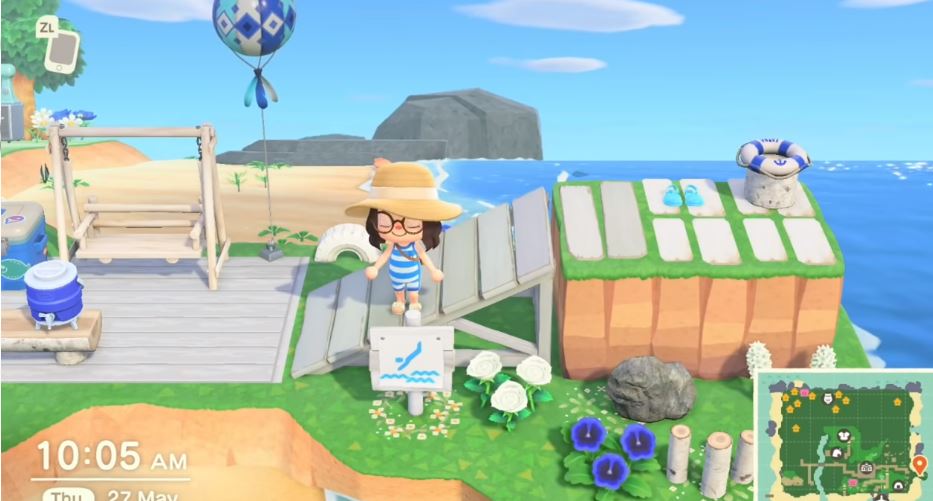 The Diving Area With Diving Cliff
For number three, we have a diving area, which was all the rage when diving was added to the game. you need the incline with the blue and white theme, it looks really cute, we've stuck with the blue and white as that's what we have most of at the moment. but as with any of these designs, these are purely ideas and we would love you to take them to make it your own, you can add whatever colors and whatever furniture you've got available to make it look cute. starting we did a little bit of a decking area with the swinging chair. you would love to be sat swinging in a chair in the sun, it would be nice. and a few cooler bits, up to the incline and we've used some wood planks. you can get the ones to match the incline you have, we've got the life ring in case there are any accidents. there's something quite fun about it if you've not seen one of these before, maybe you do want a diving spot on your island as well.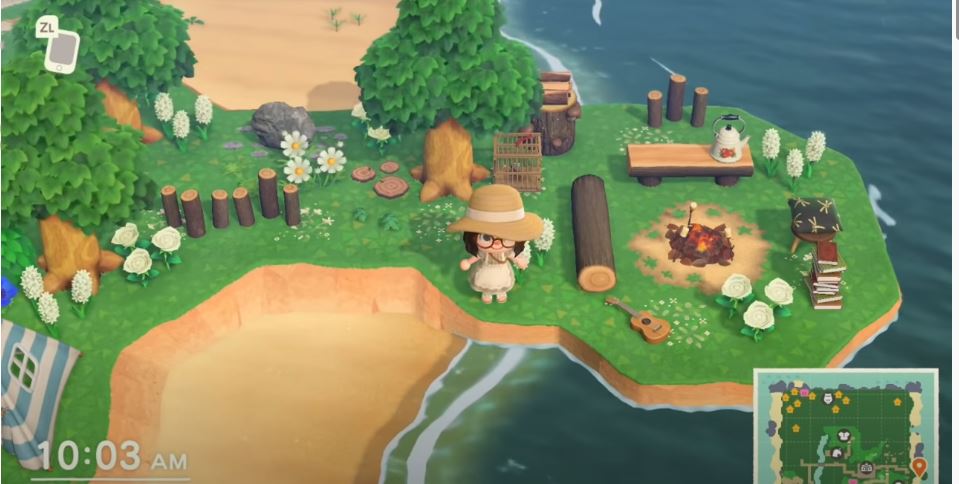 Rustic Natural Campfire
You would love to spend a summer's evening sitting around a campfire, toasting some marshmallows, playing some songs, and relaxing. it would be a lovely way to spend an evening that is why we have come up with this, we've stuck with a lot of the natural wood elements and also some mush logs. we've gone with the leaf campfire, but you could use a campfire cook pot, either way, it looks cute. you can also put either a circle of dirt or sand as we don't have any dirt custom designs at the moment. put your campfire in the middle, we've got some items that fit with that. and the simple kettle, the ukulele as we want those tunes. we've rounded off the edges with some log stakes and a garden rock, a few custom designs: some weeds and flowers to make it feel overgrown.
Lighthouse
For number five, we want to demonstrate to you how perfect a peninsula is to have your lighthouse on. you've probably seen other peninsula designs where they've terraformed up the peninsula so that the lighthouse is on a cliff. but if your peninsula isn't that big and doesn't want to try and squeeze it in and make it look a bit odd, you can try this one. put it straight down on the ground level, decorate around it. put some rocks down, lighthouses are to warn people off the rocks, so scatter them around, put in the anchor statue, a little seating area - the park bench in a nice white color. In the behind, use the garden hedges. this is inspired by the honeyland horizon. you can section off the back, so whatever's behind it, you won't have to see that. some naturey bits with some custom designs and flowers and the log stakes. we hope you like this one, it's quite a simple one to achieve and doesn't take much, the terraforming one that would be quite complex, but you don't have to go crazy with your terraforming to make something beautiful.