ACNH 1.11 Halloween Update 2021 - New Events, Items & DIY Recipes In Animal Crossing August Update
7/29/2021 10:23:16 AM
Are you expecting a new update in Animal Crossing New Horizons for a long time? Are you doubting there is an update or not since we haven't got new news in about 3 months? Thanks to Nintendo who bring us the latest 1.11 version, we will be enjoying ACNH summer update 2021 which entails seasonal events, items, DIYs, and a Halloween update. Due to this, we can finally breathe a sigh of relief, something new is on the way! In this ACNH 1.11 Halloween August Update guide, we are going to list officially confirmed seasonal events, items and DIY recipes.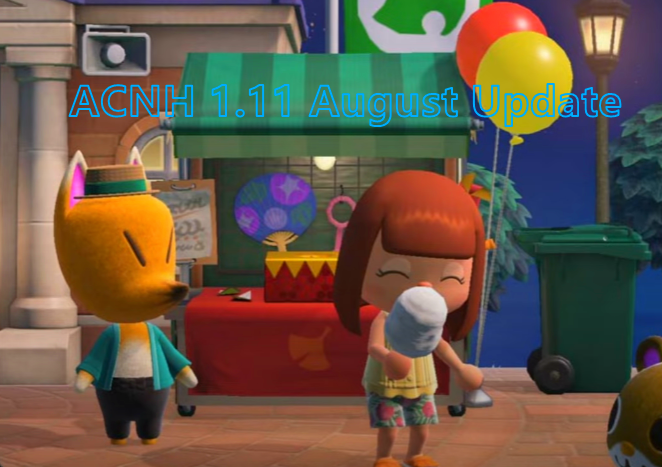 ACNH 1.11 Halloween August 2021 - New Events, Items & DIY Recipes In Animal Crossing Update 2021
The Free Animal Crossing 1.11 Halloween update arrives on Thursday, July 29, 2021. Make sure to update your game to the latest version to get access to the upcoming Festivals in August. This time Nintendo brings more than just Fireworks Festivals, or small events like Bug Off, The Cowherd and the Weaver Girl, Mid-Autumn Festival, Obon and Grape Harvest Festival, but most importantly, they decided to go on early Halloween. Meanwhile, the seasonal ACNH items and Halloween items will be added on July 29. There are not only small items you can look forward to in this update, but also we can look forward to Animal Crossing Halloween update 2021. It just saved our days on the island!
ACNH Fireworks Event 2021
Release Date: August 1 - August 31
Items: popsicle, cotton candy, boba,
Fireworks Festival seems to be the only major event that will take place in ACNH 1.11 Halloween update. The Fireworks Shows will be held every Sunday from 7 pm to midnight throughout the entire month of August. This Firework Show August event can be celebrated for both the Northern Hemisphere players and Northern Hemisphere on Sundays evening. Nintendo brings new items to Redd's lottery stand. Starting from 7 pm, highly recommend on 6:45 pm, go find Redd's stand and pay for 500 ACNH bells in exchange for a ticket. After interacting with the lottery box, you will be rewarded with handheld items (like boba, popsicles, cotton candy, cucumber horse, eggplant cow, marigold decoration, tool lantern, tool chitoseame, songpyeon, spooky trick lamp, spooky treats basket) randomly. With the new food items, press the A button, you can eat or drink them up to three times until they are gone, and it gives you up to three energy. Besides, you can draw lots with your friends and launch fireworks after talking to Isabelle.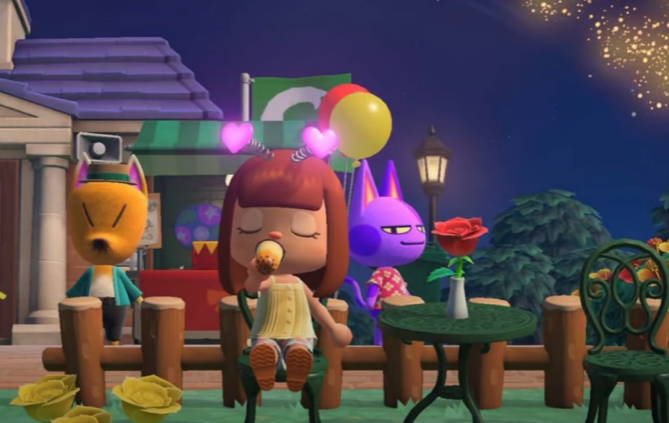 ACNH First Bug Off 2021
Release Date: August 28, September 28
Items: artisanal bug cage, bug aloha shirt, bug cage, bug wand, butterflies wall, butterfly backpack, ladybug rug, ladybug umbrella, spider doorplate, spider web, toy centipede, toy cockroach, (gold, silver, bronze bug trophy)
ACNH Bug Off is a special event that will be celebrated on Saturday, August 28, and Saturday, September 25 for the players in the Northern Hemisphere. From 9 am to 6 pm, Flick will appear on your main plaza in order to host the Bug Off Tournament. Players will have to pay 500 Bells to participate in the games, try to catch as many bugs as they can in 3 minutes. You will earn one point after catching a bug, two points after catching 3 bugs. With every 10 points, you will be able to exchange for a bug-themed reward from Flick.
ACNH The Cowherd And The Weaver Girl 2021
Release Date: August 5 - August 16
Items: Orihime no Fuku, Hikoboshi no Fuku
The Cowherd and the Weaver Girl is a romantic Chinese folk tale. The story tells of the love story between weaver girl (织女) and cowherd (牛郎). But their love was forbidden, thus they were banished to opposite sides of the heavenly river. They can reunion on the seventh day of the seventh lunar month, with the help of hundreds of thousands of magpies that build a long bridge for them. Now, it's become Chinese Valentine's Day in order to commemorate their love story. In Animal Crossing New Horizons, The Cowherd and Weaver Girl event will be participating on July 7th of the lunar calendar, which is August 5, along with the orihime and hikoboshi no fuku clothing items.
ACNH Obon 2021
Release Date: August 10 - August 16
Items: cucumber horse, eggplant cow
Obon it's an event also included in 1.11 August update ACNH. Obon (お盆) is an annual Buddhist event commemorating one's ancestors. It is believed that each year during Obon, the ancestors' spirits return to this world in order to visit their relatives. Starting from August 10 through to August 16, cucumber horse and eggplant cow will be available for sale at the nook shopping. These new items are considered to be vehicles for ancestors to go back and forth to this world and the other world. Cucumber horse will take them here, and eggplant cow will take them back.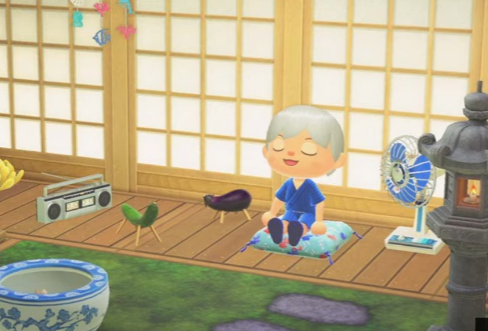 Grape Harvest Festival
Release Date: September 1 - September 30
Items: grape harvest
Grape Harvest Festival is back to Animal Crossing New Horizons in the 1.11 2021 update. Grape festivals are held as a tradition in many countries across the globe. Many double as harvest festivals and celebrate wine making and other foods and beverages made from grapes. The city of Curicó celebrates the oldest of the festival in Chile. Visitors may enjoy tastings of the valley's best musts, artisan displays, Creole food, culture, and entertainment for the whole family during the four-day celebration.
Mid-Autumn Festival ACNH 2021
Release Date: September 12 - September 21
Items: Tsukimi rug, Tsukimi, dango, geppei, Songpyeo
The Animal Crossing Mid-Autumn Festival - China, (Tsukim - Japan, Chuseok - South Korea) will be available from September 12 to 21, 2021. This is a traditional Chinese festival, also known as Moon Festival or Moon Cake Festival because the Chinese will eat moon cakes on this day. It is the second-most important holiday after Chinese New Year with a history dating back 3,000 years when China's emperors workshipped the moon for bountiful harvests. On the day, the Chinese convinced the moon will present the perfect size for people to sightseeing. It's also Moon Viewing Day on Animal Crossing New Horizons.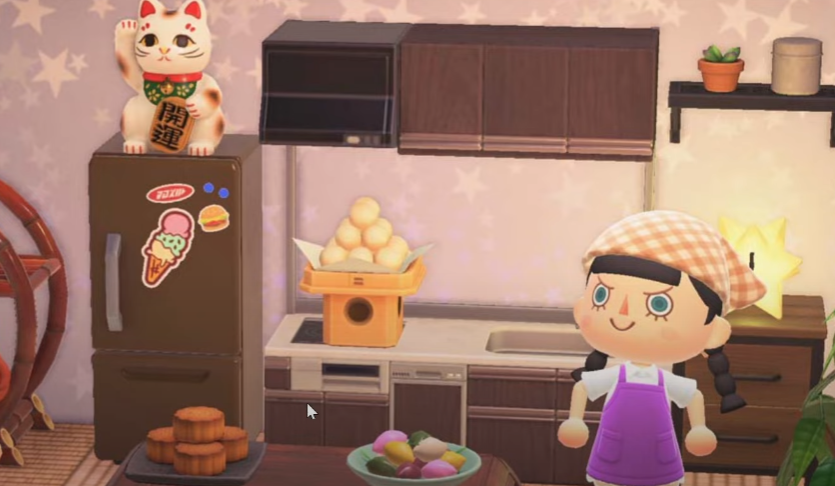 ACNH Halloween Update 2021
3 brand new Halloween items were discovered in the Animal Crossing New Horizons 1.11 Halloween update. Nook's Cranny is decorated in Halloween-themed decor, go to Nook's Cranny to check the specialty item slot to get all the Halloween items. New Halloween item: spooky tree for 10,000 bells, spooky trick lamp, spooky treats basket, moreover you can customize them into different variations! Nintendo is going to drop us a bigger 1.12 update pretty soon.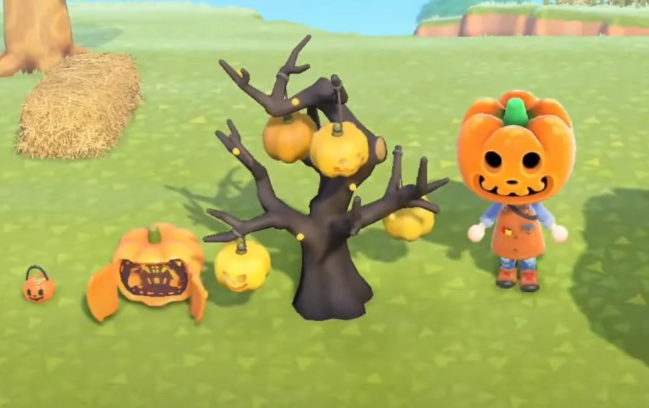 ACNH Halloween DIY Recipe 2021
During October, go to your villager houses, you can get all Halloween items in DIY form during the ACNH 1.11 Halloween Update.
Spooky Treats Basket
Orange pumpkin x 1
Candy x 2
Spooky Tree
Orange pumpkin x 5
Hardwood x 10
Spooky Trick Lamp
Orange pumpkin x 4
Iron nugget x 4