ACNH Halloween Event 2021 Guide - Animal Crossing Halloween Update Items, Jack Rewards, Costumes, and More
9/1/2021 10:56:48 AM
It has been a month since the last New Horizons update, which reveals a series of events and items for the next several months this year. The next ACNH update looks like there is still a while, but we have a major event in October 2021. Now, we've compiled everything you should know about the ACNH Halloween event 2021, covering new items, costumes, rewards, dates and more for the Animal Crossing Halloween update.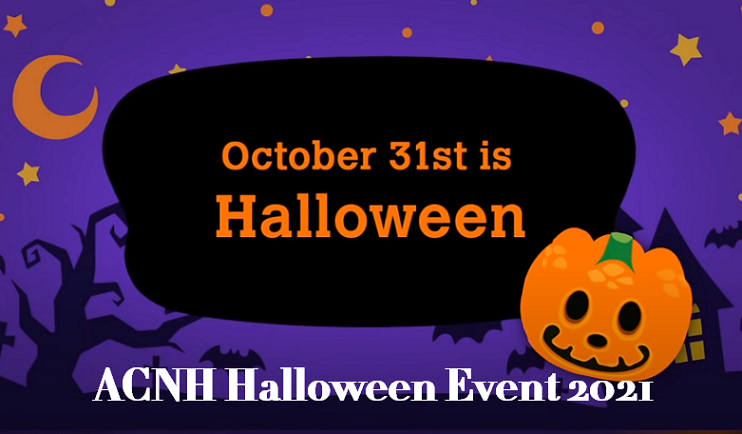 ACNH Halloween Event Update 2021 - When Does Animal Crossing Halloween Start?
Nintendo did not actually announce any information of Animal Crossing Halloween 2021 to players, but this content is basically all ready and waiting to be released, it's likely that we will see another update or announcement in late September or early October 2021 to reveal the Halloween related content and new seasonal items.
Halloween is the main event in Animal Crossing New Horizons fall season, the festival will start on October 31, 2021, from 5 PM to 12 PM. ACNH Halloween is time-locked, so you can't access the event unless October 31 arrives.
What to Do During Animal Crossing New Horizons Halloween?
1. On October 31, Jack will visit your island and appear at the Resident Services plaza, find Jack when the time hits 5 PM.
2. Talk with Jack, he will introduce himself and ask you to get some candy.
3. Give Jack two pieces of candy in exchange for Jack's costume items.
4. Give Jack some lollipops for two exclusive spooky-themed rewards.
5. During the holiday, villagers will either wear a Halloween costume and seek candy outside, or stay at home and hand out candies. You can get candy from villagers inside their homes or outside.
6. Give some candy to villagers outside to get five different spooky set items, spooky items DIY recipes, or lollipops.
7. Give candy to Jack and villagers outside to get two Halloween reactions.
8. Play Trick or Treat with villagers outside
ACNH Halloween Event Update 2021 - List of All ACNH Halloween Items 2021 and How to Get Them
Halloween event is back in New Horizons, what new content will Nintendo put for celebrating it? New furniture is introduced in the ACNH 1.11 update, learn more about how to get all Halloween items fast.
New ACNH Halloween 2021 Items
The first good news is that three new furniture items have been added to the 2021 Halloween spooky set, you can buy them with ACNH bells in Nook's Cranny during the month of October. You are allowed to time travel to purchase these items. You can also get DIY recipes for these new spooky items from villagers. The three items can be customized into different color variations.
Spooky Treats Basket (new)
Spooky Tree (new)
Spooky Trick Lamp (new)
ACNH Halloween Jack Rewards
Give three lollipops to Jack to get these items and crafting DIYs.
Spooky Carriage
Spooky Carriage DIY Recipe
Spooky Wand DIY Recipe
Give candy to Jack to get these two costume items.
Jack's Face
Jack's Robe
Give candy to Jack to get these two reactions.
Haunt Reaction
Scare Reaction
ACNH Halloween Costumes & Clothes
Buy these clothing items at Able Sisters with bells, and buy the Impish Wings from Kicks.
Animal Nose
Flashy Animal Boots
Flashy Animal Costume
Flashy Pointy-Ear Animal Hat
Flashy Round-Ear Animal Hat
Impish Horns
Mage's Boots
Mage's Dress
Mage's Striped Hat
Magic-Academy Hood
Magic-Academy Robe
Raggedy Outfit
More ACNH Halloween Items
Give candy to villagers during the Halloween evening to get these exclusive items.
Spooky Rug
Spooky Flooring
Spooky Wall
Spooky Garland
Spooky Garland DIY Recipe
Spooky Table Setting
Spooky Table Setting DIY Recipe
ACNH Halloween DIY Recipes
Get the following DIY recipes to craft these spooky set items.
Spooky Arch
・Hardwood (×10)
・Clay (×3)
・Orange Pumpkin (×10)
Spooky Candy Set
・Orange Pumpkin (×1)
・Candy (×3)
Spooky Carriage
・Wood (×20)
・Softwood (×20)
・Hardwood (×20)
・Iron Nugget (×10)
・Orange Pumpkin (×30)
Spooky Chair
・Softwood (×3)
・Orange Pumpkin (×3)
Spooky Fence
・Iron Nugget (×5)
・Orange Pumpkin (×3)
Spooky Garland
・Iron Nugget (×1)
・Clay (×1)
・Orange Pumpkin (×1)
Spooky Lantern
・Orange Pumpkin (×4)
Spooky Lantern Set
・Clump of Weeds (×4)
・Orange Pumpkin (×4)
Spooky Scarecrow
・Wood (×4)
・Orange Pumpkin (×3)
Spooky Standing Lamp
・Hardwood (×5)
・Clay (×1)
・Orange Pumpkin (×3)
Spooky Table
・Softwood (×10)
・Orange Pumpkin (×14)
Spooky Table Setting
・Iron Nugget (×1)
・Clay (×1)
・Orange Pumpkin (×1)
Spooky Tower
・Orange Pumpkin (×7)
Spooky Treats Basket
・Orange Pumpkin (×1)
・Candy (×)
Spooky Tree
・Hardwood (×10)
・Orange Pumpkin (×5)
Spooky Trick Lamp
・Iron Nugget (×4)
・Orange Pumpkin (×4)
Spooky Wand
・Star Fragment (×3)
・Spooky Lantern (×1)