ACNH October Update 2021 - New Events, Items, DIYs And Critters In Animal Crossing Fall Update
8/26/2021 12:16:59 PM
October it's another exciting month in Animal Crossing New Horizons. Everything is under the harvest moon. Do you know what updates and changes you can expect from? There's a whole ton of cool updates and items this October that are included in the fall update of Animal Crossing New Horizons. Next, in this ACNH October (Fall) update 2021 guide, we are going to explore the new events, items, DIY recipes, crafting materials, and critters in the autumn update.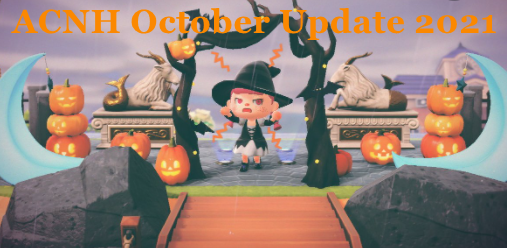 ACNH October Fall Update 2021 - New Events, Items, DIYs and Critters In Animal Crossing Autumn Update
The Nintendo ACNH October update time is going to be October 1st, 2021. Start up the game, Isabelle will let you know that you can start to grow and harvest pumpkins which is a pivotal part of ACNH October fall update. Also, Jack will send you a letter with a cool glow-in-the-dark portrait of him, which announces one of the greatest holidays ever invented in history is coming - Animal Crossing New Horizons Halloween updates 2021. Jack will be back in town with his crew! The ACNH October update is not just full of Halloween, candy will be the new currency and there are also other seasonal events, items, DIY recipes you can expect! However, Nintendo will also send you a ring fit adventure joy-con ring which you can display if you'd like to.
ACNH October Update Events & Items (2021)
Halloween Event
Available Time:October 31th
Items: Spooky Arch, Spooky Candy Set, Spooky Chair, Spooky Lantern, Spooky Lantern Set, Spooky Scarecrow, Spooky Standing Lamp, Spooky Table, Spooky Tower, Spooky Treats Basket, Spooky Tree, Spooky Trick Lamp
Animal Crossing Halloween update is considered one of the biggest events which are coming on October 31st from 5 pm to midnight. It's only seven hours! Jack shows up, and everybody's in costume. You get to share candy, you get to enjoy the spooks the tricks and the treats with all your villagers. Nooks cranny is also selling candy for 120 ACNH bells which you're limited to buying one of each day. You're going to start building out your pumpkin DIYs, including the candy set, the pumpkin fence, the lantern stand, the lantern set, and more.
Nook's cranny also has some cute decorations outside to celebrate Halloween which certainly fit in well with this ACNH fall update 2021 in October. As a part of the spooky season, you'll be able to purchase new costumes from their able sisters every day, be sure to get your look together before October 31st. When you want to dress up to go along with this you can purchase some new skin tones and eye color options from the nook miles redemption machine. By accessing any mirror you'll be able to access any of the new options that you've redeemed.
Fishing Tourney
Available Time: October 9th
Items: Anchor Statue, Fish Doorplate, Fish-Drying Rack, Fish Pochette, Fish Print, Fish-Print Tee, Fish Rug, Fish Umbrella, Fish Wand, Fishing-Rod Stand, Fresh Cooler, Marine Pop Wall, Tackle Bag
This seasonal event is for both the northern and southern hemispheres, though they only take place on the second Saturday of the month once a season. From October 9th, C.J. will be the host of this event. From 9 am to 6 pm, players can hunt for fish with their friends or catch as many fish as possible in 3 minutes challenge all by themselves to win points. You can exchange 10 points for each of the unique items including furniture, bags, clothing, accessories, and more and get trophies for the total points collected.
Day Of The Dead
Release Date: October 25 to November 3
Items: Marigold Decoration
Day of the Dead is a Mexican celebration spread over two days in a colorful and joyful eruption. The goal is to show love and respect for the members of the departed family. From October 25th to November 3rd, Day of the Dead will be celebrated on Animal Crossing New Horizons, along with Marigold Decoration items will be available from the special goods of Nook Shopping.
ACNH October Crafting Materials - ACNH October Update 2021
You can buy pumpkin starts from nooks cranny and also from Leif at a discounted price all year round. You'll need to grow these pumpkins throughout October to use them as crafting materials for the many spooky items that you can collect as DIY recipes. If you're watering them every day, pumpkins will take about four days to mature and the colors you get will be random. If you don't feel like watering your pumpkins, they will grow on their own but it takes them longer to mature. The different colored pumpkins can actually be used to customize your spooky furniture. If you don't fancy crafting, you can also purchase the spooky furniture from the seasonal display at nook's cranny.
ACNH October DIY Recipe - ACNH October Update 2021
Every day you'll be able to craft a DIY recipe from one of your villagers who is crafting. They'll give you a recipe from the spooky set in Animal Crossing New Horizons, you cannot get a duplicate of these recipes instead your villagers will give you candy if they're crafting a recipe that you already know. The DIY recipes and spooky items included in Animal Crossing October Halloween event update are as follow:
The DIY recipes that are available throughout October
Spooky Arch
x10 Hardwood
x3 Clay
x10 Pumpkin
Spooky Candy Set
x1 Orange Pumpkin
x3 Candy
Spooky Fence
x3 Orange Pumpkin
x5 Iron Nugget
Spooky Lantern
x4 Orange Pumpkin
Lantern Set
x4 Orange Pumpkin
x4 Clump of Weeds
Lantern Standing Lamp
x5 Hardwood
x1 Clay
x3 Orange Pumpkin
Spooky Scarecrow
x3 Orange Pumpkin
x4 Wood
Spooky Trick Lamp
x4 Orange Pumpkin
x4 Iron Nugget
Spooky Tree
x5 Orange Pumpkin
x10 Hardwood
Spooky Lantern Table
x14 Orange Pumpkin
x10 Softwood
Spooky Treats Basket
x1 Orange Pumpkin
x2 Candy
Spooky Tower
x7 Orange Pumpkin
Pumking Chair
x3 Orange Pumpkin
x3 Softwood
Spooky Garland
x1 Iron Nugget
x1 Clay
x1 Orange Pumpkin
Spooky Table Setting
x1 Iron Nugget
x1 Clay
x1 Orange Pumpkin
Spooky Wand
x3 Star Fragment
x1 Spooky Lantern
The DIY recipes that are available only on October 31st
Spooky Carriage
x20 Wood
x20 Softwood
x20 Hardwood
x10 Iron Nugget
x30 Orange Pumpkin
ACNH October Critters (Fish, Bugs, Deep Sea Creatures)2021
New Fish In October For Northern Hemisphere
Name - Sell Price - Time
Yellow perch - 300 bells - all day
Dab - 300 bells - all day
New Fish In October For Northern Hemisphere
Name - Sell Price - Time
Lady Bug - 200 bells - 8 am to 5 pm
New Deep-Sea Creatures In October For Northern Hemisphere
Name - Sell Price - Time
Lobster - 4,500 bells - all day