How To Get All Ice Cream & Donut Variations in Animal Crossing New Horizons?
11/12/2021 7:08:50 PM
In this guide, we will show you how to get ice cream and donuts in Animal Crossing New Horizons, these are just two of the new food items introduced in the 2.0 update.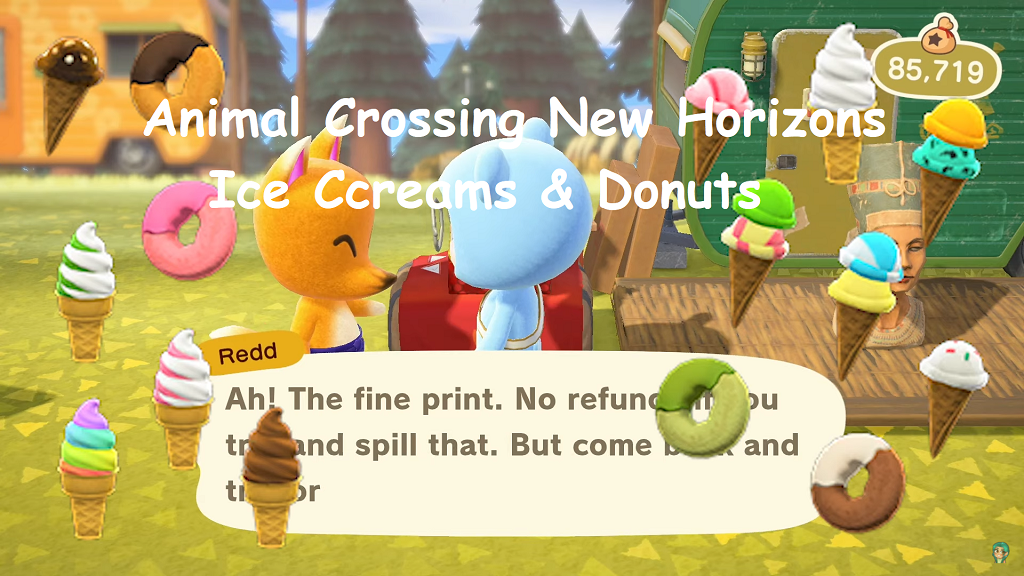 Animal Crossing New Horizons Ice Cream & Donut
Previously, just your villagers could hold donuts and we've seen an Animal Crossing New Leaf the ability for you to hold ice cream cones, now we finally have both of these delicious foods in Animal Crossing New Horizons.
ACNH Ice Cream Variations
The flavors of ice cream you can get are vanilla, chocolate, strawberry, ramune soda lemon, melon cheesecake, orange mint, vanilla soft serve, chocolate soft serve, matcha soft serve, berry vanilla soft serve, and rainbow soft serve.
ACNH Donut Variations
The flavors of donuts you can get are chocolate, matcha, strawberry, and white chocolate.
How To Get Ice Cream & Donut Variations in Animal Crossing New Horizons?
Keep reading to learn how to get all these tasty treats:
Step 1 - Unlock Harv's Plaza
Begin your ice cream and donut journey you must have already unlocked harvest plaza, this area is brand new and was added to the game in the 2.0 update. If you've already unlocked harvest plaza skip to these steps:
- Update your ACNH game to 2.0 version
- Find and talk with Harv On Your Island (If you are at least three days into the game, you should have already seen Harv walking around your island and have talked to him; if you've never seen Harv before run around your island a bit and see if you run into a hippie dog)
- Go to your airport and select fly to harvest island
- Once you have the option to fly to harvest island jump on your seaplane and go visit
If this is your first time here, you will need to go into the house - Harv's Phototopia, where you can decorate add your villagers, and take photos in it.
- To get Harv's plaza you must complete at least one photo session which is super easy to do - press the down button on the left side of your controller then press the right button to access your Animal Crossing items, then press B to get out of that menu
- Go to the next day in-game whether, by time-traveling or waiting the next day, when you go to Harv's island, you will see a path to the right that leads to Harv's brand new plaza
Once you get to this step you are halfway there to getting your ice cream and donuts
Step 2 - Open Redd's Shop on Harv's Plaza
- In the plaza you will see seven gyroids hanging out, they will be asking for donations to set up different shops - each shop costs 100,000 ACNH bells to set up, so be sure to bring enough money with you.
- Donate to the second Lloid up from the right in the plaza, this shop will be for Redd - the sneaky fox who sells you art (you can only donate to one shop a day, so if ice cream and donuts are what you're after, donate to the Lloid that will be here first - it's the second one up from the right)
- The next day, Redd should be all set up and ready to scam - sell you items, now the magic of ice cream and donuts happens when you reach inside his raffle box (if you play through the August fireworks show, this raffle box will look similar to you during the fireworks show you could buy Candy and Popsicles via tickets you pull from Redd's raffle box, but with this raffle box you can buy ice cream and donuts)
Step 3 - Pull Out Right Ticket For Ice Cream/Donut From Redd's Raffle Box
Except it's not that straightforward, it costs 500 bells to reach into Redd's raffle box and pull out a ticket, each ticket corresponds to a different prize:
List of Ticket numbers and corresponding prizes: from Redd's Raffle Box:
1 - peachy-pink folding fan
2 - sky-blue folding fan
3 - green-grass folding fan
4 - bitter-orange folding fan
5 - vanilla cone
6 - chocolate cone
7 - strawberry cone
8 - ramune-soda lemon cone
9 - melon cheesecake cone
10 - orange-mint cone
11 - vanilla soft serve
12 - chocolate soft serve
13 - matcha-vanilla soft serve
14 - berry-vanilla soft serve
15 - rainbow soft serve
16 - canned orange juice
17 - canned grape juice
18 - canned apple juice
19 - canned green tea
20 - canned tea
21 - canned coffee
22 - canned sports drink
23 - canned soda
24 - chocolate donut
25 - matcha donut
26 - strawberry donut
27 - white chocolate donut
28 - pocketbook
29 - pocket magazine
30 - colored light stick
There's a lot more than ice cream and donuts you can win, so definitely check that list out. The ticket numbers that you can win ice cream are 5 through 15 and the ticket numbers for donuts are 24 through 27. There are 11 different ice cream flavors and 4 donut types, you'll definitely be able to find your favorite flavors in no time.
Now that you have the ice cream and donuts on your hand, do you love them? We think the best part is that you can hold and eat your ice cream and donuts. And if you trap while holding an ice cream cone, it will fall out of your hands and spill, and you will be sad!