How To Unlock Harvey's Plaza In Animal Crossing New Horizons - ACNH 2.0 Harv's Island Guide
11/15/2021 2:21:08 PM
The 2.0 Animal Crossing update has brought us a brand new shopping area, this new feature called Harvest Plaza brings together new and old characters including Kicks, Redd, Leif, Reese & Cyrus, Tortimer, Harriet and Katrina. Each of these characters now has their own dedicated area on Harvest island to sell you exclusive items, tell you your fortune, get a haircut, access your home storage and customize your items like never before. Then how to unlock Harvey's Island & Plaza in ACNH? Let's get into the ACNH 2.0 Harvey's Island guide, which goes over everything you can do for unlocking Plaza on Harvey's island.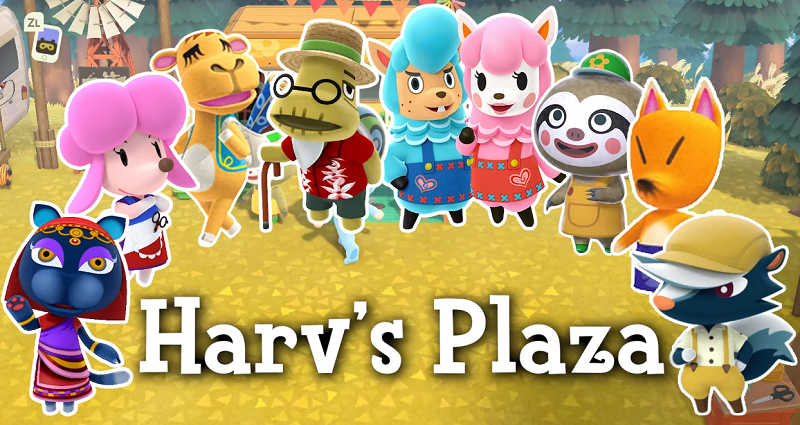 How To Unlock Harvey's Plaza In Animal Crossing New Horizons – ACNH 2.0 Harv's Island Guide
The Harvey's Plaza is akin to the city in Animal Crossing City Folk and the main street and Animal Crossing New Leaf. You won't want to miss out on experiencing this brand-new area.
There are two main parts to unlock Harv's Plaza in ACNH for new features. First, you need to unlock Harvey and his island. And the second part will be unlocking the plaza on Harvey's island in ACNH. You'll know if you don't have harvest plaza unlocked if you walk to the back of Harv's island only to be met with a clothesline. So Ceomg has explained how to unlock Harvey's island for unlocking new features from the beginning. Check out what you need to do after the New Horizons 2.0 version launches.
Unlock Harv's Island
It's where the plaza will be located. Here are the minimum requirements you need to unlock Plaza on Harv's island to make it as easy as possible for you when starting from scratch.
1. Three island residents
2. Build 3 plots
3. Build Nook's Cranny
If you've restarted your island or brand new to the game, the first few things you'll need to do to start on Harv's island are half three villagers living on your island, build three new village or plots for new island residents and build nooks cranny. These three milestones are considered the beginning steps when you start a new island. They set the base for you to expand upon and further develop your island. Tom Nook in resident services will guide you a bit to help you achieve having 3 island residents, building the three plots and building Nooks Cranny.
4. You Must Talk To Harvey
After you've completed those three beginning steps, you should see Harvey walking around your island. He is the key to unlocking harvest island and eventually Harv's Plaza. When you see Harvey walking around your island, go up and talk to him, he will tell you about his island that you can fly to via the airport the same day. Go to your airport, then select fly to harvest island. You will need to take at least one trip before you can start the process of unlocking Harv's Plaza on Harv's island in Animal Crossing.
5. Go Inside The Phototopia
Once you get to his island, go inside the log cabin called horror's phototopia, this house has a really cool feature where you can decorate any room using any item in your catalog. It's basically a mini decorating simulator. You can invite your island villagers and scandinavia cards for them to appear in the room with you. You can set villagers to have different reactions, dress them up and take photos in the rooms you've decorated. But the main takeaway here is you need to go inside horror's phototopia at least once and do at least one photo session which just entails decorating a bit and taking a photo to complete this necessary task to unlock Harv's Plaza. Once you've gone to this point, everything you need to do going forward is going to count towards unlocking his plaza.
Unlock Harv's Plaza For New Features
If you already have a 3-star island and have unlocked terraforming, the next day Harv's Plaza should be unlocked for you. And K.K slider will perform on your island, the day after that is when you'll finally be able to unlock Harv's Plaza.
If you've already done at least one photoshoot in Harv's phototopia, that is again you'll know Harv's Plaza is ready to go. When you step off the seaplane and see the rainbow pinwheel in the distance, walk to the back of Harv's island, go under the arch and you'll see Harvey and Harriet. And after their little entrance, the rest is up to you. You'll see seven Lloyds all around the Plaza asking for donations. Each Lloyd represents a specific stall that you can unlock for each NPC, it costs 100,000 ACNH bells to unlock each stall.
Unlock Plaza Shops
Going clockwise around the Plaza, the stalls you can unlock are Katrina, Saharah, Tortimer, Rhys and Cyrus. Leif, Redd and Kicks with Harriet in the middle. Each stand is unique and offers different items and features. So check them all out since they are a big part of the new update.
That's everything you need to know about how to unlock Harvest Plaza in Animal Crossing New Horizons.