Best 10 Ways To Find The New 2.0 Items & Furniture in Animal Crossing New Horizons!
11/17/2021 11:25:20 AM
How do you get Animal Crossing New Horizons items? This guide will include some of the ways that you can get some brand new ACNH 2.0 items in the game, and hopefully, you might learn something.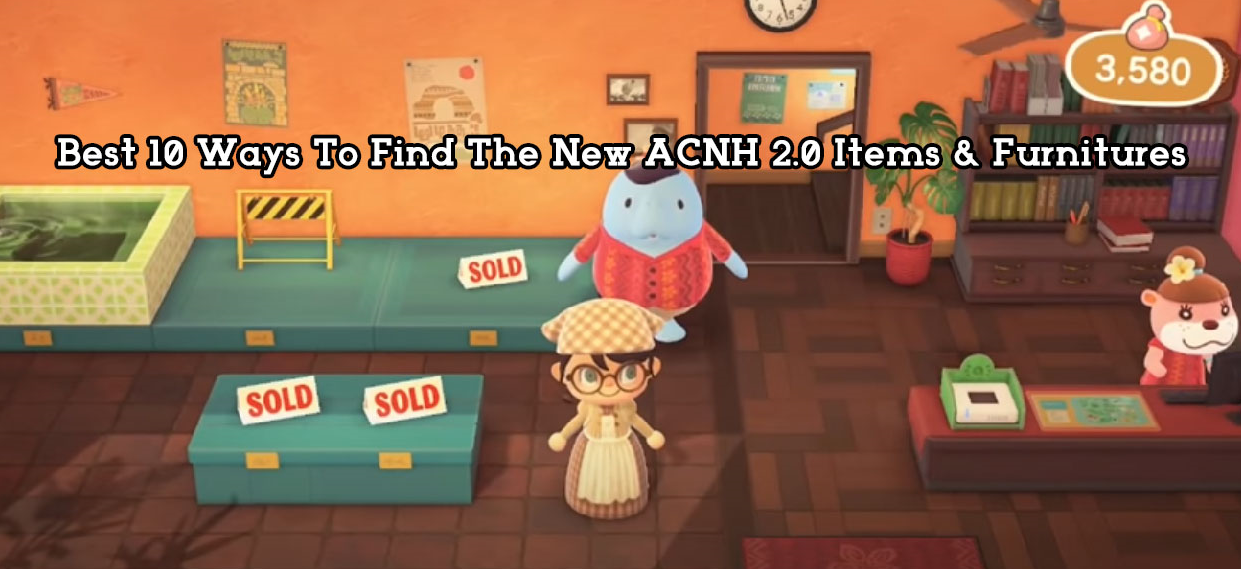 Best 10 Ways To Find The New 2.0 Items & Furniture in Animal Crossing New Horizons!
1. Visit your nook's cranny
The first and most obvious way to get your hands on some of the new items is to visit your nook's cranny. Traveling and doing it every day, to see the new items which is unhealthy, but nuts cranny is definitely, the way to go you'll see new items, there some days you get lucky, some days you don't, but going through the process of buying everything.
The extra storage space just to kind of fill it and hoard items, it's so much fun, you can buy some ceiling items here as well, but you will need the pro decorating license purchased from your nook miles redemption machine, so definitely buy that as well it won't let you buy them unless you have that pro design license. So get on down to your notes cranny and find those new items in.
2. Checking your nook shopping app
Check your nook shopping app. Unfortunately, don't have anything new today, but super happy that this is here, and you can find some super cool sometimes very expensive items in this section. The cars, projector, tori which is like a really cool Japanese style arch, the castle walls, and turrets, you do get a more expensive item, and then generally the lower end items are kind of the same old stuff but remember to check this because you will be surprised after 100 items purchased from your ABD machine, you will unlock the note shopping app which is just so much easier and so much quicker, so get ordering to get yourself the app, so you remember to check it daily in.
3. Purchase brand new items
You can also purchase brand new items from the happy home paradise office using pokey that you accrue from completing the challenges, absolutely love the furniture items how beautiful is this small vase. Definitely going to town by purchasing all of them after you purchase another item from the pokey shop. Wardle will unlock a special feature that allows you to access a catalog of all of the things that you've used in happy home paradise, you'll be able to order them from him, they'll get shipped directly to you which is so cool, makes it so much easier, and it will be a lot like the nook shopping catalog that you have, so make sure that you're spending that pokey to unlock this super cool feature in air.
4. Don't forget to visit your halves island
Don't forget to visit your halves island, you can pick up new accessories and shoes, etc from kicks, you can get new small holdable items from red, obviously the plants and things from leaf, you can get brand new rugs and wallpaper from Sahara. If you speak to Katrina to tell your fortune, you may find yourself lucky enough to receive one of her gifts, she can give you a gold turtle foot figurine, a horseshoe door decoration, mini dharma, or a power stone.
These are totally random, they don't work like unlocking brewster's reward, but you never know you might get lucky, so definitely come on by to halves island and hopefully find something brand new.
5. Don't forget to be buying coffee cups
Don't forget to be buying those coffee cups from brewster down at the roost, because you will get rewarded for it with new furniture which is super exciting, after purchasing five cups of coffee you'll get the roost sable cookie recipe, after purchasing 10 you'll get the coffee beans 15, you'll get the cup with the saucer which is what's in front of me now which is a really nice item after 20, you'll get the coffee plant 30 you get the siphon and after 40, you'll get the pro coffee grinder but the fiesta resistance is after 50 cups and you'll get a brewster gyroid which is called the brewster heat which is just so cool. So get buying those coffees get your hands on this new furniture range for this one.
6. Get the new items from Red
You're just going to have to imagine Red is here, traveled for about two weeks trying to get him to arrive it didn't work, so red is here in your imagination and you can also get the new items from him he, of course in his boat sells two miscellaneous items.
To pick up the framed flower, you know the pressed flower is so cute loved it in there, and so if you are lucky enough to find him if he does turn up be sure to go and check him out obviously now, it's a bit easier to know when he is there because Isabel does her little announcement which is handy, check out red for some new items in,
7. Don't forget to keep your eyes on the skies' balloons
Don't forget to keep your eyes on the skies and look out for those balloons or listen out for those balloons because they will contain new items if you're lucky, so obviously, it's a bit of potluck luck of the draw, but hopefully, if you do manage to capture a balloon, it may contain something that's brand new, it may just contain other full-body tights, but hey we still love them, but sometimes it's definitely worthwhile, just keeping your eyes they do spawn every four and nine minutes, so give them a little while to hit your beach, don't forget that they do rotate after 12 hours, so after seven, they should move to change directions in.
8. Check your nook mars redemption
Most of you have done this already, but you need to remember to check your nook mars redemption, this is just full of cool brand new stuff, you will get brand new fencing alternately in here each day as well, so if you don't have the DIYs yet, remember to check that daily and pick up those new DIY recipes, but the furniture it's just so cool.
The flower bed, the party lights are particularly, but the plaza items are really cool as well, to see all of the cool plazas builds that people do, something was like it's a small world made out of these, just amazing creativity is off the scale, so absolutely love the new knit miles items, the only downside too, is you're definitely gonna have to save up those note miles if you wanted to do a build with this, so get grinding them in.
9. Don't forget to go find those DIY bottles
Don't forget to go finding those DIY bottles, a lot of the new items are craftable, so they do have DIY recipes associated with them, so make sure that you're checking to go and finding your beaches if you don't get lucky on your home island, you can also visit cap in, there should be a DIY bottle, there or do check your happy home paradise beaches as you have found some on there as well, look like found something that's great. Make sure that you're collecting those DIY bottles, they will come in handy, and then you can craft lots of the new items.
10. Don't forget about your villagers
Don't forget about your villagers, not only can you gift them Animal Crossing New Horizons items, and they'll hopefully fingers crossed give you a new item in return, if not you might just get another full body tight set, but it was worth trying, and also don't forget to check on them in their homes, because they might be crafting or they might be cooking as you can see here, the festival lantern set which is amazing, so check out them for the new DIYs and also hoping they'll be able to give you something that you haven't got already.