ACNH January Update 2022 - New Events, Seasonal Items, DIY Recipes, Critters | Animal Crossing New Horizons
12/1/2021 12:01:09 PM
Happy New Year! In Animal Crossing New Horizons, Nintendo ended 2021 with a huge and surprising update. While in the first month of the new year, we will continue to enjoy the more unparalleled gaming experience from the update. As you'd expect, we'll see a fair amount of changes to our island, and new events, seasonal items, DIY recipes & related furniture, bugs, fish, seas creatures will appear our island at the right time as always. Let's dive into Animal Crossing New Horizons January 2022 Update!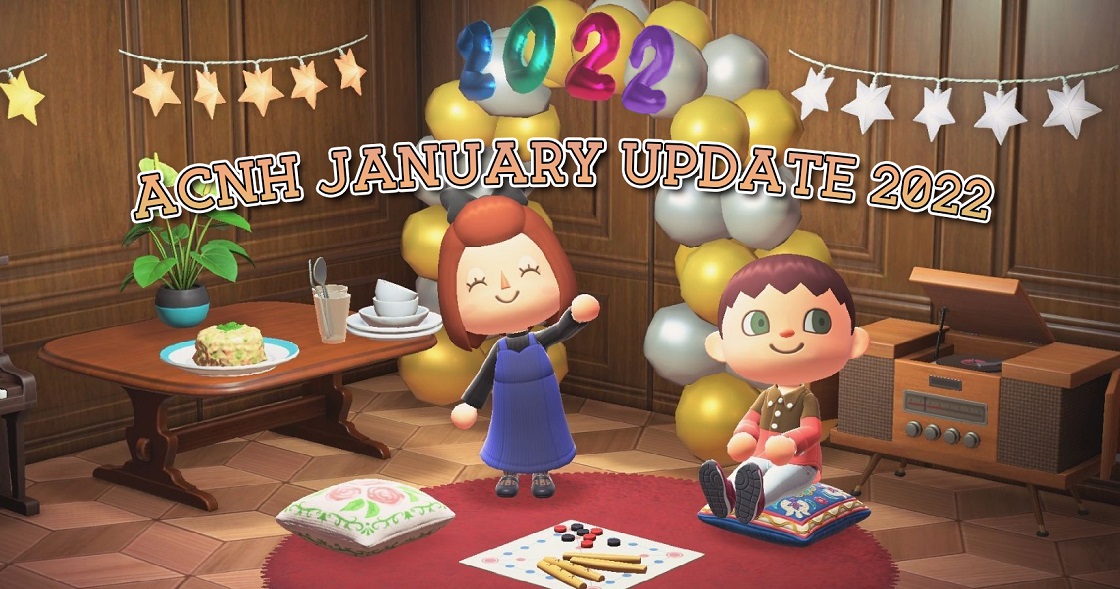 Animal Crossing New Horizons January Update 2022 - ACNH January Winter Update 2022
New Year and New Meteorology! In the first month of 2022, the islands in the northern hemisphere are still covered by heavy snow, and the cold winter continues. However, in the southern hemisphere, we ushered in the new year in the hot summer. But there are also some changes that will happen on our island in January, some of these changes are seasonal adjustments including the end to particular seasonal materials, whilst others are events and other typical environmental changes we will experience across both hemispheres.
ACNH January 2022 Scenery Update
As you know, when we enter the new year, we are still in the middle of winter in the northern hemisphere and in the middle of summer in the southern hemisphere, but there are still some environmental changes happening throughout January.
Northern Hemisphere: Our island is still covered by snow, but from January 1st, you will see Holly Bushes lose their flowers and return to regular green bushes, however red and pink Camellia Bushes will have already started blooming instead, and will continue to flower well into Spring. Furthermore, you may also notice some changes to building aesthetics, such as Nook's Cranny has slightly less festive decorations and more wintry things out on display.
Southern Hemisphere: Players still enjoy the hot summer. The pink and blue Hydrangeas begain bloom in December will return to regular bushes from January 20th, fortunately, you can replace these with red and yellow Hibiscus if you want them flowering instead.
ACNH January Seasonal Events and Items (2022)
Though the holiday season ended with the new year is here, we still can expect a fair amount of special seasonal events will be celebrated on our island, alongside some refreshed content and new exclusive limited-time items.
New Year's Day
Available Date: January 1st to January 5th, 2022 (Both Hemispheres)
Available New Year Items:
2022 Celebratory Arch

Kadomatsu

Kagamimochi

New Year's Shimekazari

Yut Nori

Zodiac Tiger Figurine (NEW)

Otoshidama Envelope (NEW)

Osechi (NEW)
The first big holiday to celebrate is surely the beginning of New Year 2022! Starting from January 1st, you will be able to purchase New Year-themed items including the 2022 Celebratory Arch and local New Year food items from Nook Shopping until January 15th.
C.J.'s Fishing Tourney
Available Date: January 8th, 2022 (Both Hemispheres)
Available Fishing Tourney Items:
Bronze Fish Trophy

Silver Fish Trophy

Gold Fish Trophy
The first Fishing Tourney of 2022 will be held by C.J. on the 2nd Saturday of January, if you want to win the fish trophy, don't miss the time to catch fish as more as possible in the limited time to earn enough points for redeeming one!
Groundhog Day Event
Available Date: January 25 to February 2, 2022 (Both Hemispheres)
Available Groundhog Day Items:
Starting from the end of January to the beginning of February, we also can celebrate Groundhog Day (which is actually on February 2) with the Resetti Model. This cute model will available on the Nook Shopping from January 25 to February 2.
Japenese Setsubun Event
Available Date: January 28 to February 3, 2022 (Both Hemispheres)
Available Japenese Setsubun Items:
Bean Tossing Kit

Oni (Ogre) Mask

Oni (Ogre) Clothes

Woman's Mask
The traditional Japanese festival where people throw beans at others wearing masks of "oni" is celebrated in early February, Japanese themed items - Bean-Tossing Kit will be available on Nook Shopping and Setsubun clothing for sale on Able Sisters until February 3rd, then you can wear the Oni Mask/Clothes and equip Bean Tossing Kit to toss beans to your villagers and friends.
Lunar New Year Event
Available Date: January 30th to February 6th, 2022 (Both Hemispheres)
Available Chinese Lunar New Year Items:
Lunar New Year Decoration

Lucky Red Envelope

Bokjumeoni Lucky Pouch
To celebrate the Chinese New Year and Korean New Year, the traditional Lunar New Year Themed furniture can be purchased from Nook Shopping's Seasonal menu. The Lunar New Year Decoration will be very suitable for Chinese style designs, and Lucky Red Envelope & Bokjumeoni Lucky Pouch could be excellent gift wrapping!
ACNH January DIY Recipes & Crafting Items 2021
We've had quite busy winter/summer over the last coupon of months with massive brand new 2.0 content, different holiday events, and even new craft materials. So with this in mind, there is only a few days left to craft one of the latest materials added over the holidays. So check out our list of the DIY Recipes you should collect in January in case you miss a great time:
Ornament DIY Recipes & Festive Christmas Items (Northern Hemisphere)
Available Date: December 15th to January 6th
DIY Materials To Collect: Red, Blue, and Gold Ornaments
Festival & Illuminated Set Items (DIY Recipes) To Craft:
Giant Ornament (10 Red Ornament)
Ornament Table Lamp (2 Red Ornament, 2 Iron Nugget)
Ornament Garland (2 Red Ornament, 2 Blue Ornament, 2 Gold Ornament, 5 Iron Nugget)
Ornament Tree (3 Red Ornament, 2 Blue Ornament, 1 Gold Ornament, 3 Iron Nugget)
Ornament Crown (3 Red Ornament, 3 Blue Ornament, 3 Gold Ornament)
Ornament Mobile (1 Red Ornament, 1 Blue Ornament, 1 Gold Ornament, 4 Tree Branch)
Ornament Wreath (6 Blue Ornament, 2 Gold Ornament)
Big Festive Tree (6 Red Ornament, 6 Blue Ornament, 4 Gold Ornament, 5 Wood, 5 Clay)
Festive Tree (3 Red Ornament, 3 Blue Ornament, 2 Gold Ornament, 5 Wood)
Tabletop Festive Tree (5 Gold Ornament, 2 Clay, 3 Tree Branch)
Festive Rug (5 Red Ornament, 5 Blue Ornament, 5 Gold Ornament)
Festive Top Set (2 Gold Ornament, 1 Hardwood)
Holiday Candle (5 Red Ornament, 5 Clump Of Weeds)
Festive Wrapping Paper (1 Red Ornament, 1 Blue Ornament, 1 Gold Ornament)
Illuminated Present (3 Red Ornament, 4 Gold Ornament, 3 Iron Nugget)
Illuminated Reindeer (6 Gold Ornament, 5 Iron Nugget)
Illuminated Snowflakes (9 Blue Ornament, 3 Iron Nugget)
Illuminated Tree (6 Gold Ornament, 8 Red Ornament, 8 Blue Ornament, 6 Iron Nugget)
Jingle Wall (5 Red Ornament, 5 Blue Ornament, 5 Gold Ornament, 5 Clay)
Amount of Each Material You Need For All Christmas Festival Items: 50 Blue Ornament, 48 Gold Ornament, 56 Red Ornament, 27 Iron Nugget, 12 Clay, 10 Wood, 7 Tree Branch, 5 Clump of Weeds, 1 Hardwood
Snowflake DIY Recipes & Iceberg Set Items (Northern Hemisphere)
Available Date: December 11th to February 24th
DIY Material To Collect: Snowflake
Iceberg Set Items (DIY Recipes) To Craft:
Falling-Snow Wall (3 Snowflake, 10 Stone)
Iceberg Flooring (10 Snowflake)
Iceberg Wall (10 Snowflake)
Ski-Slope Flooring (8 Snowflake)
Ski-Slope Wall (8 Snowflake)
Snowflake Pochette (6 Snowflake)
Snowflake Wall (12 Snowflake)
Snowflake Wreath (4 Snowflake)
Large Snowflake DIY Recipes & Frozen Set Items (Northern Hemisphere)
Available Date: December 11th to February 24th
DIY Material To Collect: Snowflake, Large Snowflakes
Frozen & Ice Set Items (DIY Recipes) To Craft:
Frozen Mini Snowperson (1 Large Snowflake, 2 Snowflake)
Frozen Fencing (5 Snowflake)
Frozen Arch (1 Large Snowflake, 10 Snowflake)
Frozen Bed (1 Large Snowflake, 10 Snowflake)
Frozen Chair (1 Large Snowflake, 3 Snowflake)
Frozen Counter (1 Large Snowflake, 5 Snowflake)
Frozen Partition (1 Large Snowflake, 6 Snowflake)
Frozen Pillar (1 Large Snowflake, 3 Snowflake)
Frozen Sculpture (1 Large Snowflake, 4 Snowflake)
Frozen Table (1 Large Snowflake, 8 Snowflake)
Frozen-Treat Set (1 Large Snowflake, 1 Snowflake)
Ice Flooring (1 Large Snowflake, 8 Snowflake)
Ice Wall (1 Large Snowflake, 8 Snowflake)
Ice Wand (1 Large Snowflake, 3 Star Fragment)
Snowperson Head (1 Large Snowflake, 5 Snowflake)
Three-Tiered Snowperson (1 Large Snowflake, 6 Snowflake, 3 Tree Tranch)
Amount of Each Material You Need For All Winter Snowflake Items: 153 Snowflake, 16 Large Snowflake, 10 Stone, 3 Star Fragment, 2 Tree Branch
Summer Shell Recipes (Southern Hemisphere)
Available Date: November 1 to January 31st
DIY Materials To Collect: Summer Shells
Shell Set Items (DIY Recipes) To Craft:
Shell Wand (3 Summer Shell, 3 Star Fragment)
Shell Wreath (1 Summer Shell, 1 Sea Snail, 1 Sand Dollar, 1 Coral, 1 Giant Clam, 1 Cowrie)
Shellfish Pochette (6 Summer Shell, 2 Giant Clam)
Starry-Sands Flooring (3 Summer Shell, 1 Sandy-Beach Flooring)
Summer-Shell Rug (6 Summer Shell)
Tropical Vista (5 Summer Shell)
Underwater Flooring (3 Summer Shell, 3 Coral)
Underwater Wall (3 Summer Shell, 5 Coral)
Water Flooring (6 Summer Shell)
Amount of Each Material You Need For All Summer Shell Set Items: You need a total of 36 Summer Shell, 10 Coral, 4 Giant Clam, 3 Star Fragment, 2 Sea Snail, 2 Sand Dollar, 1 Cowrie, 1 Venus Comb
ACNH January New Bugs, Fishes, Sea Creatures (2022)
As in the middle of winter, there are no new critters wandering around the islands in the northern hemisphere, nor any leaving at the end of January. While in the southern hemisphere, players are able to catch a total of 21 new critters. Anyway, you have plenty of time to catch all these fish, bugs, sea creatures, let's go over what's available:
New Bugs In January
Northern Hemisphere
No
Southern Hemisphere
Walking Leaf
Walking Stick
Horned Hercules
Horned Elephant
Horned Atlas
Horned Dynastid
Giraffe Stag
Golden Stag
Cyclommatus Stag
Giant Stag
Miyama Stag
Saw Stag
Scarab Beetle
Earth-boring Dung Beetle
Blue Weevil Beetle
Cicada Shell
Evening Cicada
Giant Cicada
Robust Cicada
Brown Cicada
Grasshopper
New Fishes In January
Northern Hemisphere
No
Southern Hemisphere
Sweetfish
Napoleonfish
Puffer Fish
Blue Marlin
Ocean Sunfish
New Sea Creatures In January
Northern Hemisphere
Acorn Barnacle
Mantis Shrimp
Octopus
Pearl Oyster
Scallop
Sea Anemone
Sea Slug
Sea Star
Whelk
Southern Hemisphere
Giant Isopod
Horseshoe Crab
Moon Jellyfish