ACNH New Year's Eve & Day Guide 2022 - New Year's Countdown Events And Items In Animal Crossing
12/1/2021 10:43:20 AM
2021 is also an intensive year due to the Corona Virus, let's embrace the brand new year 2022 in Animal Crossing New Horizons. As we know that ACNH New Year's Eve, New Year's Countdown, and New Year's Day are one of the most important events in Animal Crossing New Horizons. What can we expect from New Year 2022? Everyone is looking super cheerful, blowing party poppers and shaking glow sticks around too. Let's dive into ACNH New Year's Eve/Day event guide 2022, knowing the new year countdown starts, what new items you can get, and what can do for New Years event.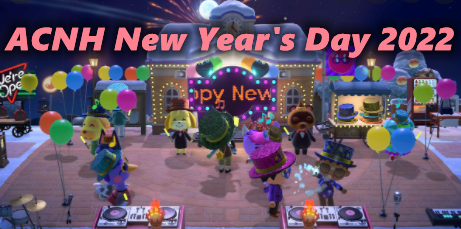 ACNH New Year's Countdown Eve Event Guide 2022 - New Year's Day/Eve Events And Items In Animal Crossing
The New Year's Eve festivities in Animal Crossing New Horizons is a limited-time event all decked out with snazzy outfits and a countdown timer. There's are a total of 18 different ACNH New Year items to collect. To celebrate the arrival of New Year's Day in Animal Crossing New Horizons, there's a gigantic countdown timer in the town hall or resident services. Isabelle and Tom Nook are specifically outside waiting for the festivities to happen. The thing is you can't access the Nook Shopping nor bank account not until the Animal Crossing New Year's update arrives. If you guys need some emergency funds, the best thing you can do is jump into your storage, find something of value selling it to Timmy and Tommy's for the day.
ACNH New Year's Eve 2022
Animal Crossing New Horizons (ACNH) has a New Year's Eve event on December 31st to ring in the new year with special activities and rewards. The decorations for the event are ready at Resident Services, but the festivities begin at 11 p.m. As soon as you talk to Isabelle, she's going to give you the first New Year's Eve item, a Light Stick. Then you can come to talk to Tom Nook, in order to get your second item, Party Poppers.
ACNH New Year's Eve Countdown 2022
Every December 31st, there's a New Year's Eve Countdown event in Animal Crossing New Horizons! When we approach the final 30 seconds of the ACNH New Year Countdown, Tom Nook, Isabelle and villagers will get ready to celebrate at the plaza, and your villagers will start waving their light sticks with the beeping in the final 10 seconds. The fireworks show will start and go on till 2 AM on January 1st. Since not every villager is here, you can go into their homes and give your best new year wish to them.
ACNH New Year's Day 2022
New Year's Day is an event in the Animal Crossing series occurring on the first day of January, commemorating the real-life holiday of the same name. Rather than the typical hourly music, Isabelle's daily announcements wish you a happy new year.
ACNH New Year (Hats & Food) Items 2022
Next, is the list of Animal Crossing New Horizons New Year's items. The food items are from around the world that shows how different people celebrate New Year in different parts of the world.
New Year's Hat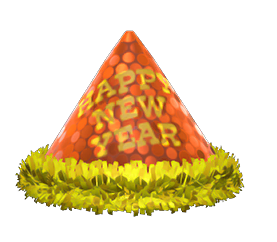 Available Time: 5 PM - 5 AM December 31

Price: 500 Bells
During the ACNH New Year's Eve, New Year's hat is available in 16 variations, 2 types (New Year's Hats and New Year's Silk Hats) and 8 colors (red, pink, green, orange, blue, light blue, and yellow). Buy New Year's Hat at Tom Nook, it's 500 ACNH bells for a New Year's Hat and it's 300 ACNH bells for a five-pack of Party Poppers. Once you go over to one new hat, you can ask him to purchase one and he'll only give you 4 options of a specific New Year's hat.
How To Get All New Year's Hat
If you are a traditional player, it's going to take you about 4 years to collect all the variations of New Year's Hat. Because Tom Nook will only give you 4 different colors of hats in 1 random variety per year. If you are tired of collecting all of the New Year's items, you can always go trade with other players or buy cheap New Year's items at Akrpg.com
New Year's Fizzy Apple Juice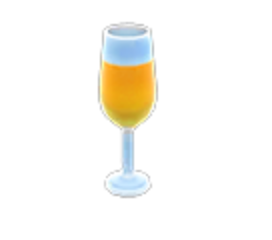 Available Time: December 26 - December 31

Price: 1,000 Bells
Fizzy Apple Juice is a tool item that is also known as Sparkling Cider in Animal Crossing: New Horizons. No celebration to greet the new year is complete without everyone lifting a glass of sparkling cider together. Reflect on the previous year and wish everyone a wonderful year to come
New Year's Noodle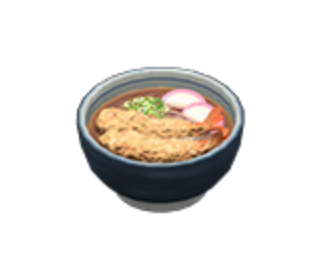 Available Time: December 26 - December 31

Price: 1,300 Bells
Noodle is a traditional New Year's dish in Japan. It can be obtained from Nook Shopping in order to celebrate Ōmisoka. To symbolize long life, the noodles' length is symbolic, as is the ease with which they may be sliced.
Twelve-Grape Dish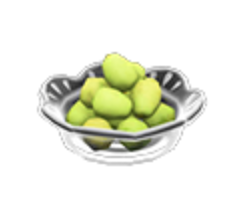 Available Time: December 26 - December 31

Price: 1,200 Bells
Twelve-Grape Dish is to celebrate Nochevieja in Spain. You eat Las Doce UVAS de la Suerte (12 lucky grapes) at midnight on New Year's Eve to pray for good luck. Each time the bell rings 12 times, you must eat a grape. It doesn't take much time to have12 grapes!
Berliner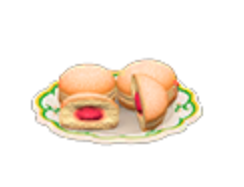 Available Time: December 26 - December 31

Price: 1,200 Bells
Berliner is to celebrate Sylvester in Germany. Berliner pfannkuchen is a German dessert filled with jam and coated with sugar - no different from jelly doughnuts. They are available throughout the year, but in Germany, they are a typical delicacy during New Year festivities.