10 Best ACNH Filler Spaces Ideas 2022 - How To Fill Empty Spaces On Your Island
4/11/2022 10:05:53 AM
Today we are looking at 10 different ideas for filling up pesky empty spaces on your ACNH island. This guide will feature all sorts of spaces, large and small, hope you can find some inspiration as we go through all of these best filler spaces in Animal Crossing New Horizons.
10 Best ACNH Filler Space Design Ideas 2022 - How To Fill Empty Spaces On Your Island
1. Stunning Filler Space To Inspire Your Island - DA-2522-1612-9047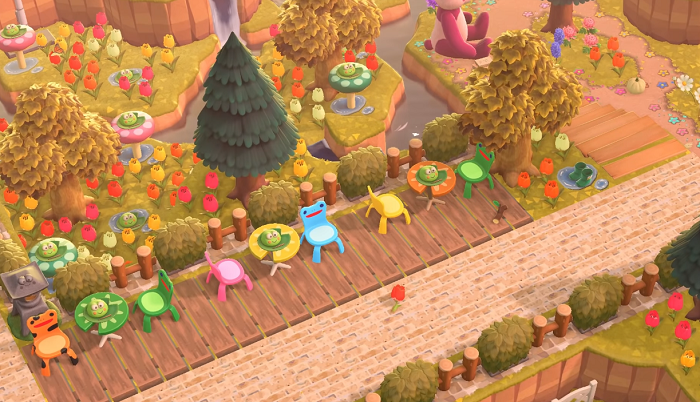 This is a little ferragi cafe overlook, froggy chairs and lily pad tables are so cute and this is a beautiful example of how you can introduce all sorts of colors into your island. The terraforming here is stunning as well, we've also got a view on the other side, all of the colors are gorgeous and the flowers that were used here are beautiful, this takes up a huge amount of space on the island.
2. Best Filler Space Design - DA-2082-6618-4978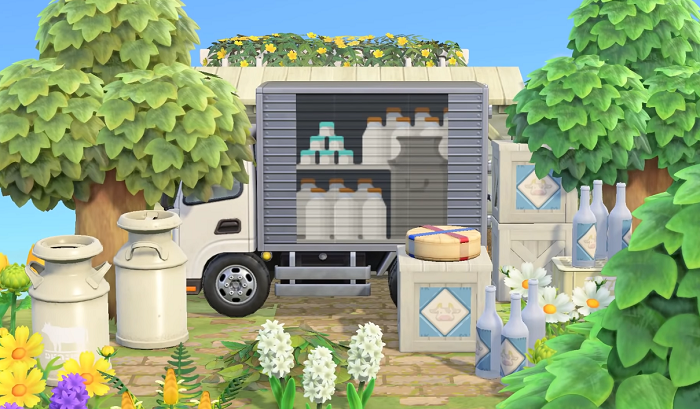 This is a much smaller scale, how to use up like little pieces of land that you want to decorate, this is a little milk cart. We've got the milk truck, so many milk items even the little cheese and then the milk tins on the side. All of the details here are perfect. Also, it looks really good in the context of the island, it was just the surroundings were really beautiful.
3. Fill Empty Space In ACNH - DA-1790-9909-3642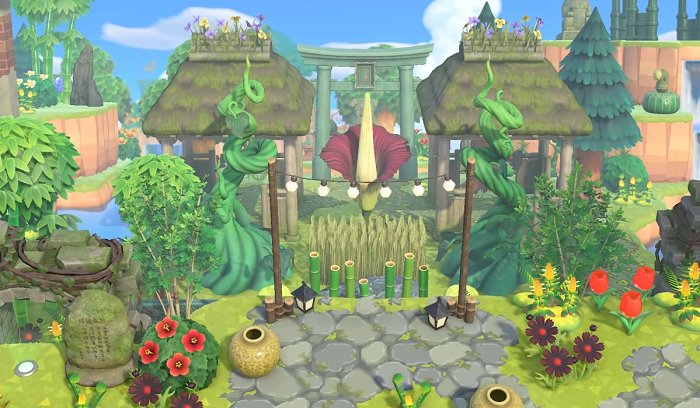 Using all of this terraforming and a centerpiece using the titan arm and the gazebos, this whole area was really well done. The pathing is very close to resident services and it does indeed. Take up a ton of space if you have big swaths of land that don't really have any décor, this is another idea to inspire you, the items that are used here are great and the symmetry that's involved here is great as well.
4. Space Filler Idea - DA-9981-4706-7643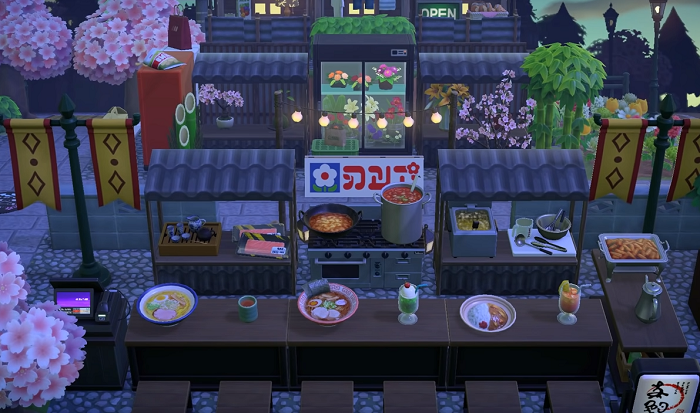 This build is giving studio ghibli, it's giving the first scene and spirited away where the parents find. That little market with all of the food out is so tempting and also Animal Crossing food looks delicious. This little street market was so cute and that touch in the back is great, we get of not just this food area in the front but the flower shop behind it. Look at the layering of all of these furniture items to create a building vibe, it was nice and it took up a good chunk of space.
5. Fill Pesky Space ACNH - DA-9767-9424-6577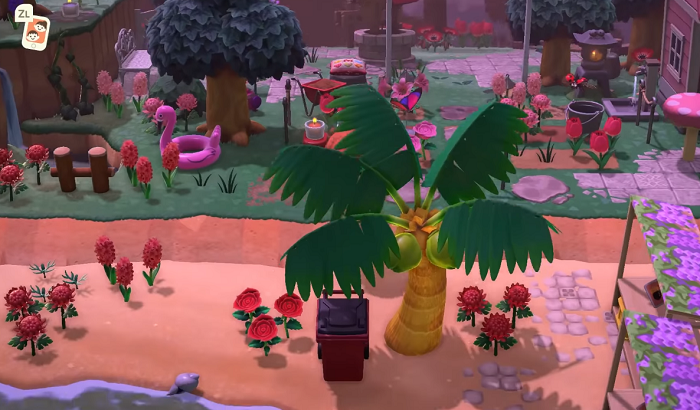 This villager's yard is beautiful, the way it connects to the filler space behind it. So we have an intersection of sorts, we've got this garden, it's like a little flower garden for this villager and then if you walk up through the garden, there's this little well and it sits kind of in the middle of this intersection, to the left is resident services, to the right is a bridge, to the rest of the island. It's such a nice way to connect all of these areas. Also, this little garden is just so cute, it connects to the beach as well, this was a brilliant use of space.
6. Stunning Filler Space Design - DA-0910-5780-0603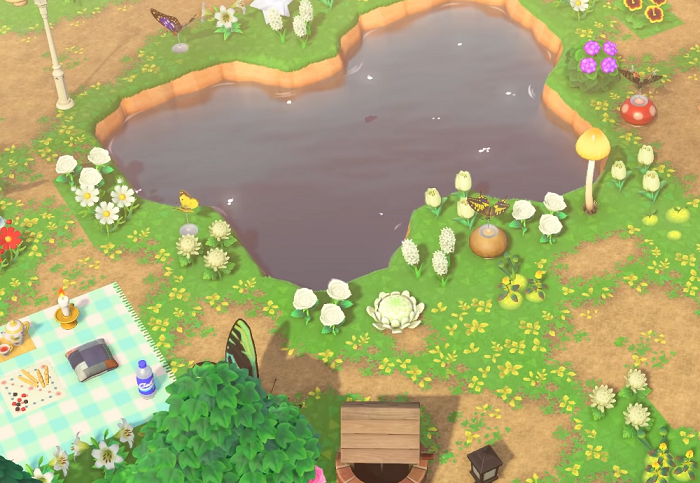 It has a butterfly pond. That butterfly-shaped terraforming and the little campsite are so great. The surroundings are really cute, the pathing is really well done and complex and it's a nice little resting area, it's like one big campsite. It's also near some villagers' houses but we should count this as a filler area because this doesn't really count as a yard, this is like a community center. Look at all these features around, the colors in use like this bright pop of blue all of the different flower colors that come into use here.
7. Best Filler Area Design - DA-7098-6288-8012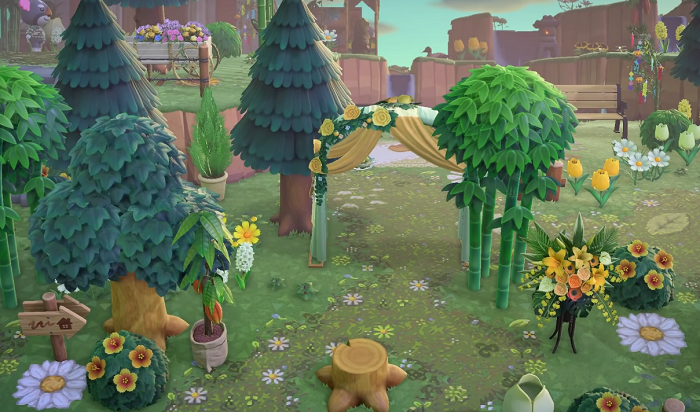 This was a great example of a transition space as a filler area. The furniture that marks is great, the way the path winds around that tree snub and even the use of the very large item of the outdoor bath. This is another big area, but this one is pretty applicable across sizes of areas you need to fill, because this inspiration really could apply to a path half or even a quarter the size of this one, but I really loved how all of the colors fit together and it was so calming.
8. Idea For Filling Empty Space On Your Island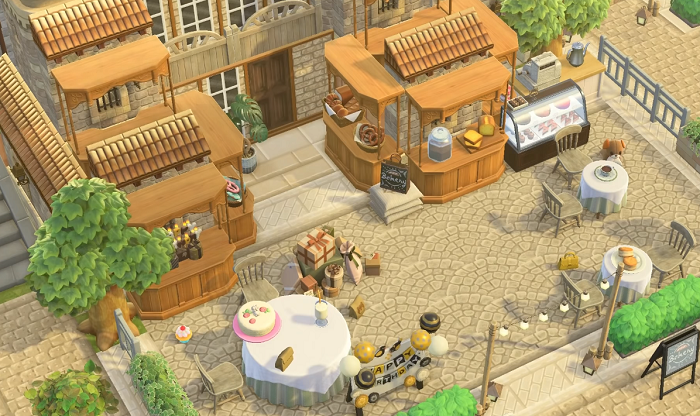 This is a bakery, it's two stories too the mix of simple panels and the new building items like medieval building sides and the castle items, the combination was just executed perfectly here. It looks so realistic even in this view, it literally looks like a building and it's all furniture.
9. ACNH Filler Space Design Code - DA-8125-2856-5295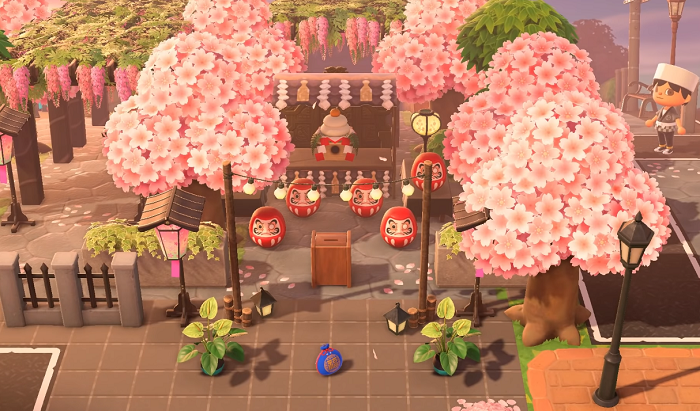 This little shrine was really inspiring, I love all of the colors that come into play, the items that were used like the donation box here was so cute and all of the colors around are just beautiful. It was also cool that the shrine is literally like up against resident services. You can see the plaza in the bottom right corner was well set up, also look at the pergolas, they're so pretty.
10. ACNH Filler Space Ideas - DA-8125-2856-5295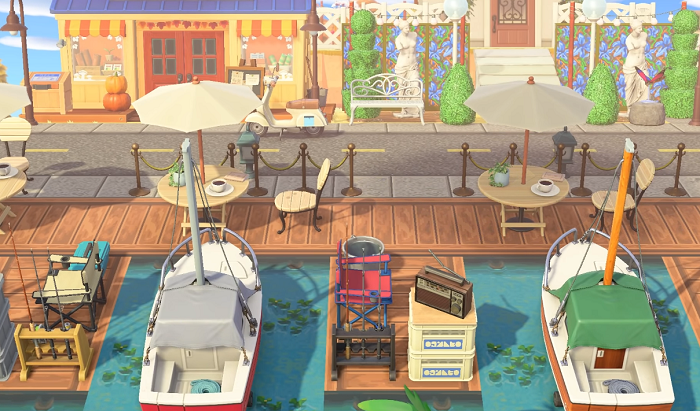 This is port angeles, this is a twilight saga-inspired island. This port can't be counted as being a part of the shopping center because it's kind of separate like the shop is over there, this is the port whole different build. It was cool also because taking up a ton of space, the docks in between the yachts was a great idea because you can have all these extra furniture items that really lend character to the area.