Top 10 ACNH Island Themes Ideas 2022 - Animal Crossing New Horizons 2.0 Most Popular Unique Island Design Ideas
5/19/2022 7:04:59 PM
The easiest and the best way to cure your burnout and get you excited in Animal Crossing New Horizons is to pick an exciting island theme one that you haven't done before you've already. So here we break down the New Top 10 ACNH Most Popular Island Themes in 2022 which feature the most creative and unique island design ideas after the Animal Crossing New Horizons 2.0 update.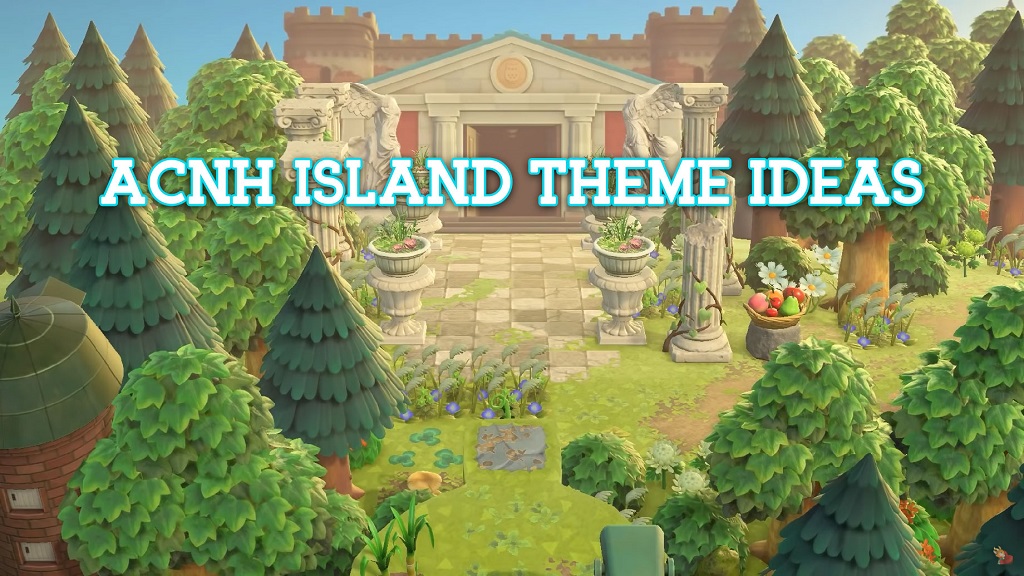 ACNH Most Popular Island Themes 2022 - Top 10 Best Animal Crossing New Horizons 2.0 Unique Design Ideas
Have made your cottage core, cozy cabin, you've made your fairly core forest your kid care, neon paradise, and now you need something new so here we are going to tell you new Top 10 different unique theme ideas to rebuild your island! Thanks to the recent 2.0.0 update, which has rekindled the passion for the latest Animal Crossing title in many users, a video game fan has taken advantage of what has been made available in terms of architectural elements, new ACNH items, furniture, and multiple tools for decoration to create more unique islands.
1. Historic or Scenic Spot Theme Island Ideas
Designs inspired by famous historic sites around the world have become the most popular themes in Animal Crossing. Whether they have been there or not, many players are willing to copy those magnificent landscapes on their own islands. Two of the most creative historic interest island themes are the deserted island featuring some classic pyramids or the Janpanese-themed islands with bamboo, zen, and stone gardens.
Best Scenic Spot Inspired Island: Sage Route 66 Inspired Island (Dream Address: MA-4733-2721-0662)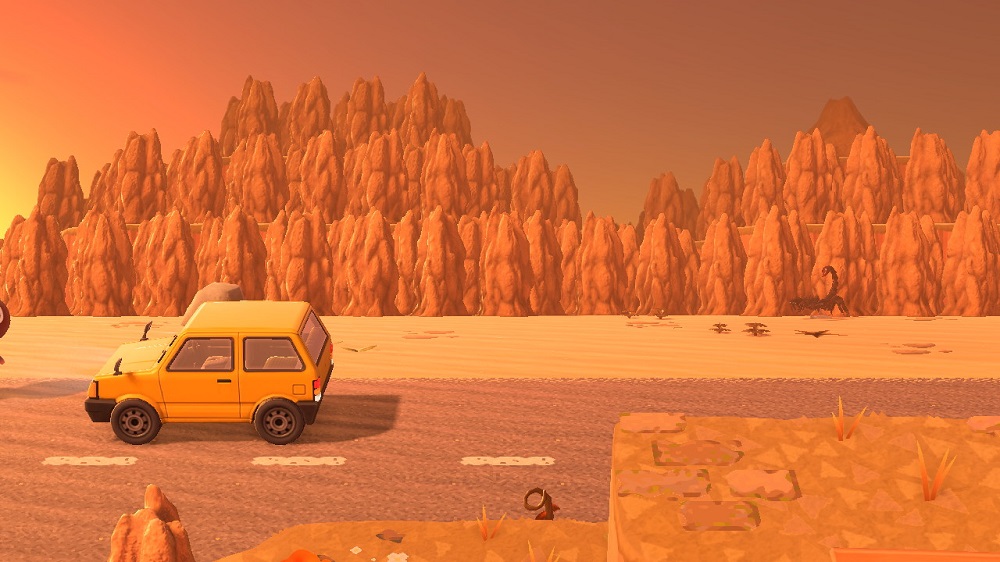 This is an island that will take you to the world-famous freeways in the United States. The creator recreated part of this important road, transforming its island and adapting it to the typical environments that Route 66 runs through. At some points of its route, Route 66 passes through arid and deserted territories. For this reason, in Sage, you can admire desert areas where sand reigns supreme, together with examples of Cactus (Without flowers) cactus (Without flowers), alternating with areas, usually those overlooking the sea, rich in species of Cactus.
2. Natural Island Ideas
Natural Islands basically are covered the islands featuring plenty of pristine natural beauty and plants. Usually, the transformation of various natural landscapes such as waterfalls, rivers, and cliffs is carried out according to the natural scenes of the island. Because of its versatility, nature-themed island designs have always been loved by players, such as Cottagrcore, Tropicalcore, Forestcore, etc. You can easily switch to other themes by changing or adding certain tones and vibes to certain areas of the island. The natural islands give us a great sense of calm with its beautiful landscapes full of relaxing elements, a placid natural island that has pleasantly struck us!
Best Natural Island Recommend: Cottagrcore Island (Dream Address: DA-6353-9304-5700)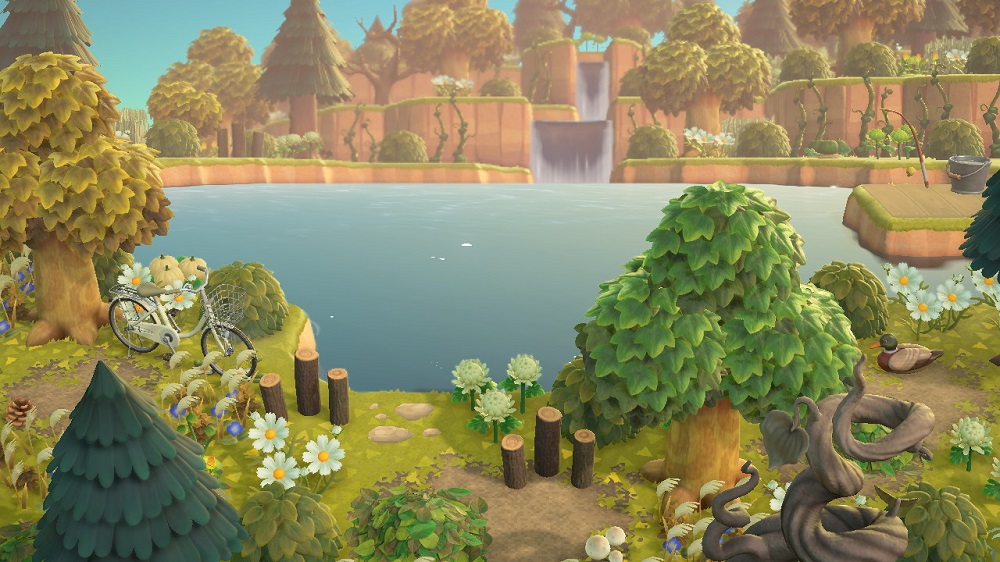 This is a placid natural island that has given us a great sense of calm with its beautiful landscapes full of relaxing elements. As soon as we wake up in Magari, we will surely be captured by its atmosphere, which will surprise us with its placidity and its widespread sense of relaxation. In fact, although Shannen has created an island with a purely natural character, she has also managed to give it a calm aura that makes it extremely pleasant to explore.
3. Movie Theme Island Ideas

Animal Crossing: New Horizons has always been a source of inspiration for the many fans who have made many items, so we have the possibility to reproduce, among many things, even scenes from famous films, TV shows, anime, or take inspiration from other popular video games. Some crossers share their passion for Animal Crossing by recreating some of the most iconic scenes from some of the most famous movie sets, whether they are homegrown like them, international, or even animation masterpieces, like the scene.
Best Movie Theme Island: BJORKIN Island (Dream Address: DA-3445-3355-5801)
This is an island completely inspired by movies and TV shows, the island owner Fabio and Gianluca have been pushed by their passion, creativity, and inventiveness to remodel their very personal space on Animal Crossing many times, touching on different themes and inspirations, recreating the markable scenes from famous movies such as Oscar-winning film Forrest Gump, Life is Beautiful, Disney animated film CoCo, etc.
4. Artcore Theme Island Ideas
Basically, that is going to be an island that is inspired by art. Now what an Artcore island could be is either an island that's totally inspired by the feeling or the actual look of a piece of art, or it could be an island that is actually terraformed to look like the piece of art, or it could be an island full of builds that completely reflect an artist's life, or it could be all three of those things. For example, you can make "the Persistence of Memory" by doing a desert clock melting thing or create a Dogs Playing Poker build, it would be a challenge but a very fun challenge for sure.
Best Artcore Island: Odette Renaissance island (Dream Address: DA-3192-6593-0981)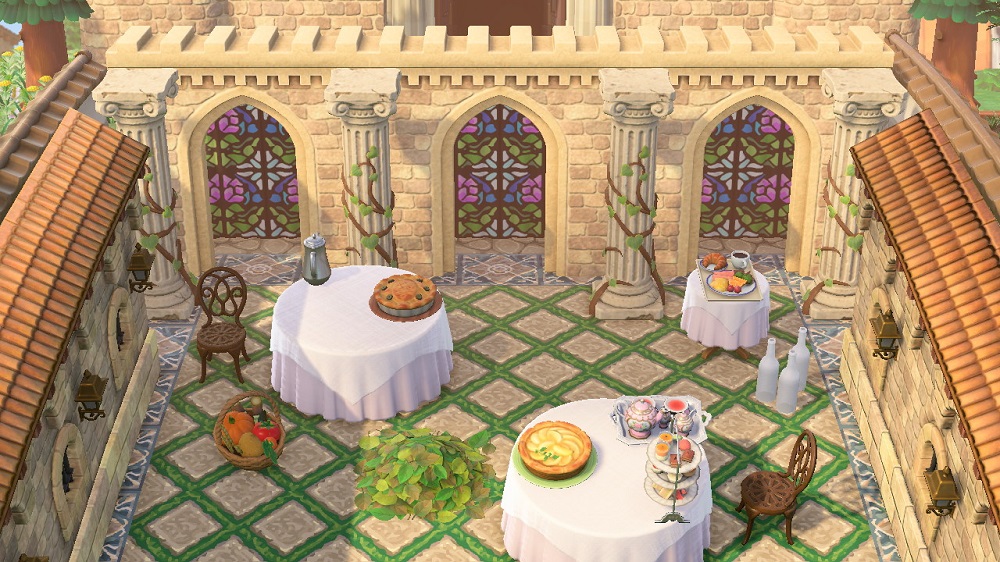 This is a Renaissance-inspired island. Our dream in Odette begins by walking along beautiful cobblestone paths, all in delicate colors, through streets surrounded by high walls. The avenues are all lined with trees and plants, so you will find yourself immersed in the shades of green and blue of the flowers. Not far from the Service Center, where you will wake up, you can admire a small area dedicated to painting. A simple pedestal supports an austere painting, and all the other surrounding painter tools complete the work. Come by to have a portrait taken!
5. Element Core Theme Island Ideas

The element core theme could be an island that is completely dedicated to one of the four elements (water, fire, earth, or air), or it could be an island that is all four of the elements. We've definitely seen some people touch on this because we've seen tons of avatar the last air bender islands. It might be really fun personally to just pick one of the specific elements and make a whole build based on that. You can use all four elements for an island at the same time or use a specific element for a special theme island such as fire element core is usually used for dark theme islands such as pirate islands.
Best Elementcore Island: Jotunheim mythological island (Dream Address: MA-4733-2721-0662)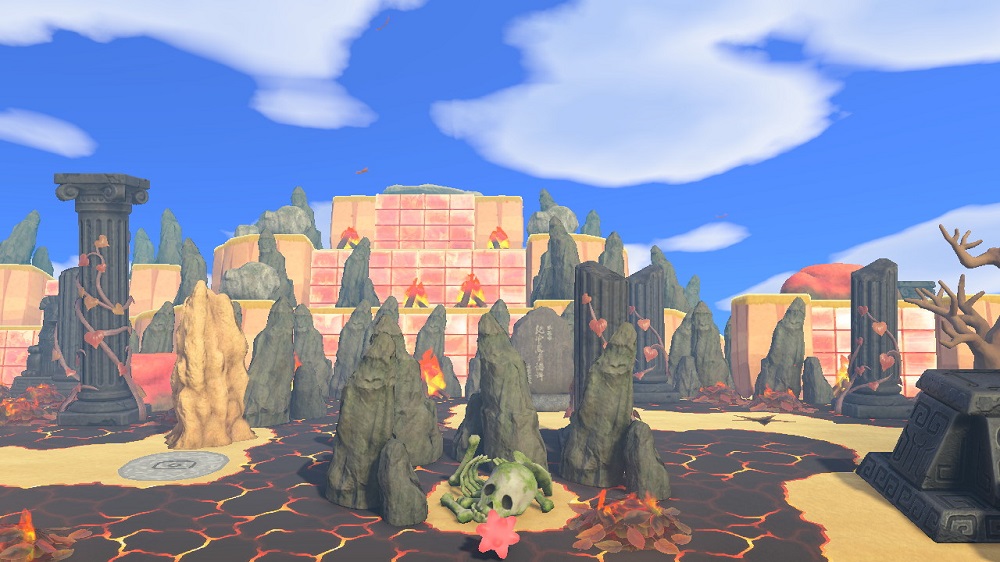 Jotunheim, as already mentioned, is the island of Benjamin, created to bring visitors back to the ancient land of Norse mythology, the birthplace of giants, especially those of rock and ice. The feature of this location that the user wanted to recreate on his island is the presence of rocks: rocky paths, ruins, hiding places, winding streets, and wide spaces in which to admire the majesty of the giants and their ancestors. You can get lost and immerse yourself in a desert landscape, full of sand and structures that blend in with the surrounding environment, full of thick brambles and narrow passages, in which the arches are the undisputed protagonists; and on the other side of the island, there is a very similar scenario, always made of ruins and structures, but this time all made of lava and volcanic stone, with a prevalence of black and red.
6. Playground Theme Island Ideas
Playground core is mostly referred to as kid care, could be an island where you physically replicate the game board map onto your island, it could be an island where you've decorated inspired by just the vibe of your favorite game, or it could be a completely new playground just game island that you make up by yourself. All of them we think are really fun options, for example, you could do the monopoly game board but also recreate the different places that you could buy in monopoly, as well as you can make a game of life board, which will show all the different areas in a person's life and just run wild with it.
Best Playground Core Island: Ron's Cookie Disney-themed Island (Dream Address: DA-5064-2996-8566)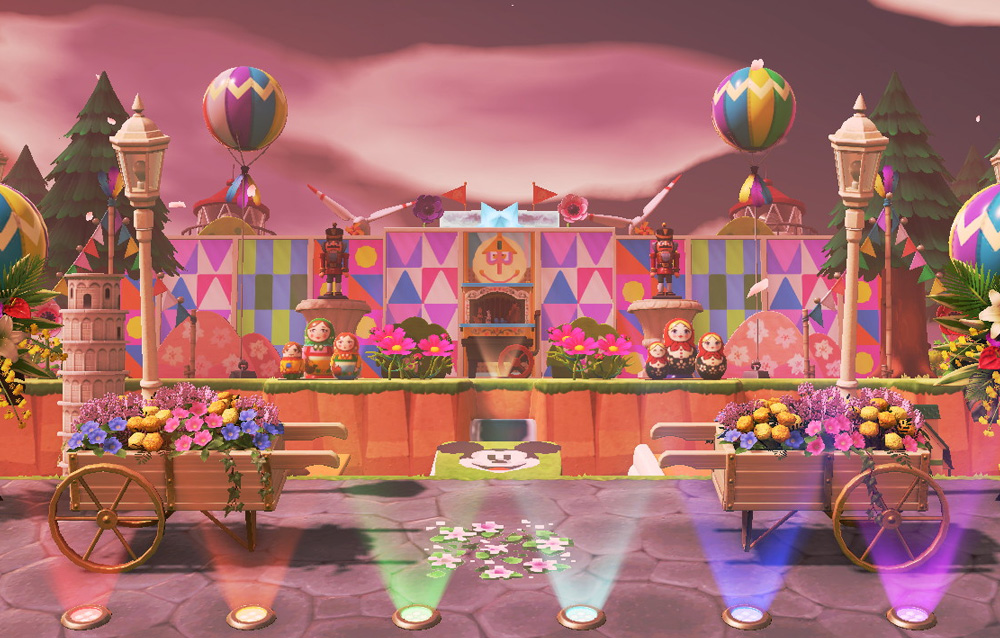 This is an island inspired by the Disney universe, paying particular attention to the world of theme parks where the entire Castle of the Princesses dominates; you could spend wonderful days passing magical moments among the numerous attractions, or enjoying the parades organized throughout the day.
7. Floating City (Sky or Ocean) Theme Island Ideas
With some clever know-how in illusion, you can freewheel your island on the ocean or the air, although you could not tear it comoletely. The floating sky city or Mirage has become a popular theme for many players after the ACNH 2.4 update. A little bit of perspective and pattern magic can go a long way. Some astute players have begun sharing images of town halls, museums, and residences that appear to float in mid-air, a feat made possible by cunning furniture placement and intricate artwork.
Best Floating City: Cerulis Castle in the Sky (Dream Address: MA-0106-7160-2033)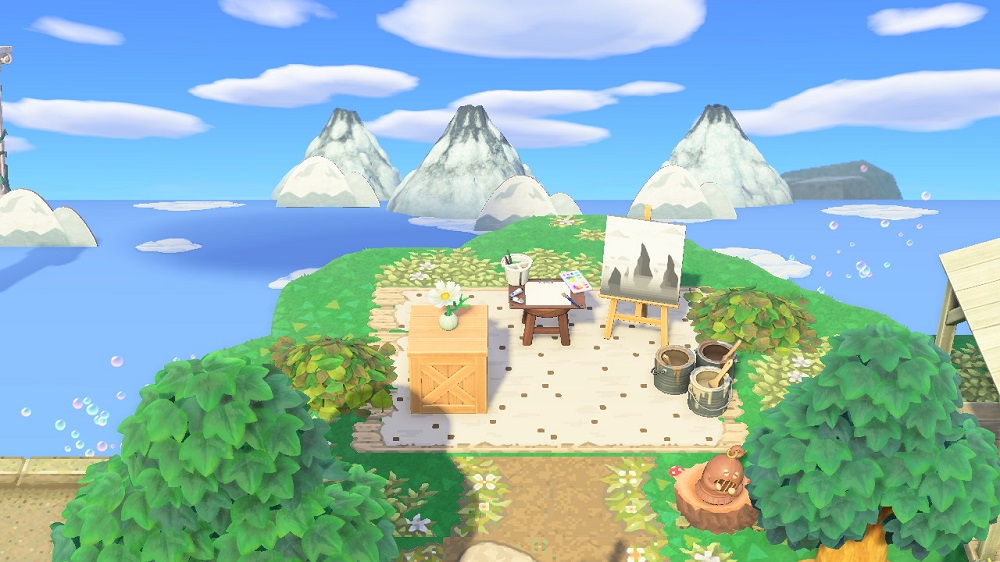 This is a fairytale-themed island that is based on optical illusion and gives us the impression of being suspended above clouds! Precisely for this reason, while exploring Cerulis, we will often come across openings on the ground that will give us a unique view of its kind. Among the various differences in height there are many that in fact open onto a flash of sky recreated with customized designs, and to make the illusion even more surprising is the vegetation that seems to emerge from the clouds until it reaches our height, high up among the clouds.
8. City core (Urban) Theme Island Ideas
Citycore could be an entire island dedicated to your favorite mall-type store, imagine an entire Sephora island, it's all a makeup store, or what we are more inclined to do is an island dedicated to the whole mall where the villagers that you pick could represent the stores you want to have. For example make a hot topic build or Victoria's secret and Chrissy could be your girl. An city core island with an extremely urban look, full of very interesting details, and expertly organized and structured with an urban area, a slum, and a suburb!
Best City Core Island: Køko Urban City (Dream Address: DA-1555-3044-8489)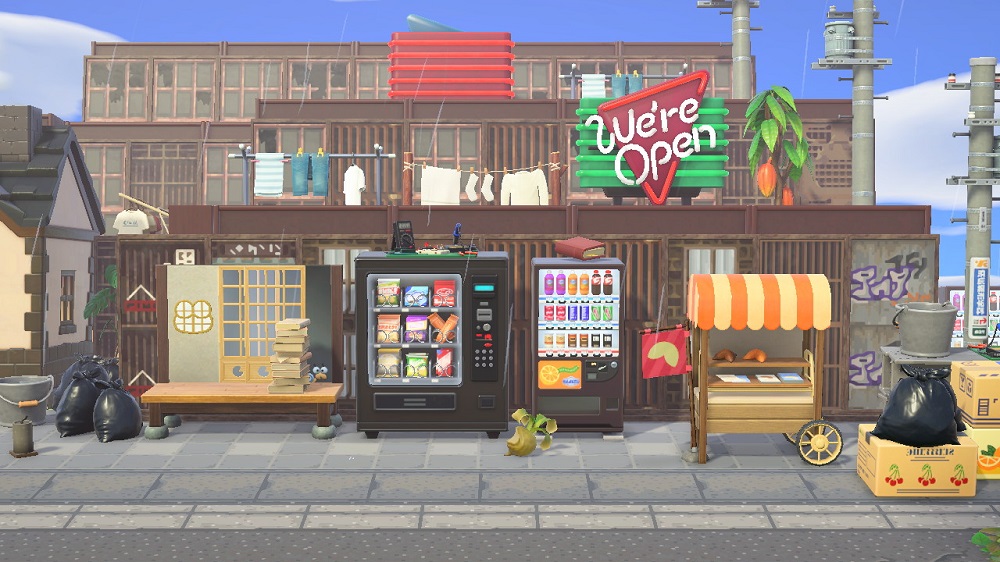 It is in fact an inhabited center, a real city, and unlike many other islands that develop the same type of theme, this one we are dealing with today is divided into more facets. In the first of the three environments mentioned above, it will be possible to move around a sort of metropolis full of services and buildings. The use of a ramp to create the entrance to a subway was very ingenious, complete with walls full of graffiti in the background. Wandering around Køko, in this particular area, we can also find a supermarket of the well-known 7-Eleven chain and a K.K. Slider.
9. Colorful Core (Kidcore & Fairycore) Island Ideas
Basically monochrome core is exactly what it sounds like it's an island dedicated to your favorite color and all of the villagers could be that same color as well, or you could do the inverse and you could do rainbow core which is dedicated to all of the colors. Some colors are certainly more difficult than others, we would say purple is difficult, and something more like red or blue is going to be a little bit easier with colors like brown and black probably being the very easiest, but this is a great way to challenge yourself to use different items and more specifically to use different color items as well as explore some villagers that you might not have considered otherwise, but since you're limited on options you might want to consider them.
Best Colorful Core Island: Terabithia Fairycore Island (Dream Address: DA-4412-1679-1647)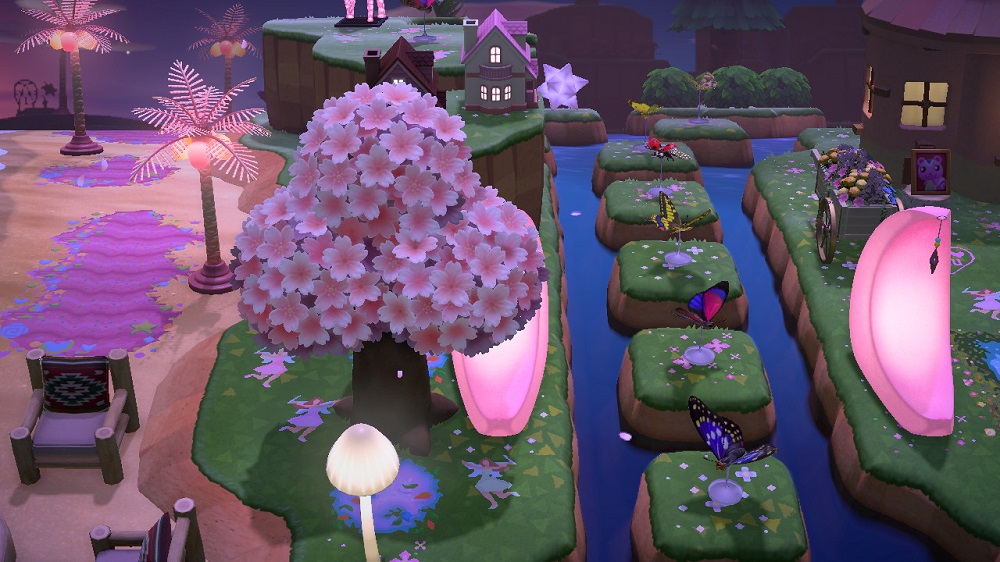 This is a fairy island that features a bright and sparkling world, in a setting immersed in pink! We begin our dream by passing by the beach, entirely decorated and embellished with giant shells that shine even in the dark, flanked by furniture from the shell series. Continuing along the coast, there is no shortage of relaxation areas, such as the lounge on the sand for a quiet chat, or the enchanted bar on the rocks, where you can enjoy an excellent magical drink!
10. NPC Villager Core Island Ideas
We all love the NPCs, some of them are cute and some of them are a little iffy, but we all have our favorite NPC. An NPCcore island could be a few different things: it could be an entire island dedicated to your favorite NPC imagine celeste core, imagine daisy may core, or imagine a leaf core, or it could be an island that's dedicated to all of the NPCs like everybody gets to their cute little corner and it is just fully inspired by them. It might be even fun to incorporate the museum and blather space on the island, same thing with like Able Sisters, you can make their build incorporate their building.
Best NPC Core Island: Tropikitch City (Dream Address: MA-0724-4523-5692)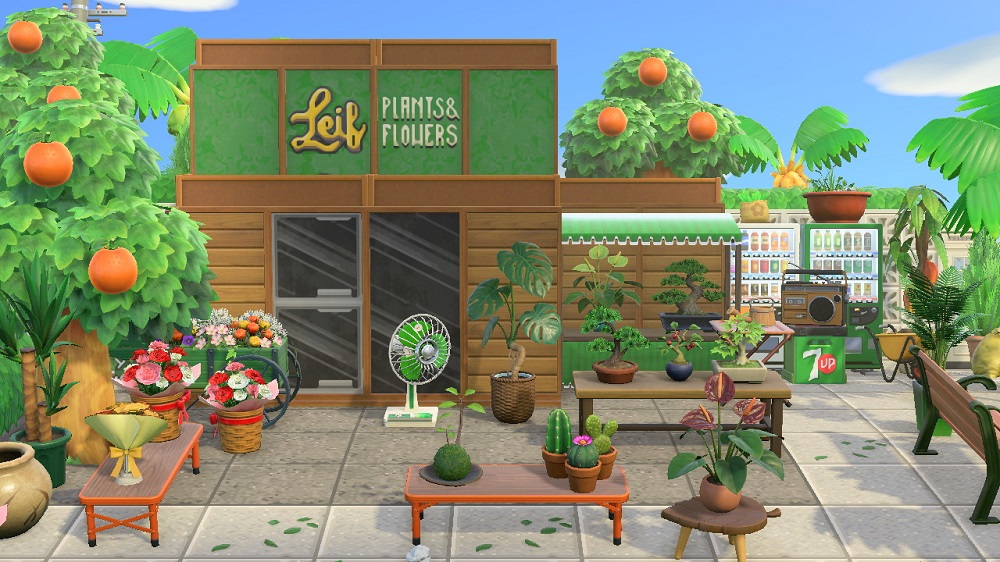 The town is pervaded by a strong retro connotation that gives it a very special charm.
The small shops and buildings fill the island: all very characteristic, each representing a different NPC; in fact, we see in the images of the surf shop of LupiliaLupilia, of the upholstery of SaharaSahara and of Audie shoes, but we can also find some dedicated to Saharah, Kicks, K.K. Slider, Gulliver, Flick, C.J., and many other NPCs. Small shops and buildings in light and pastel colors are developed on several floors thanks to the terraforming and customized designs, the main feature of Tropikitch, which strongly differentiates it from the more natural island that Marilyn had previously built