New Best ACNH Entrance Ideas 2022 - Animal Crossing 2.0 Entrance Ideas for Different Themes
5/20/2022 11:37:20 AM
The entrance is the first place that visitors are going to see and where sets the tone of your island, how to design your island entrance in Animal Crossing? Here we'll bring you the 5 best ACNH entrance ideas for 2022, which use plenty of Animal Crossing 2.0 items and exquisite custom designs to build around different island themes, including fairycore, cottagecore, farmcore, kidcore, and junglecore.
New Best ACNH Entrance Ideas 2022 - Animal Crossing 2.0 Entrance Ideas for Different Themes
Take a look at the following ACNH island entrance 2022 from Tiger's collection to get some inspiration if you are going to re-build your entrance or make some other builds. You can visit all of these islands with the dream address to take a full look at the island and every detail.
ACNH Kidcore Entrance Idea (Dream Address: 6404-0041-2551)
Let's start with a lovely and colorful kidcore entrance design by @Shesjustmo. Bright colored items always have magic to make people feel better, the combination of these items that the creator used complements each other properly and gives the island a playful feel and adorable aesthetic, no matter what season it is. In the store in front of the entrance and the post office next to it, you can find some cute ACNH 2.0 items placed such as the gyroid and froggy chair, as well as the colorful storefront items, custom floral doormat, and cute patterns on the floor, all of these make the whole design more refreshing and amazing.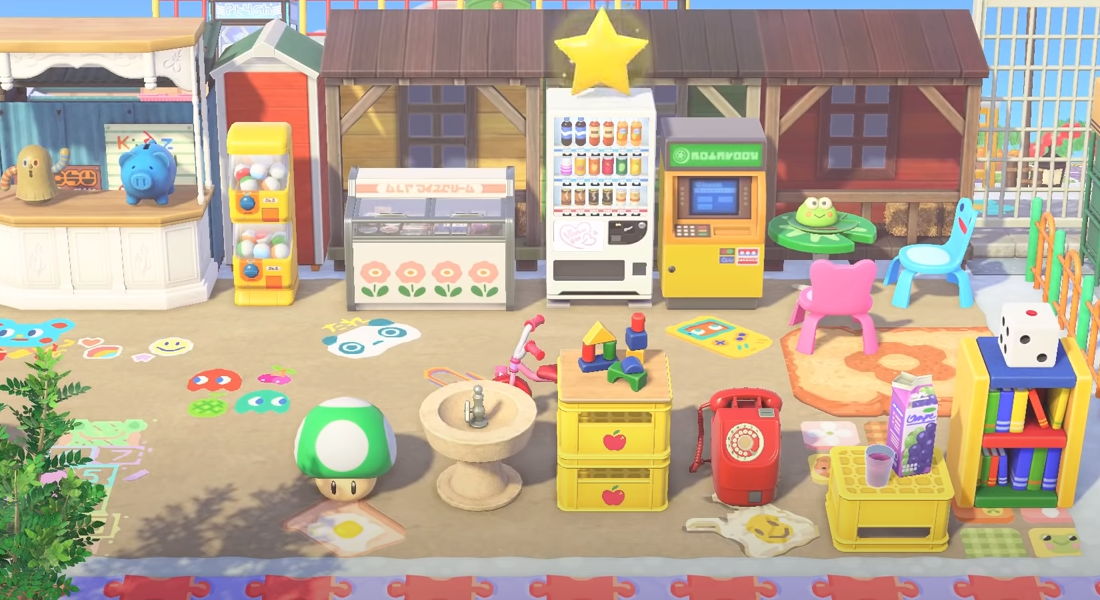 ACNH Fairycore Entrance Idea (Dream Address: 8879-7506-4536)
The next island entrance is suitable for a fairycore theme in Animal Crossing. The gorgeous and vibrant fairycore entrance is created by @AnimalSands. A lot of pinks and purples between the greens look refreshing and beautiful, the use of the Bunny Day items is a very brilliant idea. There is a diagonal bridge seems to be a trend for entrance ideas, and this is a great method to design your entrance if you don't want to place any buildings near the area. The user also did great terraforming here, there are a lot of cliffs and waterfalls. The custom paths with tiny flowers are also very adorable.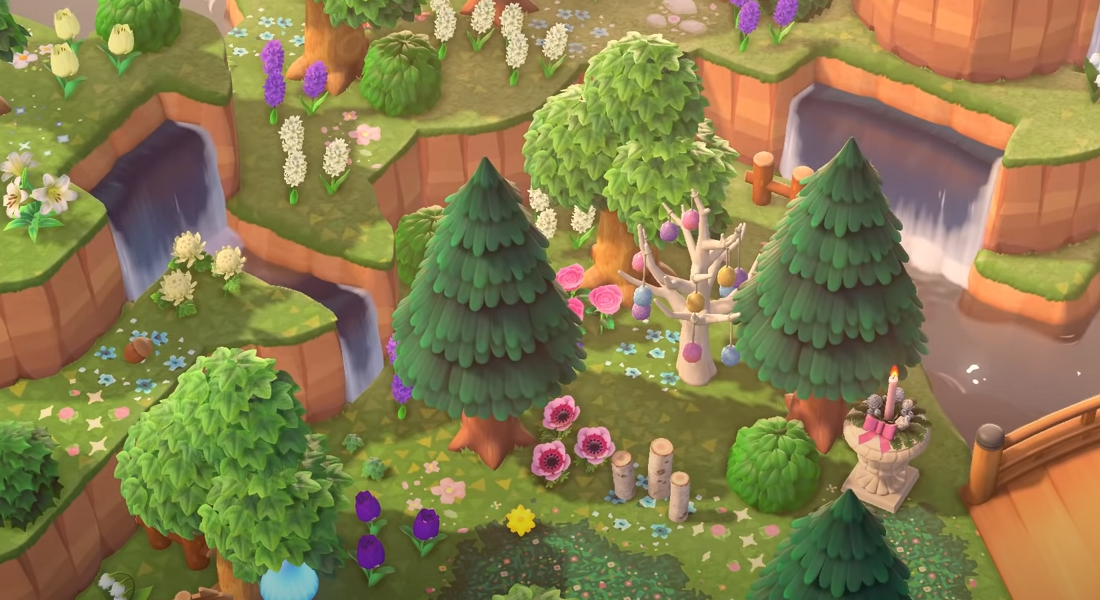 ACNH Cottagecore Entrance Idea (Dream Address: 7343-3202-2766)
One of the most popular island themes in New Horizons would be the cottagecore, this cottagecore entrance is created by @lifeonfillory. The first thing you may notice is the awesome custom welcome sign at the very front and center, it is so eye-catching and expresses the warmth and the welcome to all of the visitors. The creator did a good job with making a symmetric layout, even the floor patterns, if you enjoy symmetry in your builds, this would be a great inspiration for you. The mushroom items and star lights are cute and heartwarming, and also fit the cottagecore and forestcore island well.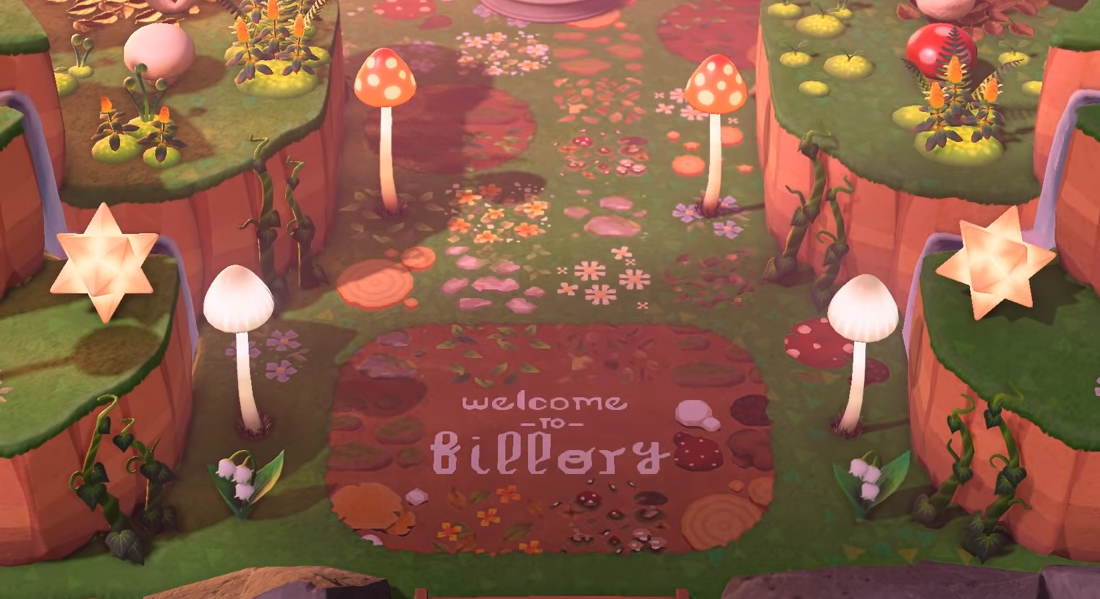 ACNH Junglecore Entrance Idea (Dream Address: 3582-5169-1771)
Moving on to the junglecore entrance created by @caradotcom_, it seems very unique and looks like a tropical island. The color coordination on this island is literally outstanding, the statues, rocks, dried bamboo items, and everything matches so well. The dynamic with the bridge, incline, and archway is so cool and flows naturally. Walk up the stairs, there is a villager house laced at the top of the incline, also some with unique decor, and there is a marketplace behind it, which is a trend in tropical theme islands.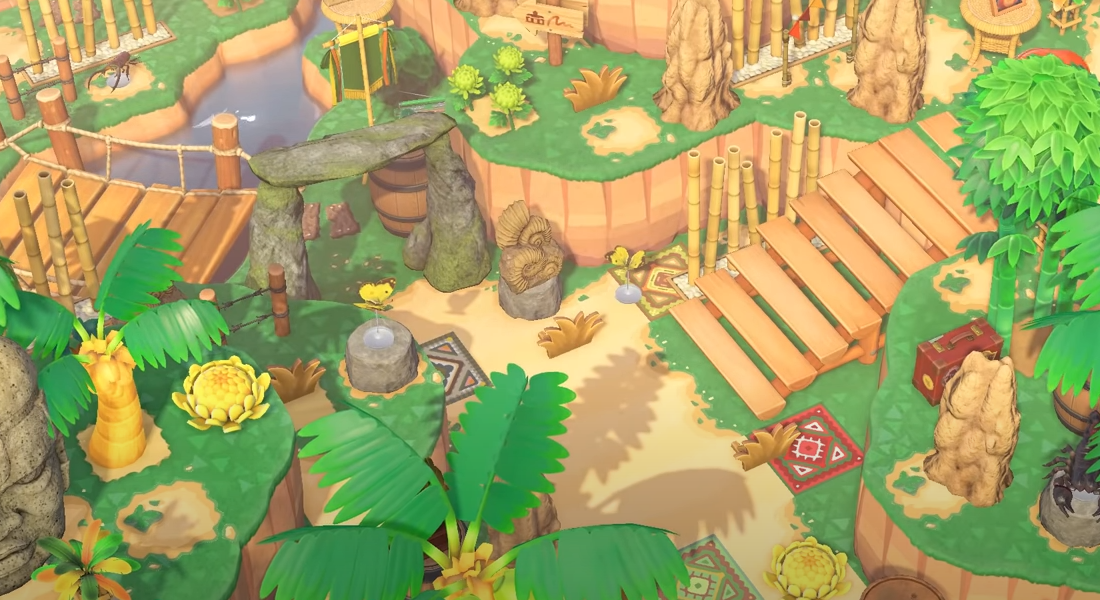 ACNH Farmcore Entrance Idea (Dream Address: 3595-7532-6170)
The last one is a farmcore entrance that is perfect for an Autumn/Fall theme island. When you arrive on the island, your eye will be filled with deep oranges from maple trees and pumpkins, and some greens inside, it brings a full autumn aesthetic. The flow of this island is so natural, the slowly flying butterflies and flowing rivers add a feel of cozy and comfortable. There are small farms in almost every color, as well as different trees and plants with varying heights, a ton of details hidden on this island.