ACNH Fireworks Festival Guide 2022 - Items, Raffle Prizes & Custom Fireworks In Animal Crossing
7/1/2022 9:18:03 AM
The August Fireworks Festival or Fireworks Shows have returned to Animal Crossing New Horizons 2022. Are you glad to see Redd on the island or were you hoping for even more prizes during ACNH Fireworks Show event? In this complete guide to ACNH Fireworks festival 2022, we highlight all of the items and prizes available from Redd's raffle, as well as fireworks custom designs.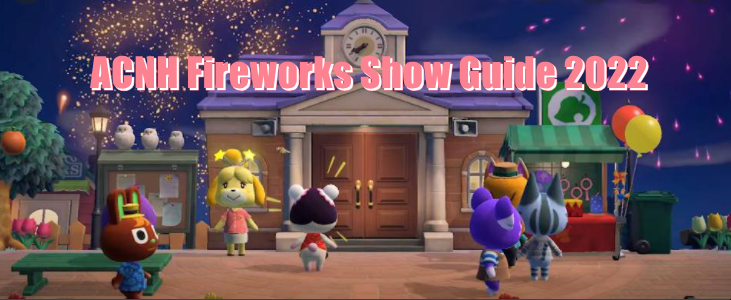 ACNH Fireworks Show Event 2022 - Items, Raffle Prizes & Custom Fireworks In Animal Crossing
Animal Crossing New Horizons Fireworks Show did take place last year but has been somewhat refreshed by adding a few new items which we'll talk about shortly including how to get them. Like last year, the Firework Shows occur every Sunday throughout the month of August, so there are 5 ACNH Fireworks events in total. Now preparation for the event begins during the day with both Isabelle and Jolly Redd stopping by the plaza outside the resident services. However, despite being able to talk with them, nothing really happens until the evening when the fireworks take place from 7 pm through to 12 am. Now you can pretty much enjoy the festivities and watch the fireworks from anywhere on your island during this time. However, most of the action takes place outside of residence services where you can celebrate with friends, villages, Isabelle, and Redd.
ACNH Fireworks Show Items 2022
- With Isabelle outside of the resident services all day, the civic counter is closed. But as a bonus and in celebration of the Fireworks show in Animal Crossing, Isabelle will hand out a limited-time bopper accessory to help you enjoy the event. There are 4 boppers to collect including the bulb bopper, the heart bopper, the flower bopper, and the star bopper.
How to get ACNH Fireworks Show items?
Isabelle hands out one every Sunday with a random bopper, so you'll pretty much need to attend every week after 7pm to obtain all 4 boppers. Although a good trick to get them faster is by using other island residents who will also get their own bopper.
- The Able Sisters will be selling some unique clothing items at their store in honor of the Fireworks event. Including the casual kimono, the kabuki actor yukata, and the morning glory yukata which are traditional clothing items worn during the Fireworks Festivals in Japan.
ACNH Firework Designs & Custom Fireworks 2022
Isabelle's role in the Animal Crossing Fireworks Show doesn't stop there, because like last year if you speak with her during the event you can suggest ideas for the fireworks display and submit up to 10 custom design patterns which you'll use during this show. If you're not much of a designer, you can stick with the default fireworks and keep an eye out for 6 unique firework designs.
How to do custom fireworks in ACNH?
You need to be on a Sunday before you can even do custom fireworks in Fireworks Show ACNH. Isabelle will tell you that there's going to be a fireworks show that night and you'll be able to participate in events. You can also talk to Isabelle outside of island services. Once you've got your item on, you can then talk to Isabel again and she'll give you the opportunity to do custom designs, so you just choose your designs by pressing a on anyone. Then you can go to look at the sky, though it can take a long time for your custom designs to show up.
ACNH Redd's Raffle Prizes 2022
Jolly Redd has brazenly snuck onto the island to host Redd's raffle. Now has a total of 24 unique prizes and gives players the chance to win a bunch of awesome interactive handheld ACNH items.
How To Get ACNH Redd's Raffle items?
For only 500 ACNH bells, players can take part in Redd's raffle to draw a single raffle ticket. These were all the prizes that were available last year and are cheaper to win from Redd than buying them from nook's cranny. For example, the tweeter costs 800 bells if bought from nooks. Each ticket is numbered between 1 and 24 and offers up one prize every prize is a handheld interactive item and is as follows.
1 - Red Sparkler
2 - Blue Sparkler
3 - Fountain Firework
4 - Bubble Blower
5 - Uchi Fan
6 -Pinwheel
7 - Tweeter
8 - Blue Balloon
9 - Red Balloon
10 - Yellow Balloon
11 - Green Balloon
12 - Pink Balloon
13 - Ramune Soda Frozen Treat
14 - Orange Frozen Treat
15 - Chocolate Frozen Treat
16 - Plain Cotton Candy
17 - Melon Cotton Candy
18 - Ramune Soda Cotton Candy
19 - Strawberry Cotton Candy
20 - Boba Milk Tea
21 - Boba Coffee
22 - Boba Strawberry Tea
23 - Boba Mango Tea
24 - Boba Green Tea
There are some things you should bear in mind with these handheld items. Some of the prizes can only be used a set number of times and others even have an effect on the player using them. For example, these sparklers and phantom fireworks can be used only once. The bubble blower can be used 5 times before it's empty. The balloons can be used until you trip and fall over at which point they float away which is really sad. Items such as the fan and pinwheel and things like that can be used an unlimited amount of times just like other interactive items. Finally, the items added in the latest update including the cotton candy boba tea, and frozen treats all give you strength or what some players call fruit power when you consume them. So one bite or sip will give you strength and allow you to move trees and smash rocks.
That pretty much wraps up everything you need to know about the ACNH Fireworks Shows 2022.