ACNH Summer Island Ideas & Dream Codes 2022 | Top 10 Tropical Design Ideas for Animal Crossing New Horizons Summer Islands
7/4/2022 11:32:39 AM
The colorful and lightened summer season is here, and even though we might not be able to fly off to a remote waterfront location, we can still enjoy the simple summertime lifestyle on our Animal Crossing New Horizons islands by using the right summer decoration ideas. Are you prepared to dress your island and house for a summery staycation? With our Top 10 ACNH summer tropical design ideas, you can easily make the most of your summer on your island, as well as we share you with the dream address of the creators' island here in case you want to take a summer island tour!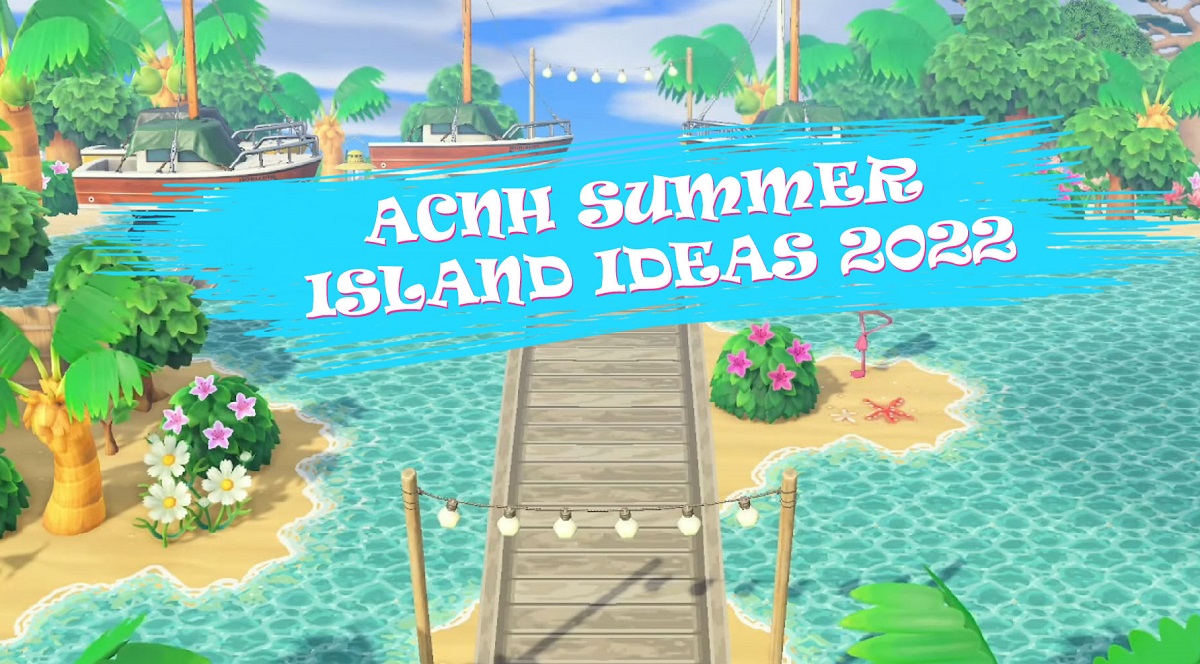 Best ACNH Summer & Tropical Island Design Ideas & Dream Addresses 2022
The ACNH Islands in summer are probably the best place to show off your whimsical decor inspiration, with vibrant colors, relaxing peninsulas, lush forests, and even a Midsummer Night's Dream all perfected. You are free to use your imagination.
Summer is all about beach, fun, and outdoor enjoyment, on Animal Crossing New Horizons, you actually don't have to spend a lot on these summer design ideas for a tropical island makeover. With some light fabrics, bright colors, and even a touch of beach-inspired decor, you can easily make your home or apartment look like a beautiful summer beach house or a coastal-inspired cottage. So, if you're just as excited about the summer season on Animal Crossing New Horizons as we are, you're going to love these 10 Summer design ideas that you can easily steal for your own island - both outdoor and indoor.
Top 1. Harbor & Sea Highway (Emerald Island: DA-7076-6068-1445)
This harbor design idea was created by slowtownwisp on Instagram, and this location on their map has so much detail, that it truly has blown us away. The first location at this build on their map we want to talk about is this amazing highway that they have built, we absolutely love how this transitions over to this beachy boat overlook, and again there's just so much to look at in a lot of detail. There is just so much life going on, we have decoy ducks everywhere in the water code, which makes it feel more realistic, and then the water code just circling the rock items too, brings a lot more realism to the build. Overall the creator did such a great job with this island and just the vibe, in general, is definitely some great inspiration if you're doing a city core theme and even a coastal theme too.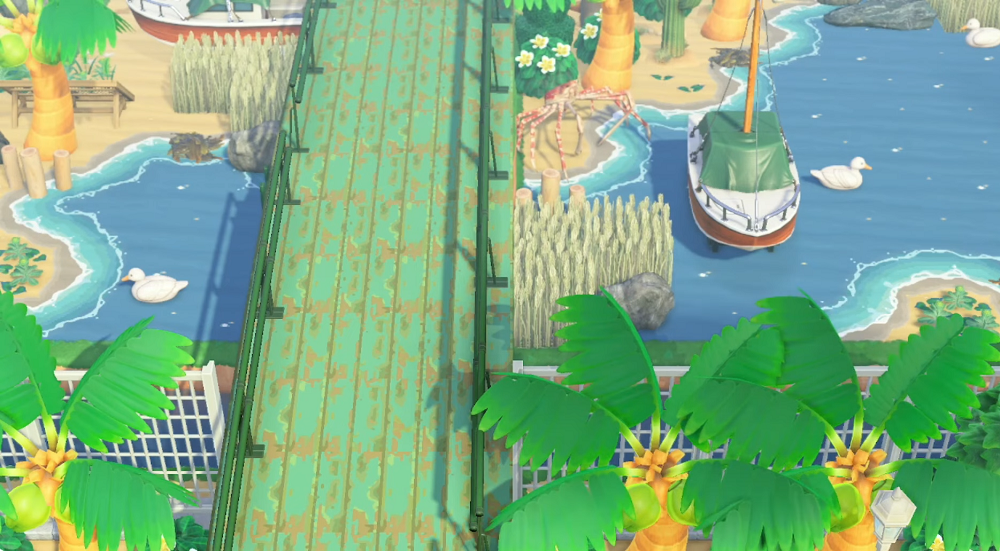 Top 2. Hawaii Themed Resort (Emerald Island: DA-7076-6068-1445)
The highlight we want to point out about this summer design idea is how they've blended out not only the water code but have incorporated also a lot of clusters of greenery and shrubs, having all that lush greenery just in the background, just makes this build not only feels super realistic but it's just absolutely stunning. This is definitely some great inspiration if you are maybe going for a resort or Hawaii-like theme, _emerald.crossing truly did such a beautiful job on their island.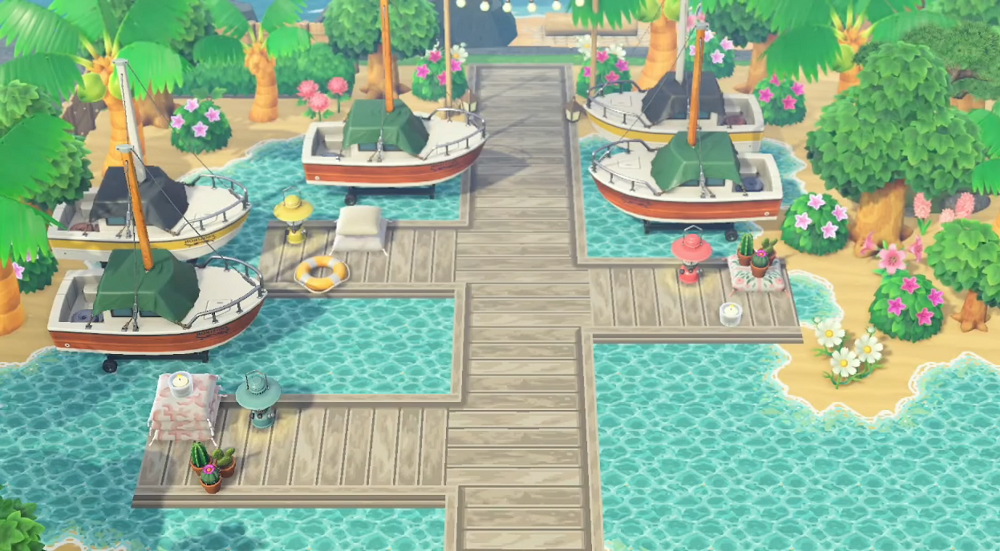 Top 3. Abandoned Pool
This idea was created by acnh.pickleton on Instagram. If you actually want to do some sort of an abandoned pool on your island and this is going to bring you some great inspiration for it. What really caught our attention with her design is the usage of the vine and new ladder item that we got in the 2.0 update, the usage of the broken towel code placed on the first level of terraforming really does make it feel like it is an abandoned pool that is very suitable for trash island. The usage of the green color is also creative, we have never seen a take on a tropical theme like she has done on this build.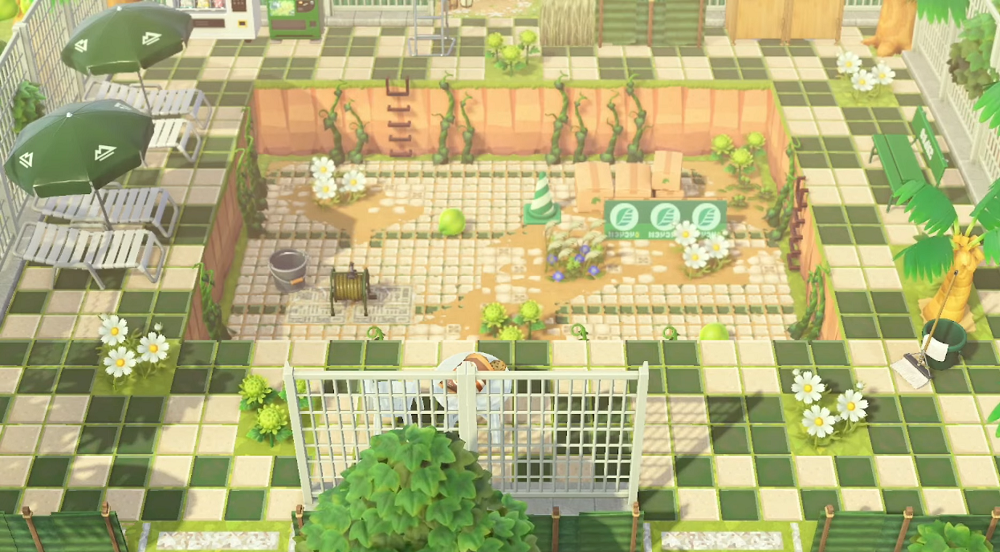 Top 4. Suspended Sea Bridge
This summer idea comes from acnh_lonelyisle on Instagram and we absolutely adore this build, it feels like it doesn't even belong in Animal Crossing. This design is a great example of how a simple build can bring such a big statement to your island. We also really love the weather that they chose for the island build in general, the puffy clouds just in the background really do add to the realism. Even if you're not doing a summer theme, this design idea would work great for a lot of different city core islands, it is so brilliant and such great inspiration.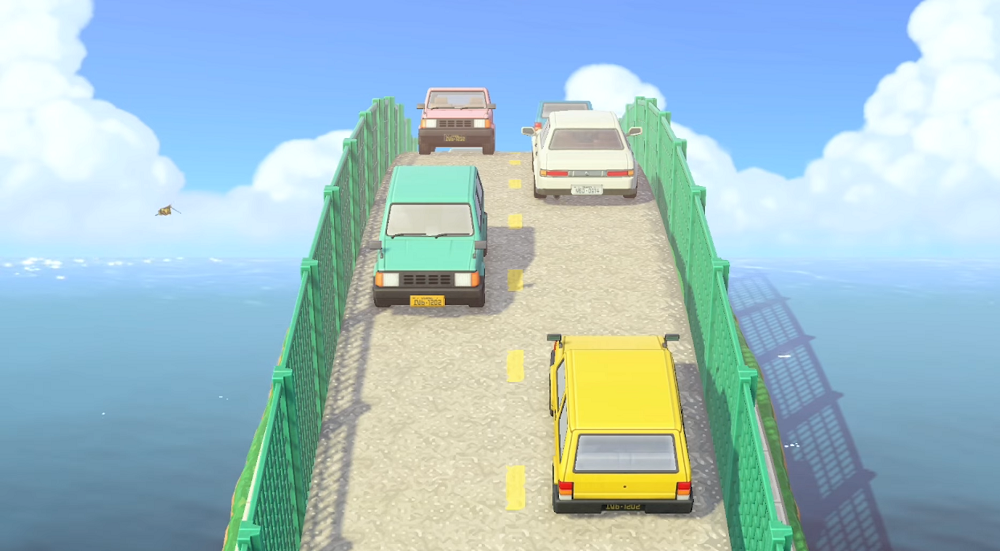 Top 5. Transitional Spot
This summer build is created by linaisabellayt on Instagram, they said this build is a school that is under construction and the school was out for the summer. You will be impressed with the simplicity of this build and just the fact that they were able to add so much detail in such a limited spot too. Another highlight of this design is the walkway they have the built-in front of the school is such great detail in general. If you are somebody wanting to add a school to your island and you don't want it to take up a lot of space, this is a great idea for that situation.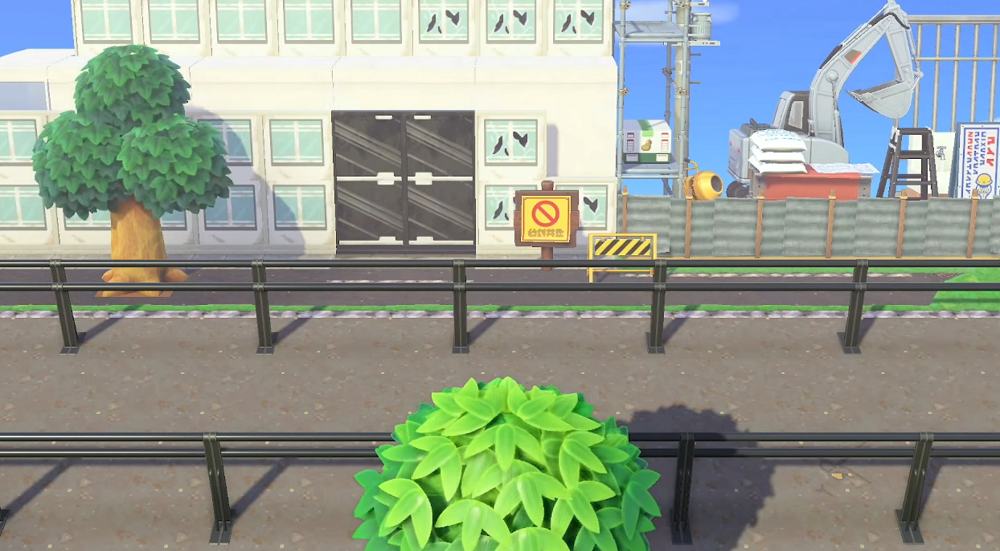 Top 6. Tropical Natural Cave Beach Resort
This stunning beach location was created by colin.crossing on Instagram should be on your island if you are planning on a tropical island. The creator has done such a great job by making and combining these sand and water custom codes, which look incredibly realistic. If you want to expand the sea and exclusive tropical islets to the interior of your island, this design will definitely make your summer special!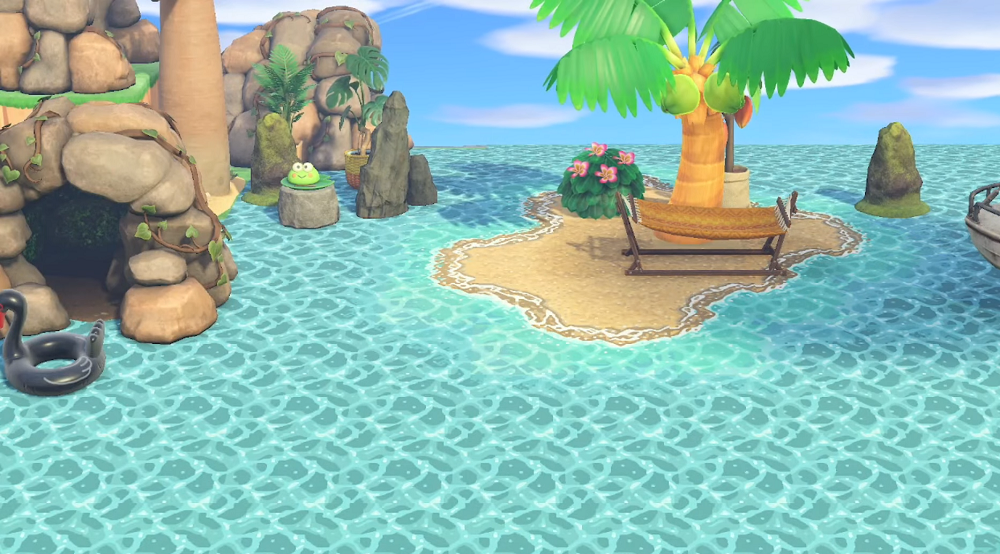 Top 7. Natural Summer Stream
This summer idea was created by cosyislands_acnh on Instagram, if your summer theme is around a more natural approach, then you will definitely love this build. Once again, we are featuring another island with a water code which is being laid on the more natural and forestry island to create a summer theme stream. This design is packed with tons of greenery and different colors, it just feels super vibrant and happy, and we also just love the usage of the new rubber ducky item from the 2.0 update on the stream, that is such a cute detail. Overall this summer design was beautifully done and is definitely a great inspiration for those who are doing something a little bit more natural.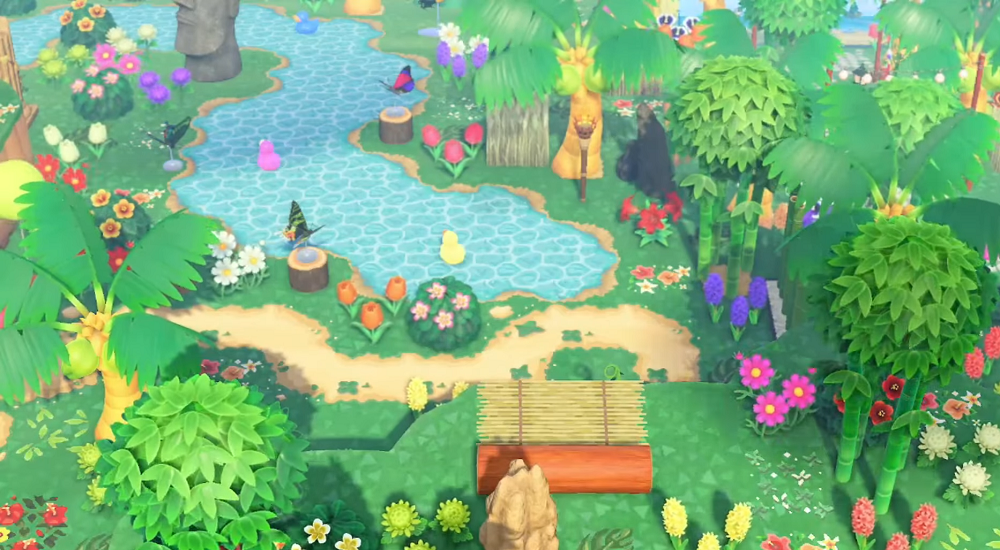 Top 8. Tropical Shopping Strip
Next summer idea is created by kerritkake_acnh on Instagram and it's this amazing tropical shopping strip. We can't get over how much detail is packed into this shopping strip in general and how creative they have gotten with the exteriors too. The way they've incorporated the lighthouse onto the flick tattoo store is such a great and creative idea, especially for a tropical store build, in general, we would have never thought to use that item at all with a design like that, while the creator did such a great job with this location on their map.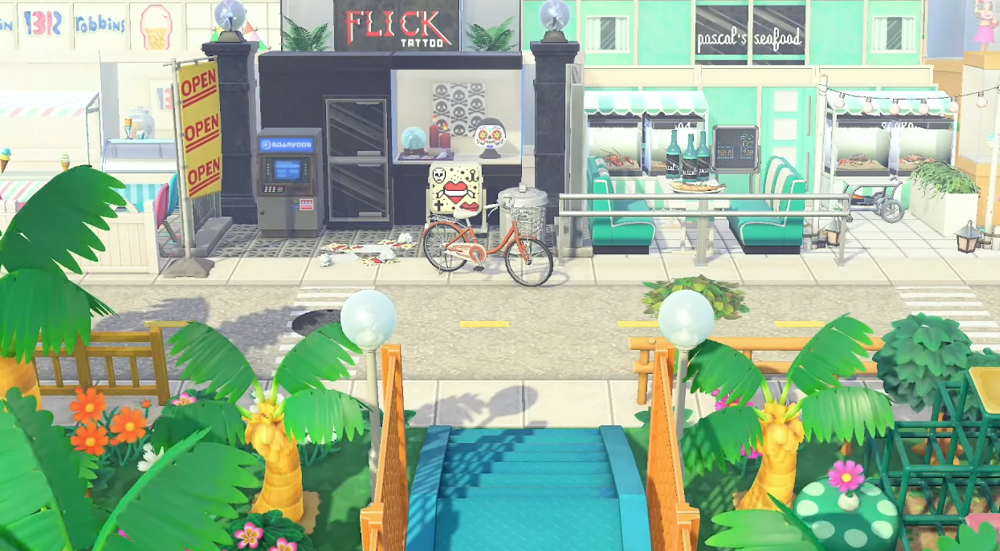 Top 9. Tropical Water Resort
This summer design idea comes from a fantastic lazy river island created by linasacnh on Instagram, this island truly makes us feel like we are on a vacation. They've not only blended out between the lazy river with these clusters of greenery, but also there are so many different areas to sit and just take in the summer breeze, and then we also have this adorable volleyball area in the middle of the lazy river too. This island has so many great ideas that can inspire you, if you are doing a resort theme or just needing some tropical filler areas in general.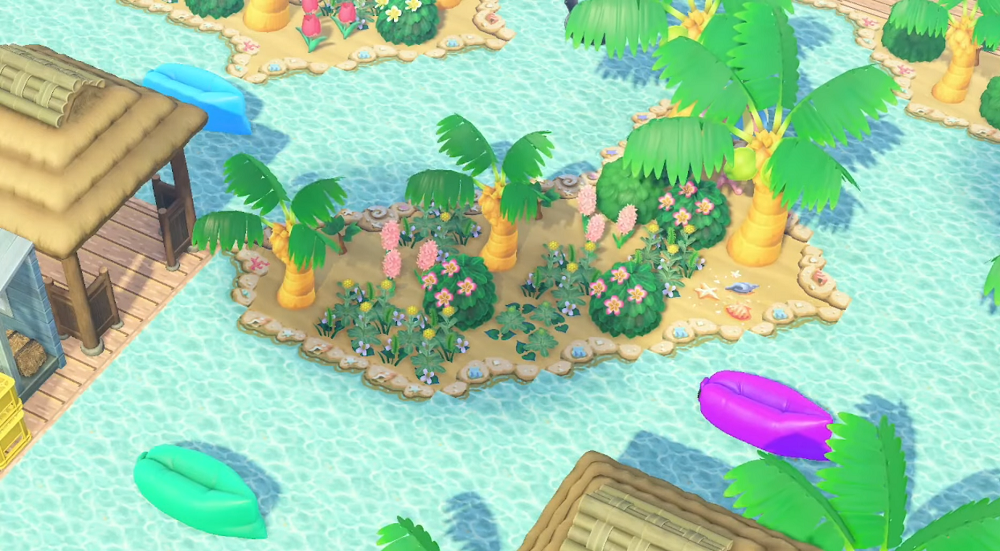 Top 10. Swimming Pool
This amazing pool area was created by storybrook_acnh on Instagram, one of highlights of this build is the bathroom stalls in the very back and all the floaty items that they chose inside the pool design code too. This summer theme build has so much detail and it has a lot of great ideas, you will definitely be taking some inspiration from this pool area for your tropical island. You will also fall in love with how they blended out all the items and it really brought the build to life. They also built an adorable shower area above the pool and the great usage of the cosmos shower shock us.